Dogfish Head Craft Brewery is making a statement, and they're doing it with a big design change to 60 Minute IPA packaging.
[newsletter_signup_box]
Dogfish Head Founder Sam Calagione announced in a letter Tuesday that new 60 Minute IPA packaging will include a very large scale image of the independent craft brewer seal.
"We are using our 60 Minute package as a soapbox," Sam writes. "There has never been a more challenging moment to be an indie craft brewer. As ubiquitous as craft beer may seem to the average craft beer fan, we still live in a world where two foreign-owned conglomerates control the vast majority of our country's beer market."
(READ: Burley Oak Founder Pledges to Stay Small)
The seal, released in 2017 by the Brewers Association, publishers of CraftBeer.com, is a certified mark that helps beer lovers identify beers from independent craft breweries. Many of the 4,000-plus brewing companies that have adopted the seal so far have added it to their websites and beer packaging, among other places.
While Dogfish's packaging, brewpubs, website, and social media channels have displayed the seal before now, adding the mark to 60 Minute in such a huge way is among the most prominent uses of the seal to date.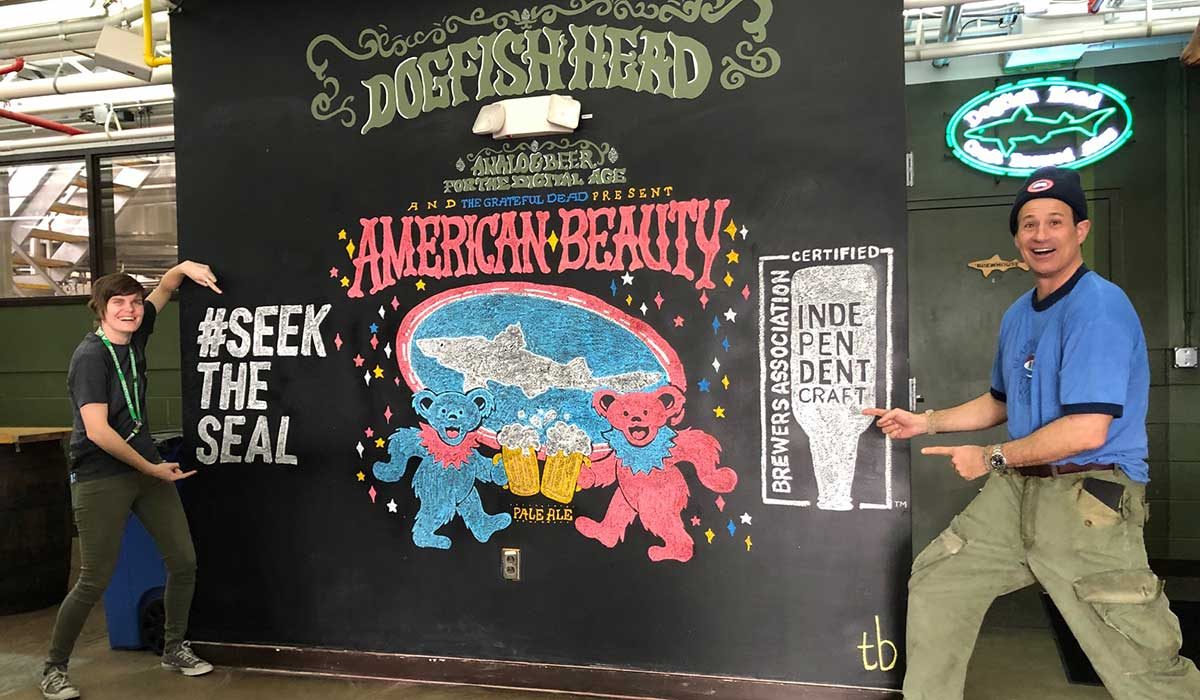 "We made the decision last fall to make the seal as big as we can on [our] biggest selling beer's packaging (60 Minute IPA) because we want to amplify the dialogue in the beer community about transparency and authenticity at this hyper-competitive moment in the marketplace," Sam tells CraftBeer.com.
"We want to amplify the dialogue in the beer community about transparency and authenticity." Sam Calagione, Dogfish Head CEO
Rally Cry for Independent Breweries
Dogfish Head's move is a rallying cry in the name of independence and small and independent craft brewers. The brewery knows that the true value comes as more brewers also buy into the symbol and add the seal to their own packaging.
"There are so many unique and creative indie craft breweries out there — I hope more and more of us continue ratcheting it up our use of the seal and equally importantly, continue to participate in the evangelism for true indie craft beer and championing consumer's reasonable expectations around transparency and authenticity in packaging and marketing," Sam tells CraftBeer.com.
Dogfish hopes putting the seal loud and proud on its biggest beer will reinforce that message.
When we asked Sam if he had plans to put the large seal on any of Dogfish's other beers, he told us: "Time will tell."
(VISIT: Find a U.S. Brewery)
Not only will you see the design on the packaging, but if you're a beer drinker who likes racking up Untappd badges, get ready to earn a new one following the 60 Minute design change. In February, when you check-in to a 60 Minute on Untappd, you'll score a fresh new independence badge from Dogfish. The BA has its own Cheers to Independent U.S. Craft Breweries Untappd badge, too.
The newly designed 60 Minute packaging is rolling into beer stores near you now.
CraftBeer.com is fully dedicated to small and independent U.S. breweries. We are published by the Brewers Association, the not-for-profit trade group dedicated to promoting and protecting America's small and independent craft brewers. Stories and opinions shared on CraftBeer.com do not imply endorsement by or positions taken by the Brewers Association or its members.