Life is a series of choices, chances, and at times, unfortunate circumstances. When Bryan Brushmiller lost his job at a construction company in 2008 with a wife and daughter at home, that was an unfortunate circumstance. When he decided to turn his homebrewing hobby into a job in 2011, that was not only a choice, but a chance; a chance that what he had taught himself in brewing, with a biochemistry degree as a background, would be good enough to sustain Burley Oak Brewing Company as a business in the small town of Berlin, Maryland.
[newsletter_signup_box]
"I had to make myself a job …"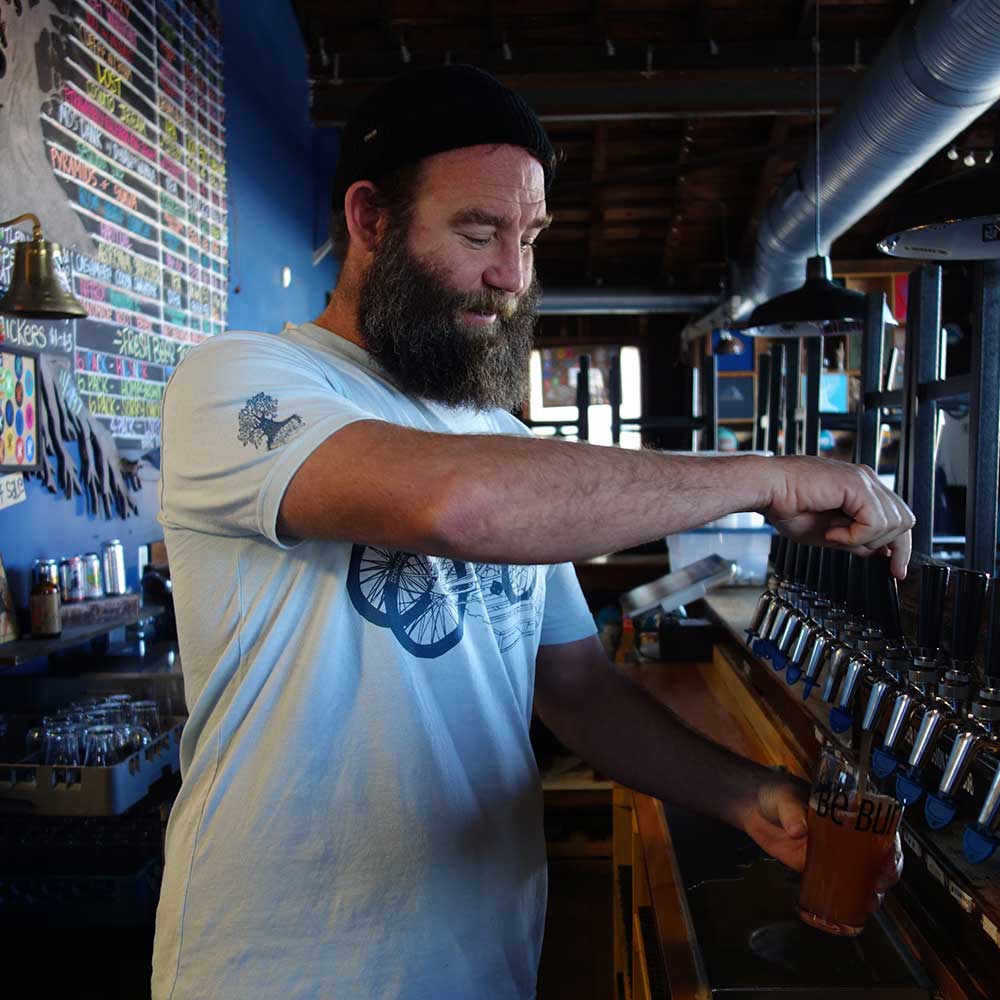 That chance has paid off. Burley Oak sits along Old Ocean City Boulevard, a short detour off the heavily traveled Route 50 for mid-Atlantic residents heading to the shore, making the brewery the perfect stop to pick up some craft beer before hitting the beach, including the ever-popular J.R.E.A.M. series that rotates fruit and other flavors into a sour ale base. Variants have included Berry Cherry and Apricot Raspberry, with Blackberry Blackcurrant and Banana Bread set to release soon.
(Enjoy: Brewpubs with Impressive Menus)
Even with the brewery's popularity in the Delmarva region, Brushmiller has made the conscious choice to keep Burley Oak small for the same reason that he started it in the first place.
"I had to make myself a job, and now we have 28 jobs," says Brushmiller proudly.
He still remembers what his life was like when he did not have a job and how hard it was to provide for his family. With that constantly on his mind, he never wants to see that happen to those 28 people he employs; 28 people who come from all walks of life including a manager at Home Depot, an environmental government worker for fisheries, a science teacher, an electrician, and a "jack-of-all-trades" sales/marketing manager with a master's degree in Chinese.
"Burley Oak is a family business. We have to support all these people. We want to stay small and not overextend ourselves in case there ever is another recession," Brushmiller shares.
(Enjoy: Brewpubs with Impressive Menus)
It was not solely the recession and the loss of his job that has helped frame Brushmiller's leadership style. "Every bad experience I had as an employee, I don't want to be an employer like that." With that in mind, Brushmiller offers 100 percent medical coverage for his employees, and is even providing double the maternity leave for a bartender who is expecting. All staff members also get a beach cruiser bike.
"It's good for the environment," Brushmiller says with a smile. With such a great work atmosphere, it's no wonder that up until September of 2018, only four staff members had moved on to other jobs.
Brushmiller relates Burley Oak to Belgian breweries that have served one little town for hundreds of year. The brewery has become a centerpiece to the town of Berlin, which was named America's Coolest Small Town in 2014 by Budget Travel. The brewery has raised over $300,000 within the past seven years to support local charities, including the Berlin Chamber of Commerce, Coastal Hospice and the Humane Society.
Pressure to Expand the Brewery?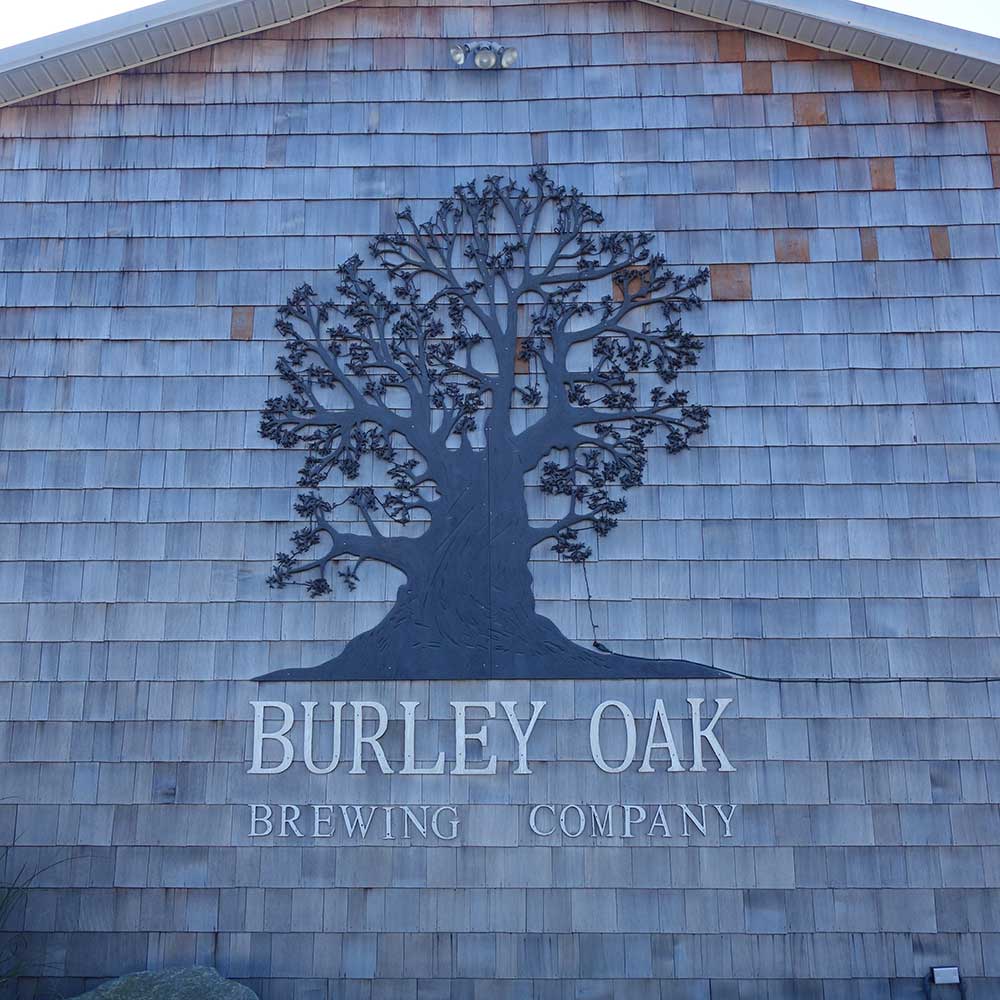 When asked if there was ever any pressure to grow and reach people on a larger scale, Brushmiller says, "We actually grew two years ago. We expanded from eight barrels to 15 barrels, and with no investors, it was tough."
Brushmiller remembers having to deal with the various aspects of town regulations, and waste and water policies. "Having another growth wouldn't be fun," he adds. "Bigger is not better."
(Seek the Seal: Post Your Photos on Instagram)
Making a 4,800 barrels annually, Brushmiller wants his beer to go straight to beer lovers: "The model of having a warehouse is not the model for me."
"I fell in love with the creative part of making beer," states Brushmiller, which is why he lets brewers Adam Davis, Ian Spice, and Andrew Lovelass make a new beer everyday. "We entertain all ideas and can do so much more fun stuff." Fun stuff like dropping 100 freshly baked Belgian waffles from the Burley Cafe into a stout!
Brushmiller Thinks Big to Stay Small
Keeping his brewery and production small doesn't mean he can't expand elsewhere.
(More: Craft Brewers Tell Us About Their Bucket List Breweries)
Brushmiller opened the Burley Cafe in downtown Berlin in 2017, serving some of the most delectable waffles that play true with the creative outlet he loves in brewing beer. In November 2018, he opened The Viking Tree Trading Co, a retail store for men's clothing and expedition accessories.
"The hope is to sell beer and wine there as well, but we need to get the retail aspect up and running," Brushmiller says.
At the brewery itself, Brushmiller added a 100-square-foot outdoor covered stage, as well a 1500-square-foot "cellar," used mostly for bottle aging, but is also space to host small events and even yoga classes.
"We want to focus on hospitality. We finished our stage this summer and plan to use the space as a music venue, as well as for parties," he explains. "We also are focusing on bottle aging."
So though Burley Oak Brewing and family are keeping it small, they are certainly living large in the quintessential American small town of Berlin, Maryland.
CraftBeer.com is fully dedicated to small and independent U.S. breweries. We are published by the Brewers Association, the not-for-profit trade group dedicated to promoting and protecting America's small and independent craft brewers. Stories and opinions shared on CraftBeer.com do not imply endorsement by or positions taken by the Brewers Association or its members.