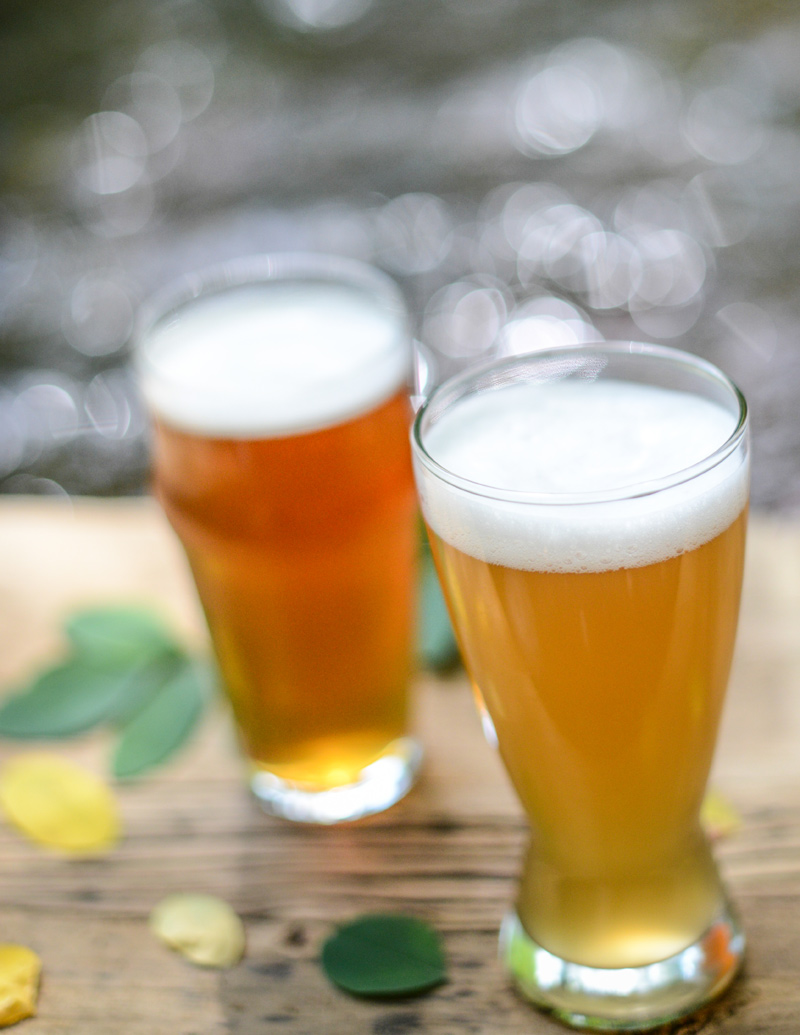 Craft Beer Fall Seasonals 2013
I'm not sure if it's the return of college football, the abundance of soup and warm layers or the fact that pumpkins sit happily on my front porch—and in my beer—but fall is by far my favorite season.
Fall means fresh ingredients straight from the field; hops only hours off the bine, local honey, chocolate malts and savory spices. America's craft brewers have been hard at work personifying fall's flavors in their latest seasonal releases.
To celebrate these craft beer fall seasonals, we asked Brewers Association member breweries to share their latest releases. Here's what they had to say:
---
Anaheim Oktoberfest Lager | Anaheim Brewery Anaheim, CA
Anaheim Oktoberfest Lager is brewed according to a 100-year-old recipe in a traditional Bavarian style, and is copper-colored and around 6.5% ABV. It has a rich, caramel maltiness, balanced with a touch of German Hersbrucker hops, and a smooth, slightly toasty finish.
Availability: Anaheim and Orange County, CA
Jaw-Jacker | Arcadia Brewing Company Battle Creek, MI
This spiced, amber-wheat ale is our celebration of the arrival of autumn. Using the finest malted barley and a little wheat for mouthfeel, Jaw-Jacker displays a brilliant orange-amber color, despite the absence of pumpkin in the recipe. The addition of cinnamon, allspice and nutmeg (in the exact proportions of our brewer's grandmother's pumpkin pie recipe) creates a refreshingly spicy brew, which gives Jaw-Jacker the characteristics of a familiar fall comfort food.
Availability: IL, KA, KY, MI, NJ, OH, PA
Miel Sauvage (wild honey) | Bayou Teche Brewing Arnaudville, LA
Miel Sauvage is brewed as a Biere de Miel (honey beer) with Bernard's Honey (a local Cajun apiary). The beer clocks in around 9% ABV, and is then aged in oak barrels for 100 days (the length of time that Napoleon was exiled).
Availability: AL, GA, FL, LA, MS, NY 
Bell's Best Brown Ale | Bell's Brewery, Inc. Kalamazoo, MI
A smooth, toasty brown ale, Best Brown Ale is a mainstay in our fall lineup. With hints of caramel and cocoa, the malt body has the depth to stand up to cool weather, but does not come across as heavy. This balancing act is aided by the generous use of American hops.
Availability: AL, AZ, DC, FL, GA, IA, IL, KY, MI, MN, MO, NC, ND, OH, PA, SC, VA, WI
Pumpkin Ale | Blackstone Brewing Company Nashville, TN
Pumpkin beers have a history dating back to colonial time. Quality malt was difficult to find in those days and it is even rumored that several founding fathers were known to brew beer with pumpkin. Blackstone Pumpkin Ale has a mild pumpkin flavor and a delicate spice character that rounds to a slightly sweet finish.
Availability: TN 
Blue Point Pumpkin Ale | Blue Point Brewing Company Patchogue, NY
According to Linus, there are three things never to discuss with people: religion, politics and the Great Pumpkin. Our Pumpkin Ale on the other hand, has made quite a buzz from New Hampshire all the way down to Florida. Brewed with pumpkins from only the most sincere patches, this seasonal brew is golden orange, crisp and delicious, with an innocent hint of cinnamon and nutmeg that articulates our favorite season. Gather with friends and family and enjoy the change of seasons while savoring a pint of Pumpkin Ale. Just like the leaves, it's gone after Thanksgiving.
Availability: CT, DE, FL, GA, MA, MD, MI, NC, NH, NJ, NY, PA, RI, VA, VT
Gyptoberfest Marzen Lager | Bonfire Brewing Eagle, CO
The "Gyptoberfest" was born to help the town of Gypsum commemorate the first Vail Downvalley celebration of sausage and schnitzel. With Augustiner yeast and Hallertau hops, the Gyptoberfest is a very traditional Marzen beer that is deep amber in color with a robust, toasty flavor.
Availability: CO (mostly Eagle County)
Oktoberfest | Carolina Brewery
Pittsboro, NC
The German celebration of Oktoberfest began in Munich in 1810 to celebrate the wedding of Crown Prince Ludwig and Princess Therese. This two week long party has become the biggest beer drinking event in the world, and is still going strong. Our Oktoberfest beer is an amber-colored lager made in the traditional style with a toasty malt flavor, medium body and a spicy hop finish.
Availability: NC, SC
Sticky Fingers Fresh Hop Ale | Crazy Mountain Brewing Company
Vail Valley, CO
Once a year we have the special opportunity to brew with hops the same day that they are harvested—still wet from the bine. Our head brewer and his production team have the pleasure of taking a road trip out to Palisade, Colorado when the hops are ready, camp overnight and hand-pick them. Once they brave the heat to gather 1,000 pounds of fresh hops, they race back to the brewery to toss them into the boil within three hours of being picked.
Availability: 22 ounce bombers in CA, CO, NM, TX, OR, FL, NC, NH, MA, CT, OH, IL, MN, as well as on draft
Imperial Pumpkin Smash Stout | Crown Valley Brewery Genevieve, MO
The Imperial Pumpkin Smash Stout is brewed with a big load of roasted grains, fresh roasted pumpkin as well as pumpkin pie spices. This beer just keeps getting better with age as the nuances of those flavors meld into a great imperial stout.
Availability: AL, DE, GA, IL, LA, MA, MD, MO, MS, NC, TN
Chasin' Freshies Fresh Hop IPA | Deschutes Brewery Bend, OR
Born in a ski town, Deschutes Brewery knows what it's like to be endlessly in pursuit of untouched perfection—chasing pristine powder slopes on mountain flanks. In similar fashion, Deschutes Brewery will chase down Gamache Farms' famed fresh Amarillo hops for this year's vintage. Chasin' Freshies, which first appeared in the Bend pub and came out in its bottle debut last fall featuring heirloom Cascade hops, is a nod to the snow and hop enthusiasts we've entertained for the last 25 years at our downtown gathering spot. You'll most definitely want to seize the moment and enjoy the bold, juicy aroma and flavor that comes but once a year.
Availability:  Available in most states where Deschutes is sold.
Jacques Au Lantern | Evolution Craft Brewing Company Salisbury, MD
Jacques au Lantern is an unfiltered amber ale brewed with pumpkin and spices. We add locally-grown roasted pumpkin to the mash and traditional pumpkin pie spices to the kettle, and then ferment with a Belgian yeast strain.
Availability: MD, DE, Northern VA, Eastern Shore of VA, PA, and Washington DC
Breakfast Stout | Founders Brewing Co. Grand Rapids, MI
Breakfast Stout, double chocolate coffee oatmeal stout, the coffee lover's consummate beer. Brewed with an abundance of flaked oats, bitter and imported chocolates and Sumatra and Kona coffee, this stout has an intense fresh-roasted java nose topped with a frothy, cinnamon-colored head that goes forever.
Availability: AL, CT, FL, GA, IA, IL, IN, KY, MA, ME, MI, MO, MN, NC, NH, NJ, NY, OH, PA, RI, SC, TX, VA, VT, WI 
St. Stan's Baltic Porter | Front Street Brewery Wilmington, NC
This beer celebrates our Brewmaster, Kevin Kozak's Polish heritage, and is brewed specially every year for St. Stanislaus Catholic Church, which purchases half the batch for their annual Polish Festival in Castle Hayne. It's approachable, ultra-smooth, slightly sweet, clean and malt-forward, with notes of dark chocolate and sweetened coffee with cream. Little in the way of hops flavor or bitterness—enough for balance and a drying finish.
Availability: Front Street Brewery and St. Stanislaus' Polish Festival in Castle Hayne, N.C.
LTD 07 Oktoberfest | Full Sail Brewing Company Hood River, OR
Why fly to Munich for a genuine Oktoberfest Lager when this one's inches from your lips? A smooth, malty lager brewed in the true Bavarian Style, using Two-row Pale, Vienna, Caramel and imported roasted Munich malts, moderately hopped with imported Czech Saaz and Yakima Sterling hops. Flavors reminiscent of honey, nougat and roasted nuts. Complex and beautifully balanced Prost!
Availability: AK, AZ, CA, CO,CT,FL, GA, ID,KY, LA, MA, MD, MN, MT, NC, NJ, NH NM, NV,NY, OH, OK, OR, PA, RI, SC, TX, VA, WA, WY, UT Patterson Pumpkin | Full Tilt Brewing
Baltimore, MD
Patterson Pumpkin is a deceptively smooth imperial pumpkin ale. This seasonal "feast" begins with a grain menu comprised of Two-row Pale, Dark Munich, Red Wheat and Carapils malts joined with pumpkin in the mash. Sterling, Willamette and Crystal hops are added to the boil to balance the malt sweetness. Finally, for the delectable pumpkin pie taste and aroma, cinnamon, nutmeg, ginger and brown sugar are added, creating a rich, full-bodied fall drinking experience you'll want to revisit again and again.
Availability: MD
Bone Warmer Imperial Amber Ale | Grand Teton Brewing Victor, ID
2013 marks the 25th anniversary of Grand Teton Brewing. In celebration, we've brought back three of our favorite styles for this year's Cellar Reserve series. Bonewarmer Imperial Amber was first brewed in 2006, and sold out faster than any other beer we've made. Bone Warmer, brewed in the strong ale tradition, is a beer of great character, with exceptional malt flavor and warming alcohol content.
Availability: CA, CO, ID, IL, KS, MN, MO, MT, NE, ND, SC, SD, WA, WI, WY
Harpoon Octoberfest | Harpoon Brewery Boston, MA & Windsor, VT
Harpoon Octoberfest is a malty tribute to fall, balanced by a gentle hop bitterness. In keeping with tradition, it is a Marzen-style beer, brewed with abundant quantities of Munich, Chocolate and Pale malts. Those malts provide a solid, full body and create the beer's deep color. It is a rich, flavorful beer.
Availability: AL, CT, DC, DE, FL, GA, IL, IN, KY, LA, MA, MD, ME, MI, NC, NH, NJ, NY, OH, PA, PR, RI, SC, TN, TX, VA, VT, WV
GreatER Pumpkin | Heavy Seas Beer Baltimore, MD
GreatER Pumpkin is an imperial pumpkin ale brewed with actual pumpkin, autumnal spice and English malts. Bourbon barrel-aging adds subtle vanilla oak to the finish.
Availability: MD, AL, CT, DC, DE, FL, GA, IN, NJ, NY, KY, MA, ME, MI, NC, OH, PA, RI, and VA
Fruit Crate Pumpkin Ale | Hermitage Brewing Company San Jose, CA
The owner of Hermitage Brewing Company also owns a farm, and harvests these pumpkins specifically so we can use them. No additional sweeteners or spices are added, giving it a true, clean pumpkin flavor. With the warmer weather this year, our batch should have a really good, natural sweetness.
Availability: Northern CA, AZ IL, IA, IN, MI, MO, SD
Oktoberfest | Karl Strauss Brewing Company San Diego, CA
We brew Oktoberfest in tribute to the world's biggest beer party. Vienna and Munich malts produce the deep golden color, nutty undertones, and toasted malt flavors characteristic of this renowned Bavarian beer style. Perle hops imported directly from the Hallertau region of Germany give the beer a smooth balanced finish. This celebratory lager puts the "fest" in the month of October.
Availability: CA
Me and the Dev-Ale | Lazy Magnolia Brewing Company Kiln, MS
Me and the Dev-Ale is a rustic brew inspired by the Mississippi Delta Blues and its folklore. Our autumnal release from the Lazy Magnolia Back Porch Series is an 8% ABV Mississippi Strong Ale that pours a dark and sinister ruby red beneath a creamy off-white head. The seductive caramel-sweetness is enveloped by resinous pine and citrus hops aroma, while delivering to the palate sweet biscuit, with a deluge of spicy hop bitterness in the finish. Find yourself at the "crossroads" of alluring malt character and deviant hop backbone in this infamous ale, while celebrating the Blues Legends of the Mississippi Delta.
Availability: AL, FL, GA, LA, MS, SC, TN, TX
Oktoberfest | Left Hand Brewing Company Longmont, CO
Toasty malt flavors dominate up front, and noble hops lead to a spicy and superbly clean lager finish.
Availability: AL, AZ, CO, FL, GA, IL, IN, KS, KY, MA, MI, MN, MO, NC, NJ, NM, NY, MN, NC, OH, OK, PA, RI, SC, TN, VA, WA, WI
Kentucky Pumpkin Barrel Ale | Lexington Brewing and Distilling Co. Lexington, KY
Kentucky Pumpkin Barrel Ale is a barrel-aged ale richly spiced with cinnamon, nutmeg and allspice. As every drop of the ale decants in fresh bourbon barrels, the sweetness of caramel and vanilla are imparted upon the brew and complement its spicier base. At 10% ABV, this robust, limited release seasonal makes for a flavorful sipping beer to slowly warm up with as the weather cools.
Availability: FL, KY, OH, TN
Autumn Wheat Ale | Mayflower Brewing Company Plymouth, MA
Mayflower Autumn Wheat Ale is a dark wheat beer. Flavorful and medium bodied, it combines the fruity aroma and bready character of traditional wheat beers with the malty richness of dark ales.
Availability: MA, NH, RI, CT
Old School Oktoberfest | Mother's Brewing Company
Springfield, MO
Old School is a traditional amber lager brewed to celebrate the fall harvest. Extended aging creates a medium bodied beer with a smooth malty flavor and just the faintest touch of hops. Pull up your lederhosen and raise a stein. Ein Prosit!
Availability: most of MO and northwest AR
Oktoberfest | Ninkasi Brewing Company
Eugene, OR
Highly drinkable and with a slight malty sweetness, Dortmund-style lagers were first brewed in 19th century Dortumund, Germany and were favored by the city's industrial workers. The hallmark of this Dortmund-style pale lager is the balance between perceptible Noble Hop bitterness and rounded malt flavor; making it deliciously easy to drink. We used Pilsner, Vienna, Carahell and Acidulated Malts with German Magnum and German Hersbrucker hops.
Availability: CA, MT, OR, WA, and Vancouver, B.C.
Ten FIDY Imperial Stout | Oskar Blues Brewery Longmont, CO / Brevard, NC
This titanic, immensely viscous stout is loaded with inimitable flavors of chocolate-covered caramel and coffee and hide a hefty 98 IBUs underneath the smooth blanket of malt. Ten FIDY (10.5% ABV) is made with enormous amounts of Two-row and Chocolate malt, roasted barley, flaked oats and hops. Ten FIDY is the ultimate celebration of dark malts and boundary-stretching beer.
Availability: AL, AZ, CA, CO, CT, FL, GA, IL, IN, MA, MI, NC, NH, NJ, NY, OH, OR, PA, RI, SC, TN, TX, VT, WA, WI 
Slaughterhouse India Red Ale  | Payette Brewing Co. Boise, ID
Slaughterhouse features Amarillo hops, known for their dark, fruity characteristics. While higher in alcohol by volume, a roasted malt base offsets the hops and balances the heat of the alcohol for a subtle, rich finish.
Availability: ID
Sweet Potato Ale  | Piney River Brewing Company
Bucyrus, MO
A malt-forward ale featuring the flavors of roasted sweet potatoes, spices and vanilla with a balanced hop profile, a subtle vanilla and spice aroma and a smooth finish.
Availability: AR, MO
Red Zone | Prism Brewing Company North Wales, PA
Red Zone is what we call our "Football Seasonal," as it is available from August through the Superbowl. It is a beer based on an Irish Red Ale that we spice with cinnamon, ginger, nutmeg, allspice and Pennsylvania maple syrup sourced directly from the farm.
Availability: Philadelphia metropolitan market and central & southern NJ
Sheepherder Saison | Sawtooth Brewery Ketchum, ID
Named Sheepherder Saison for the rich history of Basque sheep ranchers that still to this day move their herds of sheep from the mountains in and around Sun Valley, Idaho during the summer to the lowlands of the Wood River Valley in the winter.
Availability: Draft only in Southern Idaho
Chasing Tail Golden Ale | Squatters Beers Salt Lake City, UT
A golden pale with a light English hop nose. Low to medium bitterness allows for good malt character to shine through with a sweet malt character. The name is taken from our former brewmaster's dog Payson's habit of chasing her tail every night at dinner time. For every bottle cap returned, Squatters donates 5¢ to the Best Friends Animal Society of Utah.
Availability: UT
Bonfire Rye | Sebago Brewing Company Gorham, ME
Bonfire Rye is just what it claims to be on the bottle, Rye Ale Stoked with Hops. This unique seasonal offering transcends any traditional beer style. The complex combination of malts complement a generous amount of late-addition American hops, creating a perfect balance between the earthy rye and resinous hoppy aroma. Bonfire Rye was designed to transition seamlessly between Maine seasons and be enjoyed on a hot summer day or cool autumn night. As the first offering under Sebago's new logo and packaging design, Bonfire Rye represents Sebago Brewing Company's 15 years of experience well.
Availability: At any of Sebago Brewing Company's four Maine brewpubs and throughout New England
Legacy IPA | Saranac Brewery
Utica, NY
Many families have traditions of passing on gifts from generation to generation. Our founder passed down his legacy of great beer. Inspired by his recipe for an IPA he brewed back in 1914, this heavenly IPAs aroma and depth of flavor is our gift to consumers for our 125th anniversary. We created a collaboration between his recipe and a modern IPA, brewing with a blend of historic, traditional and innovative hops. The historic varieties we are using date all the way back to 1888, when F.X. Matt founded our brewery 125 years ago.
Availability: CO, CT, DC, DE, GA, IA, KS, MA, ME, NC, NH, NJ, NY, OH, PA, RI, TN, VA, VT, WV
Autmnal Molé Stout | Ska Brewing Co. Durango, CO
The Autumnal Molé Stout is an ale brewed with cocoa nibs, spices and three varieties of chile peppers: Ancho, Guajillo and Hatch green chiles, (also known as Anaheim Peppers.) One source of inspiration for the Autumnal Molé Stout is Ska Brewing's location in the high desert of Southern Colorado, where chile peppers—especially the famous Hatch (aka Anaheim) Green Chiles—are as important to fall as football. "Last year it was an inspiration, this year it's a tradition," said Dave Thibodeau, Ska President and co-founder.
Availability: CO, NM, AZ, TX, KS, OK, NE, MO, NC
Autumn Ale | Short's Brewing Company Bellaire, MI
Autumn Ale is a true-to-style London extra special bitter (ESB). It has a medium body, amber color and full flavor. This beer exhibits a wonderful balance of initial malty sweetness with subtle, lingering floral hop bitterness, resulting in an ideal bridge between malty and hoppy beer styles.
Availability: MI
Boxcarr Pumpkin Porter | Starr Hill Brewery Crozet, VA
Porter brewed with pumpkin and pumpkin spices.
Availability: DE, NC, NJ, MD, PA, MD, TN, VA, Washington, DC
Oktoberfest | Sun King Brewing Company Indianapolis, IN
Our take on the classic German Oktoberfest has a clean malty start with a slightly spicy hop note and a crisp, dry finish.
Availability: IN
Atom Smasher | Two Brothers Brewing Company Warrenville, IL
A hefty, full-bodied lager like the Marzens of old, but aged in our foudres for complexity unmatched by the imported Oktoberfest beers of today. Just add lederhosen.
Availability: IL, IN, MN, NY, OH, PA, in variety packs sold at CostCo
Upslope Pumpkin Ale | Upslope Brewing Company
Boulder, CO
Adding Baby Bear pumpkins from Boulder-based Munson Farms to malt and hops makes this Pumpkin Ale a truly local farm to brewhouse beer. A custom blend of six spices rounds out the flavors in this highly anticipated limited release fall ale.
Availability: CO
Wasatch Pumpkin Ale | Wasatch Beers Park City, UT
A deep amber-hued beer that smells like pie with a slight alcohol nose. It is a perfect blend of pumpkin pie spices and beer flavors, not so pumpkin-y that you forget you are drinking beer. Brewed with the finest barley and pure pumpkin, and spiced like your favorite holiday pie.
Availability: AZ, CO, IA, LA, MA, MN, NE, ND, NM, OR, RI, SD, TX, UT, WI
CraftBeer.com is fully dedicated to small and independent U.S. breweries. We are published by the Brewers Association, the not-for-profit trade group dedicated to promoting and protecting America's small and independent craft brewers. Stories and opinions shared on CraftBeer.com do not imply endorsement by or positions taken by the Brewers Association or its members.