Hemp ales are a growing trend in beer and not just for brewers seeking to create new flavors, but also for those looking to spread awareness.
Although hemp doesn't have the psychoactive components of the cannabis plant like marijuana, brewers who create hemp ales still must follow proper licensing and regulations on state and federal levels. [newsletter_signup_box]
The use of hemp in craft beer was a topic of discussion as more than 13,000 craft beer professionals made their way to Nashville for the 2018 Craft Brewers Conference (CBC) this spring. According to Alva Mather, an alcohol beverage lawyer who presented at the "Cannabis and Craft Beer" CBC seminar, hemp contains less than one percent THC, or tetrahydrocannabinol, which LiveScience.com defines as the chemical responsible for most of marijuana's psychological effects. Hemp seeds, seed oil and stalk aren't considered a controlled substance.
While using hemp is legal, Mather notes that brewers still must follow state legal considerations such as formula approval, including:
TTB (Alcohol Tobacco Tax Trade Bureau) formula approval is required even if only sold in-state.
Brewers will need to obtain a lab analysis for the hemp component which can be a prolonged process.
The word "hemp" cannot be used unless it's in the process: ("Ale Brewed with Hemp seed" vs. "Hemp Beer.")
The TTB must approve all non-traditional beer ingredients, and the use of cannabis extracts is no exception. It's a lesson a few South Florida breweries recently learned the hard way after receiving TTB cease-and-desist letters earlier this year.
(MORE: Hoppy and Bitter: The Misunderstood Beer Styles)
"If you've used an ingredient, like [cannabis] terpenes oil, you would need to come to us for formula approval first, since that product isn't recognized as a traditional beer ingredient," Thomas Hogue, a TTB spokesman and director of the agency's Office of Congressional and Public Affairs, told SouthFlorida.com.
Brewery Explores Hemp Seed Oil Extracts in Beer After Family Diagnosis
Michael Sanders of Xtracts, a Tennessee company that specializes in the manufacturing of high value molecules from plants for food, nutraceutical and pharmaceutical applications, believes it's a catalyst for a much more meaningful conversation beyond the beer. He joined a panel at CBC for the seminar "Understanding Pure Distilled Hop Oils."
"Since the seminar we've got a lot of phone calls from Craft Brewers Conference attendees," Sanders says. Sanders partnered with Nashville's Little Harpeth Brewing taproom manager Devin Pena and brewer Mike Onofray to introduce Xtracts' distillation process for a CBC event. Little Harpeth's Pena has a personal connection to cannabidiol (CBD), a compound found in cannabis plants.
(FIND: Breweries Near Me)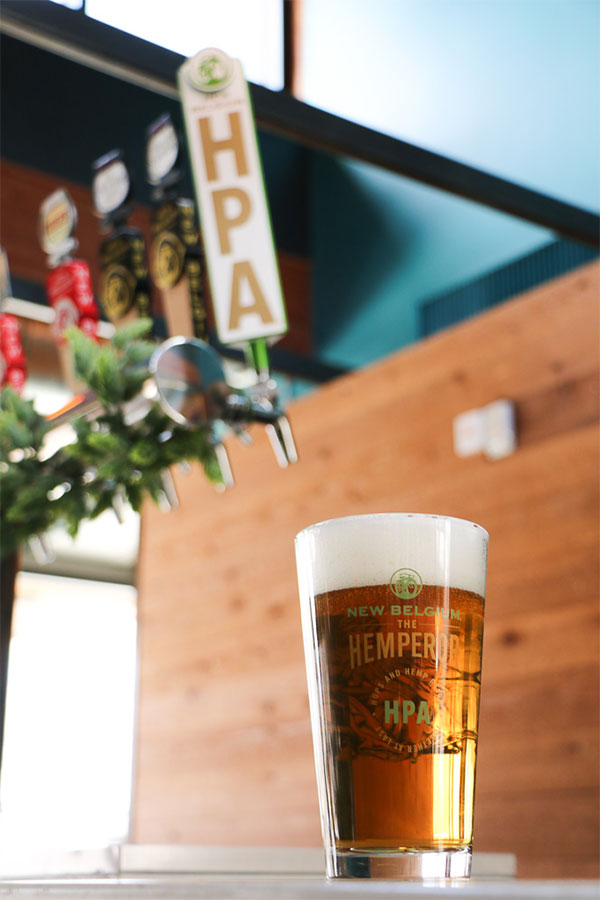 His daughter, Kora, was diagnosed with CHARGE syndrome years ago. According to chargesyndrome.org, this is a complex genetic syndrome involving extensive medical and physical difficulties that differ from child to child. Doctors say it's what brought on Kora's autism and hearing impairment. Her symptoms ranged in "gnarliness" Pena says.
"The drugs she was prescribed were no longer working and CBD was illegal at the time in Tennessee," he says.
Pena eventually would partner with a proactive medicine practitioner which led to Kora's symptoms dissipating drastically due to the use of CBD extractions. The extractions were made possible by Xtracts distilling hemp flowers grown just up the road from Little Harpeth Brewing at the Six Boots Collective farm.
(MORE: Beers to Your Health: Researchers Link Health Benefits and Beer)
The FDA doesn't recognize healing effects from hemp and the use of hemp in the brewing process isn't meant to mislead consumers in the belief that a beer could heal their ailments. But Pena thought using hemp seed oils in beer would be a great awareness campaign. Sanders donated the hemp seed oils and Little Harpeth brewer Michael Onofray got brewing.
The process was pretty simple. Onofray started with two sixtel barrels where one was empty with only a measured dose of hemp seed oil injected into the clean barrel. It was then racked from a full barrel of Mosaic Pale Kolsch. They sold out of seven barrels for CBC with proceeds benefiting the Tennessee Cannabis Coalition.
Craft Brewers Further Explore Hemp Extracts
Little Harpeth's new head brewer, Jesse Brown, is intrigued by the use hemp extracts in beer. Brown comes from Nashville's Tailgate Brewery where IPAs are a specialty. He plans on at least exploring hemp extracts and sees it as an opportunity to work with a "useful plant that's been used for centuries all over the world."
"I'm interested in exploring the science behind it," he tells us.
Jesse Claeys of New Belgium Brewing agrees.
"We believe it's a game changer that could be the next IPA, maybe even a new category," he says about New Belgium's new release, The Hemperor HPA. The beer is brewed with hemp hearts — the meat of the seed, minus the shell — and dry-hopped with Simcoe and experimental HBC 522 hops to create a dank, pungent hop aroma balanced by a sweet, mildly herbal finish. The Hemperor HPA does not contain THC or CBD, but it's currently banned in Kansas.
New Belgium is also partnering with GCH Inc., the company co-founded by Willie Nelson and family to build brands inspired by his journey as an artist and advocate, in supporting a national advocacy campaign to reverse the ban on industrial hemp. One dollar from the sale of every barrel of The Hemperor HPA will be donated to raise awareness and promote pro-hemp legislation.
In spring 2018, Four Saints Brewing in Asheboro, North Carolina, released Founding Fathers Hemp Ale, which the brewery says is the state's first legally registered hemp craft beer. Four Saints' Joel McClosky describes Founding Fathers Hemp Ale as a dark, english mild ale with a low ABV and traditionally low carbonation point — the perfect pairing for hemp seeds which add even a more nutty profile, somewhat like sunflower seeds. He prefers the beer served on nitro to add a touch of creaminess.
(LEARN: CraftBeer.com's Beer 101)
McClosky says he never thought about using hemp until he met Bob Crumley speaking at the local rotary club. After a successful law career, Crumley retired and got into hemp research with his new venture, Founder's Hemp, where he's working with farmers all across North Carolina.
"We're receiving what would be a waste for Bob, and then put it into the mash and fermentation like dry hopping. The lab sample came back with zero percent THC," McClosky explains.
As if being North Carolina's first legally registered hemp ale wasn't enough, Four Saints used the opportunity to put a spotlight on sustainable brewing. They partnered with Greensboro's Urban Offsets on a carbon-neutral brewing process to make Founding Fathers Hemp Ale — a first for North Carolina and among the earliest of its kind in the nation.
The verdict is still out whether this hemp ale trend is what New Glarus Brewing co-founder Deb Carey might call a "relationship grabber." But one thing is for sure: this relative of hops can sure stir things up.
CraftBeer.com is fully dedicated to small and independent U.S. breweries. We are published by the Brewers Association, the not-for-profit trade group dedicated to promoting and protecting America's small and independent craft brewers. Stories and opinions shared on CraftBeer.com do not imply endorsement by or positions taken by the Brewers Association or its members.