Glen Tomlinson stands up from the table and walks over to the line of taps hanging on the wall. This one, he says as he points, is a tribute to love and war. It's called – brace yourself – the Wiki Waki Woo Brew Passionfruit Papaya Wheat.
"That's our love story brew," he says. "There were a lot of marriages between military and nurses. A lot of stories."
He moves on to another tap. It doesn't have as long a name, but it has just as long a story. It's the Tannebaum Ale, a beer that tells the tale of when American and German soldiers had an impromptu Christmas dinner together at a small cabin.
(MORE: America's Earliest Presidents Loved Beer)
"This is an unbelievable story," he says. "You have the Germans and the Americans celebrating together during the war."
Some version of the word "story" is used a lot as he continues down the line at Home of the Brave in Honolulu, introducing his beers. But never once does he really go into what the beer might taste like or the ingredients used.
As our time together moves on, I realize it's because, deep down, beer is not really what Glen is about.
It Started With A Bathroom Break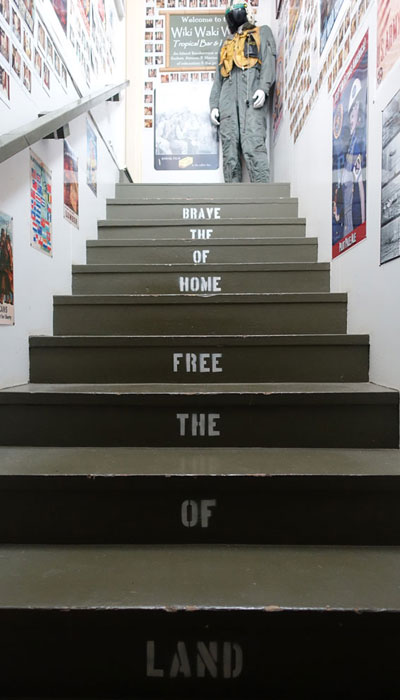 In 1991, Glen was working for a local tour company here in Hawaii. Because of his interest in World War II history and family background (many of his family members served in WWII), he was asked to show around a group of veterans who were coming back to Hawaii for the 50th Anniversary of the Pearl Harbor attacks. He took them to revisit their old bases, like Schofield and Wheeler, and battlefield sites.
Glen was inspired by the stories he heard those vets tell, and they were in turn inspired by he and his guidance. They told him they wanted to come back the following year and bring their families with them.
With that, the Home of the Brave tour was born. The next month, in January of 1992, Glen led another group. At the end, he brought them by a small "gift shop" he had set up in Kaka'ako. It wasn't a huge thing, just a pit stop he swung by so the group could pay for the tickets.
"I hate to call it a bathroom stop, but maybe that's what it was," Glen said, recalling the early days. "It was just a small front room where people would pay for the tour. We had like one t-shirt, a refreshment shop; at the end of the day they'd come in and pay, buy a soda or something."
But everything changed that day when an Army vet took off his military hat and hung it on a wall hook. "It's not a gift shop anymore," the vet told him. "Now you have a museum."
It was probably a joke, but Glen didn't laugh. From then on, his veteran guests began contributing – a.k.a decorating – the place, with photos and clothes and other war swag. Each time he stopped by with a group and told them the stories of his growing collection, they too would contribute more things, either on site or later by mail.
So, all of a sudden, he really did have a museum. But Glen wouldn't take any old thing. If he was going to display something, he needed to know about it.
"I don't want just stuff," he said of his policy, which still stands today. "I want the story and the memories behind it."
The Kids Might Not Be All Right
One of the things Glen attributes to the growth of his museum is not necessarily a pleasant truth, but it is a truth nonetheless: The kids don't care.
That's one of the most common reasons accompanying donations, he said, a vet confessing that his kids or grandkids don't have any interest in keeping the old relics.
This hard truth is something Glen has been working to correct since that first tour in 1991. Through partnerships with schools and young adult programs over the years, he has seen the indifference firsthand.
"We spent a lot of time trying to figure out what we can do to bring young people in, to interest them," he said. "If we're not bringing them in by saying, 'Hey, let's talk World War II stories,' then we have to get creative, adapt or die."
(MORE: 9 Breweries to Follow on Instagram)
The 'Brewseum' Is Born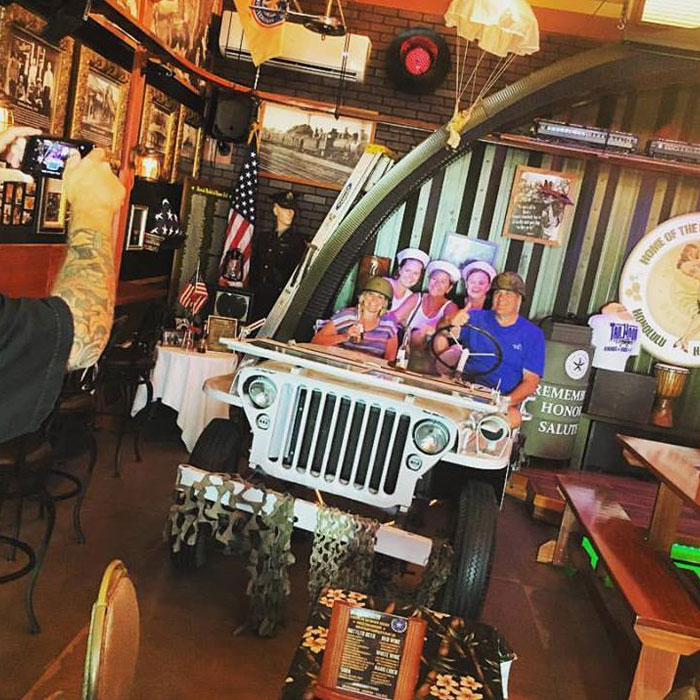 As the donations continued and the stories piled up in his museum over the next decade, Glen was still searching for a way to bridge the gap with young people. More vets were beginning to pass away, and despite his growing collection, visitation was often cold.
In 2009, an answer came. Glen's son, Duke, was studying in Fort Collins, Colorado, during the height of the craft beer revolution. He had a crazy idea and called his father. Beer, he thought, might be a good way to modernize the museum.
"I laughed at first," Glen recalled. "I was thinking, 'Okay, a college kid drinking great craft beer has thought up this idea.' But then I saw the movement happening on the mainland, and I realized this could be the way, the vehicle to connect past and present."
"World War II is ancient history to young people. So if beer needs to be the bridge to bring them in, so be it." ~Glen Tomlinson, Home of the Brave Brewing
Duke dedicated his senior capstone to a business plan for Home of the Brave Brewing, and the following year, the plan was put into place. The family installed a one-barrel brew system in the back of the museum, and opened a bar next door called the "Brewseum." It too is decked out with mementos, complete with moving trains and flying airplanes (and one hell of a Wednesday night trivia).
"World War II is ancient history to young people nowadays," Glen says. "So if beer needs to be the bridge to bring them in, so be it."
After a few years of ironing out the kinks and brewing only five beers, the brewery has hit its stride and has developed a line of beers that aligns with its true plight and passion: telling World War II stories.
(MORE: Challenges and Advantages of Brewing in Paradise)
Still Searching, A Speakeasy Is Found
For the 50th anniversary of Pearl Harbor in 1991, Hawai'i welcomed back 6,000 war veterans. This year, for the 75th, there will only be about 200.
"Our collection has tripled or maybe even quadrupled the last few years because, sadly, people are passing away," Glen said. "We'll get a call from the son who says, 'Hey, my dad wanted you to have this.'"
Glen is hoping that his craft beer can entice those sons and daughters — and really all young people — to brush up on their history. For this, Home of the Brave launched a speakeasy in the back of the museum (you need directions and the password from the front desk). There, you'll find Glen behind the bar, pouring beers in full military attire. Once or twice a night, or upon request, Glen will highlight a piece in the collection and tell the story behind it.
"When younger guests come to the speakeasy and I'm able to share some of these stories, like how they used to stash kegs in the cargo of old bombers, they are blown away," Glen said. "Add a craft beer that's brewed downstairs … It's been a winning combination."
Not For Profit
To honor the 75th anniversary of Pearl Harbor, Home of the Brave has collaborated with another local craft brewer, Lanikai Brewery, to produce the Remember Pearl Harbor Mighty American Ale.
In 2017, Home of the Brave will release a new beer every month, each with a different story attached to it, like the aforementioned Wiki Waki Woo Brew Passionfruit Papaya Wheat. Tomlinson hopes it will create a constant buzz around the brewery, lining up with not only the 75th anniversary of Pearl Harbor but the launch of his nonprofit, the Remember Honor Salute Foundation, which will serve to celebrate, educate, and preserve the history, stories, and artifacts (donated by Brewseum guests) of the American Military with an aim to inspire both young and old to appreciate and understand the service and sacrifices made for the freedom and liberties we have today.
One thing Glen probably won't mention when you see him behind the bar at the speakeasy: This year is Home of the Brave's own anniversary, 25 years since that first tour. He waves his hand at me when I bring it up.
So be sure to say something when you see him. Because just like the veterans he proudly represents, Glen's story is special and admirable, too, and if we don't tell it, who will?
CraftBeer.com is fully dedicated to small and independent U.S. breweries. We are published by the Brewers Association, the not-for-profit trade group dedicated to promoting and protecting America's small and independent craft brewers. Stories and opinions shared on CraftBeer.com do not imply endorsement by or positions taken by the Brewers Association or its members.