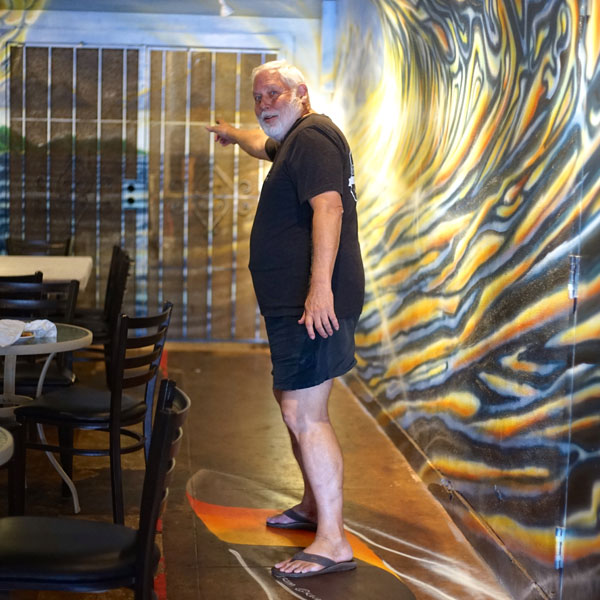 Kauai Beer Company: Challenges and Advantages of Brewing in Paradise
It's been forty years since Jim Guerber first visited the island of Kauai, but it's safe to say that the owner and founder of Kauai Beer Company is still as taken with the island now as he was all those years ago. Today he sits in the brewery's office, tucked above his bustling taproom, describing life on the island that he now calls home. His positivity is a true delight.
"We have such a beautiful landscape here. Every day I drive into work here and I just say 'Wow,'" Guerber smiles. "We are really trying hard to keep [Kauai's] rural character. Lihue is going to grow up, but we are trying to keep it rural."
(MORE: 10 Pieces of Taproom Etiquette You Should Know)
Lihue, the second largest city on the island at roughly 6,500 residents, and home to Kauai Beer Company, is undoubtedly expanding. The growth is demonstrated by and thanks to the brewery's taproom. It is flooded with local Hawaiians and tourists alike, as they sip on flagships like Black Limousine and Lihue Lager. Guerber couldn't be more humbled by his venture's success.
"It's amazing. It's shocking," says Guerber with sincere amazement. "I didn't expect to do as good as we're doing. Visitors are coming from all over."
And it's true. Kauai Beer Company has become a magnet for craft enthusiasts visiting Hawaii from all over the world, and the company's expansion has been swift. Since opening its doors in September 2013, the brewery has gone from being open two days a week to five days a week, and now offers food from their very own kitchen. The success of the brewery is evidence that beer from small and independent craft brewers has flooded from the "mainland" — what we know as the Lower 48 — and spread to the United State's 50th state. Though only one of two breweries on the island, Kauai Beer Company has created an immediate impact for craft in Hawaii.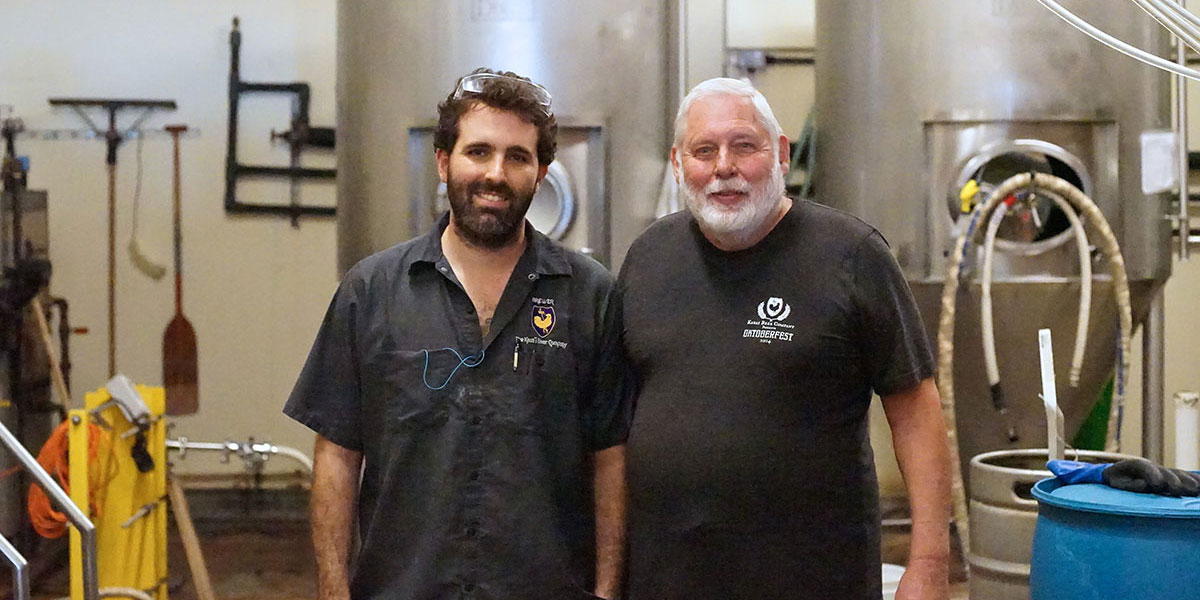 Challenges of Brewing in Paradise
That being said, it hasn't been easy. Kauai Beer Company is literally and figuratively on an island, and the success of the business hinges on strategic decisions, forward thinking and talented and innovative brewers.
The hurdles for opening the brewery's doors started early with finding a space and working with local permitting.
"The county had no idea what a space for a brewery should be," says Guerber. "It took us two years to be able to start building. It was difficult."
But with time, Kauai Beer Company was established in downtown Lihue, taking over a space that was formerly a nail salon and parking lot. Luckily, the next step for the brewery — finding a brewer up for the challenge — was easy enough. Guerber looked no further than his own son Justin. It proved an excellent choice — Justin has been instrumental in the company's success. Equipped with a computer science degree and a ballroom dancing career, Justin stepped off the dance floor and straight into the brewhouse. He now carefully and methodically swings to planning out his beers, and counts to the rhythm of expanding Kauai's reach on the island. But of course, it's not as simple as it sounds.
(MORE: Rogue Farms Is Like Santa's Workshop for Hop Lovers)
"Everything is harder," says Justin, during a quick break from a busy day of brewing. "Everything from sourcing ingredients to knowing what to plan for — taking tourism and seasonality into account. I get around it the best way I can by planning six months in advance."
The busy day of brewing that Justin is experiencing during our visit to Kauai Beer Company is a prime example of the hiccups island life can bring. Despite sourcing in the some of the best ingredients craft has to offer — hops from Yakima, Washington, and grain from Vancouver, Washington — things happen. Justin's last batch didn't perform quite right, and now he's battling time to play catch up.
"You can plan out six months of what you think you're going to need. You order all the grain, get everything stocked up and then something goes wrong and you have to switch it up. You have to plan a long time in advance and be ready to alter the plan and be adaptable at a moment's notice," Justin says. "I don't think it lets me be as creative as I want to be. If I'm thinking about something and I want to do a different style I have to wait six months before I can do it. So you have to be very methodical about what you can do."
The restraints on Justin's improvisation are offset by his quality, consistency and balance. As we work through the lineup, it's safe to say that despite Kauai's limitations, their beer can stand up to any from the "mainland."
Conveying the Spirit of Aloha
But as we know, a brewery is often times more than its beer. This is exceptionally true for Kauai Beer Company, as the brewery's Director of Marketing and Communications Larry Feinstein explains.
"The hospitality we have is very much affected by 'aloha.' Aloha has been commercialized; it appears everywhere. But the fact of the matter is that aloha is actually real," he says, alluding to the word that is synonymous with peace, compassion, fondness. "In our own way, we try to convey the spirit of aloha without naming it."
And as we see Justin and Larry greeting their patrons, Justin grinding away in the brewhouse, employees smiling and every visitor in the brewhouse savoring, we can't help but agree.
CraftBeer.com is fully dedicated to small and independent U.S. breweries. We are published by the Brewers Association, the not-for-profit trade group dedicated to promoting and protecting America's small and independent craft brewers. Stories and opinions shared on CraftBeer.com do not imply endorsement by or positions taken by the Brewers Association or its members.