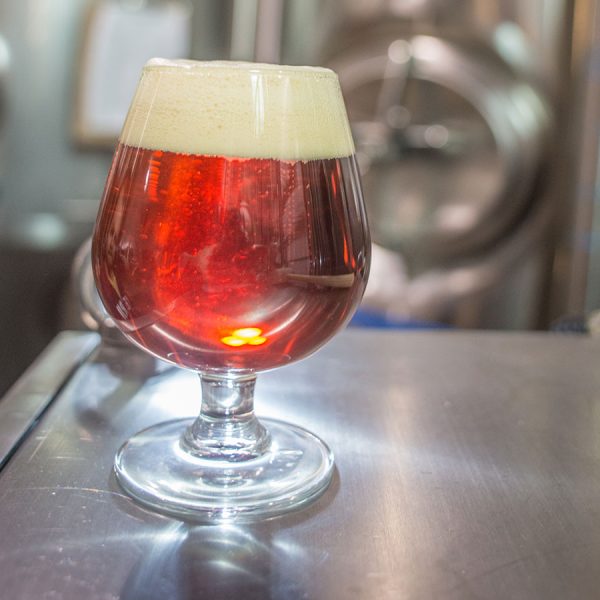 Hood River: Oregon's Craft Brewery Incubator
The hamlet of Hood River, nestled on the Oregon bank of the Columbia River Gorge, is a kiteboarder's and hiker's dream come true. The population stands around 7,000, yet it's home to five breweries, not counting the brewpubs across the Columbia River in Washington. Portland, an hour away, may boast more breweries than any city in the world, but Hood River has the most per capita (not counting Parkdale, still in Hood River County, where the brewery to people ratio is 1:266).
Hood River is almost directly between Yakima, Wash., and Salem, Ore., meaning it gets Yakima Valley and Willamette Valley hops equally fresh. No wonder it hosts the best and biggest of the fresh hop beer fests during harvest season.
Speaking of fertile valleys, there's a highway in Hood River dubbed The Fruit Loop for all of the vineyards and orchards it encircles. The intersection of hops, yeast and fruit creates unique brewing options for Hood River. Several breweries specialize in both IPAs and fruit beers like Belgian-style Krieks (brewed with cherries) and Pêches (brewed with peaches).
Full Sail Brewing Co.
Perhaps more critical, though, is Full Sail. Founded in 1987 by CEO Irene Firmat, the brewery turned Hood River into a hop haven (they resolutely refuse to make fruit beers) by importing talented brewers.
Full Sail has become the brewery incubator for the region, as nearly every brewery there was started by a former Full Sail brewer who branched off to start their own business. The brewery is also responsible for one merger—the marriage of Firmat to brewmaster Jamie Emmerson.
Logsdon Farmhouse Ales
Full Sail's founding brewmaster, David Logsdon, founded Wyeast, the original yeast lab supporting craft brewers, in Hood River in 1986. In 2010, Logsdon launched Logsdon Farmhouse Ales in his picturesque red barn.
The saison-centric brewery produces Seizoen Bretta with funky Brettanomyces, as well as Cerasus, their Flanders Red ale, made with sweet and tart Oregon cherries. Just wait until Logsdon's own Schaerbeekse cherries, grafted from authentic Belgian cherry trees in Flanders, are ready to use.
Double Mountain Brewery & Taproom
Matt Swihart's prior experience in Maryland landed him a gig as Full Sail's night shift brewer in 1994, before he worked his way up to assistant brewmaster. He left in 2006, and a year later opened Double Mountain Brewery & Taproom, saying Full Sail gave him "experience in quality control and project and team management."
He now crafts Devil's Kriek and Tahoma Kriek, made with tart Bing and yellow Rainier cherries respectively, both picked from his own orchard.
Still-wet hops create the vibrant, herbaceous Killer Green, the fresh hop version of Double Mountain's resinous, citric Hop Lava IPA. Brewer Kyle Larsen is also a Full Sail alumnus.
Pfriem Family Brewers
Seattle native Josh Pfriem brewed at Full Sail from 2009 to 2011 before launching Pfriem Family Brewers, where he eventually hired Full Sail alumni Dan Peterson (head brewer) and Gavin Lord (lead brewer). Pfriem's Belgian IPA is a hybrid of a tripel and a Northwest Imperial IPA, combining local spicy hops with foreign, differently-spicy yeast.
Solera Brewing
Solera Brewery, not far from downtown Hood River, is on the south end of the Fruit Loop in Solera Brewery, not far from downtown Hood River, is on the south end of the Fruit Loop in Parkdale. Solera founder Jason Kahler brewed at Full Sail for three years starting in 2001, before brewing at the only brewpub in Hood River not related to Full Sail: Big Horse Brewing.
The lab skills he gained at Full Sail were, he says, "helpful in what I'm doing regarding propagation of wild microbes."
His emphasis is naturally the solera style of blending, and his Lapin Lover Kriek, made with local cherries, is gorgeous and gets tastier with age. Then again, Hedonist IPA, with tropical fruit flavors, is delicious immediately.
CraftBeer.com is fully dedicated to small and independent U.S. breweries. We are published by the Brewers Association, the not-for-profit trade group dedicated to promoting and protecting America's small and independent craft brewers. Stories and opinions shared on CraftBeer.com do not imply endorsement by or positions taken by the Brewers Association or its members.