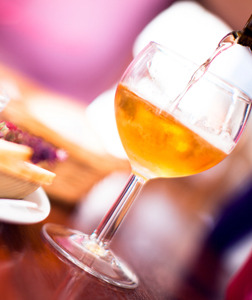 Beer Pairings: Making the Case to Taste
Peanut butter and jelly, peas and carrots, peaches and cream, "sketti and butter"—no matter your favorites, food combinations make your culinary world go 'round. Being food itself, craft beer complements all types of dishes and flavors, but for some reason many people can't get past pizza and pretzels. In fact, beer pairings offer endless opportunities to enhance your dining experience, just as universal food combinations have been doing for years.
The Possibilities of Pairing
When I post anything on the subject of beer and food, there is always someone who insists that their beer and meals be kept separate. I have to wonder if this objection is due to lack of pairing experience—or at least lack of trying pairings that worked. Combinations of such classic pairings as a barley wine with a strong stilton cheese, or a dry stout with a freshly shucked oyster may have just never been introduced to them in a way that encouraged them to be open to the possibilities of pairing.
I'm sure we can agree that combining food with beverage is not a new concept. Many of the flavors we seek out and love have been engrained on our palates since we were very young, and seem so natural that there has never been a need to dissect them to see exactly why they work.
In an effort to illuminate the mechanisms of classic food combinations—and to make it easier to see the advantages of the harmony of craft beer and food—I decided to highlight some everyday food combos, and suggest a craft beer-focused version of the pairing.
Three Courses of Classic Food Affinities
Classic: Fruit + Cheese
Countless classic pairings come from a balance of fatty and astringent foods, as often highlighted with the combination of wine and cheese. Hops, alcohol and fruit can often provide the astringent component of this pairing when dealing with beer and cheese. The addition of carbonation is another benefit when pairing with craft beer, as the bubbles actively scrub residual oils off of the palate.
Craft Beer Connection: Saison + Camembert + Fruit + Wheat Cracker
This is my "so you don't like craft beer," beer pairing. I usually take this to holiday parties because it's simple, inexpensive and makes a lasting impression. Place a slice of Camembert or Brie on a cracker and add a dollop of apricot jam on the top. To prove to you that this isn't a snobby pairing, I use a Triscuit—ideally roasted garlic, but rosemary works too.
So many flavors are at work in this pairing. The spices in the beer contrast with the sweetness of the fruit and complement the spices on the Triscuit. This pairing has opened many a skeptic's eye to the wonders of craft beer pairings.
Classic: Lamb + Rosemary
This rich, robust and sometimes gamey delicacy is perfectly balanced with the freshness of mint or rosemary. I once sat in a seminar with Tomme Arthur of Port Brewing and The Lost Abbey, who spoke on his rare sour beers and the their effect on food. Arthur said that when pairing sour, acidic or rustic beers with food,  the tart and funky flavors that many of these beers are prized for work to harmonize and pull out flavors that you may not have recognized without the beer. He put it eloquently: "…the funky brings out the pretty." It's true!
Craft Beer Connection: Steak + Pastrami + Barrel-aged Sour Beer
Beer is acidic and can provide a brightness that works wonders with food. But, for the most part, we do not recognize the acidity in beer because it is less acidic than many other beverages.
Sour beers, however, can provide an evident acidity, and work well to add a zing to flavors—especially those high in umami—the relatively newly recognized fifth sense of taste. Aged meats tend to be high in the amino acids, that promote this flavor. I once had an aged porterhouse steak wrapped in pastrami paired with Russian River's Consecration, a barrel aged sour ale. Talk about a party in your mouth!
Classic: Chocolate + Peanut Butter
The simple taste combination of salty and sweet can work as a great introduction to pairings—and don't overlook the strength of chocolate and peanut butter. The textures work so well together, and their creamy smoothness tends to go with just about everything. What could be better? Chunky peanut butter, duh.
Craft Beer Connection: Stout + Chocolate + Peanut Butter + BACON!
Classic food pairings have stood the test of time because of complementary and/or contrasting flavors, and fantastic craft beers can add either or both. Think about the chocolate and nut flavors that can be present in a brown or porter and how well that can complement a piece of chocolate cake, or just as easily contrast against the sweetness of raspberries.
A pairing I discovered at a beer and food event that sicks out in my mind, involved the combo of thick-cut bacon dipped in chocolate, dipped in peanut butter. Each piece was then hung on a little clothes line to dry like laundry, and was paired with the intensely roasty and chocolaty Ten Fidy Imperial Stout by Oskar Blues. Whoa!
We are lucky to have plenty of flavorful craft beers to choose from in the U.S. today. Remember that the value of both food and beer isn't just in the quantity but in the experience they both can reveal. The next time you're enjoying one of your favorite foods, pay attention to what makes it taste so good, and do the same when you taste a craft beer.
Just considering the possibilities has already extended the value of each—and just wait until you combine them! Whether you enjoy the comfort of bacon and eggs or the adventure of bacon and chocolate, chances are you can find a craft beer that will ensure you enjoy them even more.
Contact Info
CraftBeer.com is fully dedicated to small and independent U.S. breweries. We are published by the Brewers Association, the not-for-profit trade group dedicated to promoting and protecting America's small and independent craft brewers. Stories and opinions shared on CraftBeer.com do not imply endorsement by or positions taken by the Brewers Association or its members.