After the June 12, 2016, mass shooting at the Pulse nightclub in Orlando, Danny Benz sat stunned two hours away in Stuart, Florida. It was hard to believe a tragedy of this magnitude had happened so close to home. The LGBTQ+ community lost 49 people that night. Benz feared that there may not be a safe space for his beloved community anymore. The magnitude of this attack imposed the seriousness of safety on Benz's mind.
After the shooting, Benz's friends began avoiding gay bars, but Benz wasn't about to let the attack keep him from the places and people he found solace in.
"The moment that we choose fear over courage allows the assailants to win," says Benz. "If being with your queer community is what makes you happy and feel safe, go be with them. We can't worry about being attacked or becoming targets. It doesn't serve yourself or your community by avoiding places that you love."
People were in shock and mourning. Gay bars were supposed to be safe spaces for the LGBTQ+ community, and the Pulse shooting was a violent reminder that finding those spaces is sometimes easier said than done.
The term "safe space" originated in the 1960s among the LGBTQ+ community. Referring to gay or lesbian bars, a safe space was a place to socialize with like-minded people — and maybe find love — while providing a sense of safety and community.
Beer has served as a social elixir for centuries. As barriers to socialization go down, conversations increase, leading to the possibility of meeting a new and interesting person and having conversations that make your worldview a little bigger. Bars exist for the purpose of socializing while imbibing. Some breweries are going a step further and making explicit stances about being a welcoming and inclusive space for all members in their community. For example, Florida's Dunedin Brewery, Kansas City's Boulevard Brewing Co. and Nashville's Yazoo Brewing Company all post signs stating that they specifically welcome all ages, genders, countries of origin, sexual orientations and more.
How Do You Create a Community?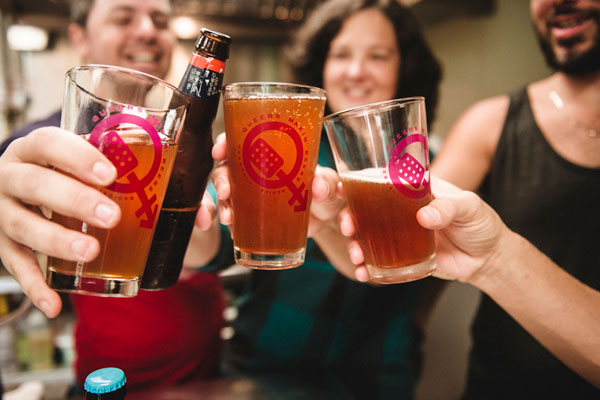 Benz is from Stuart, a small town on Florida's Atlantic Coast, about an hour north of West Palm Beach and well over two hours south of Daytona. Stuart is in Martin County, a very conservative portion of Florida.
Even before Pulse, Benz had the aspiring idea to create a queer space in his hometown, driven by his experiences of growing up in a small town without one. He believed that the only way to have a queer community was to create one. Benz became consumed by the question, "How does one create a queer community where one has never existed?"
He wanted to create a space where queer people in small towns could know that they had a family, a place to learn, and a place to socialize. Although he was unclear how to accomplish it, he took the first step and made a conscious decision to create a safe space — and the beer community was his answer.
Benz found a way to make a difference through the homebrewing club, Queers Makin' Beers. Originally founded in California in July 2015, the group's mission is to provide a safe space for people in queer culture to meet and learn about brewing beer, regardless of brewing experience.
(VISIT: Find a U.S. Brewery)
He didn't know much about beer, but after seeing the success of the California group, his gut told him a homebrewing club would create the atmosphere of acceptance he wanted to build.
Benz didn't know how to brew beer, either, and he lacked a location to host a brewing event. All that changed when he met Michael Meier at a barbeque. Meier was an avid homebrewer and queer farmer with an urban farm in downtown Stuart. Meier was excited about sharing his space and his beer knowledge to create a community. With that, the Florida chapter of Queers Makin' Beers was born.
Forming the group proved to be an ambitious task.
"The challenge we've had creating this space is the same that any community creation has — finding new members," he explains. "Even though we have the passion to create the space, if we don't have members there is no space."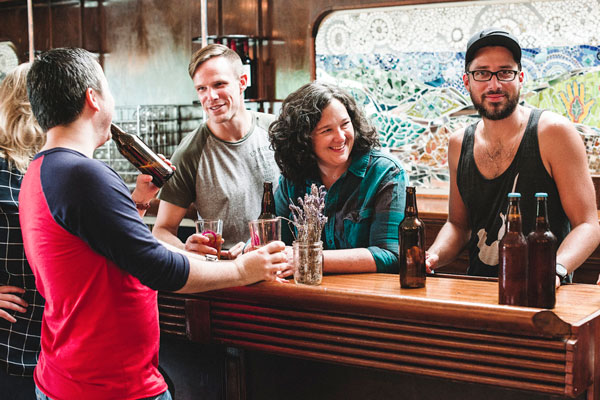 When he first started out, the group's social media accounts only had about a dozen followers. He decided to take a grassroots approach to spread the word, so Benz visited area events to introduce himself to people. He'd follow it up with a personal text message to remind them to come to brew days.
"We have a dedicated group of around five people and our largest session had 14 people. It is a lot of hard work, but it is worth it," he tells us.
"I have learned so much. This experience has deepened my curiosity of beer. I respect the art of beer making and the hard work required to brew," Benz says. "The new people coming to explore beer with us also see this."
Benz' mission is being fulfilled — a community is growing where one did not exist before. The Florida chapter of Queers Makin' Beers is growing: Experienced queer female brewers are joining because they are tired of being mansplained to; they just want to brew. Queer non-brewers are coming solely because it is an LGBTQ+ event, but they're leaving with an appreciation for brewing beer.
"At the end of every session, I feel confident and proud of what we have created, both in the beer and in a safe space for my community," he says.
Finding Safety in the Beer Community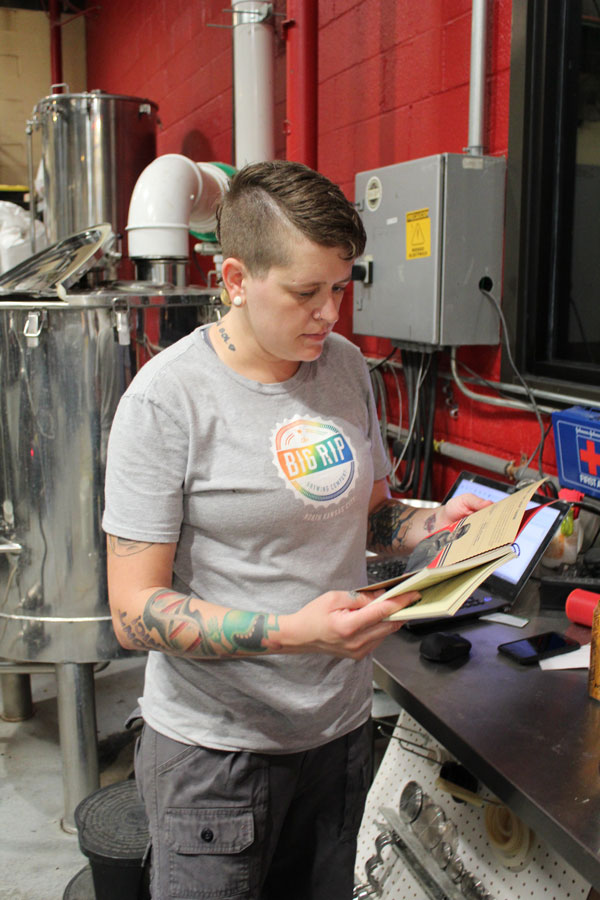 Bri Burrows, a brewer at The Big Rip Brewing Co. in Kansas City, who goes by @KCbeerQueer on Twitter, knows what it's like to feel conspicuous in a room. To her, a safe space is "somewhere I can either be alone, or with friends, or with my partner and not get weird looks or stared at because of who I'm with or how I look."
She's found a comfortable place and her niche in beer.
"I have never felt safer around any other people than I do around people in the beer community," she says. "As someone in the LGBTQ+ community, I experience things, such as interactions with people, much differently, and I want to share those experiences with others and encourage both communities to coexist."
She was motivated to approach the Big Rip taproom manager about creating t-shirts with rainbow logos and running beer specials during Pride Weekend. As a member of the LGBTQ+ community, Burrows knew personally how much these outspoken gestures of support meant, but was concerned about asking, concerned about rejection. "I was a little nervous waiting for the owners to respond to our ideas, but they were all for it!" she says. "It can be scary to ask for support like that, especially when you're the only LGBTQ+ person at the brewery.
"I have never felt safer around any other people than I do around people in the beer community." Bri Burrows, The Big Rip Brewing Co.
Beer's Place in Building Welcoming Communities
At Hardywood Park Craft Brewery in Richmond, Virginia, being divisive is counterproductive to the brewery's mission and its role in people's lives. But welcoming any person from any background isn't just about business, it's about building community.
Hardywood hosts the annual Love on Tap Festival, which celebrates the anniversary of the U.S. Supreme Court's landmark decision on marriage equality. Matt Shofner, Hardywood Park's marketing director, said the brewery's philosophy is that craft beer is at the heart of so many human interactions, so the brewery sees it as necessary to be inclusive.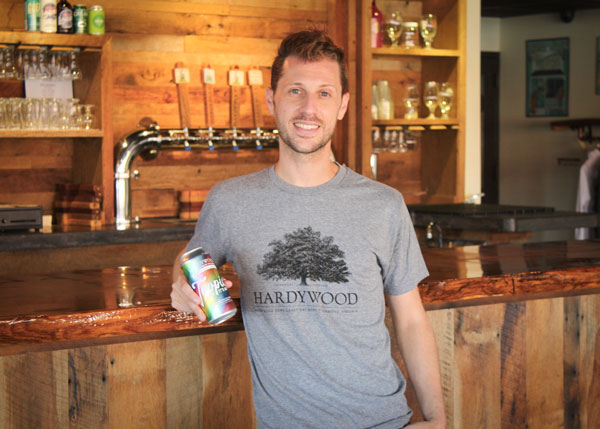 "A safe space is a place or a community where an individual is not just tolerated, they are accepted — no secrets nor shame," Shofner says. "[It's a place] where dialogue and visibility can open doors to empathy and understanding, where we are free to fail, learn, and try again."
Prior to the Love on Tap Festival, Hardywood became a member of Equality Means Business, an initiative launched by Equality Virginia, where businesses pledge to welcome LGBTQ+ customers and to protect their LGBTQ+ employees from discrimination.
Shofner is a man with a passion for craft beer and equality who appreciates Hardywood's inclusive culture. "Hardywood believes that everyone's humanity should be recognized and respected and looks forward to finding more opportunities for craft beer to bring us all together."
(READ: Can Craft Brewers Save the Verde River?)
Training Brewery Staff on Safe Spaces
Lizzie Palumbo, tasting room manager at DC Brau in Washington, D.C., has done a lot of work to create a safe space for her customers. A large sign posted in the taproom reads, "We are a safe space. Hateful speech and combative behavior will not be tolerated."
Palumbo also brought the Safe Bar Collective training into DC Brau's taproom. It's a program that empowers workers with knowledge on how to recognize potential hate speech and aggressive situations, and how to intervene when one happens.
"We have many inexperienced employees serving alcohol whose main qualification is that they have a passion for craft beer. But they are just starting out," she says. "I have 18 years experience in this industry and know that problematic situations arise quickly and that most could be avoided."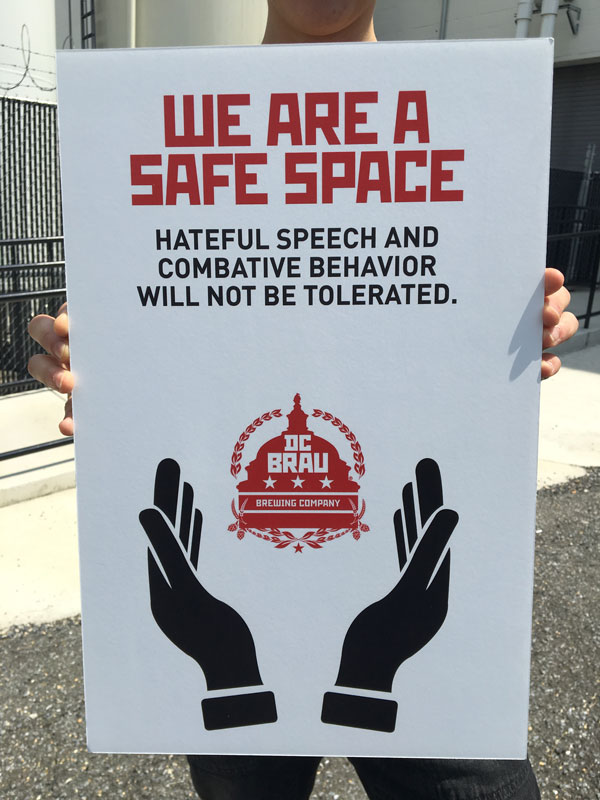 Like Palumbo, Bryan Van Den Oever, owner of Red Bear Brewing, a brewery-in-planning in D.C., says the attitudes of a taproom's staff are instrumental to convey a welcoming message and avoid unwelcoming situations. He believes that positive customer interactions are paramount to thriving in the diverse population of Washington, D.C.
"We know it has to be an ongoing effort on our part to train our employees to be respectful of the people coming into our space and to make sure our message and our actions are always mindful," says Van Den Oever.
Theresa Bale, taproom and events manager at Oakland, California's, Temescal Brewing created Queer First Fridays, a monthly LGBTQ+ event night. Bale believes the choice of beer the brewery offers has influenced which crowds feel comfortable in their taproom.
"The brewery does not have an aggressive IPA or over-hopped beer on the menu. The beers are lighter and more approachable," she says.
Whether a brewery's beers are approachable or not, the people who are creating approachable spaces for the LGBTQ+ community in beer are working to make a difference. These people make an old adage true. They have become the change that they wish to see in the world, something that can be easier with a great tasting beer in hand.
As Danny Benz continues his work growing the Florida chapter of Queers Makin' Beers, he's seen firsthand "the love that goes into creating this libation."
A little bit of love and a craft beer can go a long way.

CraftBeer.com is fully dedicated to small and independent U.S. breweries. We are published by the Brewers Association, the not-for-profit trade group dedicated to promoting and protecting America's small and independent craft brewers. Stories and opinions shared on CraftBeer.com do not imply endorsement by or positions taken by the Brewers Association or its members.