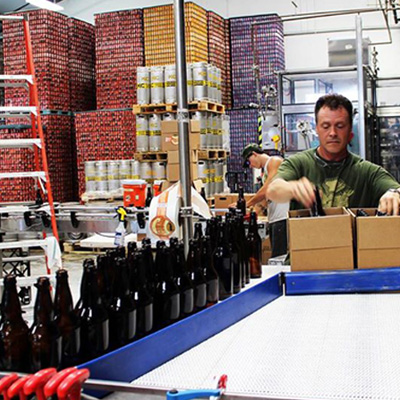 Southern Craft: A Regional Beer Awakening
During a recent trip to Hattiesburg, Miss., to explore the city's burgeoning local craft beer culture, one of the most interesting people I spoke to wasn't even involved in the brewing, bar or restaurant industries. Adam Myrick, co-owner of the downtown Hattiesburg clothing boutique Click, is a believer in the power of beer to stimulate local economies and strengthen communities.
"The craft beer movement here has been mesmerizing," says Myrick in his store filled with Saturday shoppers. "It's been great for the economy, and there's so much untapped opportunity statewide for the business community to benefit from its growth."
Myrick is an advocate of historic downtown Hattiesburg's rebirth into a sophisticated shopping, dining and drinking destination. He points to the thriving Southern Prohibition Brewing down the street from his shop as a catalyst for change and growth in the area.
Earlier this year, the Brewers Association (BA) released data that analyzed the direct and indirect economic impact craft beer has on the national economy as well as on a state level. BA Economist Bart Watson revealed that in 2012, the craft brewing industry contributed $33.9 billion to the U.S. economy, and upwards of 360,000 jobs.
Southern beer culture, and especially in Louisiana, Mississippi and Alabama, lags behind the rest of the country as far as number of breweries and breweries per capita. But even with that handicap, the economic benefits are being felt by brewers, retailers, consumers and the wider business communities.
Looking at economic growth in cities across the south–Hattiesburg; New Orleans; Houston; Birmingham, Ala.; and Tampa Bay, Fla.–through the eyes of their brewers and reporters tells a more nuanced story than just the numbers, and it's a story worth telling.
The Sunshine State
Gerard Walen, author of Florida Breweries and founder of BeerInFlorida.com, says of the impact of craft brewing on the Tampa Bay area:
Though Florida lagged behind many other states in the craft beer industry for a long time, within the past five or six years it has exploded, with the Tampa Bay area leading the way. The region now has about 30 operating breweries and brewpubs and more on the way. That's about a 100 percent increase in numbers just over the past two years. The breweries make ripples through the entire local economy by creating jobs, increasing the tax base and helping to revive neglected neighborhoods.
According the the Brewers Association's research, Florida ranks 13th in the country for number of production breweries (66) and craft beer contributed $875.8 million to Florida's economy 2012.
Beer tourism is a growing industry around the country, and both Walen and Cigar City Brewing founder Joey Redner point out the economic impact visitors from other states have on the Tampa Bay area.
"We have a lot of visitors that will make side trips to Tampa to visit the brewery even if their ultimate destination is elsewhere in the state," Redner says. "Often they stay the night or a couple of days and visit other breweries, stay in local hotels and eat out at our restaurants and that magnifies the economic impact."
Walen concurs. "The Tampa Bay area has become a true beer tourism destination, and the local visitors bureaus have picked up on it," he says. "Visit St. Pete/Clearwater launched a Craft Beer Trail last year, and Visit Tampa Bay is slowly coming around. Tampa mayor Bob Buckhorn is a big fan, and he told me a couple of years ago that he realizes the importance of the industry to the local tourism economy."
The Yellowhammer State
Heading west to Alabama, where the state's 13 breweries directly and indirectly added $238.1 million to the economy in 2012, Birmingham's Avondale Brewing has been open since 2011 with the express mission of rejuvenating a long-neglected neighborhood.
Avondale brewer Craig Shaw says the craft beer industry has had a visible effect on the city. "You can actually see it," he says, "especially in the neighborhood we're located in. The landscape here has changed with new construction, new businesses, new bars and restaurants. It's at almost 100% occupancy in the neighborhood now, and our brewery has been the anchor for all that change to happen."
Eric Meyer, co-founder of Cahaba Brewing, says that the entire downtown is being revitalized. "We've got Avondale Brewing about thirteen blocks in one direction, Good People Brewing about thirteen blocks in the other direction, and we've all helped stimulate the local Birmingham economy and brought more life to these areas," he says. "People here want to support local business, and are willing to spend a little more to do so."
The Magnolia State
In Hattiesburg, Southern Prohibition is working hard to promote both beer culture and Hattiesburg itself wherever they go. Sales director Emily Curry says they embrace the fact that craft beer in Mississippi has a ways to go to catch up: The state is 51st (D.C. is included on the list) in both number of breweries (4) and number of breweries per capita. Having a small but passionate brewing community means that education is paramount, and Curry and others in the state, like local distributor rep Jon Smith, and Mahogany Bar manager Dusty Frierson, are all up for the challenge.
"Honestly, being a part of small communities can go far," Curry says. "We take care of each other."
Smith adds, "Our challenges are our opportunities. We are writing the book on how craft beer culture is happening here."
Business owners like Adam Myrick and local caterer Daniel Mann note the growth of craft beer and see it impacting their livelihoods directly. "There's this whole diverse subculture around beer," Mann notes. "It's so great for downtown businesses and events, and it's great to just have that culture that we can bring people into, over that shared love of beer."
The Creole State
In New Orleans, Hurricane Katrina pushed out the last of the old-school southern breweries, Dixie Brewing, leaving the owners to contract brew the iconic Louisiana beer in Wisconsin.
New Orleans native Kirk Coco found that unacceptable. He founded NOLA Brewing in 2008, and it remains the only production brewery in the city. However, in the last five years, the number of breweries in the state has grown from five to 11, ranking Louisiana 43rd in the country. Per capita, Louisiana is ranked 50th, only beating out Mississippi in that category, though craft beer did contribute $462.2 million to the state economy in 2012.
Coco points out a very important aspect of brewing's economic impact for local industry: providing solid jobs with competitive salary and benefits. NOLA Brewing employs 22 people of all backgrounds and skill sets, from brewers to marketing to tap room management to keg scrubbers. Everyone has the opportunity to advance and have a part in making the company better.
He also sees a tremendous potential for continued growth of the craft beer industry in the city and state over the next five to 10 years. "We have a huge advantage," he says. "Beer pairs so well with food, and our food culture is second to none."
Coco points to several growth factors he sees as having the greatest effect on craft beer culture in New Orleans, including the evolving local consumer palate. "That change is happening much faster than I thought it ever would," Coco says, pointing to the huge popularity of sour beers and double IPAs in the market alongside the more traditional styles.
Another key factor that came about in 2012 was the reinterpretation of state law to allow breweries to sell their own beer in on-premise tap rooms. Louisiana's Office of Alcohol and Tobacco Control also recently ruled that tap rooms can serve food, overturning a confusing and vexing prohibition that had stymied brewery owners.
"If we can have years like this for the next five years," Coco says, "New Orleans will be the beer capital of the South once again."
The Lone Star State
On the western edge of the Gulf, Texas has a diverse beer culture throughout its large and populous state. Texas has 96 breweries, putting it eighth on the list, but only 0.5 breweries per capita, which ranks 42nd. Craft brewing had a more than $2 billion impact on the state in 2012, a total second only to California.
Houston's Saint Arnold Brewing Co. has seen its city's beer culture grow exponentially in the last 20 years. Founder Brock Wagner says that annual visits to his brewery have climbed from approximately 2,000 people in the first year to more than 100,000 in 2014.
"We have become a destination that people want to bring their out-of-town guests to, to show off what our city has to offer. People are proud of their local breweries and that's a great source of civic pride," Wagner says. He also confirms that the brewery employs about 70 people full time. Five years ago, the brewery only had around 20 full-time staff members.
Beer writer Bryan Carey of the Houston Examiner and GreatBeerNow.com notes that in the past seven years, the number of breweries in Houston has increased from one to 14, with several more in the planning stages.
"More breweries are opening and more regional and national brands are making their way into the Houston craft beer market via distribution deals," Carey says. "The Houston area is already one of the nation's fastest-growing metropolitan areas and the growing population demands quality beer. The market is strong, expanding quickly, and shows no signs of slowing down."
Although these five states surrounding the Gulf of Mexico are at different levels of craft beer production and economic impact according to the numbers, it's clear that the national success of craft beer has made its mark throughout the region. Looking at the impact in terms of jobs, tourism, neighborhood revitalization, and increased tax bases is crucial to understanding the need to support these small business owners and entrepreneurs on a state and city level. Southern beer culture is on the rise.
As Cigar City's Joey Redner notes: "It's very exciting when you have new horizons opened to you. Most people appreciate a glimpse into a world or a taste of something that is both new to them and satisfying. Plus, having a variety of quality breweries in the area adds to the options of things to do, not just for visitors, but for locals too. There is always activity at a brewery. Things are happening and that bustle is infectious."
CraftBeer.com is fully dedicated to small and independent U.S. breweries. We are published by the Brewers Association, the not-for-profit trade group dedicated to promoting and protecting America's small and independent craft brewers. Stories and opinions shared on CraftBeer.com do not imply endorsement by or positions taken by the Brewers Association or its members.