Tired of seeing headlines about Big Beer gobbling up your favorite craft breweries? Then you'll want to be part of the movement to Take Craft Back, a new crowdfunding campaign to buy Anheuser-Busch InBev (AB InBev).
Take Craft Back has a ginormous goal: crowdsource $213 billion (yes, billion) to buy AB InBev, flipping the script on the global company that's purchased 10 small U.S. breweries in the last six years.
The Brewers Association (BA), publishers of CraftBeer.com, announced the campaign Monday on behalf of the independent brewing community. The BA is very clear about the real dangers of beer consolidation, including narrowing access to raw ingredients and a heavy influence on distribution, which squeeze beer from your small, local brewers off store shelves and off draft lines.
(WATCH: Think Consolidation Can't Hurt Beer? Watch John Oliver's Take)
The bottom line is this: The more of the market Big Beer controls, the more of a threat it is to America's small brewers and your freedom of choice as a beer lover.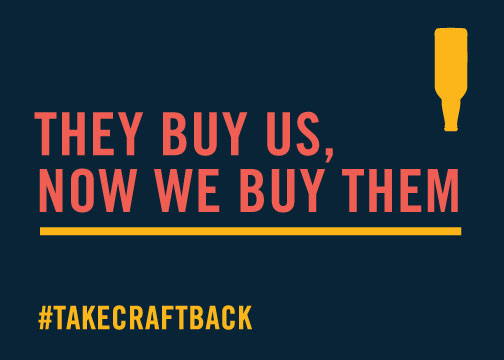 When you go to TakeCraftBack.com, you'll see a video talking about the threat from Big Beer (check it out below).
"Independent craft brewers refuse to be muscled out by Big Beer," Andy, the Take Craft Back spokesperson says, "And we are uniting on an unprecedented scale to take on Big Beer and their efforts to make it harder for beer drinkers to find their favorite independent craft beers at their favorite bars, liquor stores and restaurants."
The website also prominently features the independent craft brewer seal, a logo the BA launched in June. The seal, which you're beginning to see on beer packaging and brewery windows, is meant to help beer lovers know they're buying beer from an independent brewer.
At TakeCraftBack.com, you can make a pledge toward the crowdfunding campaign. The campaign will only collect your money if (miraculously and against every possible odd) it hits its $213 billion goal — and the chances of that are nearly impossible; your odds of winning Powerball are higher. But you'll get some cool merch simply for pledging your support. You can find out more about the campaign at TakeCraftBack.com, along with Facebook, Instagram and Twitter. We bet the #TakeCraftBack hashtag will be a fun one to watch, too.
(VISIT: Find a U.S. Brewery)
Crowdfunding campaigns have brought oddball ideas, like the Ostrich Pillow and the Menurkey to life. As much as I like the idea of the pillow you can take anywhere and a menorah/turkey sculpture, the idea of buying AB InBev is incredibly more satisfying. Hell, not only could we Take Craft Back, but if we bought AB InBev, we could put an end to the Belgium-based brewery's eye-roll inducing summer campaigns where they rebrand Budweiser as "America."
CraftBeer.com is fully dedicated to small and independent U.S. breweries. We are published by the Brewers Association, the not-for-profit trade group dedicated to promoting and protecting America's small and independent craft brewers. Stories and opinions shared on CraftBeer.com do not imply endorsement by or positions taken by the Brewers Association or its members.