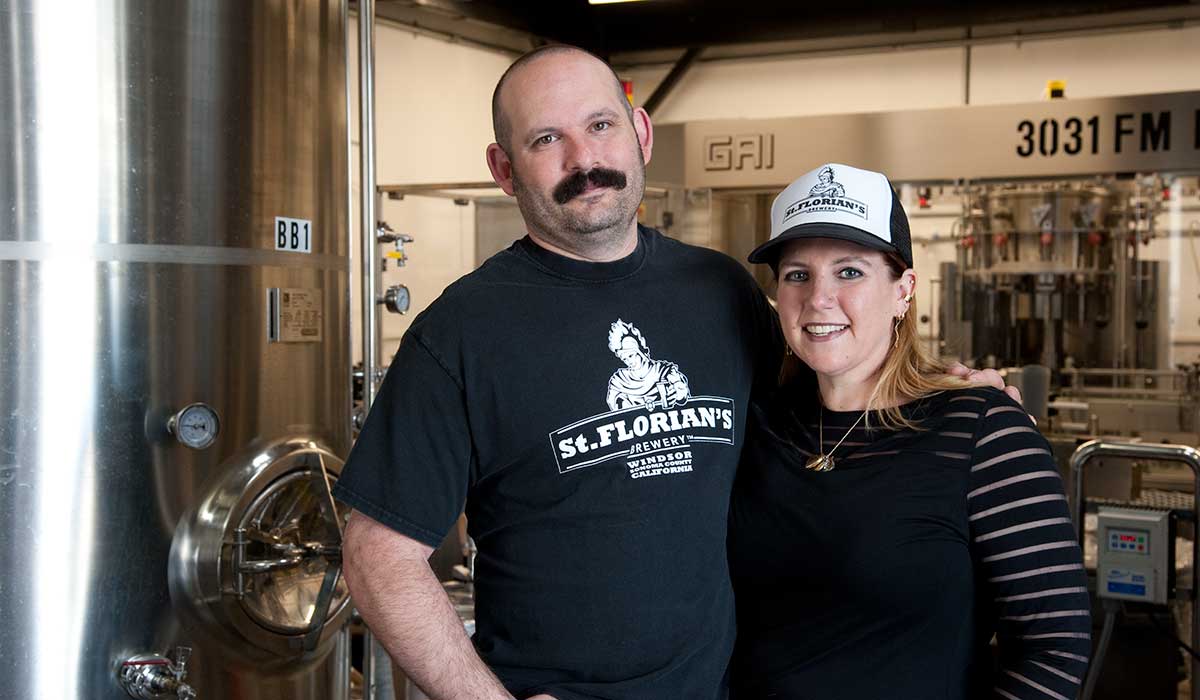 Two Brewers, Two Towns, and the Unpredictable Kincade Fire
The founding brewmaster of Bear Republic Brewing Co. perched on the roof of his home with his official CalFire radio, staring at an egg-shaped blue opening in the sky to the south. Everywhere else he looked, the sky was dark with blowing smoke. He knew that as night fell, he'd see the glow of the Kincade Fire over the ridge to his north. In an attempt to prevent further wildfires from sparking when winds brought branches down on the lines, the electric company had cut power for his portion of Sonoma County, about 70 miles north of San Francisco. So Richard G. Norgrove would rely on his own generator, keeping a lonely light on in his house among evacuated homes nearby. Rich knew that somewhere safer, to the south, Tami Norgrove, his wife, was juggling the uncertainties of the family's three brewing facilities – and of the employees at each – in the face of a changing map of preventative power outages, evacuations and the physical threat of flames. He also knew she worried about him. But he felt that his 14 years serving as a first responder left him no choice.
On October 23, 2019, a fire broke out about 13 miles northeast of the family's home and their original Bear Republic brewpub. County residents had been on edge each time hot autumn winds blew since 2017, when wildfires destroyed thousands of homes, killing 22 people in the nearby Santa Rosa. Now the dry wind was back.
Norgrove first learned about this latest wildfire as he flew home from meeting with a distributor in San Diego, the day after the Kincade Fire started. From the window, he saw the huge plume of smoke rising east of Geyserville.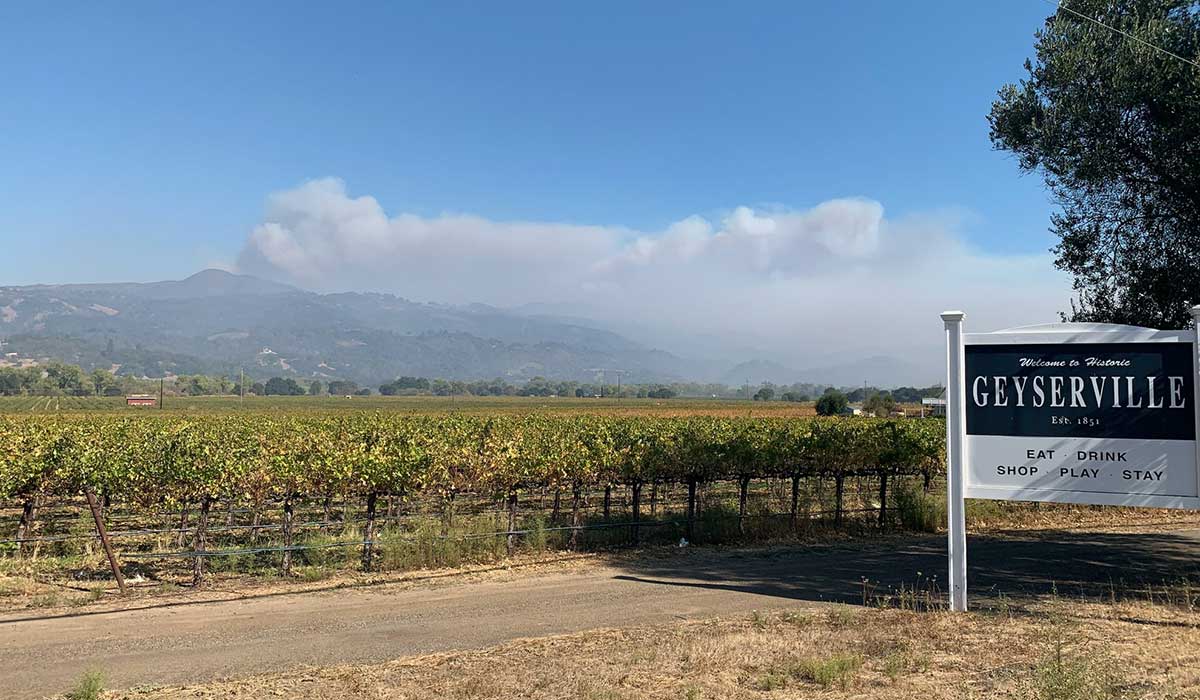 (Related: Sierra Nevada Releases Resilience IPA)
Norgrove remembered fighting a fire there over a decade ago. His had been the first fire engine in, during a time when the brewer felt split loyalties between Bear Republic Brewing Co., the brewery he founded with family members, and his commitment to the volunteer fire department. His brewpub, fire department and home were clustered in Healdsburg, a small town in the agrarian Russian River Valley.
Eventually, when the family brewery became his primary commitment, Norgrove left the position he'd taken as the town's fire inspector. But he kept his firefighting gear, radios and ID.  "Technically, I'm just part of the auxiliary now," he says. Nevertheless, as a trained first responder, while his family packed to evacuate from the approaching Kinkade Fire, he realized that he knew the warren of country cul-de-sacs around his home better than any outsider. The thought weighed on him.
Rich's wife, Tami, remembers grabbing her piece of the couple's matching luggage. "I had an inkling that his things were in my bag as I was loading the car, but I said to myself, 'It's ok, because he's coming with me.' And then he said, 'I'm not coming with you.'" Rich bade her goodbye as she and their son hurriedly heeded the evacuation order. Driving south to safety without her things, she added clothes shopping to her emergency to-do list.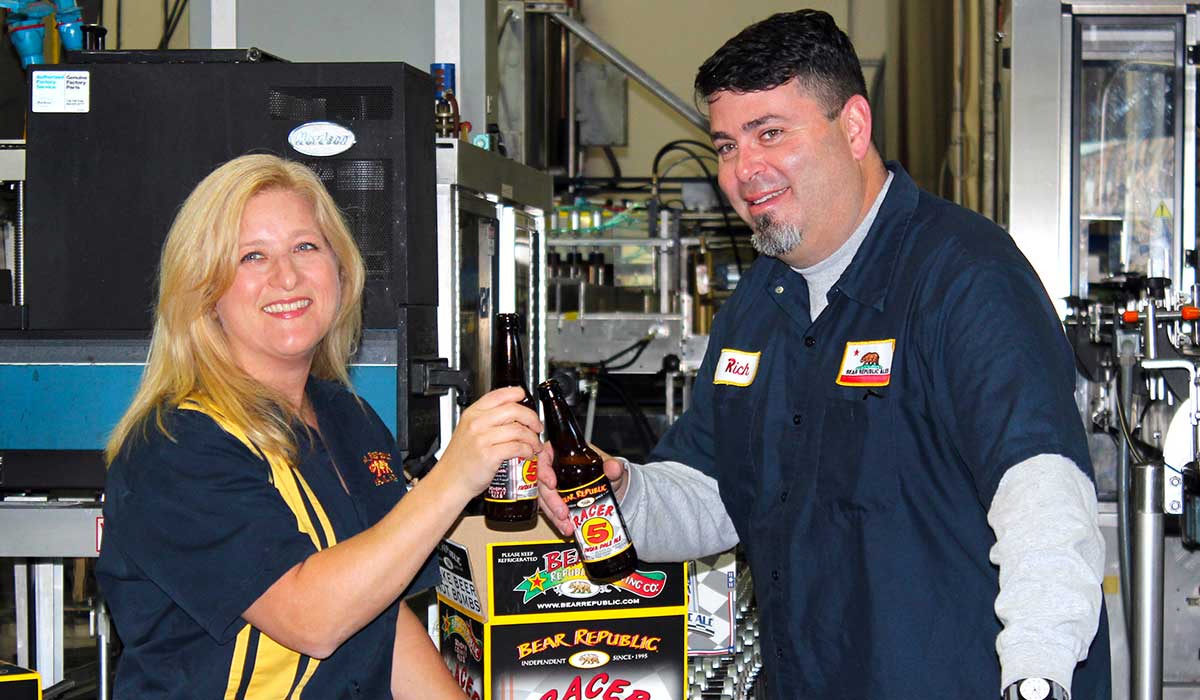 During the first 24 hours of the mandatory evacuation, as police went door to door, Norgrove got a visit from a battalion chief he knew. The chief asked if the brewmaster was staying put, and got a yes. "His response was 'Okay. Don't do anything stupid,'" says Norgrove.
As the local firefighters cycled out after the first 48 hours of battling the firestorm, mutual aid began arriving. Norgrove greeted engines from hundreds of miles away, out of Anaheim, Long Beach and Encinitas, California. He confirmed that the maps they were using had some wrong road names, and that potential escape roads shown on the maps no longer existed.
As the fire swept over the nearby ridge, burning several structures within a mile of his house, Norgrove began to either extinguish or call in spot fires that exploded when embers fell on dry vegetation.
He painted signs indicating sources of water to pump and labeling dead-end roads. He contacted neighbors, getting combinations to locked pasture gates so they wouldn't have to be cut by firefighters. He pumped water from his swimming pool to protect nearby oak trees. He stayed glued to the CalFire radio dispatches, his escape vehicle at the ready.
Eventually, the winds shifted. The wildfire swung away. Except for a few homes and businesses on the edge of town, Healdsburg was spared, thanks to hundreds of firefighters from around the western USA.
But the Kincade Fire wasn't finished. Next it swept towards the town of Windsor.
(More: An Emerging Crop of Community-Supported Breweries)
When the Brewery Takes a Back Seat
Brewer Aron Levin, a full-time firefighter with the Sonoma County Fire District, had just come off of an almost 96 hour shift as acting battalion chief. He sat down to dinner with his wife and brewery co-owner Amy Levin on the evening of October 23. The couple were about to take a short vacation from both the fire department and their brewery, St. Florian's, named after the patron saint of firefighters, in their home town of Windsor.
"Then I saw my phone — I get alerts of different fires in the area and saw one in Geyserville — I went right to my radio and turned it on," says Aron Levin. "I heard them say it was going to be an extended fire — they weren't going to catch it."
Amy Levin remembers hearing about fuel conditions as Aron turned on the scanner. Knowing what the report meant, she gathered his gear. "And I threw everything at him and gave him a kiss, cause I knew he was heading to the station."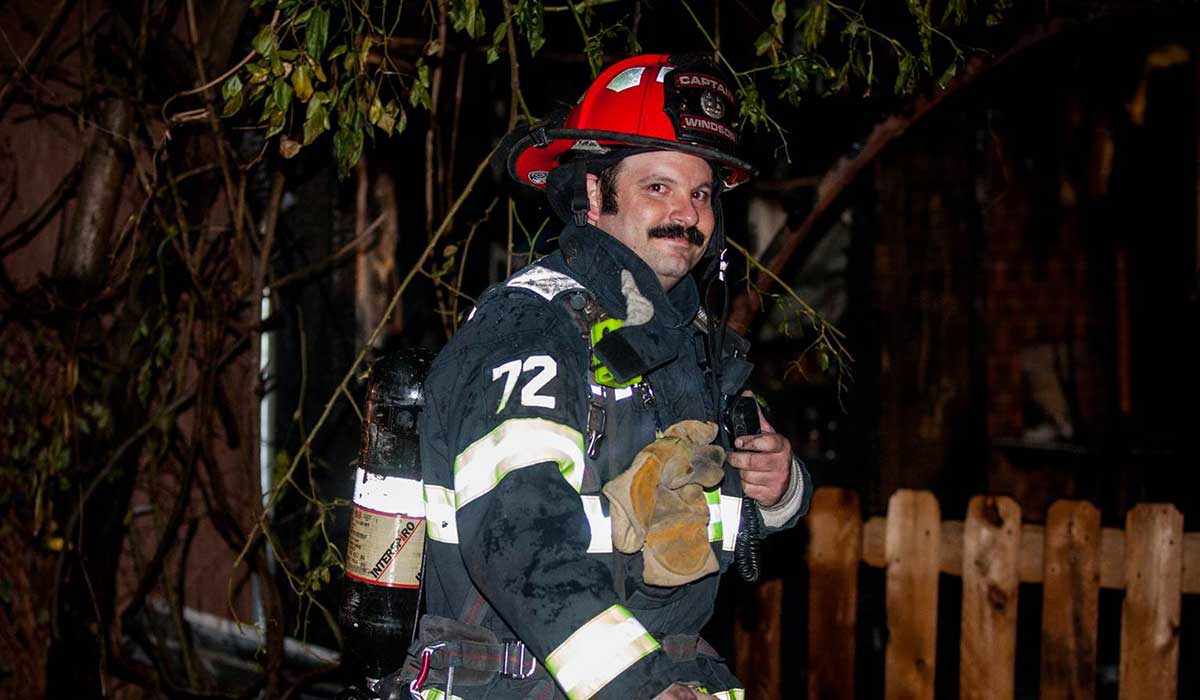 After swiftly staffing extra engines that night, Aron Levin played multiple roles in the weeks-long battle — from a turn fighting the fire with an engine company, back to acting battalion chief and then to a command team assignment at the fairgrounds base camp. "I was committed to the fire for another couple weeks, and then I came home just after everyone was released from evacuation back into Windsor."
Meanwhile, Amy Levin had taken their two sons and their dogs to stay with family south of San Francisco. The brewery was left behind unattended, power interrupted, beers neglected in their tanks.
"Unfortunately the brewery just takes second fiddle," says Aron Levin. "Once she was out of there early and safe, we were good," he continues. "Then I stayed committed to the fires. And the brewery wasn't even much of a thought at that point just because you couldn't be in Windsor, you couldn't come here, couldn't do anything."
The evacuation allowed first responders to create lines of defense for the town as a whole, rather than being driven by last minute rescues of people who were in harm's way.
The Kincade Fire turned out to be much less destructive than the lethal Tubbs Fire two years earlier. There were no fatalities, compared to 22 deaths before. While the acreage burned was larger, just 374 structures were lost, compared to 5,643 destroyed in 2017.
Aron Levin credits the difference to the 200,000 people who left. He says that Norgrove was able to assist firefighters due to his training, but that generally, failing to evacuate becomes a liability to the community.
"I can't fight fire at your house because I have to go deal with the guy who stayed in his house, so it takes away from the firefight," he explains. "To know that a fire is coming towards your house and your stuff, and to pick up and leave before it gets there — to try not to think about it, just go — that took a lot of courage on everybody's part."
Kincade Fire's Lasting Impacts
Two of the three Bear Republic breweries are back in production after the Kincade Fire.
The original Healdsburg pub, shuttered for four days, lost its refrigerated food, but reopened. [Due to unsuccessful negotiations with the building owner, the Norgroves had already announced that the 24-year-old brewpub would close for good in November.]
In Windsor, the Levins weren't so lucky. Though the town escaped a direct hit from the flames due to the lines maintained by firefighters, St. Florian's Brewery suffered extensive damage from toxic smoke and ash. Ceiling tiles, production supplies and the beer in the tanks were lost.
"A hygienist came in, took samples from the surfaces and said it all needs to be cleaned," says Aron Levin. But, he explained, due to the heavy demand for specialized cleaning, people in Windsor would have to wait their turn for services.
The brewery was still closed as of mid-December.
On Bear Republic's final day in their Healdsburg location, patrons at the pub's goodbye party toasted Cheryl LaFranchi, the rancher who'd fed her cattle with Bear Republic's spent grain for 24 years. Her ranch was destroyed by the fire. Norgrove had brewed her a benefit beer to help LaFranchi replace her truck.
For Norgrove, the takeaway is that communities can do better preparation. In cooperation with their local department, he hopes his neighbors can become trained volunteer firefighters, maintain better defensible space around their structures and improve the egress for fire engines. And he values another lesson. "You just remind yourself every single day, you gotta give people hugs."
CraftBeer.com is fully dedicated to small and independent U.S. breweries. We are published by the Brewers Association, the not-for-profit trade group dedicated to promoting and protecting America's small and independent craft brewers. Stories and opinions shared on CraftBeer.com do not imply endorsement by or positions taken by the Brewers Association or its members.