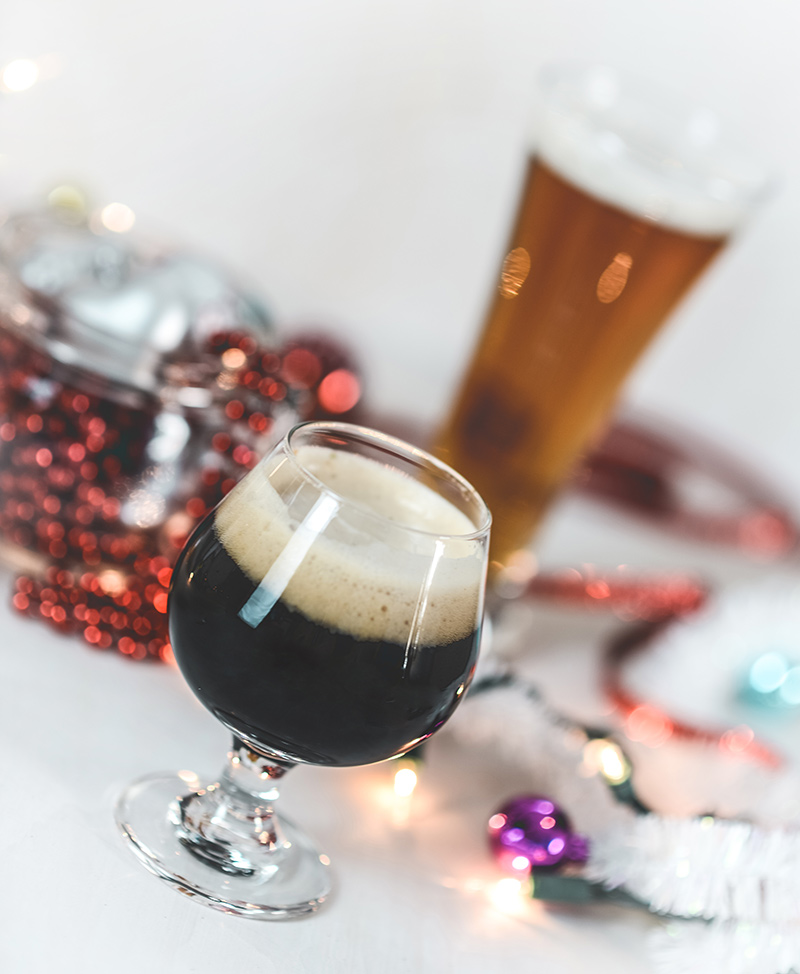 Craft Beer Winter Seasonals 2013
Boulder, CO • November 20, 2013—It's the most wonderful time of the year—for craft beer! To share the spirit, passion and imagination of America's small and independent brewers, we asked Brewers Association member breweries to provide information about their craft beer winter seasonals.
"Winter seasonals are a favorite among beer lovers and craft brewers alike. With such a variety of styles to choose from, this craft seasonal category has contributed to two of the top three sales weeks during the same time frame, according to the IRI Group's Supermarket scan data." said Julia Herz, publisher of CraftBeer.com and craft beer program director of the Brewers Association.
Many of the winter seasonal craft beers featured in this list offer flavors of chocolate, coffee, fruit, malt, cinnamon and oatmeal. Find your own holiday cheer with some of these delightful offerings:
---
---
Northeast
Adoration | Brewery Ommegang Cooperstown, NY
Ommegang Adoration is dark, malty and assertively spiced. Adoration is best sipped before a roasting fire, or on a sleigh ride over snowy hills. The dark malts give it lush, malty flavors and aromas, complemented by five spices including coriander, orange peel, mace, cardamom and grains of paradise. Pair with dark roasts, beef tenderloin and wild game; roasted Brussels sprouts and other charred vegetables; fruit-filled desserts and crème brûlée.
Availability: AL, AK, AZ, AR, CA, CO, CT, DE, DC, FL, GA, HI, IL, IN, IA, KS, KY, LA, ME, MD, MA, MI, MN, MO, NE, NV, NH, NJ, NM, NY, NC, OH, OK, OR, PA, RI, SC, TN, TX, UT, VT, VA, WA, WI
Beach Haus® Winter Rental Black Lager | East Coast Beer Co. LLC Point Pleasant Beach, NJ
An American version of a German-style schwarzbier, this seasonal lager is a darker beer with roasted malts and a hint of chocolate.
Availability: CT, NC, NJ, parts of NY, PA, SC
Harpoon Winter Warmer | Harpoon Brewery Boston, MA
Cinnamon and nutmeg dominate the aroma, while the taste is a rich combination of the holiday spices with a hearty malt backbone. There is a mild sweetness to the finish, along with the lingering flavor of the spices.
Availability: AL, CT, DC, DE, FL, GA, IL, IN, KY, LA, MA, MD, ME, MI, NC, NH, NJ, NY, OH, PA, PR, RI, SC, TN, TX, VA, VT, WV
Mayflower Winter Oatmeal Stout | Mayflower Brewing Company Plymouth, MA
Mayflower Winter Oatmeal Stout is rich and smooth. Brewed with three types of oats and several varieties of dark barley malts, it adds a little sweetness to the roasted flavor of this traditional stout.
Kind Ryed IPA | Otter Creek Brewing Middlebury, VT
This big American IPA is built to accompany the big eastern winter. Just like an epic bluebird day follows a snow storm, a peppery build from the Rye-malt accompanies the glorious hop notes of pine, citrus and fresh grass. Kind Ryed uses a combination of Apollo, Simcoe, Chinook and Centennial hops to create a drinkable brew that won't wipe out your tastebuds.
Availability: CT, DE, MA, ME, NC, NH, NJ, NY, OH, PA, RI, VA, VT
Smuttynose Winter Ale | Smuttynose Brewing Company Portsmouth, NH
A riff on a Belgian dubbel, this malt-forward beer features spicy yeast notes and flavors of dark fruit and brown sugar. We use Belgian Candi Syrup for its extra flavor contributions, but the best part of this beer is its low alcohol strength. Smuttynose Winter Ale has the big flavor and body to counteract the winter cold, but at 5.8% ABV, it's a good choice to help you survive the holiday party-hopping season without sending you to bed early.
Availability: CT, DC, DE, FL, GA, IN, KY, MA, MD, ME, NC, NH, NJ, NY, OH, PA, RI, SC, VA, VT, WI
Winter Cheers™ | Victory Brewing Company Downingtown, PA
Welcoming and warming, Winter Cheers is a delicious and refreshing wheat ale that is light in body and soothing in texture. Combining German wheat and barley malts, oats, torrified wheat and whole flower Tettnang and Citra hops, this fruity and warming holiday brew delivers a crisp finish, with spicy hints of banana, clove and citrus.
Olde Bartholomew | Yards Brewing Company Philadelphia, PA
Old Bart was a free spirit who bent elbows with the best of 'em. We've made this amber-hued, English-style barleywine ale for characters like him. Brewed with 100% Maris Otter malt (a traditional floor-malted English barley) and Noble hops, Olde Bartholomew is an unfiltered winter warmer with a smooth malt background, soft fruit overtones and a slight hop spice in the finish. Just a few sips are sure to arouse the character in all of us.
Availability: PA, NJ, DE, MD, VA Back to Regions
---
Central
Ewephoria | 3 Sheeps Brewing Co. Sheboygan, WI
This ginger chocolate stout started as a chocolate nugget that was brought in to the brewery. We worked to create a beer equivalent, blending two types of ginger, cocoa nibs and dark malts. The result has been described as "dessert in a glass" and "Santa's Little Helper."
Shaman's Porter | Atwater Brewery Detroit, MI
Shaman's Porter is an exploration at the edge of complexity for a German style. Underlying nut and chocolate notes are present, without burnt astringency. Shaman's Porter is aged on bourbon barrel oak to impart a richness and strength without being overly boozy.
Availability: FL, IL, MA, MI, NC, PA, TN
Winter White Ale | Bell's Brewery, Inc. Kalamazoo, MI
Taking its cues from Belgian-style white ales, Bell's Winter White Ale offers a lighter yet abundantly flavorful alternative to the traditional heavy winter warmers. Fermented with a Belgian ale yeast, this blend of barley and wheat malts yields a mixture of clove and fruity aromas, all without the use of any spices. Deliberately brewed to retain a cloudy appearance, Bell's Winter White Ale is a beer for embracing winter.
Availability: AL, AZ, FL, GA, IN, IL, IA, KY, MI, MN, MO, NY, NC, ND, OH, PA, SC, VA, WI
Mr. Jimmy's Ruby Brown | Excelsior Brewing Co. Excelsior, MN
Malt-forward brown ale with light cherry tartness and subtle chocolate flavor.
Availability: Taproom, local bars/restaurants, limited 750ml in taproom
Winter | Morgan Street Brewery St. Louis, MO
Modeled after an American wheat beer, Winter is a spiced wheat with bananas. Initially, it was the brain child of our brewmaster Dustin. He was eating a banana the morning that he was mashing in our pumpkin beer and thought, "Why not bananas?" This beer is a 50-50 mash of 2-Row and White Wheat, and it also has 80 pounds of bananas and a dose of cloves in the mash. At the end of the process, we finish it up with some cinnamon and a touch of vanilla.
Winter Grind | Mother's Brewing Company Springfield, MO
For this coffee stout, we've combined the smooth, rich goodness of a stout with our cold-brewed espresso blend, roasted for us by our coffee-loving neighbors at the Mudhouse. The result is a wintery treat that'll give both coffee and beer lovers a reason to cheer.
Availability: MO, parts of KS and Northwest AR
Hot Date | Piney River Brewing Company Bucyrus, MO
Traditional American amber-style ale with additional flavor from dates and chipotle peppers.
Availability: AR, MO (after Thanksgiving)
Good Humans | Short's Brewing Company Bellaire, MI
This double brown ale pours a deep amber brown. The nose expresses sweet, malty aromas mingling with prominent toasted caramel and toffee flavors. The medium body and smooth mouthfeel offers a similar prominent toasted malt character with subtle sweet caramel and nut flavors on the front. This beer finishes pleasingly dry, with a bouquet of hops with a slightly fruity quality. (8.0% ABV, 19 IBU)
Sugar Shack Maple Stout | Third Street Brewhouse Cold Spring, MN
Sugar Shack Maple Stout is a truly unique brew enhanced with maple syrup harvested at the Saint John's Abbey Arboretum and Forest. This full bodied stout has subtle but distinct hints of roasted and specialty malts. Its dark appearance is a testament to its robust nature, but it is delicately balanced with sweet and roasted notes to produce a smooth, slightly creamy stout with an insatiable pleasant maple syrup flavor.
The More The Merrier | Two Brothers Brewing Company Warrenville, IL
Hints of coconut and chocolate start the palate of this surprisingly light-bodied ale. It finishes nicely with the thin body and dark roasted malt flavor.
Availability: IL, IN, OH, PA, NY, MN Back to Regions
---
Pacific NW
Jubelale | Deschutes Brewery Bend, OR
Spice and fruit grace this warm winter ale. Dark and malty, layered flavors unwrap to reveal chicory and earthy notes and a hoppy kick to finish. The deep garnet color pairs perfectly with holiday celebrations.
Availability: AK, AR, CA, CO, HI, ID, IL, IA, KA, MI, MO, MT, ND NE, NM, OR, PA, SD, TX, UT, WA, WY, British Columbia, and Alberta
Daybreak Breakfast Stout | Flyers Restaurant and Brewery Oak Harbor, WA
This coffee oatmeal stout has a silky mouthfeel from the use of oats. Coarse ground coffee is added to the conditioning tank infusing the coffee flavor and aroma without the harsh bitterness from brewed coffee. We use local coffee from Fidalgo Bay Coffee Co., and use a toddy grind and cold infusion rather than a hot brew which imparts a sharp bitterness to the beer.
Dark Persuasion | Icicle Brewing Company Leavenworth, WA
Delicate dark chocolate with a whisper of coconut…you know you want it, go ahead and indulge! You can finally have German chocolate cake and drink it too. With its provocative aroma and smooth body, this is certainly the darkest of 50 shades of risqué.
Sleigh'r | Ninkasi Brewing Company Eugene, OR
Sleigh'r is a delicious Northwest seasonal brewed with winter in mind. A dark doüble alt ale, malty and delicious, it's sure to keep the winter at bay. And yes, Sleigh'r does rock! An alt ferments with ale yeast at colder lagering temperatures. This effect gives alts a more refined and crisp lager-like flavor than traditional ales. The doüble alt means that it has been "Ninkasified." Regular alts are 5 – 5.5% ABV and 40 IBUs. Sleigh'r has a deep, toasted malt flavor that finishes dry and clocks in at 7.2% ABV and 50 IBUs, keeping it in a perfect alt balance!
Availability: AK, CA, ID, MO, OR, WA, Vancouver, British Columbia
Winter Warmer Ale | No-Li Brewhouse Spokane, WA
A deep ruby red beer with a thick, creamy-white head and lace. The aroma is sweet and malty with contrasting citrus hop profiles. The flavor is sweet and candy-like, with fruity esters and a spicy hop contrast. The flavors run deep and long, showing distinctive nutty malt flavors at the end. Very smooth and soft on the pallet. 35 IBUs, 7% ABV. Hops: Columbus Cascade, Chinook. Malt: 2 Row Pale, 2 Row Munich, Crystal.
Availability: AK, CO, DE, ID, MD, NC, OH, OR, WA
Yellow Snow | Rogue Ales Newport, OR
This India pale ale, is pale golden in color with a hoppy, fruity aroma. Big hop flavor up front is complimented by medium body and hoppiness midpalate. It finishes with a characteristically lingering bitterness.
Availability: nationwide Back to Regions
---
Pacific
Racer X® | Bear Republic Brewing Company, Inc. Sonoma County, CA
Racer X® is an uncommon double India pale ale, which puts a California twist on English brewing traditions by adding an assertive hop aroma and bitterness that compliments the firm malt backbone.
Availability: AZ, CA, CO, FL, MA, NE, NC, NY, OH, OR, PA, SC, TX, VA, WA, WI
Gingerbread Ale | Bison Organic Beer Berkeley, CA
Gingerbread Ale is a delicately spiced holiday porter brewed with ginger, nutmeg and a touch of cinnamon. It boasts an intoxicating aroma of fresh-baked gingerbread cookies straight from the oven, with well-balanced flavors of molasses, chewy dark malts and holiday spice. Imagine dipping a fresh-baked gingerbread cookie into a rich, roasty porter and then taking a bite—that's what Bison's Gingerbread Ale tastes like.
Availability: AZ, CA, D.C., FL, GA, IN, KY, NC, OH, OR, VA, WA
6 Geese-a-Laying | The Bruery Orange County, CA
6 Geese-A-Laying is the sixth beer in our "12 Days of Christmas" series, and is a return to the more classic dark and toasty winter ale. Brewed with cape gooseberries, this malty ale displays notes of plums, dark cherry and bright, citrus-like flavors from the namesake berries. This seasonal is delicious right now, but suitable for aging up to six years, just in time for the release of 12 Drummers Drumming, which will close out the series. Pairs well with a holiday roast, cranberry stuffing, chocolate truffles and caroling.
Availability: AZ, CA, CO, FL, GA, IN, IL, MD, MA, MI, NV, NJ, NY, NC, OH, OR, PA, SC, VA, WA, DC, WI
Black Blizzard | Dust Bowl Brewing Company Turlock, CA
Originally a stout of British origin, the imperial stout became popular with the Czarist Court in Russia. High hop levels and alcohol content, as well as large amounts of dark malts, allowed it to survive the journey to Russia and the surrounding regions. These qualities also make for a beer that ages well, providing layers of flavor that continue to develop over the years. In Black Blizzard, a combination of chocolate, coffee and roasted malt flavors and aromas are complimented by an assertive bitterness from both dark malts and British hops.
Climax Noel | Eel River Brewing Company, Inc. Fortuna, CA
A robust imperial red ale with hints of candied fruit, is accentuated with dry-hopped organic Centennial, Chinook, Simcoe and Citra hops.
Vintage Barrel-Aged "XVII" Anniversary Ale | Firestone Walker Brewing Company Paso Robles, CA
Fourteen local winemakers recently convened to help the brewing team blend the next Firestone Walker Anniversary Ale. The result is "XVII"—a vintage blend of seven eclectic component ales aged in retired bourbon, brandy and whiskey barrels.
Availability: select markets across the U.S.
Hullabaloo Winter Beer | Hangar 24 Craft Brewery Redlands, CA
This brew starts as a Scottish ale featuring European and domestic malts, giving Hullabaloo intriguing caramel and roast nuances. A blend of American and English hops delivers ample bitterness and a unique hop profile. This is a big, rich beer with a nice, underlying complexity.
Availability: CA, NV
Hoppy Claus™ Holiday Ale | Hoppy Boy Brewing Company Sacramento, CA
Hoppy Claus is a special version of our flagship product, characterized by its distinctive spiced aroma and rich amber color. Hoppy Claus redefines the way you think about a holiday ale.
Availability: CA, CT, DE, GA, IL, IN, KY, MA, MI, MO, NJ, NV, OH, PA, RI
Winter Four Pack | Iron Springs Pub & Brewery Fairfax, CA
Each year, Iron Springs puts together a winter seasonal four pack. The 2013 edition includes:
Flashover Smoked Pepper Porter: a smoked robust porter infused with ancho, California, New Mexico and Guajillo chili peppers.
Mocha Stout: Oatmeal stout with local roasted coffee and certified organic and fair trade Ecuadorian chocolate nibs.
Quadruple Ale: A strong Belgian-style ale, inspired by the monastic brewing tradition.
Winterscotch Ale: Scotch ale brewed with all English malt and hops.
Fullsuit Belgian Brown Ale | Karl Strauss Brewing Company San Diego, CA
Fullsuit is brewed with the changing seasons in mind. Firm toasted malt and roasted nut flavors are underpinned by a hint of vanilla that comes from aging the beer on French oak. Belgian ale yeast adds a peppery, fruity character to the beer's slightly dry and warming finish, making it perfect for the (kind of) cold Southern California winter.
La Trappistine® | Ladyface Ale Companie Agoura Hills, CA
This Belgian-style dark strong ale is malty with a rich dried fruit character, high carbonation and dry finish. La Trappistine pairs beautifully with traditional Thanksgiving meals and, at 9% ABV, is just the thing to take to your crazy family feast.
Availability: Select craft beer bars & restaurants in Greater LA County
White Christmas Spiced Winter Lager | Moylan's Brewery Novato, CA
In celebration of the season, Moylan's presents our White Christmas Spiced Winter Lager. Malty and smooth with a light tart and zesty finish, this year's lager contains holiday spices, curacao, mace, cinnamon, coriander and white pepper. This holiday lager will warm you and your sweetie inside and out.
Availability: AR, CA, GA, IL, NC, NV, TX
Santa's Little Helper | Port Brewing Co. San Marcos, CA
Santa knows who's been naughty and who's been nice, and this is one seriously naughty but nice beer. Santa's Little Helper, our imperial stout, starts with an emphasis on dark cocoa and roasted coffee aromatics. The finish lends hints of sweet crystal malt, warming tones of alcohol and a touch of hops, making it a perfect accompaniment to leftover fruit cake and sugar cookies.
Availability: AZ, CA, CO, GA, IL, MA, NJ, PA, WA
Crime | Stone Brewing Co. Escondido, CA
This American strong ale is ultra-hot, with fruity flavors and notes of jalapeño. Flavors of caramel and oak borne from the aging come through mid-palate, followed by a pervasive fiery hop-laced aftertaste. Crime is Lukcy Basartd Ale with peppers added and then aged in American oak Kentucky bourbon barrels.
Availability: AK, AL, AZ, CA, CO, CT, DC, DE, FL, GA, IA, ID, IL, IN, KS, KY, LA, MA, MD, ME, MI, MN, MO, MT, NC, NE, NH, NJ, NM, NV, NY, OH, OR, PA, RI, SC, TN, TX, VA, VT, WA Back to Regions
---
Mountain West
BJ's Annual Grand Cru™ | BJ's Restaurant and Brewery – Reno Reno, NV
This strong Belgian-style ale is brewed with imported Belgian malts and some secret ingredients, resulting in a malty character with a whirlwind of fruit and spice flavors.
Availability:  On tap at BJ's in AZ, CA, CO, FL, LA, IN, KS, KY, NM, NV, OH, Ok, OR, TX, WA. Corked 750ml bottles available for takeout in CA
Mistress | Bonfire Brewing Eagle, CO
Typically golden to blonde in color, wheat beers are a summer staple. Toss in blue agave, cinnamon, nutmeg, cloves and some midnight wheat malt however, and you get a winter warmer-style wheat that you won't recognize at first glance.
Never Summer Ale | Boulder Beer Company Boulder, CO
Deep ruby red in color, brewed with dark caramel malt and assertively hopped.
Availability: AZ, CA, CO, CT, FL, GA, IA, IL, IN, KS, KY, LA, MA, MD, MI, MN, MT, NE, NH, NJ, NM, NV, NY, NC, OH, OR, PA, RI, SC, TN, UT, VA, VT, WA, WI, WY
Big Bad Baptist | Epic Brewing Company Salt Lake City, UT / Denver, CO
This luxuriously rich imperial stout is aged in whiskey and bourbon barrels and then infused with coffee and coca nibs. This year's batches will feature coffee from Café Ibis, Novo coffee and Cranknstein.
Availability: AZ, CA, CO, ID, MI, MN, NC, NE, NC, NJ, OH, OR, UT, VA, WA, Washington, DC
Winter Soulstiz | Kannah Creek Brewing Company Grand Junction, CO
Winter Soulstiz is our first seasonal release. This robust red ale is a complex, malt-driven ruby red ale balanced with a light hop bitterness.
Accumulation | New Belgium Brewing Company Ft. Collins, CO
Accumulation, a seasonal white IPA, is all about hops and wheat. Accumulation pours unfiltered, with a white-gold tone, offering tropical aromas from the Mosaic and Amarillo hops. It also has a nice bitter bite balanced against the soft flavor of peaches and a hint of citrus.
Isolation Ale | Odell Brewing Company Fort Collins, CO
A funny thing happens here around summer's end—our eyes start searching the skies for those first fall flakes. As we welcome autumn's first snow, we celebrate the return of Isolation Ale. A sweet, caramel-like, malty ale that is balanced by a subtle crisp hop finish. Whether you ski, shred or shoe, Isolation Ale will inspire you to make first tracks.
Availability: AZ, CO, ID, KS, NE, NM, MN, MO, SD, WY
Barrel Aged 12 Gauge | Payette Brewing Boise, ID
Aged in bourbon barrels for one year, 12 Gauge Imperial Stout will be sold by the bottle at Payette Brewing during our annual celebration of dark, rich and delicious beers from around the country, Black Friday. The jet balck beer has hints of vanilla, char and a bourbon sweetness. This is Payette Brewing's first barrel-aged beer, and first bottled beer.
Hammer & Sickle | Renegade Brewing Company Denver, CO
This Russian imperial stout is a rich stout with vanilla notes and a bitter finish, reminiscent of dark chocolate.
RailSlide Imperial Spiced Ale | SanTan Brewing Company Chandler, AZ
RailSlide Imperial Spiced Ale is a brew based on a traditional English strong ale with winter flavors including fresh ginger, cinnamon and licorice. It boasts a deep brown color and was created in celebration of the pioneering punk spirit of the American craft brewer.
Out Cold Winter Ale | Sawtooth Brewery Ketchum, ID
This English-style old ale is a beer for the long winter nights. Brewed with a hearty grain bill, molasses, English ale yeast and English hops, this beer will likely have you "out cold" before midnight and ready for the slopes the next morning.
Availability: ID (draught only)
Euphoria Pale Ale | Ska Brewing Durango, CO
A big backbone of malt—with plenty of caramel sweetness and just a touch of chocolate and toast—provides enough alcohol to stay warm through the winter months. But it's the epic grapefruit hop aroma and flavor that really makes this seasonal beer shine. Euphoria is the beer of choice after an epic powder day.
Availability: CO, NM, AZ, OK, TX, NE, MO, IL, NC (Sweden & UK)
Outer Darkness Russian Imperial Stout | Squatters Craft Beers Salt Lake City, UT
Welcome to the biggest beer Squatters Pub Brewery has ever made! A Russian imperial stout is one of the most intensely flavored beers a brewer can create. The combination of rich roasted barley, oak, molasses and licorice root combine to create an utterly unique and complex imperial stout experience. We had to mash in twice to get our starting gravity of 26 plato. We boiled 3.5 hours to enhance caramelization, and used molasses and licorice root at the end of boil. Outer Darkness is aged with oak, and has 65 IBUs. We hope you have as much fun drinking it as we did making it.
Availability: AR, IA, LA, MA, MI, ND, NE, NM, RI, SD, TX, UT
Sockeye Winterfest | Sockeye Brewing Boise, ID
This American strong ale has a deep, rich malt complexity with hints of toffee, caramel and lightly toasted barley. Hops are plentiful as well, giving this beer enough hop bite to balance the big malt profile. It sits at 7.25% ABV and 75 IBUs.
Christmas Ale | Upslope Brewing Company Boulder, CO
Holiday spices complement the dark fruit and spicy notes from Abbey Ale Yeast in this Belgian-style dubbel. The distinctive holiday aroma, ruby red color and rich malt flavor make this ale perfect for spreading Christmas cheer.
Wasatch Winterfest | Wasatch Beers Park City, UT
This is a rich amber ale with caramel malt flavors and a large hop presence. Winterfest is brewed with the finest Northwestern Pale and Caramel malts, and then generously hopped with Columbus and Amarillo hops. Crafted in the spirit and style of robust winter ales, Wasatch Winterfest weighs in at 7.1% ABV. It is inspired and brewed to warm you through the cold winter months, and is great after a day on the mountain or a perfect companion around the fire.
Availability: AZ, IA, LA, MA, MN, ND, NE, NM, RI. SD, TX, UT, WI
---
South
Loup Garou | Bayou Teche Brewing Arnaudville, LA
For generations, Cajuns have told their children to hurry to bed or Loup Garou would get them. Brewed with werewolf-sized helpings of chocolate and roasted Belgian malts, brown sugar and hops, the beer is then oak-aged. This skillfully crafted Belgian stout is ideal for sipping on well past bedtime, waiting on the fabled Loup Garou.
Availability: AL, AR, FL, GA, LA, MS, NY
Santa's Secret | Carolina Brewery Pittsboro, NC
Our winter holiday brew boasts a combination of six different malts working together to produce a rich beer with a soft creamy mouthfeel. Without revealing all of Santa's secrets, we can say that this tasty ale contains a careful blend of coriander, cinnamon, orange and allspice. We think you'll agree—it's the closest thing to Christmas in a glass. (5.9% ABV, 22 IBUs)
El Duderino | Center of the Universe Brewing Co. Ashland, VA
Eight malts are combined and then fermented and rested upon two pounds of vanilla beans to create El Duderino.
Silent Night | Mother Earth Brewing Kinston, NC
Invite friends, stoke the fire and uncork a bottle of indulgence. Silent Night, a Bourbon barrel-aged imperial stout, offers a coffee aroma and an exceptionally rich malty flavor. Robust yet smooth and black as coal, each sip is a delightful gift. Old man winter gave you just what you were hoping for.
Availability: GA, NC, Northern VA, Washington, DC
Hoe Hoe Hoe | Swamp Head Brewery Gainesville, FL
Hoe Hoe Hoe is complex like your Grandma's fruitcake, but more appreciated at the holiday table. This Belgian-style witbier was crafted to complement a Floridian winter. We start with Cottonmouth, our year-round witbier, and shape it into what we feel a holiday ale should be; infusing it with cranberries, fresh ginger and Florida orange blossom honey to produce a slightly tart and colorful seasonal specialty.
Moo-Hoo | Terrapin Beer Co. Athens, GA
Moo-Hoo proudly uses cocoa nibs and shells from Olive & Sinclair Chocolate Co. in Nashville, Tenn.,to give it its chocolaty great taste!
Availability: GA, FL, AL, TN, SC, NC, MD, NJ, VA, PA
Coffee Oatmeal Stout | Thomas Creek Brewery Greenville, SC
A creamy oatmeal stout with a dark roasted flavor and a delectable coffee aroma made with our very own locally-roasted coffee blend.
Availability: SC, NC, PA, NJ, FL
Divergence Brett Porter | Wicked Weed Brewing Asheville, NC
This 100% Brettanomyces fermented porter is aged on black currants, local elder berries and French Broad Chocolate cocoa nibs in Angels Envy bourbon barrels.
Availability: brewpub only Back to Regions
CraftBeer.com is fully dedicated to small and independent U.S. breweries. We are published by the Brewers Association, the not-for-profit trade group dedicated to promoting and protecting America's small and independent craft brewers. Stories and opinions shared on CraftBeer.com do not imply endorsement by or positions taken by the Brewers Association or its members.