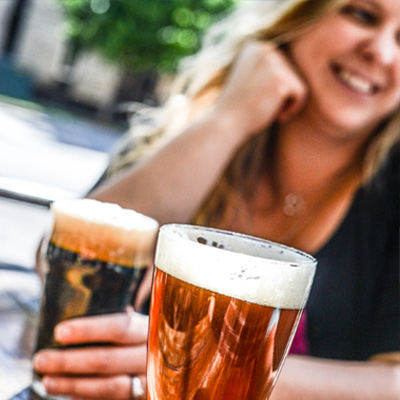 Women Shaping the Business of Beer
This post profiles a handful of women in beer, sure to check out part two of this series, "Women Shaping the Brewing of Beer" which focuses on women brewers working in America's craft breweries.
While men still outnumber women in the beer industry, women brewers aren't as rare as they once were and many women run the business side of breweries all across the country. As CEOs, GMs, marketing directors, and other prominent positions in the beer business, women are helping to ensure that the craft beer craze continues for many years to come.
Here are a few of the women who are taking leadership in the business of craft beer. Whether they're managing employees, handling client relations, helping set up and promote big community events, or—more likely—a combination of all of the above, these women are helping the beer industry thrive.
Kelsy Livic, Director of Communications | Hale's Ales Brewery & Pub | Seattle, WA
Kelsy Livic is like a brewing Swiss army knife: She has experience in all facets of the industry. Her beer journey began when she learned to homebrew in college (she describes her first beer as being "soapy"). Livic took a pause from her biology undergrad to become the one of the first graduates of Central Washington University's craft beer trade certification program. She went on to wear many different hats at Yakima Craft Brewing Company, and now she is enjoying her role as director of communications at Hale's Ales Brewery.
The brewing industry offered a career in which "I could get practical experience making good beer which I could then apply at home," Livic says. "I wanted to prove to myself and others that women can handle manual labor tasks required of a brewer, and the atmosphere of the beer industry is generally laid-back, helpful and fun."
Livic was initially hired as a brewer at Hale's, and later was asked by founder Mike Hale to trade the manual labor for a role in PR, marketing, social media and internal communications. One of her primary tasks now is to help promote "The Palladium," a huge warehouse that has been converted into an entertainment venue for events like comedy shows, music performances and brewmaster dinners.
When asked why she thinks women are drinking more beer today than in years past, Livic says, "For one thing, I think women are developing more and more of a taste for all different types of craft beer. It's a culture change. It's no longer unlady-like to drink beer."
To help refute the idea that women aren't able to handle the manual labor that is required to be in the industry, Livic recalls how staff shortages forced her to work beer festivals right up to the end of her pregnancy: "I was set to work yet another festival two hours out of town the day I went into labor!"
Irene Firmat, CEO and Founder | Full Sail Brewing Co. | Hood River, OR
Irene Firmat helped build the foundation for women in the beer world and should serve as an inspiration for those who want to further their careers within the industry. Firmat has been active in the craft beer scene since before it was hip. She started Full Sail Brewing Co. in 1987, in the days when starting a craft brewery was still a novel concept. Her steadfast desire to improve led her to become the first woman appointed to the board of the Brewers Association of America.
Firmat started her professional career in New York as a buyer in fashion retail, but during a trip to Portland she fell in love with the city. She knew right away that she wanted to swap time zones to start both a brewery and a family with her husband, Full Sail brewmaster Jamie Emmerson.
"I had my son when the brewery was only four years old, and the day before my daughter was born we had a party for over 500 people to celebrate the opening of our new brewhouse. So being a mother has been a part of my life as we have built the brewery from a start-up to where we are today," Firmat says.
Over the many years she's been involved in the craft beer industry, Firmat has seen women take more and more prominent roles. She has some great advice for the women in breweries today: "I think it is important to not be expecting a particular attitude or reaction because you are a woman. If you expect people to treat you with respect, the vast amount of time they will. But you also need to earn that respect by working hard to be good at what you do."
Suzy Rizza, Co-owner | KettleHouse Brewing Co. | Missoula, MT
Montana born and raised, Suzy Rizza (along with husband Tim O'Leary) started KettleHouse Brewing Company in 1995. Since its inception, Rizza and O'Leary have seen their small B.O.P. (Brew On Premise) morph into a 15,000-barrel brewery with two locations and another facility in the works.
Starting a brewery in Montana in the mid-90s wasn't the most lucrative of career choices. Rizza recalls, "In the early years, I worked at various odd jobs elsewhere—there weren't enough customers to warrant both of us earning a wage. I basically supported our family for the first ten years by working outside of the business."
Her stick-to-itiveness and creativity eventually paid off. After a couple of years of lobbying the Montana State Legislature to legalize on-premise beer consumption, KettleHouse had the distinction of being the first brewery in the state to pour beer in its own tasting room. In the mid-2000s, KettleHouse became the first modern brewery in the state to can its beer, which Rizza says "was a darn radical, scary idea back in 2006."
Rizza understands that gender ratios in the beer world are still skewed, but she doesn't let that scare her. "When my husband and I go to business meetings, I am often the only woman in the room," she says. "I love going to beer events like the Great American Beer Festival—it's the only gathering where the line for the men's bathroom is longer than the line for the women's!"
Linda Nyman, Director of Marketing and Sandy Cindrich, President and CEO | Penn Brewery | Pittsburgh, PA
Co-owners Sandy Cindrich and Linda Nyman poured financial investments as well as sweat equity into re-opening Penn Brewery in 2009. Their leadership in the beer world has made them role models: "Linda and I have spoken with many women's groups that are interested in us as business owners in the beer industry," says Cindrich, who has been president and CEO since 2010. "I have learned so much about the culture of craft beer and the passion in this industry."
Looking for a new challenge, Nyman traded more than 20 years in marketing for a dive into the beer industry and a chance to become an entrepreneur. While that may sound scary to some, Nyman took her career change in stride. "Overall, I've really enjoyed working in the craft industry," she says. "It's a business that involves a great deal of creativity and one that really makes a lot of people very happy."
Nyman points out that at the same time women are taking on bigger roles in the business, they are also becoming bigger consumers of beer. "More women are opening or running breweries than ever before, and more are starting or joining women's beer appreciation groups," she notes. "And plenty of women are ordering those stronger, 'manly' IPAs too!"
Sheila Francis, Marketing Director | Payette Brewing Co. | Boise, ID
Sheila Francis wears a couple of desirable hats in the Idaho beer circuit. Francis is the marketing director of  Payette Brewing, and the founding president of Idaho Brewers United (who knew "IBU" had a dual meaning in terms of beer).
It took Francis a little while to get to where she is now. There was a stint at the University of Washington, then the University of Colorado at Boulder, followed by Boise State. While her degree is in accounting, Francis later realized her true interest was marketing. After interning in Austin and Chicago, she decided to come back home to Idaho and help her brother in his brewery.
In today's surging craft beer climate, Francis recognizes that gender can't be one-sided in terms of prospective consumers. "It should be a collective effort within the craft beer industry to educate people who are unfamiliar with beer, and make an effort to re-educate those with the strange preconception [that] beer just isn't for women," she says.
Francis notes that there remains a tendency to connect gender with every accomplishment a women in brewing makes, and looks forward to a day when brewers put that habit behind them. "We've grown past this as an industry," she says. "No need to add 'and she's a woman' or 'despite being in a male-dominated industry.'" Those phrases are deservedly forgotten when describing the achievements of the brewing business leaders listed above, as well as all those that will follow in their footsteps.
This is just a small sample of women who are excelling on the business side of the beer industry. Look for a second post soon about women on the brewing side of the industry coming soon! Feel free to share and give credit to those who work hard at your local brewery.
CraftBeer.com is fully dedicated to small and independent U.S. breweries. We are published by the Brewers Association, the not-for-profit trade group dedicated to promoting and protecting America's small and independent craft brewers. Stories and opinions shared on CraftBeer.com do not imply endorsement by or positions taken by the Brewers Association or its members.