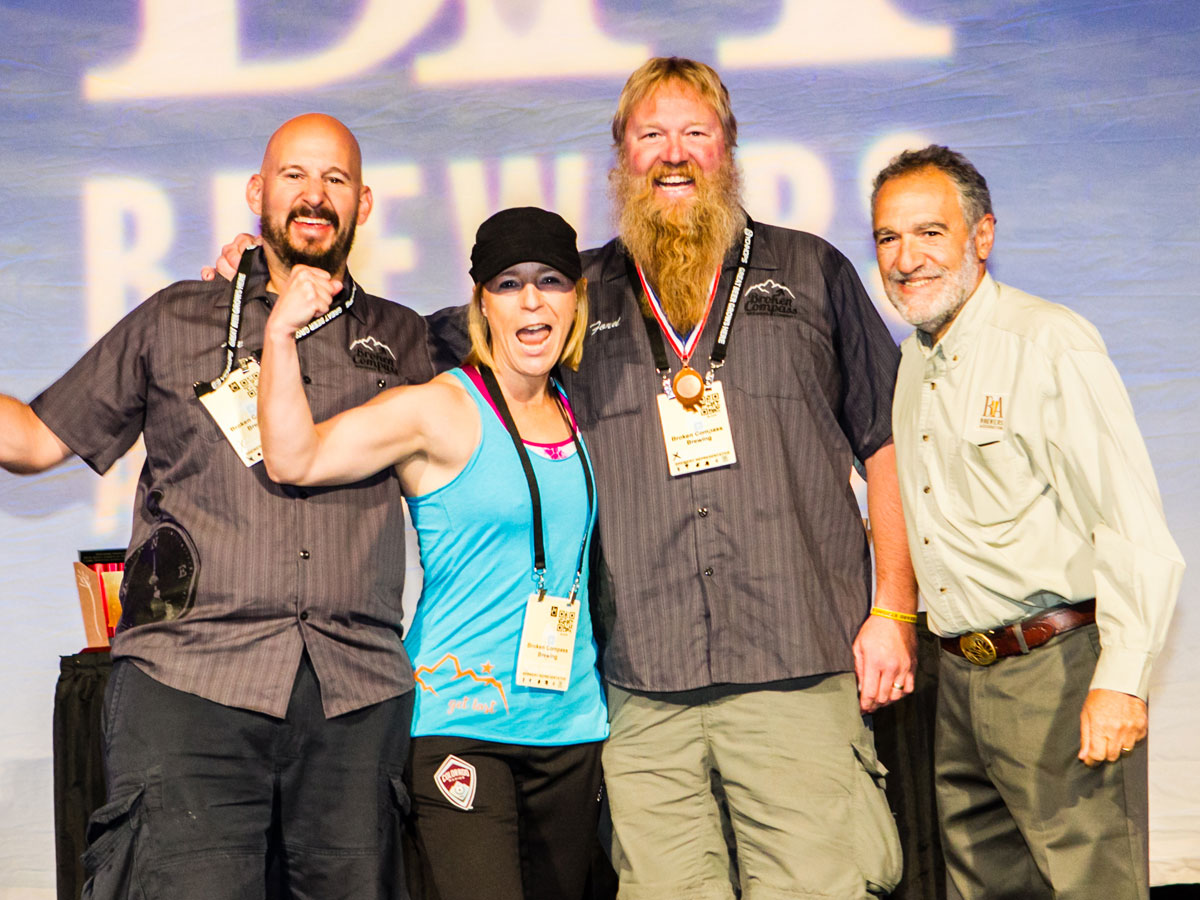 10 Best Medal-Winning Beer Names from the 2015 Great American Beer Festival
The dust has settled, I'm mostly recovered from the requisite post-GABF funk and I've posted my trip notes to the company. Yes, the 34th annual Great American Beer Festival is in the books – and was one for the books! In the end, 275 medals were awarded to some of the best commercial breweries in the United States.
The award ceremony is always an exciting experience. I love to watch each excited brewing team jump on stage and accept a much deserved award — but with 275 awards, three Pro-Am Competition winners and awards for various breweries of the year, my highly-suspect attention span can wander. That's why I want to congratulate the brewers who were skilled enough to not only craft an award-winning beer, but to have the creativity to excel at the art of naming that beer.
(MORE: Do's and Dont's for Your First GABF)
Let's face it: beer in general could benefit from some updated naming. Don't get me wrong, naming your beer the [insert brewery name] Belgian-style Wit, gets the job done, but a truly clever name will stick with your fans and maybe even end up in an [insert website's name] post on amazing beer names like this one.
So without further ado, I give you my top 10 favorite names of the Great American Beer Festival 2015 Awards.
10. Alergeez | Panther Island Brewing Co. | Fort Worth, TX Silver | Category: 9 Herb and Spice Beer | 142 Entries
9. Nose Candy | Noble Ale Works | Anaheim, CA Bronze | Category: 16 Session India Pale Ale | 161 Entries
8. Rasplendent | Mazama Brewing Co. | Corvallis, OR Silver | Category: 3 American-Style Fruit Beer | 87 Entries
7. Cherry Busey | Sun King Brewing Co. | Indianapolis, IN Bronze | Category: 5 Belgian-Style Fruit Beer | 63 Entries
6. Hot for Teacher, Ms. Dopplebock | Thr3e Wise Men Brewing Co. | Indianapolis, IN Bronze | Category: 46 German-Style Doppelbock or Eisbock | 25 Entries
5. Dubbel Entendre | River's Edge Brewing Co. | Milford, MI Silver | Category: 78 Belgian-Style Dubbel or Quadruple | 60 Entries
4. Rock out with Maibock Out | Hailstorm Brewing Co. | Tinley Park, IL Silver | Category: 45 Bock | 38 Entries
3. Lagerithm | Bottle Logic Brewing | Anaheim, CA Gold | Category: 43 American-Style Dark Lager | 21 Entries
2. Shower Beer | Champion Brewing Co. | Charlottesville, VA Gold | Category: 34 Bohemian-Style Pilsener | 62 Entries
1. You're my boy, Blue! | Brew Bus Brewing | Tampa, FL Silver | Category | 4 Fruit Wheat Beer | 69 Entries
Congratulations to all of the winners! As the number of breweries and beers continues to grow, having a good name will continue to help craft breweries make a name for themselves.
What's your all-time favorite beer name?
CraftBeer.com is fully dedicated to small and independent U.S. breweries. We are published by the Brewers Association, the not-for-profit trade group dedicated to promoting and protecting America's small and independent craft brewers. Stories and opinions shared on CraftBeer.com do not imply endorsement by or positions taken by the Brewers Association or its members.