While craft beer continues to gain more and more recognition on the consumer level, it's also becoming highly respected in the culinary world. In 2014, seven of the 20 semi-finalists nominated for the James Beard Award in the category of Outstanding Wine, Spirits or Beer Professional represent craft beer.
Receiving a James Beard Award is an esteemed honor, which according to the James Beard Foundation is, "…the highest honor for food and beverage professionals working in North America." The judges for these awards are dedicated industry professionals who volunteer their time to make sure the correct procedures are followed and the right individuals receive the honor.
The James Beard Foundation is a national non-profit organization whose mission is, "To celebrate, preserve, and nurture America's culinary heritage and diversity." And after beer was added as a recognized category in 2012, the celebration got a lot more exciting for craft beer enthusiasts.
While the Awards Gala won't happen until early May at the Avery Fisher Hall at Lincoln Center in New York City, finalists will be announced March 18.
Semi-Finalists Representing Craft Beer in the Outstanding Wine, Spirits or Beer Professional Category:
Sam Calagione | Dogfish Head Craft Brewery | Milton, DE
Mike, Nick and Simon Floyd | Three Floyds Brewing |Munster, IN
Garrett Oliver | Brooklyn Brewery | Brooklyn, NY
Tom Peters | Monk's Café | Philadelphia
Joey Redner | Cigar City Brewing | Tampa, FL
Rob Tod | Allagash Brewing Company | Portland, ME
Don Feinberg and Wendy Littlefield | Vanberg & DeWulf | Cooperstown, NY
Congratulations to all nominees! Hopefully this year's win will showcase craft beer's impact on the culinary world. Check out the complete list of semi-finalists.
Photo © Dan Wyn
---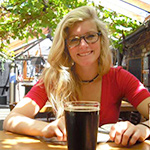 Tiffany Lutke (@TiffanyLutke) is the current Craft Beer Program intern at the Brewers Association. She spent her days as a kid in the small craft brewery her father owned on the east coast, which led to her love for small and independent breweries. When she's not pouring beer at Upslope Brewing Company taproom in Boulder, she's sharing pints with old friends at her favorite beer bars like The Mayor of Old Town in Fort Collins, Colo.
CraftBeer.com is fully dedicated to small and independent U.S. breweries. We are published by the Brewers Association, the not-for-profit trade group dedicated to promoting and protecting America's small and independent craft brewers. Stories and opinions shared on CraftBeer.com do not imply endorsement by or positions taken by the Brewers Association or its members.