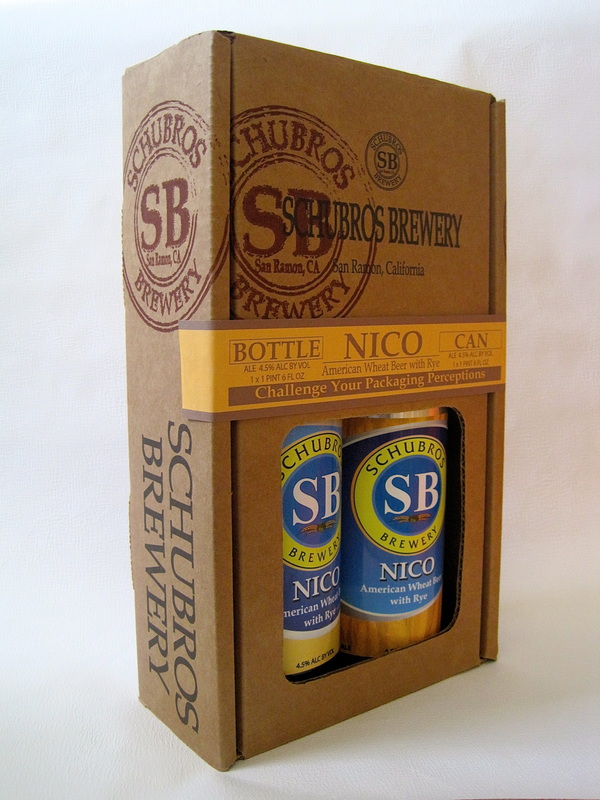 Schubros Brewery Combo Pack Pits Bottles Against Cans
Same recipe. Same batch. Same tanks. Different packaging.
While cans and bottles have lived in harmony for decades, the idea of anything other than "swill" in a can continues to spark resistance amongst the general beer consumer set. Craft beer enthusiasts have had at least a decade to research and embrace beer in aluminum cans, and it is no secret that many brewers have adopted them as the sole means of connecting their brands with the craft beer-lover.
The differences between the two forms of packaging have been hashed out on an industry level for many years, but it is San Ramona, Calif.-based Schubros Brewery who is taking the great can vs. bottle debate to the streets by dual-packaging its Nico American Wheat. The Shubros Brewery Can/Bottle Combo pack includes one bottle and one can of Nico American Wheat, which allows the consumer to decide if packaging affects the beer's taste. All other variables remain the same.
An anonymous poll on the Schubros site shows a slight preference to cans, which conflicts the results of a study commissioned by Shubros President Ian Schuster, which was conducted by St. Mary's University's MBA program.
"Unfortunately, their results didn't make the decision any easier, writes Schuster, "[the study] showed a strong can advantage for operations purposes, and a modest environmental advantage for cans (recycling rates slightly outweighing the aluminum mining effects), but a surprisingly strong degree of consumer skepticism and disinterest which far surpassed our initial cautious assumptions."
Despite the  negative perception—90% of respondents to the St. Mary's study were not in favor of beer in cans—Schuster believes that Schubros will eventually adopt cans, citing the environmental benefits and the preservation qualities the can provides. Schubros hopes the combo pack may help make the case for craft beer in a can to apprehensive late adopters.
What do you think? Tell us what you think in the poll below.
---
CraftBeer.com is fully dedicated to small and independent U.S. breweries. We are published by the Brewers Association, the not-for-profit trade group dedicated to promoting and protecting America's small and independent craft brewers. Stories and opinions shared on CraftBeer.com do not imply endorsement by or positions taken by the Brewers Association or its members.