Holy sh*t! While everyone is trying to spot spoilers in the new "Avengers: Endgame" trailer, Georgia craft beer fans have eyed something downright awesome.
Let me back up real quick. If you didn't hear, "Avengers: Endgame" tickets (finally) went on sale Tuesday, April 2. I'll pause to give you a second if you still need to buy them before you get shut out of opening day.
Ok. Ready to get back to the beer part?
(VISIT: Find a U.S. Brewery)
The new "Special Look" trailer (above) that dropped Tuesday starts by showing the exterior of the Avengers compound at night. We then hear the voice of Mark Ruffalo's Bruce Banner talking about what our heroes have to do.
The next shot shows a sullen Thor — who came oh-so-close to saving the day in "Avengers: Infinity War" — sitting at a table with a beer can in front of him.
Georgia craft beer fans realized that beer can isn't any old beer can. In fact, it's not even a Big Beer can. It's a can of Athena, a Berliner-style Weisse from Athens-based Creature Comforts Brewing Company!
Hence why I'm saying holy sh*t! A can of beer brewed by a small and independent U.S. brewery is making an appearance in the biggest movie in the galaxy. Do you know what this means?!?
No. 1: The fine folks at Creature Comforts survived Thanos' "Snapture" at the end of "Infinity War" and they're still making beer.
No. 2: Craft beer survives Thanos!
No. 3: Thor, the God of freaking Thunder, who has a choice of any beer in the Nine Realms, chooses to drink Athena — a craft beer!
(READ: 2018 Craft Beer Growth Report is In)
An Athena beer can in "Endgame" isn't an accident by the Marvel prop folks. Georgia has become a mini Hollywood in the last decade, attracting a ton of major movies including a lot of Marvel films. The cast and crew spend a lot of time there. We previously reported that the Russo Brothers, the directors of both "Infinity War" and "Endgame", along with other Marvel movies, like Cap 2: "Winter Soldier" are big fans of craft beer and specifically big fans of Creature Comforts. In summer 2017, Joe Russo was on stage at Disney's D23 fan fest sporting a Tropicalia t-shirt, Creature's sought-after IPA.
We reached out to the Georgia brewery and they tell us Marvel approached them to ask if they could use Athena in Endgame. They tell us they were honored and said "absolutely!" The symbolism of our hero Thor drinking Athena isn't lost on anyone.
"We think it is fitting that Thor, the God of Thunder, would drink Athena as the Greek Goddess Athena is, of course, the Goddess of Wisdom & Warfare," Creature Comforts CEO Chris Herron tells CraftBeer.com.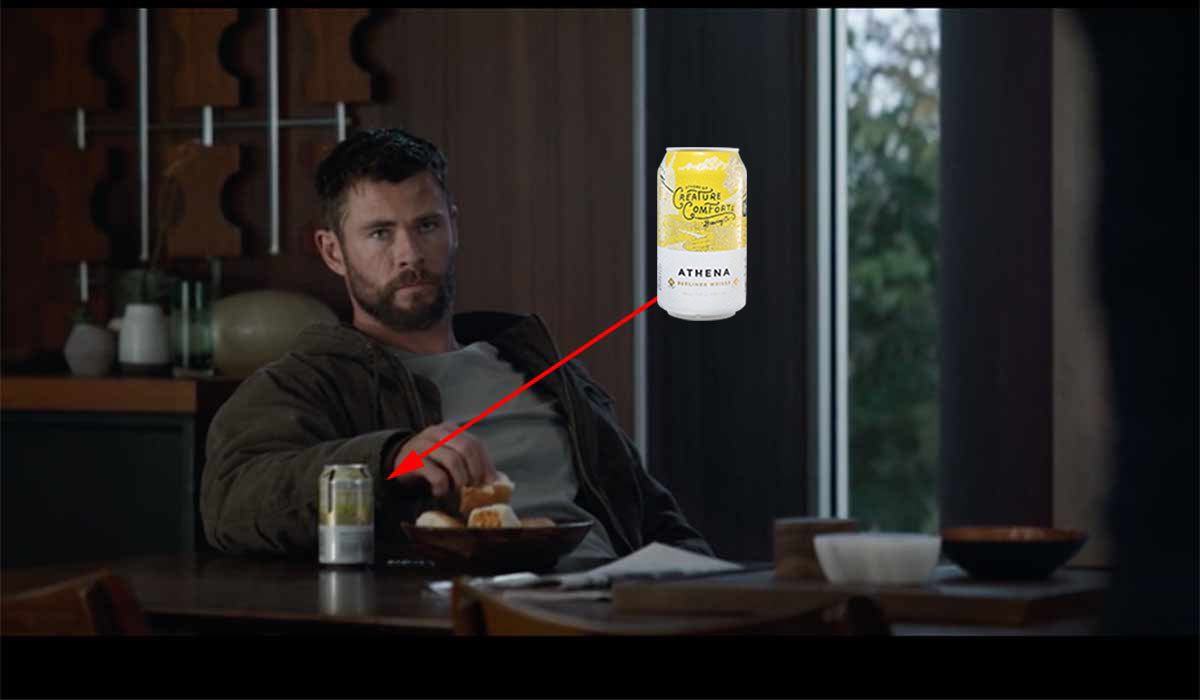 At this point, Thor, Cap, Black Widow and the remaining Avengers need a whole lot of wisdom on their side.
As the editor of CraftBeer.com, a former Georgian, and a self-proclaimed Marvel fangirl (I admit, I'm only on Reddit for "Agents of Shield" theories), I'm thrilled to see Creature Comforts — a small and independently-owned Georgia craft brewery — get a nod in the Marvel Cinematic Universe!!
And now, I'm off to email Chris Hemsworth's folks to see if he wants to author an Athena beer feature for us. Wish me luck!
CraftBeer.com is fully dedicated to small and independent U.S. breweries. We are published by the Brewers Association, the not-for-profit trade group dedicated to promoting and protecting America's small and independent craft brewers. Stories and opinions shared on CraftBeer.com do not imply endorsement by or positions taken by the Brewers Association or its members.