According to the CraftBeer.com Beer Styles and the Brewers Association 2015 Beer Style Guidelines, an American stout is black with an SRM (color) of 39-40 (dark black).  The color of the stout comes from the roasted malt, which also gives stouts their infamous roasted character in aroma and taste. But now we are starting to see gold-colored stouts come into the market. Is it really a stout if the barley isn't roasted?
Stone Brewing Co. and Industrial Revolution Brewing Co. both have a gold-colored stout that is missing one of the main characteristics of a stout, the roasted malt.  To get the traditional roasted flavors of a stout without the roasted malt, these breweries have added coffee and chocolate to give the illusion of roasted grains.
When asked about their Blonde Stout, Tim Suttman, of Industrial Revolution, had this to say: "The Blonde Stout was a brewer's challenge: to brew a stout with the flavor but not the color of a stout. We brewed a stout with all of the grains that make a thick rich stout except the roasted grains that would give it its dark color. We then replaced the flavors of the roasted grains with cold-brewed coffee, cocoa nibs and vanilla. The beer may not taste just like a stout, but it gives the impression of a much darker beer."
When I tried Industrial's Blonde Stout, I was taken aback. I wasn't sure what to think because when you're drinking a beer that is gold in color, you're not expecting to have it taste similar to a rich, dark, roasted beer, but it did. It was an interesting, yet delicious beer, so I got a growler of it to introduce to my family.
Stone Brewing Co's Stochasticity Project ™ has an imperial golden stout called Mater of Disguise. This is what Stone has to say about their new project: "We took the spirit of a dark beer—the time-honored stout—and applied a similar science of thought, brewing it to be golden-hued. Cocoa and coffee beans impart roastiness sans darkening to this brew, while flaked oats provide an enveloping mouthfeel. The result is a stout that looks more like a blonde, but is a raven beauty at heart."
Are these golden versions of the classic beer style part of the stout family, or the invention of a new style completely? Like the black IPA, will we will we soon adapt gold-colored stouts into the style, or will it become its own beer style entirely? There aren't too many of these stouts disguised as blondes, but if you find one, check it out and let us know what what you think!
---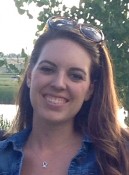 Atalie Rhodes is the current Craft Beer Program intern at the Brewers Association. Her love of craft beer led her to becoming a trainer at Yard House Restaurants, but she is constantly seeking more beer knowledge. If she is not at a brewery asking a plethora of questions about their beer, she is probably out fishing, playing volleyball or reading one of her favorite books.
CraftBeer.com is fully dedicated to small and independent U.S. breweries. We are published by the Brewers Association, the not-for-profit trade group dedicated to promoting and protecting America's small and independent craft brewers. Stories and opinions shared on CraftBeer.com do not imply endorsement by or positions taken by the Brewers Association or its members.