The Brewers Association released its annual list of the Top 50 U.S. craft brewing companies Wednesday. The Top 50 list is compiled based on beer sales by volume in 2017.
[newsletter_signup_box]
"In an increasingly competitive and mature marketplace, these brewing companies continue to lead and pave the path for small and independent craft brewers," says Bart Watson, chief economist at the Brewers Association.
(LEARN: What Is the Independent Craft Brewer Seal?)
The Brewers Association (BA), publishers of CraftBeer.com, is the not-for-profit trade group representing small and independent craft brewers. The BA board of directors is the body that sets the definition of a craft brewer.
Small – Annual production of 6 million barrels of beer or less (approximately 3 percent of U.S. annual sales). Beer production is attributed to the rules of alternating proprietorships.
Independent – Less than 25 percent of the craft brewery is owned or controlled (or equivalent economic interest) by a beverage alcohol industry member that is not itself a craft brewer.
Traditional – A brewer that has a majority of its total beverage alcohol volume in beers whose flavor derives from traditional or innovative brewing ingredients and their fermentation. Flavored malt beverages (FMBs) are not considered beers.
In June 2017, the BA released the independent craft brewer seal to help beer lovers recognize which brewers fit the craft definition. More than 3,000 breweries have adopted the logo in eight months. Look for the seal — an upside-down beer bottle — on packaging, labels, tap handles at more in breweries and at the grocery store.
Here's a full look at the Top 50 U.S. craft brewing companies. And before you go sounding off in the comment section, this fact bears repeating: the Top 50 list is solely based on beer sales by volume — this list doesn't rank breweries by ratings.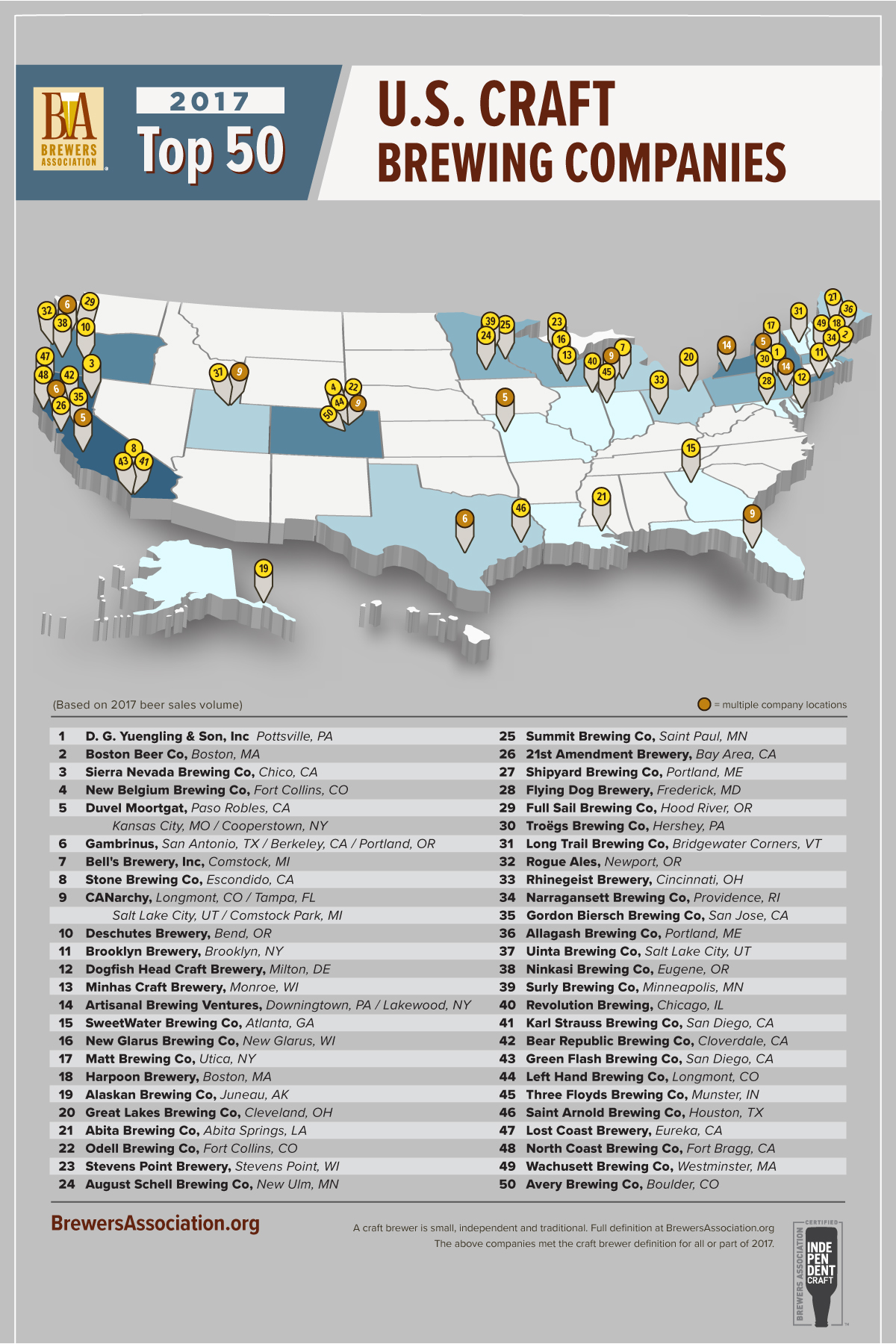 (VISIT: Find a U.S. Brewery)
What's changed since the Top 50 list released in March 2017? Here are a few things that jumped out at us.
Cincinnati's Rhinegeist Brewery joins the Top 50 at the 33 slot.
Three Floyds Brewing Co. out of Munster, Indiana, and Saint Arnold Brewing in Houston join the Top 50 at No. 45 and No. 46, respectively.
You can read more about the list at BrewersAssociation.org. Watson will also be providing more insight into the state of the industry during the Craft Brewers Conference from April 30 – May 2, 2018, in Nashville.
CraftBeer.com is fully dedicated to small and independent U.S. breweries. We are published by the Brewers Association, the not-for-profit trade group dedicated to promoting and protecting America's small and independent craft brewers. Stories and opinions shared on CraftBeer.com do not imply endorsement by or positions taken by the Brewers Association or its members.