The women of Chicago's suburban Mikerphone Brewing took the mic and brewed Drippin' So Much Sauce to benefit women affected by domestic violence. According to the National Domestic Violence Hotline, one in four women have been the victim of severe physical violence by an intimate partner in their lifetime.
Mikerphone — owned by husband and wife team Mike and Lisa Pallen — is well-known for its New England style IPAs and lyrical spin on every beer name. This big, juicy, women-brewed beer is no exception.
Drippin' So Much Sauce, which is named after a lyric from Lizzo's "Juice," is a double dry-hopped double IPA featuring Citra, El Dorado and Sabro hops.
According to Charolette Converse, the brewery's marketing and events manager, "This beer embodies the vibe and culture promoted by the women who work in the beer industry."
The group certainly honed that empowerment for a good cause.
(MORE: Brewer Averie Swanson Starts a New Chapter in Chicago)
Women Empowering Women Through Beer
This whole concept started with the women of Mikerphone showing interest in learning more about the brewing process. From there, it blossomed into making a difference in the community.
"We knew right away that we wanted to partner with a local and women-focused organization because this beer is about being an empowered woman," Converse says.
Proceeds from can sales will be donated to WINGS, a Chicago-area program dedicated to providing housing, integrated services, education and advocacy to end domestic violence.
"It's important that our charity and non-profit partners are as hyper-local as possible so that they can directly impact the community that Mikerphone resides in, Elk Grove Village," she says. "One in four [women] is too high a number, and as a business and voice in the community, it's our responsibility to assist in raising awareness and support for those in need."
Mikerphone's Commitment to Education and Inclusion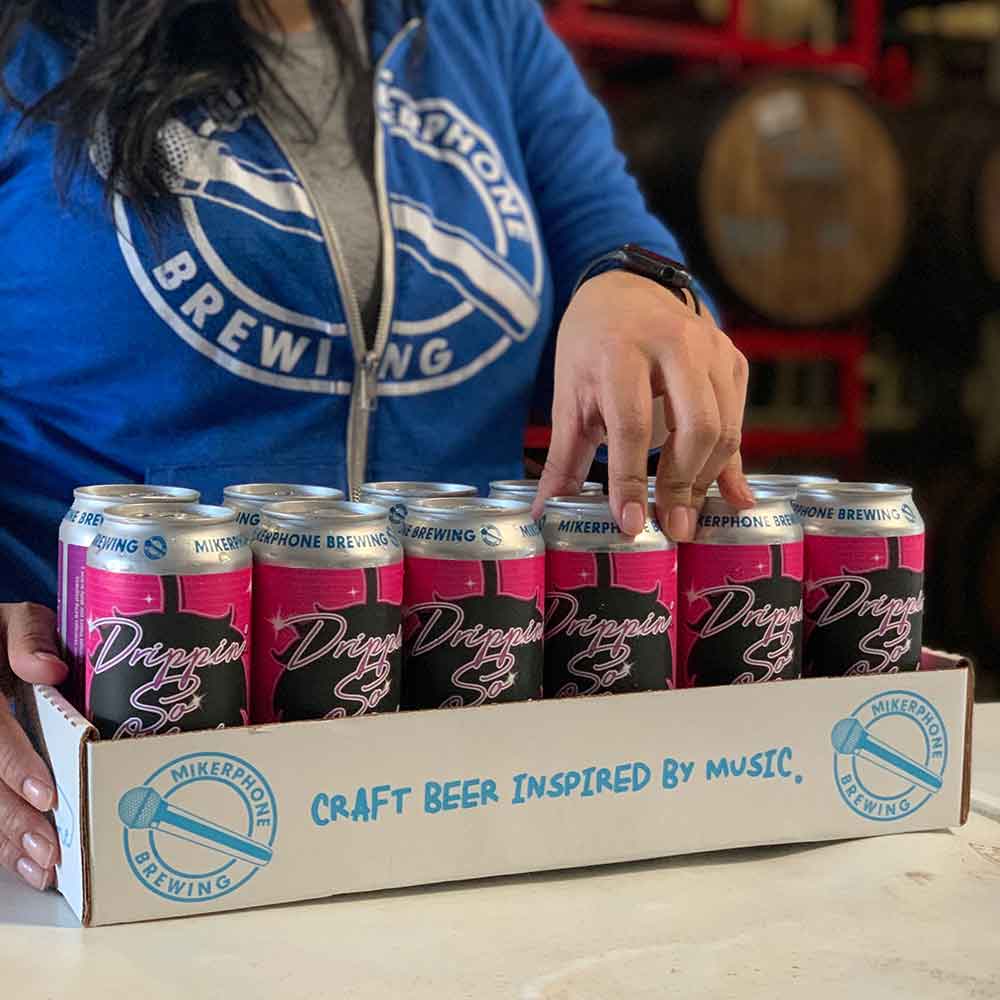 Mikerphone's women-brewed beer, Drippin' So Much Sauce, will be released on draft and in cans at the brewery's International Women's Day Release Party on Sunday, March 8. Attendees will not only be able to meet the women behind the beer and the brewery but also talk with WINGS representatives about the organization's mission.
The Chicago brewery's commitment to community spans larger than this women's day beer release. The brewery places education and inclusion at the top of its values.
(MORE: Ballast Point Employees Celebrate New Chapter with Open Letter)
As Converse explains, "Every customer walking into Mikerphone should feel comfortable asking questions to any person behind the bar, man or woman. Every woman at Mikerphone, and in this industry, should feel comfortable behind the bar, at a beer fest, in the brewery, wherever there is beer."
The crew at Mikerphone agrees — it's important to showcase that women are a driving force in the success of craft beer.
"Co-owners, bartenders, brewers, social media managers," Converse says, "every aspect of this industry is more successful with women working alongside men.
"By empowering the women in your brewery, you're opening the doors to making entire groups of people feel more welcomed in the craft beer space," Converse adds. "And here at Mikerphone, we're telling other women, 'Hey, there's a place for you here.'"
CraftBeer.com is fully dedicated to small and independent U.S. breweries. We are published by the Brewers Association, the not-for-profit trade group dedicated to promoting and protecting America's small and independent craft brewers. Stories and opinions shared on CraftBeer.com do not imply endorsement by or positions taken by the Brewers Association or its members.