The Portsmouth Brewery's tagline is "We Serve All Types" – and their recent release proves that they aren't just serving, they're empowering. In October, the New Hampshire brewpub released an herbal craft beer brewed with menopausal women in mind. It was so well received, the brewery has released Libeeration, a menopause beer, for a second time.
Libeeration combines Saphir hops with herbs that herbalists claim help assuage symptoms associated with hormonal shifts; herbs like motherwort, lemon balm, chamomile, stinging nettle, mugwort, rose, chickweed and damiana. The result, the brewery's website explains, is a "gruit style ale that's golden straw in color with fruity, spicy, earthy flavors." And it weighs in at more than 6 percent ABV.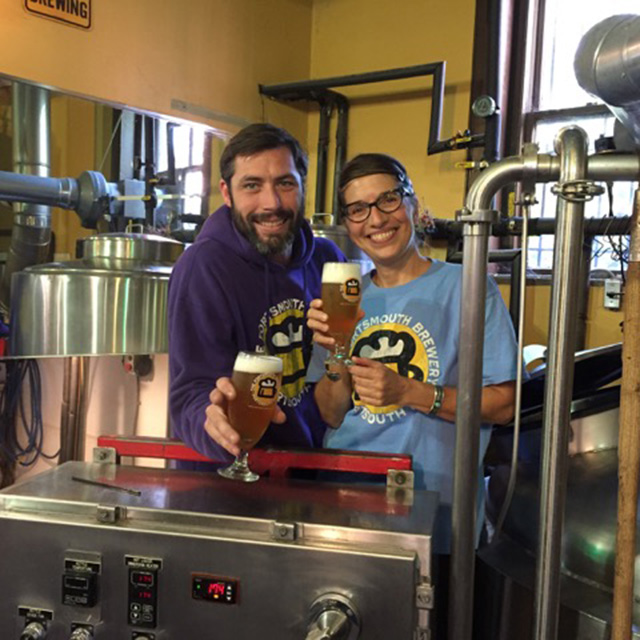 "It's gratifying to see women enjoying Libeeration and celebrating this stage in life," Portsmouth Brewery co-owner Joanne Francis says. "We anticipated women who were already beer drinkers would be delighted by its complex flavor, but now it's clear Libeeration is making converts out of folks who didn't think they liked beer at all."
(READ: 5 Epic Craft Beer Road Trips)
For Francis, a 57-year-old brewing veteran, this was a personal quest.
"As I aged, I began to feel more and more marginalized and more of an outcast in the business that I worked in, and I knew that a lot of girlfriends had a huge passion for beer, but nothing was really particularly being devoted to this age group, the over-50 woman," she tells the Foster's Daily Democrat.
And quite the quest it was.
"It's taken years to bring this idea to market," Francis says. Six years, to be exact. "After consulting with women health practitioners and herbalists, our team came up with ingredients believed to relieve symptoms like sleeplessness, hot flashes and mood swings."
(READ: 7 Breweries Worth a Detour)
However, as Francis emphasizes in her interview with the Boston Globe, the beer does not make any medicinal claims.
Ultimately, Francis says she wants to change the way people think about menopause. "We want to shift the mentality from focusing on the negative aspects of this stage in life, to celebrating the liberating aspects! Fun, crazy, wildly different: that was our goal to reach women who truly what it means to be hot!"
With the second release of this groundbreaking beer, it's clear that Francis and her partner Peter Egelston have successfully tapped into an unexpected market.
"It's gratifying to see women enjoying Libeeration and celebrating this stage in life." Joanne Francis, Portsmouth Brewery
(READ: Women's Evolving Role in Brewing Beer)
"It's fantastic to see women flex their purchasing power," Head Brewer Matt Gallagher says. "An added bonus is the beer is so refreshing and unique that men are loving it too."
Want to get your hands on this empowering brew? Head over to The Portsmouth Brewery to catch it on draught, or you can pick up the bottles at their retail store location at 56 Market Street.
If you're not a New Hampshire native, brewery spokeswoman Chelsey Puffer has shed a ray of hope. In a statement to Newsweek she says, "there are some plans for a larger-scale distribution in the works."
CraftBeer.com is fully dedicated to small and independent U.S. breweries. We are published by the Brewers Association, the not-for-profit trade group dedicated to promoting and protecting America's small and independent craft brewers. Stories and opinions shared on CraftBeer.com do not imply endorsement by or positions taken by the Brewers Association or its members.