It isn't just pints of Lookout Stout that the locals of Haines, Alaska, are lining up for at the namesake Haines Brewing Company. The brewery's spent grain has become quite the hot commodity for a local herd of reindeer near the Main Street craft brewer.
Owners Jeanne Kitayama and Paul Wheeler shared some seasonal shots of the reindeer happily chowing down on the spent grain, which is left over from a recent brewday.
[newsletter_signup_box]
What is spent grain? During the beer brewing process, malted grains are run through a mill and mixed with hot water to convert the exposed starches into fermentable sugars. The sugary liquid known as wort is then separated and transferred on to the boil kettle. The leftover grain solids, as well as proteins and small amounts of sugar, become the by-product of the brewing process.
Haines Brewing has developed relationships with locals eager to pick up the spent grain on brew day. "We have a very high demand for spent grain for local gardeners as it heats the composting process so quickly," says Kitayama. "Today we're brewing IPA, which we figure will be about six garbage cans worth. Three cans will go to gardeners."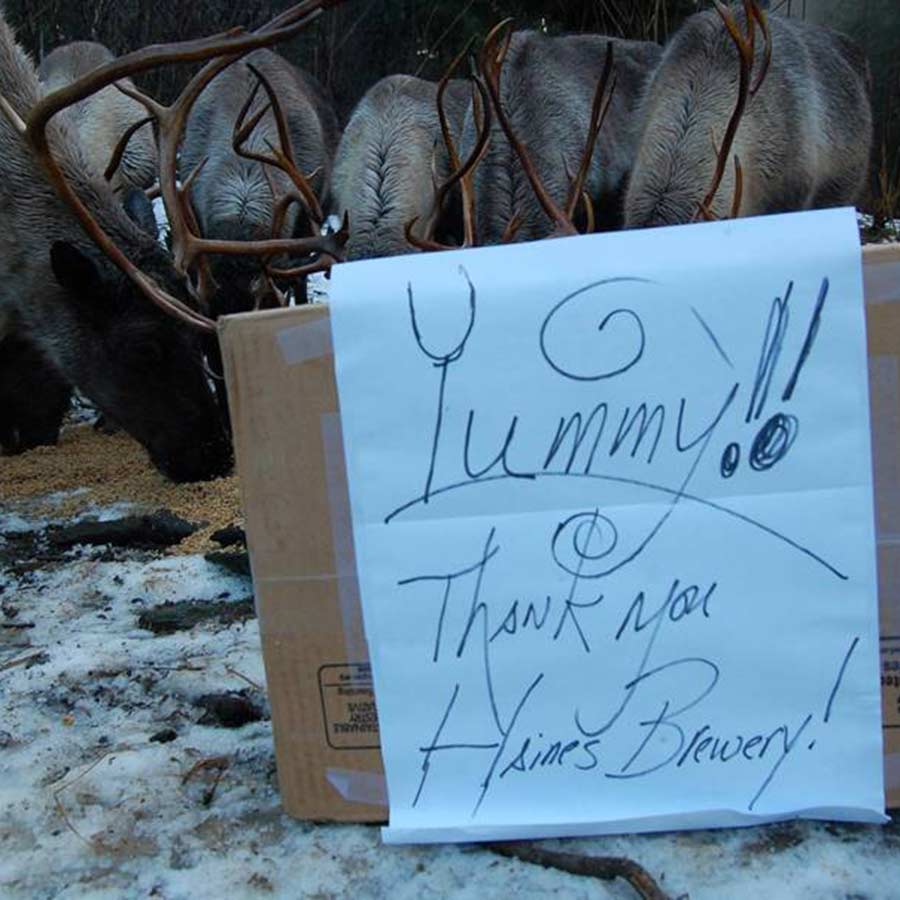 "Years ago there was a farm up the highway that would pick up our spent grain and dry it to feed their cows," Kitayama tells us. "This is the first time Steve has used our grain for the reindeer."
(READ: How to Host a Winter Beer and Cheese Pairing)
Steve is Steve Kroschel of the Wildlife Film Center who supplements the spent grain with other reindeer feed.
"I believe he said that the herd is larger this year," says Kitayama, "and that he believes that it helps with their digestion."
Craft brewers have long offered up their spent grain to farmers. Besides feed for animals and compost for gardeners, spent grain has been repurposed for a variety of products including soaps, baked good and even dog treats. The benefit doesn't stop there. It also reduces the amount of waste that goes to the landfill.
"It's great to offer the grain free of charge for our community!"
Kitayama and Wheeler are pleased that their grain has developed loyal fans, whether of the green thumb or hoofed ilk.
CraftBeer.com is fully dedicated to small and independent U.S. breweries. We are published by the Brewers Association, the not-for-profit trade group dedicated to promoting and protecting America's small and independent craft brewers. Stories and opinions shared on CraftBeer.com do not imply endorsement by or positions taken by the Brewers Association or its members.