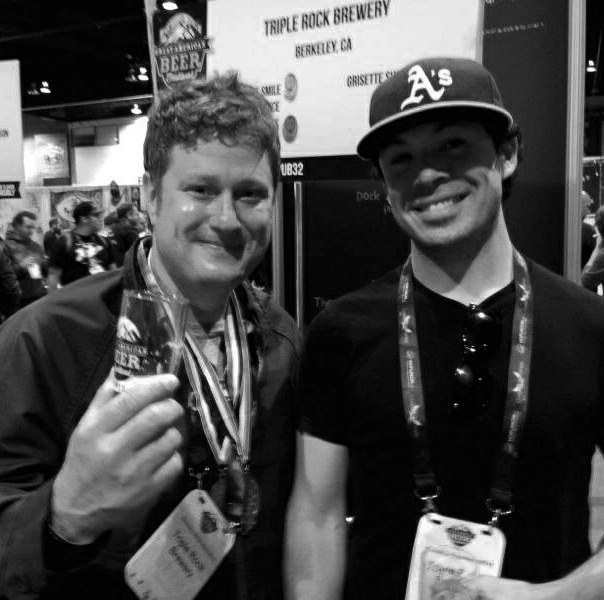 Triple Rock Double: Berkeley Craft Brewer Bags Two GABF Medals
The 2013 Great American Beer Festival (GABF) might have been the best ever in my opinion. I've been lucky enough to attend for the past nine years—most of which as a Brewers Association employee. This may seem like a lot, but there were plenty of attendees I met this year that had attended GABF for 10, 15 even 25 years! Not to mention Charlie Papazian who has attended every year since he founded the festival in 1982.
Papazian spoke at the media luncheon at GABF about how radical of an idea it was 32 years ago to have a beer festival in the United States. Back then there were around 40 breweries in the whole country who were for the most part all making variations of the American light lager. A handful of breweries that were making flavorful beer at that time attended the first GABF.
Today, the GABF has grown leaps and bounds, and yes, it has changed drastically, but one thing is for sure , craft beer served at the festival and in the U.S. in general has achieved worldwide recognition for quality and ingenuity. That's something to be proud of!
Triple Rock Brewery returned to Berkeley, Calif., with two medals this year and recently shared their thoughts and excitement on their blog. They won bronze for Red Rock in the American-Style Amber/Red Ale category and silver for Rye Smile in the Rye Beer category.
Here's a quick excerpt:
"Every year at least once, we find ourselves in a room with a couple thousand other brewers listening to the Director of the Brewer's Association, Paul Gatza, say the following, 'If making quality beer is not your number one concern. Quit now.'"
"We agree wholeheartedly. Our beers stand out for their high-quality. Not for packaging innovations like blue mountains or punch out flow tops. Not for scantily clad womens' affinity for them. Not for being 'lower calorie' or 'less filling.' We make them to taste great."
Read about Triple Rock's GABF experience on their blog.
CraftBeer.com is fully dedicated to small and independent U.S. breweries. We are published by the Brewers Association, the not-for-profit trade group dedicated to promoting and protecting America's small and independent craft brewers. Stories and opinions shared on CraftBeer.com do not imply endorsement by or positions taken by the Brewers Association or its members.