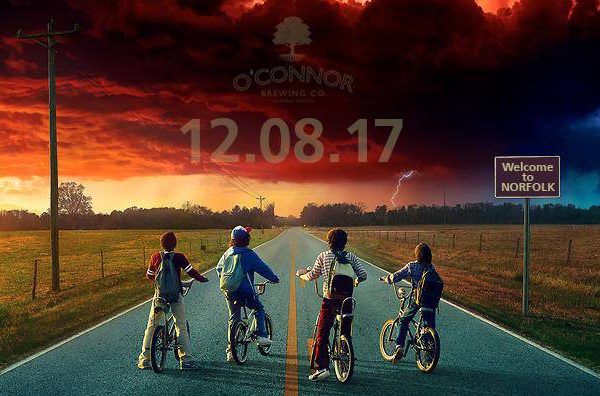 Virginia Brewery Plans 'Stranger Things' Party
Grab your bikes, your best friends and all the awkward tweenage angst you can muster — a Virginia brewery is co-hosting a Stranger Things party, and it's going to be the biggest thing since Eggo's.
O'Connor Brewing Co. in Norfolk is joining with Alchemy Underground for the Hawkins Snow Ball 1984: The UpsideDown NFK Returns. That's right. The party is taking a page straight from the Netflix phenomenon's second season finale to go all out for a Snow Ball dance — the same theme of the school dance Mike and company attend.
(READ: Dogfish Head Demolishes Original Brewpub)
By the looks of the invite, O'Connor and Alchemy have this party planned to a T. First, be prepared for the 1984 junior prom dress code (I'm 98 percent sure my purple dress with a big gold bow is in a closet at my parent's house. Score!).
The music list is on point with 80s music, the show's soundtrack, and live appearances from DJ Demogorgon and 11:11. You can also expect Stranger Things-inspired drinks and decorations. (There *has* to be a wall of blinking Christmas lights, right?!)
If dancing all night or hanging out on the bleachers à la 6th grade still isn't your thing, there are a ton of other activities to woo you to the Snow Ball. Check out the Ceremonial Shotgun 4Barb (#JusticeforBarb), be a part of the costume contest, or [Season 2 SPOILER ALERT] grab a tissue and pay your respects at the Hawkins AV Club's memorial to Bob. We also wouldn't be surprised if an impromptu D&D session broke out.
(READ: Affordable Gifts for Craft Beer Fans)
This party is set for Friday, Dec. 8 from 9 p.m. to 2 a.m. and the brewery says tickets are going fast — faster than Steve's can of Farrah Fawcett hairspray. Tell your friends and get ready to go back to the UpsideDown.
CraftBeer.com is fully dedicated to small and independent U.S. breweries. We are published by the Brewers Association, the not-for-profit trade group dedicated to promoting and protecting America's small and independent craft brewers. Stories and opinions shared on CraftBeer.com do not imply endorsement by or positions taken by the Brewers Association or its members.