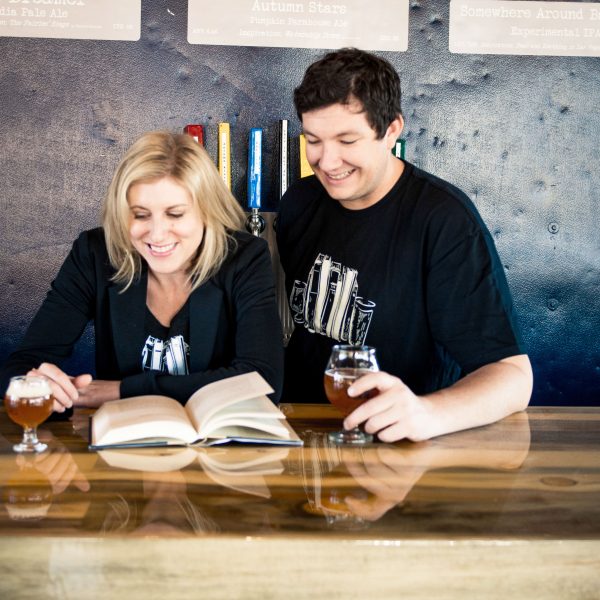 A Tale of Its Own: Fiction Beer Company Rises in East Denver
Nestled in the corner of one of East Denver's oldest neighborhoods is a gem worthy of its own tale. From a humble beginning to a community's treasure and GABF medal-winner, Fiction Beer Company has blossomed into one of the Mile High City's most worthy brewery stops.
Fiction's story began over martinis, in the brilliant minds of the ultimate pairing: a book dork and beer geek.
Little did Christa [the book dork] and Ryan [the beer geek] Kilpatrick realize, the idea would lead them on an adventure riddled with obstacles, parenthood and a ton of good beer.
Plot Twists and Parenthood
"Around 2008-09, the brewery model was very small, one barrel, a lot of work and a lot of trouble," Ryan explains, his eyes distant, reflective on the past. "We needed to have our own legs first."
So Fiction was placed back on the shelf as the Kilpatricks established their lives and delved into parenthood. But in 2013, they went back and pulled it from its spot, dusting off the cover and revisiting the idea.
The business plan began as a paragraph, then morphed into a page, followed by garnering a good team of investors and a trip to the bank.
Plot twists ran amuck, from banks turning the couple down to one stringing them along. But in the end, the hero emerged, a bank that was instantly drawn to the idea for Fiction, the thoroughness of their plan and the concept.
"From that point on, it was light speed ahead," Christa notes. "As we were writing the plan, we wrote it out but noticed it was all focused on the numbers, the logic, and then we had to sit down and say, 'Who are we?' 'Why are we doing this?'"
While thinking of a unique way to set themselves apart from other breweries throughout Denver, the couple stumbled on an idea that was a culmination of their passions: reading and beer.
Christa reflects on her love for literature and reading. "I love beer, but I love books a bit more. I had an English degree I couldn't use, so we said, let's combine passions."
But something was missing, the most vital piece of the book: the title.
Ryan smiles as he recounts how they became Fiction. "One day, she [Christa] sent a text and said, 'What if we become Fiction Beer?' That was it, I'm sold."
And thus, a tale was born.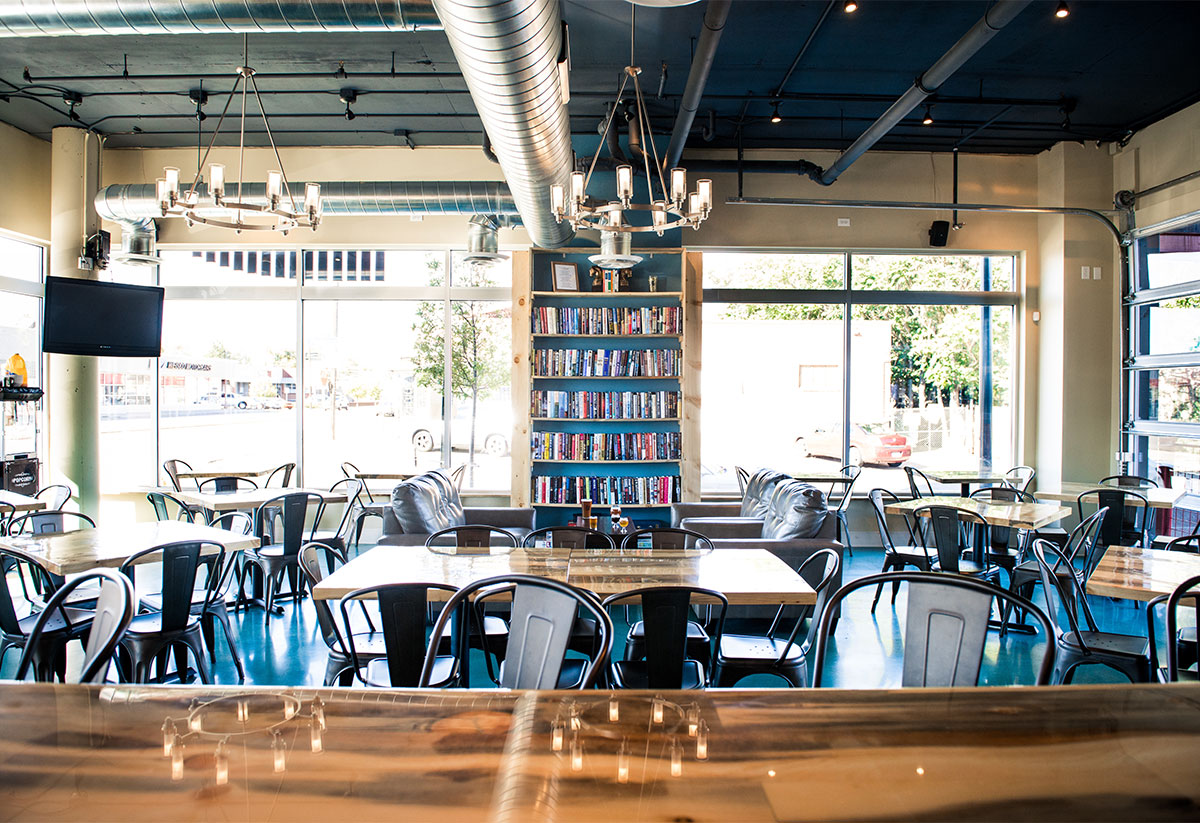 Liquid Literature
Tables carved with famous literature quotes, as well as bookshelves lined with pieces of fiction lent for a cozy, small town library feel, but it's the brewery's proclaimed "liquid literature" that really draws one in.
The Kilpatricks and their employees fill the pages to the brim with new brews and brilliant names, several of which are based on Christa and others' reading conquests and finds on Goodreads.com.
Brews range from Adventures to Fantasy, and ideas are found everywhere. "Sometimes, we base a beer off of where an author is from." An example? A Russian Imperial Stout based off of an author from said country.
But while the internal works are a part of what makes this brewery so special, it's the community that forms its heart.
Fiction is a neighborhood brewery, a spot where parents bring their kids, some come after work to relax and others take a leisurely trip over on their bikes.
"The neighborhood was our biggest support," Ryan recalls with a smile. "It's partly because we came from nothing on the outskirts of town."
But Christa says it's also due in part to the fact "we celebrate dorkiness here. We celebrate Star Wars, the dorky side of things. People love it and embrace it."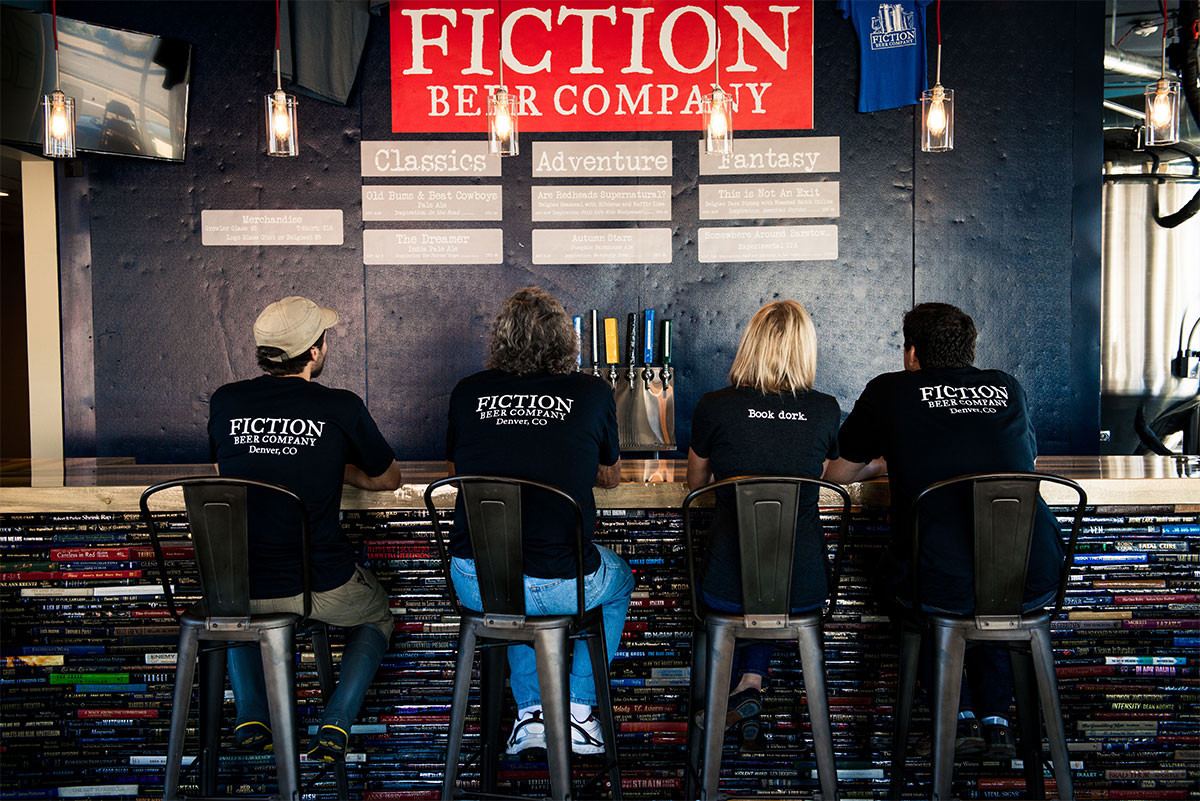 Life as a Family Brewery
As the community's support grows, the Kilpatricks also found their bonds with other brewers growing. Several brewers they've met are traveling down the same path of parenthood, allowing them to bond over having kids and the difficulties of having kids while owning a brewery.
And just like it does in all walks of life, parenthood has presented some challenges along the way. "It's hard because we want to be here [Fiction] all the time," Christa says, "but we've hired an awesome staff to deal with all this."
However, it's also brought some laughs along the way. "Our 4-year-old son talks about how to brew beer at preschool. His favorite food is food trucks and his favorite music is beer festivals and bluegrass."
A huge part of the "awesome staff" they so rely on is assistant brewer Jameson Arnett, a wizard in the brewing world, responsible for making sure the tales served are only the best.
Arnett is a self-proclaimed "big nerd" who can make even the newest beer consumer care about brews through books and science. "We're trying to synthesize the love of beer and literature. They're both complex topics … and we're trying to combine these loves into one place."
Literature offers everyone at Fiction a unique connection with their patrons, from librarians to local authors and literature professors.
Bottom line? Jameson smiles, a gleam in his eye, "We want to read good books and make good beer."
And so the tale of Fiction Beer Company continues to flourish, writing new chapters every day in its cozy corner of Colorful Colorado.
CraftBeer.com is fully dedicated to small and independent U.S. breweries. We are published by the Brewers Association, the not-for-profit trade group dedicated to promoting and protecting America's small and independent craft brewers. Stories and opinions shared on CraftBeer.com do not imply endorsement by or positions taken by the Brewers Association or its members.