Summer on the Eastern Shore of the Delmarva peninsula means one thing: tourist season. For local high schoolers, it's the chance to make some extra money at one of the many restaurants, which is precisely what Red Killpack and Mike Anderson did. The two started as busboys and moved up the ladder to brewer and director of sales at Big Oyster Brewery in Lewes, Delaware in just a matter of years.
What Began As Summer Jobs
In 2006 Killpack was a sophomore in high school when he decided to take a job as a busboy at the newly opened Claws Seafood House in Rehoboth Beach, Delaware. "I joined the restaurant industry because I was looking for a supplemental night job that went with my day time pool lifeguard gig during the summer months," shares Killpack.
June of 2007 was the summer before Anderson's junior year in high school. He just wanted a break from the 105-degree heat, putting up exterior electric with his dad. His football trainer introduced him to the restaurant owner, Jeff Hamer, founder of the Fins Hospitality Group (FHG). Hamer, nicknamed the "Big Oyster" due to his love of oysters and the fact that his license plate happens to read Oyster1.
Family at Fins
The Fins Hospitality Group (FHG), respectfully named for Hamer's first restaurant that he opened in Rehoboth, Delaware in 2005, has grown to include five restaurants and two breweries. Hamer's philosophy of success? Family. According to their website, "Every employee, past and present, is a part of our family."
With a company like that, both busboys stuck around. According to Killpack, "I have worked my way up pretty much through every role possible in the company up to this point <as head brewer.> As the company was growing, I was getting older. That meant working my way into roles with more and more responsibility."
And for Anderson, "In between day one and now, I worked my way up through the back of the house, cooking in various roles, and upon graduating college, into a management role at Claws Seafood House, eventually becoming the general manager."
From Restaurants to Breweries
Anderson recalls that he was working on ordering alcohol for the restaurants. Hamer approached him with his plan of opening more restaurants and the need to keep the beer/liquor costs tight. At that moment, according to Anderson, he told his boss he might as well build his brewery. Hamer asked him to research a rough estimate, and by 2015, their beer was on tap at Fins Ale House, the first brewery of FHG. With its success, Big Oyster Brewery was built along King's Highway in Lewes, Delaware, giving the company more space to expand and be creative.
But opening a brewery wasn't just an economical move. Hamer had toyed with that same idea but never had a group of grown-up busboys to make it happen. His real motive: "I wanted to pair great beers with great seafood. There are a lot of breweries that pair beer with burgers or steaks, but back in the day, it was common to enjoy a beer with your oysters. I wanted to bring that back and show that beer really is versatile and can go wonderfully with all types of cuisine."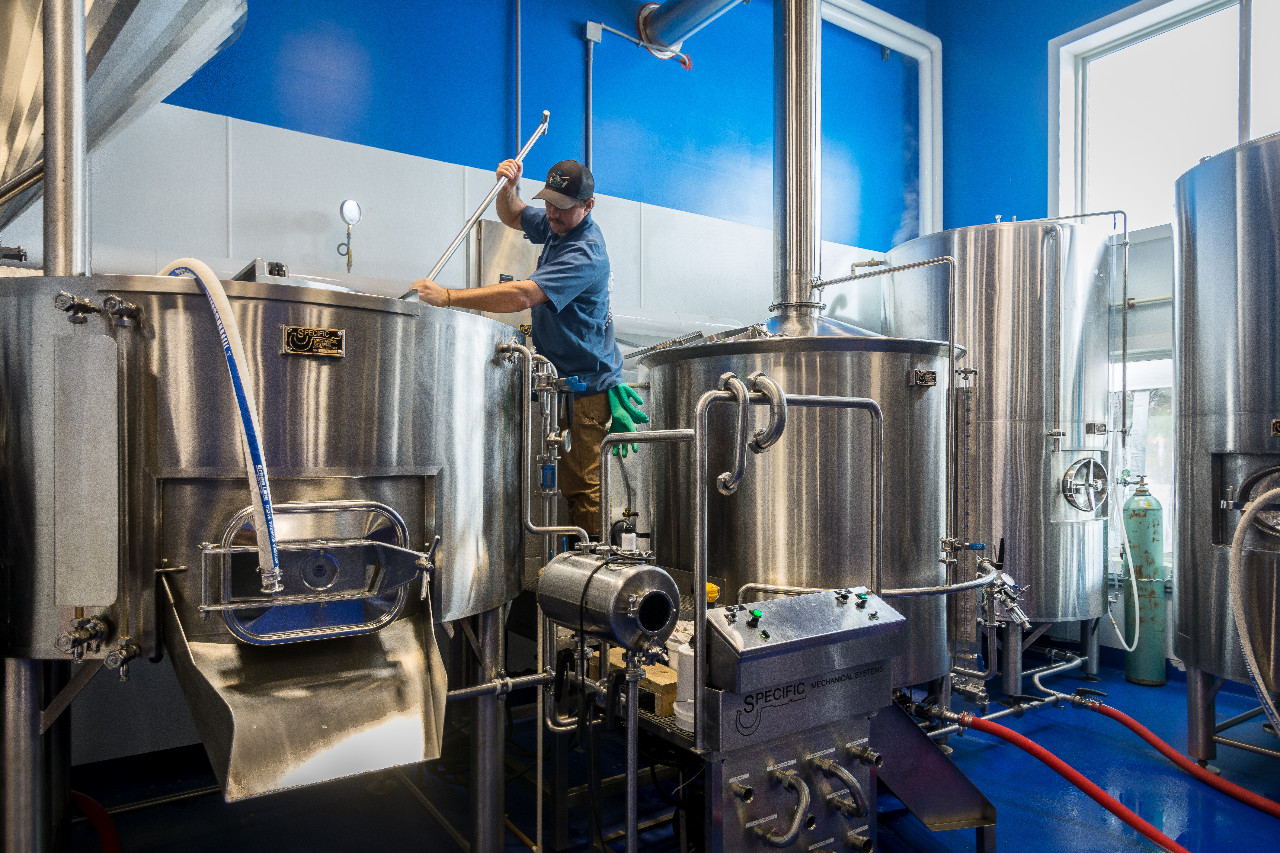 Bring in Andrew Harton, the one with some brewing experience. "I was an avid homebrewer since my Sophomore year in college, and I eventually became an Assistant Brewer for Iron Hill Brewery, and later a Lead Brewer. I met Jeff Hamer in 2015 through a mutual friend who told me he was interested in installing a small brewery in one of his restaurants."
Harton recognized what was special about Hamer and FHG from day one. "The culture is what first caught my eye. At FHG, and the Delaware beaches in general, it is very relaxed, personable, and friendly. FHG also offered more creative freedom and independence, two characteristics I look for in a job. I was hired as a Head Brewer and recently transitioned into a Director of Brewing Operations Role."
So how did Killpack and Anderson make the final jump from busboys to working in the brewing industry? "It was pretty much a coin flip between Red and me for which one of us was going to brew and which one was going to make sales," shares Anderson. His flip landed him as Director of Sales at Big Oyster Brewery, and Killpack began to apprentice with Harton. Killpack states, "I was managing for the company as Big Oyster Brewing was coming together, but then I got the chance to take off the managing shoes and put on the brewer's boots and work in the brewery with Andrew. Best move I ever made!"
Busboys to Brewers and Beyond
After just four years since its opening, Big Oyster Brewery ranked as the second fastest-growing brewery in America in 2019, according to the Brewers Association. So how to maintain that success?
For Killpack, "I'd like us to continue to serve our local market with a great product that people enjoy. As long as we are doing that, I think we are on the right path."
For Anderson, "We've got some loyal supporters and a little bit of notoriety, but there's still a ton of space for us to grow and expand into the craft beer market both locally and nationally."
As for Hamer, the one who started it all with just a simple oyster house on the shore, "I think it is very important for us to have a shared vision between all of our people. We look at what grabs our interest, and we look at what the market is asking. Then we put two and two together and go for it. Our team loves beer and is very creative, really you need to let them do their thing, and good things will come. I hope to see the localization of beer continue. If people continue to drink local and support their local businesses, there will be plenty of customers to go around."
The shared vision Hamer envisions is clear. A focus on the locals. Tourist season on the Delaware shore only lasts for the summer. Still, as any busboy knows, it's the fantastic year-round residents that give their support, no matter the season.
CraftBeer.com is fully dedicated to small and independent U.S. breweries. We are published by the Brewers Association, the not-for-profit trade group dedicated to promoting and protecting America's small and independent craft brewers. Stories and opinions shared on CraftBeer.com do not imply endorsement by or positions taken by the Brewers Association or its members.