The whole city of Seattle was abuzz when Elysian Brewing veteran Steve Luke announced he would be opening his own brewery. The anticipation was the consequence of a perfect storm of factors: Luke's stellar resume and reputation, Seattle's thriving craft beer scene and Elysian's shocking decision to sell to Anheuser-Busch. Luke's Cloudburst Brewing was all beer lovers could think, talk or dream about. And Luke was feeling the pressure.
"The buzz was super stressful because we had to deliver," says Luke. "We didn't know what the beer was going to taste like. The system was different, and we were tweaking recipes. But I think people were just excited to see one of their own finally do it. It was awesome to see because I think it was more people just rooting for someone with genuine intentions."
And, truly, everything about Luke boils back down to those genuine intentions.
A Perfect Storm
Luke's history in craft started years ago, and on the opposite side of the country. He was 21, in between his junior and senior year of college, when he got his first job in a small and independent brewery at Allagash Brewing Co., making boxes, sweeping floors and washing kegs. And that's where it all began.
"I fell in love with it," reflects Luke. "Beer is all I really have known in my adult life."
From there, Luke worked his way up. He moved on to work at a handful of other breweries, including Captain Lawrence Brewing Co. and Harpoon Brewery, before landing his first head brewer position at a humble seven barrel brewery, Cambridge House Brew Pub. The hard work had paid off.
"I grew up — instilled in my brain — you bust your ass and work your way up. You don't just start at the top," says Luke. "[Cambridge House] was great because I learned how to build a recipe, but then still have that foundation of great habits that I learned at Allagash."
Of course, Cambridge House was just the beginning. The next few years proved fateful for Luke's career, as Luke and his wife packed their bags and headed west in 2010. Luke took the opportunity to study at the University of California-Davis in their Master Brewers Program in the midst of his cross-country move and then set his eyes on getting in touch with Seattle's Dick Cantwell, brewer, co-founder and co-owner of Elysian Brewing. Though Cantwell wasn't quick to return Luke's emails, the two serendipitously met at a cask festival that year. Cantwell tried Luke's brews for the first time and liked what he tasted.
"We got pizza in between sessions and he drunkenly offered me a job," Luke laughs. "I told him 'I'm holding you to this drunken job offer. Next week, I'm emailing you first thing and I'm going to hold you to it.'"
Just one month later, Luke was at Elysian, where he continued to hone his skills at the "best brewing job in the city." It was here, of course, where Luke crafted more than 200 recipes, including the famous Space Dust IPA, Split Shot Espresso Stout and Peach Pumpkin Ale. And as his skills developed, so did his ambitions.
"Owning a brewery is most brewers' end goal," says Luke. From there, with the approval and support of Cantwell, Luke went on to form an LLC, develop a business plan and scope out potential investors. And as he was making plans, Elysian was as well. Elysian announced they would be acquired by Anheuser-Busch in January of 2015. Cue that perfect storm — and all the buzz.
Making the Plan Come Alive
As Luke's plans had been in the works long before the purchase, it was only a few short months after the acquisition that he began to execute his plans. In March 2015, Luke had reached his capital goal, putting the funds towards used equipment and a warehouse space next to Seattle's Pike Place Market. By October, Cloudburst Brewing was making its own beer, and in January of 2016, it opened its doors with the purest of intentions. And Seattle, seeing one of their favorites take the leap, responded with the warmest of welcomes.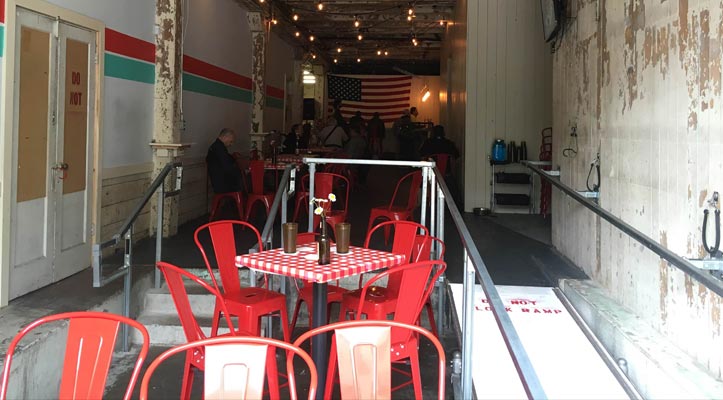 "We still have earnest intentions. We are never going to be that big. I don't want to be that big," says Luke.
Something he also never wants to be? Bought out. "We're never going to be bought out. I'm not a money-driven human." It seems that Luke's goal is simple: Deliver the best beer possible. "Our beer is turning over fast. Occasionally, I'll take a step back and say that's really cool. Beer is a humble business. I'm excited our beer is resonating with people."
"We're never going to be bought out. I'm not a money-driven human." Steve Luke, Cloudburst Brewing Founder
Cloudburst quickly, though not purposefully, established itself as a brewery for true beer lovers. That reputation has given Luke the opportunity to stretch his legs – and have a lot of fun.
"Having lots of knowledgeable beer drinkers, we can play around. It allows us to take risks," says Luke. "Not everyone is going to like everything and I'm ok with it."
That being said, we guarantee that you'll find something that you like — a lot.
"I gravitate towards IPAs or coffee beers. So that's always kind of fun," says Luke. "If I had it my way it could turn into an IPA or coffee brewery." Cloudburst's patrons can also expect incredible saisons, a result of incredible fruits and spices plucked from Pike's Place.
What can you expect next from Luke? More great beer, and the continued humble attitude. None of the success, the phenomenal Untappd reviews or the buzz has gotten anywhere near Luke's head.
"I don't think I'll ever think that I have made it. When I take a step back I'm pretty stoked that so far it's working out, but there's always something new to deal with. You can never get lazy," says Luke. "We want to make the best beer that we can make. You always have to keep challenging yourself. The pressure is always on."
CraftBeer.com is fully dedicated to small and independent U.S. breweries. We are published by the Brewers Association, the not-for-profit trade group dedicated to promoting and protecting America's small and independent craft brewers. Stories and opinions shared on CraftBeer.com do not imply endorsement by or positions taken by the Brewers Association or its members.