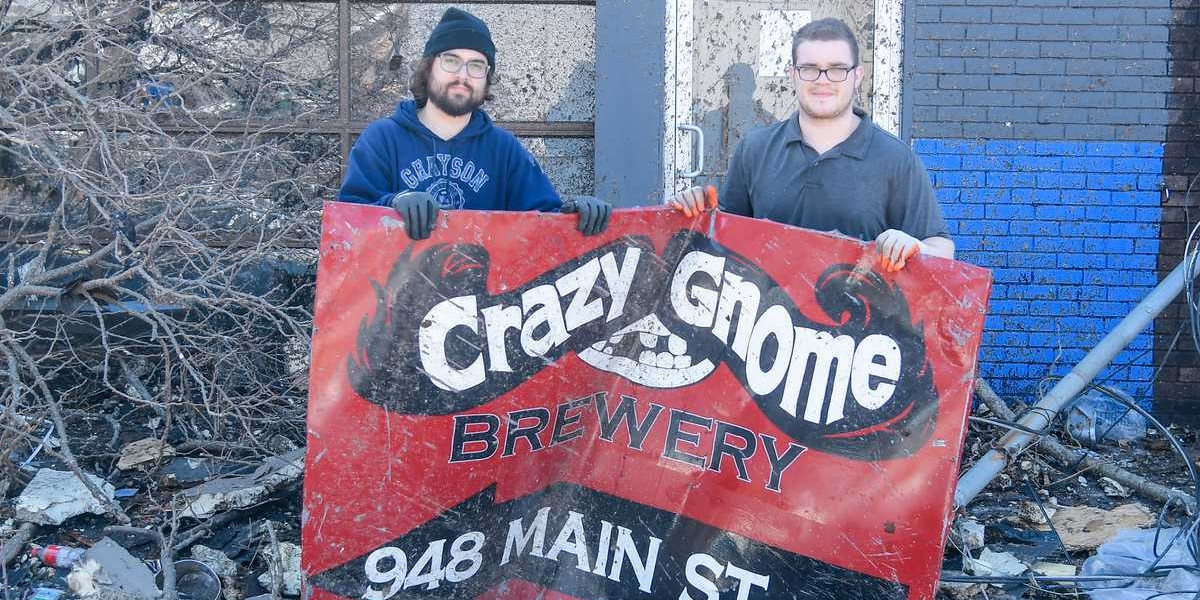 Crazy Gnome Brewery Cleans Up After Devastating Tornado
The clock had barely passed midnight when a deadly tornado wreaked havoc in Tennessee on March 3, 2020. It would stay on the ground for nearly 60 miles spanning four counties, peaking as an EF3, and killing 26 people and injuring hundreds. As it ripped through East Nashville's popular Five Points area, Grayson Miller slept peacefully in his bed mere miles away. It was his girlfriend that, after failed attempts at calling him, rushed over to wake him up with the news, "Number one, your brother is safe. Number two, your brewery was hit by a tornado." Miller and his brother/business partner, Bennett Miller, were set to open Crazy Gnome Brewery later that month. Mother Nature had other plans.
An accountant by day, craft brewer by night, Miller says that his college passion for brewing eventually led him to seek brewing as his chosen profession. So, he and his brother set the wheels in motion by forming an LLC for Crazy Gnome Brewery in 2017 but didn't sign a lease until June 2019. Previously a transmission shop, it was going to need a complete overhaul. But, because of its prime location, it seemed a no-brainer. "I had every intention of opening before Christmas but didn't realize how many government bodies were involved in opening legally. That's me showing my ignorance having not done this before," he says. 
The red tape had cleared, and the brothers thought, "it had all blown over." So, they brewed their first batch on Sunday, March 1, 2020, which took 11 hours to brew because they were trying to write a handbook as they went along with documenting the day. The following Tuesday changed everything, and by 2:30 am, Miller was painfully aware of such a destructive game-changer. 
"My first thought after mentally checking my brother off the list was if I had paid the insurance bill, and thankfully I did," remembers Miller. 
Meanwhile, he had not yet seen pictures of the tornado's damage as his phone was blowing up from friends and family. All he could text back was, "Everyone is alive, but the brewery fell in its path." His contractor was among the many receiving this message who immediately ordered dumpsters to be delivered.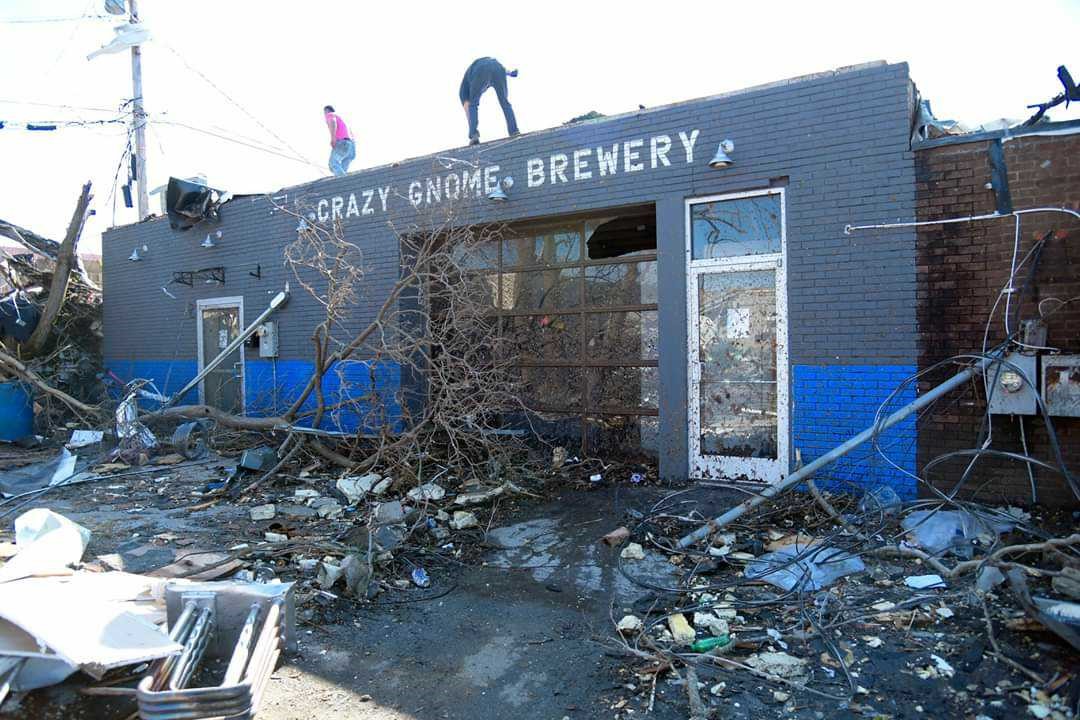 Over the next three days, Miller remembers a conscious stream of men riding in on personal bobcats, groups loading the dumpster with debris, and even a group helping him pour the first 800 pounds of half-fermented beer out onto the brewhouse's sloped floor with great reverence."It smelled good and was foamy. So, I grabbed a pint glass," he says that no one was thinking of the deadly virus quite yet and shared in a communal taste.  The Crazy Gnome YouTube video marking the occasion garnered him a flurry of media attention that prompted others to pitch in.
Canadian breweries sent care packages of beers and snacks to keep his morale up. Local breweries like Southern Grist, Black Abbey, Bearded Iris, Tailgate, and the Tennessee Craft Brewers Guild all reached out. "I'm a little bummed to join the industry in dire need right off the bat. I wanted to be one of those people that helped. I'm just flabbergasted that I'm not even open yet, and the industry has been so welcoming. I think that our collaborative nature as an industry is what is going to keep our industry afloat in these challenging times," says Miller. 
As many industries experience the global destruction of COVID-19, it will take the love of the community to rebuild a new normal. If independent craft brewers have anything to say about it, the world will have more than enough to raise a pint or two in celebrating the resilient human spirit.   
Grayson's inaugural brew was a Kolsch. He says that when Crazy Gnome Brewery finally opens, it will be on permanent rotation as Kalamity Kolsch.
CraftBeer.com is fully dedicated to small and independent U.S. breweries. We are published by the Brewers Association, the not-for-profit trade group dedicated to promoting and protecting America's small and independent craft brewers. Stories and opinions shared on CraftBeer.com do not imply endorsement by or positions taken by the Brewers Association or its members.