Seek out Florida's Marker 48 Brewing on a map, and the brewery can claim a few "firsts" for the area.
First, it is the only brewery in the country that draws water from the same source where mermaids live (sort of). Weeki Wachee Springs State Park has been home to a live mermaid show for decades, and a holiday at the springs is mere miles from the brewery. In the small, mostly rural cities of Brooksville and Weeki Wachee, the springs, and the mermaids, are a landmark full of crystal clear waters that have brought tourists and popular attention to Hernando County.
Second, when the brewery opened in October 2015, it was the only operating brewery in Hernando County. That count is now up to two.
Marker 48 also put a twist on its crowdfunding campaign. The brewery didn't ask for money, but for sweat equity in building this dream.
In all of these, the brewery and its staff have made an indelible mark on the community that they serve.
Marker 48's Origins
Marker 48 Brewing was founded by Maurice and Tina Ryman, Hernando County natives and high school sweethearts who grew up in the same area as the brewery they now own together. The couple has two children and day jobs where they run a technology company that they also co-founded. Every summer they would travel with their two children in an RV around the country. As they visited more and more craft breweries, they would take note of ideas that they felt would work well in a brewery, if they ever were to open one.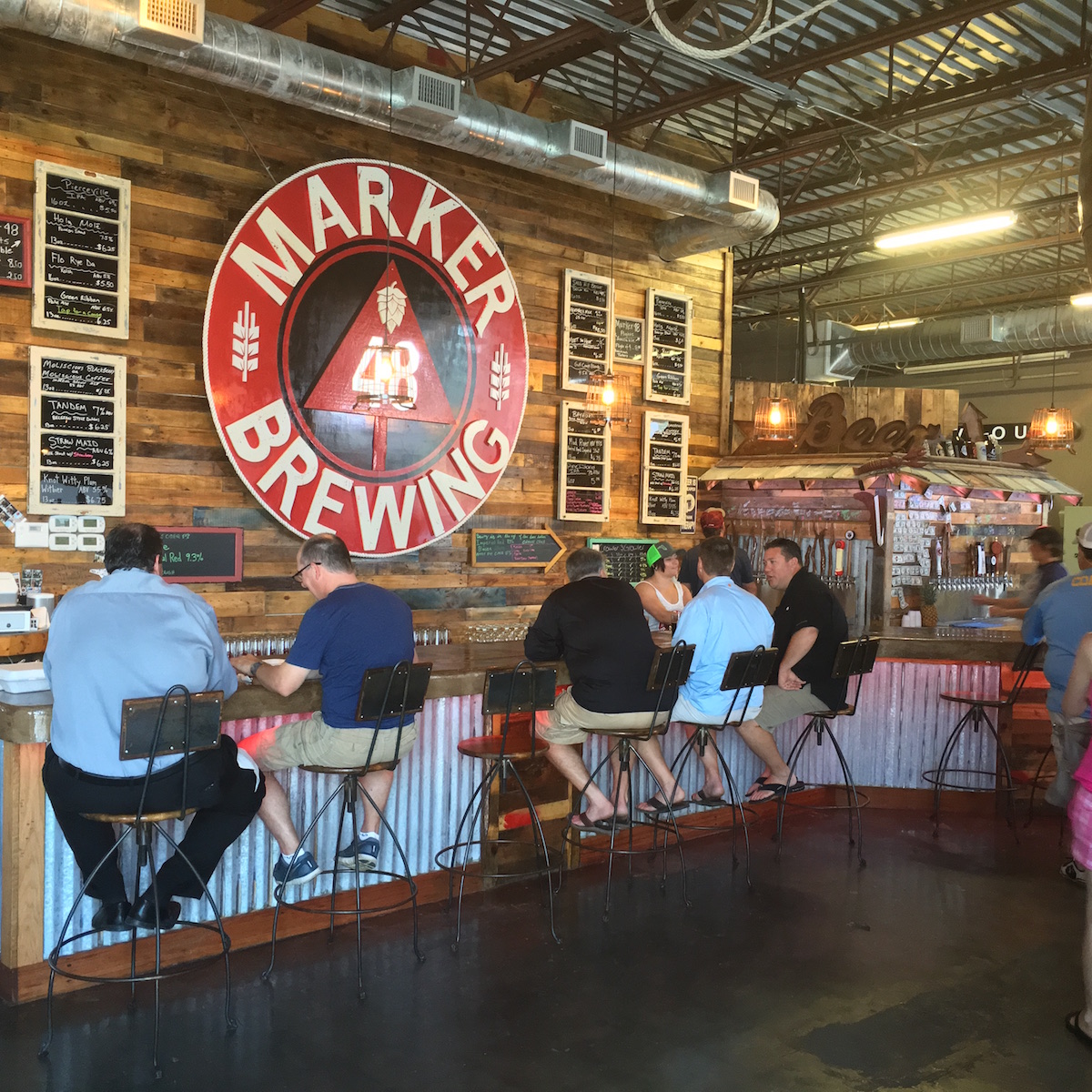 On the way to opening a brewery, Maurice began to homebrew with the help of the man who would eventually become Marker 48's head brewer, his brother-in- law John Myers. As Maurice, Tina and John grew their passion for craft beer, they began discussing the possibility of putting all the ideas they had seen in other craft breweries into a brewery of their own, and what it would take to realize that dream.
What they found next was a former mechanic shop with a great deal of potential for housing their dreams and a seven-barrel brewing system.
Crowdfunding with Beer
Transforming the rented mechanic shop into a brewery and beer garden was no small task. While other breweries were funding their own expansions, buildings and systems with crowdfunding, Maurice and Tina decided what they really needed most was help with labor. They offered their online supporters and Facebook friends a way that they could help the fledgling brewery and get rewarded: they could join the Founding 48 Club. This club would guarantee the member one beer each day for life in exchange for 40 hours of hard labor; members could also make a pledge that involved a combination of fewer hours of work as well as a financial donation. The members could pick which they would like to give and the members could choose from a series of days they would like to work. After signups, dropouts and additions, the club would end up with 72 members.
After volunteer signups were over, Maurice and Tina began transforming their space into a functional brewery. Maurice remembers showing up on the first Saturday the club was around: "I bought paint and four rollers, thinking a few folks would show up to help me. When I pulled up to the brewery there were 40 people waiting for me, looking to work." He promptly texted his wife and asked her to pick up more supplies.
These were the days before the brewery had their brewer's permit, and before the air conditioning was up and running. Maurice estimates that one Saturday of working with the Founding 48 would equal somewhere around a month's worth of labor. And from that day forward, Marker 48 had 72 advocates around the area telling the people about their facility and their beer.
Maurice and Tina knew that they wanted to work on the "wow factor" of their space, so they made sure the beer garden was family- and dog-friendly and included extras inside and outside for patrons. Outside would include an overhead shade, cornhole and a walk-up bar made from an Airstream-style trailer. Inside would include a copper strip on a table that would prevent a patron's beer from getting cold on that spot.
Opening day came on October 21, 2015, after months of labor from the Founding 48 helped make it happen. The first beer tapped was an homage to the community: Mermaid's Milk Stout.
Bottle Release with a Twist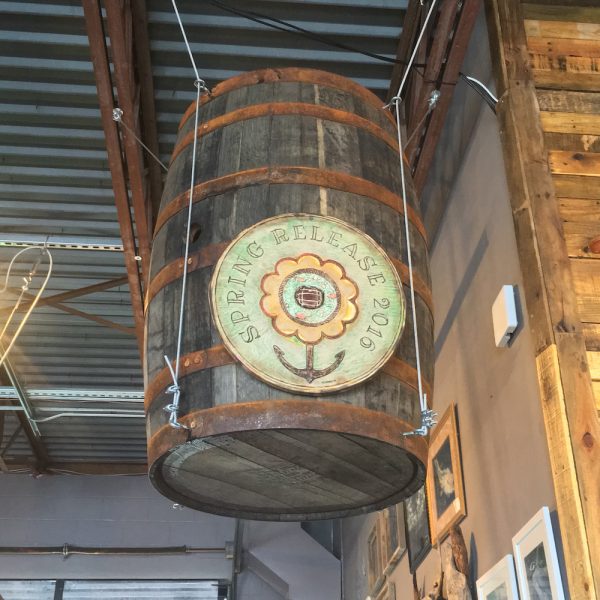 Six months after opening and pouring beer on draft, the Rymans decided that they wanted to do something unusual for their first bottle release. Since Weeki Wachee is known for its namesake springs, and the beer was being barrel aged, Maurice and Tina decided that they wanted to sink the barrel into the springs and age the beer in the barrel, but underwater. After brewing a double IPA to go in the barrels, they contacted a friend who owned property on the springs, and after some talk, the friend agreed. The beer itself was aged 48 feet underwater, in the springs, for four weeks. The beer was called "Spring Release" because it was literally released from Weeki Wachee Springs.
Maurice and a small staff hand-bottled the beer in 750mL bottles from the barrel. There were less than 450 bottles, and they sold out in less than a week.
Beer as a Force for Good
The Rymans also feel very strongly about using the brewery as a force for good in the community. Tina has developed Tap for a Cause, a program at Marker 48 that chooses a 503c nonprofit that fits charity criteria. The brewery then brews a beer for them on the pilot system and once that beer is tapped, all proceeds go to that organization. Past recipients have been People Helping People, the United Way of Hernando and the National Alliance on Mental Illness – Hernando. The brewery allows these groups to fundraise during the month to increase awareness and raise funds to help the needy in the community.
Where Else will the Beer Spring Up?
Feedback from the local community has been largely positive, and Marker 48 has plans to expand. While they have no plans to take over the world, the Rymans do plan to bring their beer to local bars and restaurants soon. During summer of 2016, the brewery has plans to add a 30-barrel fermenter and begin distributing their beer locally.
CraftBeer.com is fully dedicated to small and independent U.S. breweries. We are published by the Brewers Association, the not-for-profit trade group dedicated to promoting and protecting America's small and independent craft brewers. Stories and opinions shared on CraftBeer.com do not imply endorsement by or positions taken by the Brewers Association or its members.