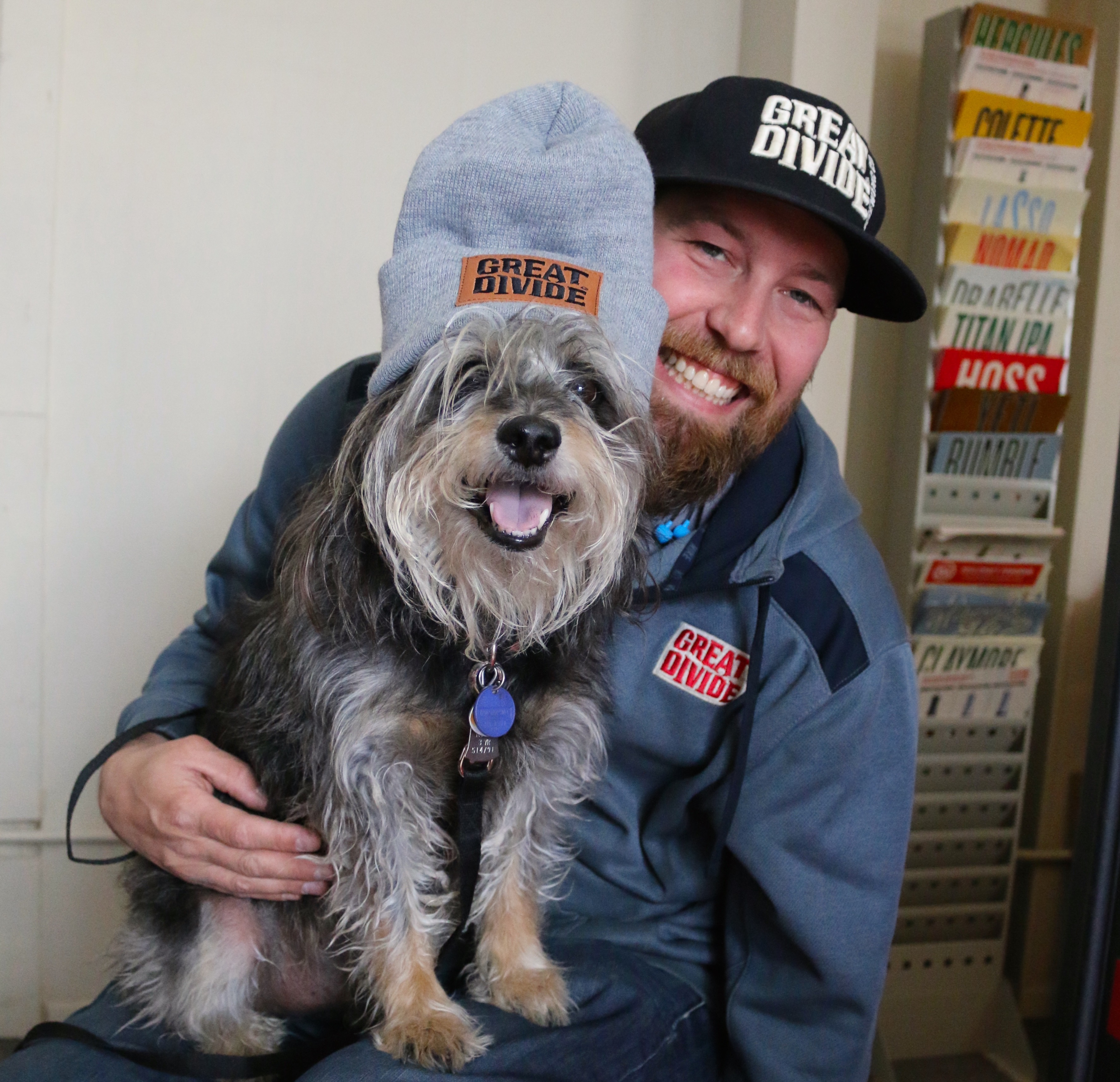 Living the Dream: Great Divide's Bryan Baltzell
If you are familiar with Denver's vibrant beer industry, you likely know Bryan Baltzell, one of Great Divide Brewing Company's best-known ambassadors. I met him on my first day as Great Divide's office assistant, and it didn't take long to realize that, in the Denver beer world, Bryan was everywhere. He met me the same way he meets most people — with a big smile.
In 2005, he started on the bottling line. Luckily for him, there were ample opportunities for cross-training, as the brewery was much smaller but expanding at a fast clip. He learned how to wash and fill kegs, build orders and load trucks, but he knew he loved giving tours and chatting with anyone who happened in on the brewery. For Bryan, it's always been about the people.
"I like the people and the culture of craft beer. I'm such a fan," he says. "There are a ton of amazing people who put on monumental events like Great American Beer Festival — it's not just the Brewers Association and the great people from all over the country representing breweries. There are a ton of volunteers, guild members, and home brewers … It's just a very welcoming community."
(MORE: What 'Selling Out' Is Actually About)
Eventually, the lone sales position in the company opened up and he became a sales rep for the growing brewery. Though he's a natural people person, Bryan learned quickly that his new role wasn't all just sipping beer and talking to potential customers, after accidentally "poaching" a sale from his own distributor. Another more seasoned salesman soon joined him on staff as the brewery grew in popularity and size, and from this mentor, Bryan learned the etiquette and nuance of working with a distributor, and how to talk to people about craft beer.
Though he's worked regionally within Colorado and even as the brewery's representative in other states, currently, his job keeps him in the Mile High City, focusing on restaurants and bars that are just opening. In Denver, where residential and commercial growth continue their meteoric rise, this is no small job. Since he's been around so long in an industry known for a certain amount of turnover, his friendly and knowledgeable reputation precedes him. For any better-known brewery like Great Divide, there is a certain balance between being well-known for flagship beers and still remaining experimental and flexible as the industry changes. Someone like Bryan is an arbiter between the die-hard faithful fans and those brand new to the beer.
(MORE: 5 Questions Brewers Wish You Would Ask During a Tour)
"I like being an old guy around Great Divide who gets to tell stories about how hard it once was to load a truck, or about some of the great people who I got to work with who have gone on to open their own breweries, or to work for other great breweries," Bryan said.
Finding a Tribe
It's not just potential customers and fellow beer industry folks that Bryan feels connected to. As a family man with a wife and son, his work has taken on a different meaning for him than in those early days. He says he strives to be a good example for his young son, Benji, who sometimes accompanies him when he has to stop by his customers' spots outside of the traditional nine-to-five work hours.
"When he asks me about what I do, how I do it, and why, I want to be proud of my answers," he says of his son.
Working in customer service means sometimes interrupting home time with work time for many beer salespeople. Luckily for Bryan, he says his wife Stefanie understands the odd hours of a beer rep. These unexpected stops and calls are part of what Bryan calls the "hospitality aspect" of the job, the inspiration for which he takes from the customers themselves. Inspired by the welcoming aspect of the restaurants and bars he services, Bryan strives to imbue the same sort of hospitable, friendly, knowledgeable vibe into his own work.
What it really comes down to for him, though, is pride. Though the term "ambassador" may be bandied about these days, Bryan takes the notion seriously, exuding pride at his chosen city, industry and portfolio.
"I have to say that I like how Denver has championed the local guy. We are proud of the great beer made here and, as ambassadors, we want to show visitors what we can do," he says. "I like to be proud of our beer and our company, and to kick back with my coworkers and friends to share some of the beers that we work hard to make and sell."
Working alongside Bryan in 2011, we were driving in the work van one day, picking up some supplies for an upcoming festival. He was talking about times from his childhood, mentioning that he told his dad as a kid that he wanted to be a "tribal elder." Thinking he was joking, I asked what he meant. He said he always wanted a job where he was a trusted advisor, helping those around him in his community.
It's safe to say that Bryan Baltzell has found his tribe.
CraftBeer.com is fully dedicated to small and independent U.S. breweries. We are published by the Brewers Association, the not-for-profit trade group dedicated to promoting and protecting America's small and independent craft brewers. Stories and opinions shared on CraftBeer.com do not imply endorsement by or positions taken by the Brewers Association or its members.