In three short years, Holidaily Brewing Co. in Golden, Colorado, has grown from a startup into the largest certified gluten-free brewery in the U.S. and the second-largest brewery in Golden by square footage.
A new expansion unveiled this summer allows this gluten-free brewery to increase production and distribution and also grow founder/owner Karen Hertz's vision of helping people who need or choose a gluten-free lifestyle to enjoy craft beer.
Holidaily Brewing's New Facility
On May 4, 2019, Holidaily celebrated the opening of their built-to-order 10,000-square-foot brewhouse. The new facility lies just across the street from the current brewery and taproom. A year in the making, the new brewing and packaging facility allows Holidaily to increase production to an estimated 2500 barrels this year.
(Related: Beers Without Barley: Brewing with Alternative Grains)
The inside of the building sparkles with new machinery for brewing, canning and packaging. According to Hertz the facility gives Holidaily "upgrades from the very beginning to the very end of the process."
Even with all the gleaming new equipment, the space feels very roomy and open since Holidaily intentionally planned for future growth. Says Hertz, "The footprint of the cooler is larger than the entire footprint across the street" at the existing taproom/brewery.
"The footprint of the cooler is larger than the entire footprint across the street at the existing taproom/brewery." Karen Hertz, Holidaily Brewing Co.
Demand for Gluten-Free Beer Far Exceeded Holidaily's Original Expectations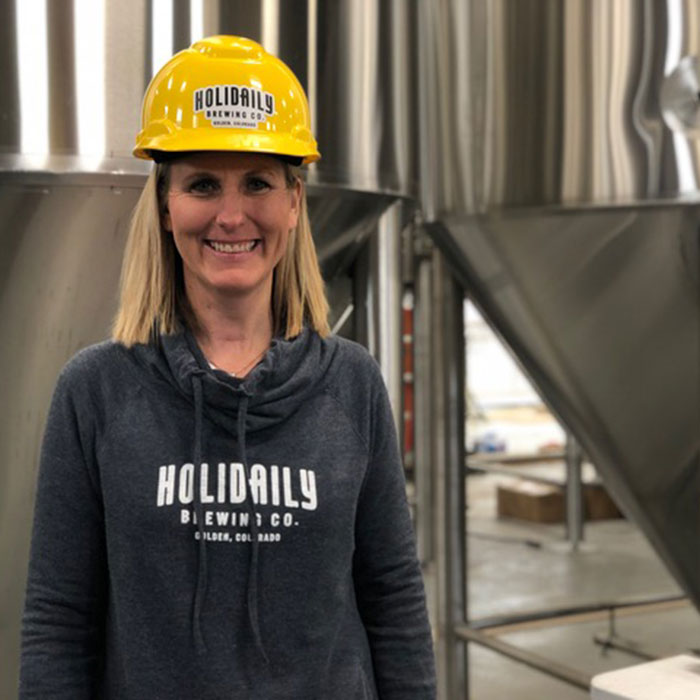 Opened in February 2016, Holidaily was a deeply personal effort for Hertz. Diagnosed with cancer and auto-immune thyroid disease she was told she simply could not consume gluten. Hertz refused to let her dietary restrictions end her love of craft beer.
"[I] worked at Coors, live in Colorado, love craft beer, love beer in general and started trying gluten-free beers that were out there and felt like the quality was lacking," she says.
Leveraging her industry experience and MBA in entrepreneurial studies, she set out to create better beer for herself and others in similar situations. Hertz worked with Grouse Mountain Malts and Colorado State University's Fermentation Science School on experiments with ingredients, recipes and techniques to create the original Holidaily beer lineup. Hertz was confident in her beers but uncertain about expansion.
(More: Beer That Makes a Difference in People's Lives)
"I knew there had to be other people out there that wanted gluten-free beer but I wasn't sure the pace at which it was going to grow," she says.
As it turned out, Holidaily tapped into the rising demand for gluten-free products along with craft beer's popularity. Growth has far exceeded Hertz's expectations. From 257 barrels in the brewery's first year, production increased to 1200 barrels in 2018 and will more than double again this year. She expects about 80 percent to go into distribution.
Holidaily Adds New Technology to Brew Gluten-Free Beer
Along with other upgrades, the expansion insures that Holidaily can increase geographical distribution of its flagship beers while still filling the taproom with interesting new creations.
Holidaily's rustic taproom remains unchanged in its current location, although part of the current brewhouse may get an upgrade to enjoy use for special events. Some equipment will remain for use in experimental brews.
With prior experience scaling up breweries like Pikes Peak Brewing Co., in Colorado Springs, Colorado, head brewer Alan Windhausen knew what to expect when the brewery transitioned to a larger system.
(More: What is a Craft Brewery?)
"It took three to four batches of each [beer] to dial in the math," he says, and shared his excitement over the efficiencies that Holidaily's larger facility brings. One immediate benefit is the ability to brew two batches in the time it used to take to do one.
Another highlight is the Meura mash press system. The press uses a series of horizontal air bladders and filters instead of the traditional vertical mash tun to gain 20 percent higher extraction from the mash process. For non-beer geeks, this efficiency translates to more flavor and alcohol for drinking enjoyment.
The new mash system also solves challenges with the gluten-free millet and buckwheat grains that Holidaily uses. The two grains are vastly different sizes in the mash, which can cause issues with traditional equipment. The improved technology eliminates those complications.
Hertz explains that pioneering this unique mash system, which is one of fewer than 100 in the U.S. and the only one utilizing gluten-free grains, comes with added challenges.
"There's not a lot of people you can call and say 'Hey, how did you deal with this or what do you think of this?'" she says.
Future Growth for the Gluten-Free Brewery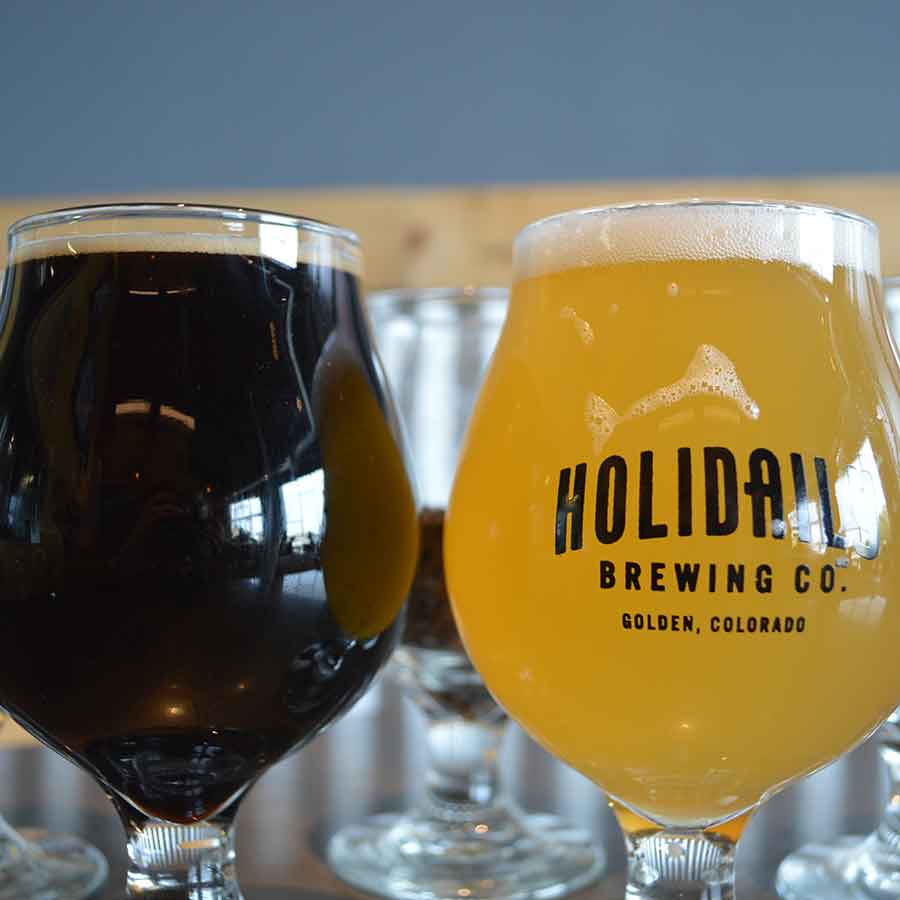 Hertz believes the new facility offers lots of potential for the future. Listing off the ways that Holidaily is currently experimenting with grains, equipment, temperatures and enzymes, Hertz exclaims, "We're at the tip of the iceberg! It's just all experimentation still at this point."
Windhausen adds that he expects other breweries will be looking to Holidaily for expertise: "We're expecting some calls in the next year."
Holidaily has also engaged a distributor to broaden their footprint which, combined with higher production, will bring their beer within reach of more craft beer enthusiasts. Their first priority is adding a winter seasonal and increasing distribution outside the Front Range.
(Find: Breweries Near You)
"Corner to corner in Colorado is the goal at this point. By the end of the year we want to be everywhere in Colorado," says Hertz.
Beyond that, the team is evaluating markets and distribution logistics. Primarily, they are looking for an intersection of craft beer lovers and an interest in wellness and a gluten-free lifestyle. Hertz describes it as, "Outdoors intersecting with health."
While Hertz and Windhausen both have a passion for serving the gluten-free market, they're not limiting themselves.
"We want to make good beer, we don't want to make good 'gluten-free' beer," says Windhausen.
CraftBeer.com is fully dedicated to small and independent U.S. breweries. We are published by the Brewers Association, the not-for-profit trade group dedicated to promoting and protecting America's small and independent craft brewers. Stories and opinions shared on CraftBeer.com do not imply endorsement by or positions taken by the Brewers Association or its members.