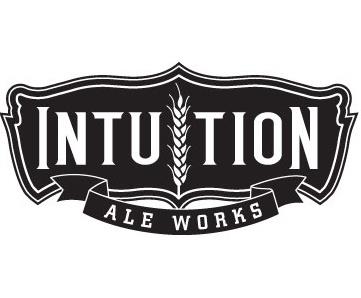 Intuition Ale Works
Ben Davis didn't just open Intuition Ale Works to make great beer, he also wanted to make Jacksonville, Fla., a better place.
The sprawling northeast Florida city has traditionally been known as a military town, manufacturing center and transportation hub as it's home base to railroad giant CSX and a large port. But, it hasn't been known as a city that's hip, sophisticated and cultured. Until recent years, Jacksonville's best known association with beer was its regional Anheuser-Busch brewery.
That's changing quickly, and Intuition Ale Works, with its popular tasting room and a wide variety of great house beers, is doing its part.
"I've always wanted to do something to make Jacksonville a cooler place," said Founder Ben Davis.
Davis, 39, said he doesn't want his boys to leave and settle in other cities when they grow up.
"I have a bunch of buddies that have a lot of kids that are the same age, and honestly, we want our kids to want to come back to Jacksonville. We don't want them to go to Atlanta or Chicago or Boston. I want my boys to be back in Jacksonville because it's cool.".
While Intuition Ale Works wasn't the first craft brewery to open in the city, Davis wanted to be part of a making the city a beer destination.
And if it's cool he's striving for, he has succeeded. Intuition Ale Works brews in a small, early 20th century industrial building on the edge of what is now one of the Jacksonville's hippest areas, the Riverside/Five Points neighborhood. There is also an eclectic mix of restaurants and bars nearby that prominently feature craft beer, with special attention for local beers.
Davis set up his brewery in 2010 within a short walk of Jacksonville's craft brewing pioneer, Bold City Brewery. Now both are anchoring what is one of Florida's best craft beer regions.
The attraction of Intuition Ale Works isn't just the beer—though that in itself is well worth the visit. The tasting room would be a great neighborhood bar regardless. Davis remembers looking at the building (which dates back to the early 1920s)  with a friend who had his doubts about the place:
"He said, 'How are you going to make this cool?' and I was like, 'Cool? It's got brick walls, and beer and character.' And that's my biggest concern if we ever do move or expand and have to move to another location to meet our production needs—losing that character."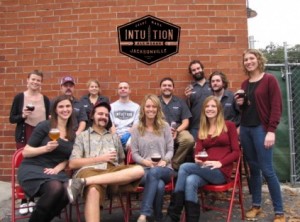 And the brewery is expanding. It brewed just under 1,200 barrels its first year and just under 2,600 in 2012, the same year they started canning their most popular beers—I-10 IPA, People's Pale Ale and Jon Boat Coastal Ale. Three more 30-barrel fermenters have recently been installed and Davis has orders four more 15-barrel fermenters to be put in the spring 2013.
Intuition usually has about 20 different house beers available in the taproom. And, they aren't afraid of getting creative! Their Truck Stop Breakfast Stout is brewed with maple syrup and locally-roasted coffee. There's plenty to keep hop-heads happy too, including the Rail Spur Double IPA and the Riverside Red.
Davis also has a love of Belgian style ales, and he does them well. There's Triad Tripel, brewed with the house Belgian yeast and Oliver Wheat Wine, which is brewed with 60 percent wheat, oats and honey malts.
"That's what's fun for us here in our taproom…the fact that we have so many different styles. I think people start to trust. They say, 'Hey not every beer they make is 10 percent alcohol and 1,000 IBUs and black as night," Davis said.
Right now most of Intuition's sales are in northeast Florida, though they've recently expanded into the Tampa area. While Davis has long term goals of expanding into Georgia and North and South Carolina, he also realizes conquering the Florida market is a big task.
"Florida is such a large market that it's really hard to move outside the state until we meet the demand here," Davis said.
Florida has 19 million people and attracts nearly 90 million tourists each year, yet it has lagged far behind other states in craft beer production. It wasn't long ago that the greater Portland, Ore., region had more craft breweries than the entire state of Florida.
That, however, is changing, and Intuition Ale Works is a key part of a beer scene in Jacksonville and nearby St. Augustine—which now has at least six craft breweries and a handful of brew pubs.
Davis doesn't mind the company as long as it helps Floridians appreciate good craft beer in general.
"People ask me all the time who's your number one competitor because they want me to go, 'Bold City or Green Room or Cigar City,'" Davis said. "And honestly, I don't even look at that as our issue. Our issue is getting people to carry better beer and a better variety."
---
Brendan Farrington has worked as a news reporter for 24 years and in his spare time runs the website FloridaBarTab.com, which explores the best and most interesting places to grab a beer or drink in Florida. He's also building a following of like-minded bar enthusiasts on Facebook and Twitter.
CraftBeer.com is fully dedicated to small and independent U.S. breweries. We are published by the Brewers Association, the not-for-profit trade group dedicated to promoting and protecting America's small and independent craft brewers. Stories and opinions shared on CraftBeer.com do not imply endorsement by or positions taken by the Brewers Association or its members.