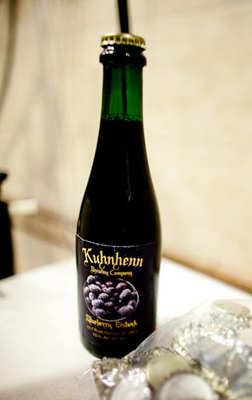 Kuhnhenn Brewing Company
Kuhnhenn Brewing Company has evolved right along with the resurgence of the craft beer industry. Brothers Bret and Eric Kuhnhenn got hooked on hombrewing and began selling kits and equipment out of their family's hardware store in Warren, Mich. Soon, the hardware store became a beer and winemaking shop, and finally evolved into a brewery in 2002. "It was kind of strange," Bret Kuhnhenn said. "There was a time you could get your screen repaired and pick up some malt extract."
The brothers have built their eight-barrel brewhouse over the years using re-purposed equipment. Their mash tun was a yeast starter tank for sourdough bread; their lauter tun was a peanut butter vessel used in a Quaker Oats factory. It only seems fitting that Kuhnhenn evolved from a hardware store.
Kuhnhenn produces unique and successful beer. Their flagship, Loonie Kuhnie, is an American pale ale with a balanced, citrusy hop flavor. The brothers formulated the original recipe while they were in college, and it has become their best seller.
Their Double Rice IPA (DRIPA) won a gold medal at the 2012 World Beer Cup in the American-Style India Pale Ale category. "DRIPA is not easy to make," Bret Kuhnhenn said. "It's a cereal decoction mash, which is kind of like doing two mashes and blending them together, so it takes a lot longer." DRIPA is a delicious and strong IPA. The addition of rice makes it crisp, and the 80 pounds of dry hops that are added to the 40-barrel fermenter (a four-hop variety including Citra) only adds to the complexity of the final beer.
Kuhnhenn beer is distributed in Michigan and New York, although kegs of their beer have been found as far away as Denmark. They're currently in the process of looking for a building to house a 38-barrel production facility. If you can't get Kuhnhenn beers where you live, it would probably be worth a trip to the source.
---
Michael Ludwig is a Cicerone® Certified Beer Server, with four+ years homebrewing experience. He holds a journalism degree from Michigan State University, and has completed the Siebel Institute's Concise Course to Brewing Technology, a 4-month brewery internship. He currently writes the blog Man Beer School for a blog for the Chicago organization Man B Que.
CraftBeer.com is fully dedicated to small and independent U.S. breweries. We are published by the Brewers Association, the not-for-profit trade group dedicated to promoting and protecting America's small and independent craft brewers. Stories and opinions shared on CraftBeer.com do not imply endorsement by or positions taken by the Brewers Association or its members.