The Three Stooges have seen a lot of changes in two decades. Two decades since Lakefront Brewery's founders, Russ and Jim Klisch, outgrew their brew den tucked away in a former bakery within the Riverwest neighborhood of Milwaukee, Wisconsin. The unlikely witnesses being the three repurposed dairy containers affectionately baptized as Larry, Curly and Moe. As the property's first permanent residents, the vessels have long held a position of esteem, even after they were retired and turned into art pieces.
Relocating to a forlorn part of the city was a significant risk. The craft beer craze was still years away, and the idea of a brewery being an engine of economic development was a relatively untested model in most U.S. cities.
"We thought this was Milwaukee's year, and we were really excited." – Russ Klisch
The brewery, now a local landmark, has helped the neighborhood become a vibrant city district. The on-site tour usually welcomes more than 80,000 guests on an annual basis, making it one of the most marketable brewery tours in the country. Production capacity in the last couple of years has risen to more than 45,000 barrels of beer per year.
Up until a few months ago, the hardships and uncertainty of building a world-class brewery seemed like a distant memory.
"We thought this was Milwaukee's year, and we were really excited," says Russ Klisch. "We were supposed to have the Democratic National Convention and the Ryder Cup, besides festivals like Summerfest and the State Fair. We were looking forward to being in the spotlight all summer. We even had the Milwaukee Bucks looking like they were going to win the NBA Championship."
As the weather began to warm up, 2020 was shaping up to be a great year.
"Tomorrow's gonna be awesome," read a March 11th tweet from Lakefront Brewery, posted with a flyer for their Belgian Quad release party.
That same day, news began to circulate that the World Health Organization had declared COVID-19 a pandemic.
Just 26 hours later, Lakefront Brewery tweeted that it would be closed until further notice.
"It all happened really quickly, and we reacted fast because we had to," says Russ. "We have a big place here, so I knew closing might be necessary after I read a report that was forwarded to me that talked about other cities and the steep rise in cases there. There wasn't too much information about it, but for me, I didn't want to wait for other people to tell us to close to do the right thing."
Doing the Right Thing 
Since closing its restaurant and tour to the public, the brewery has adapted its business to a post-quarantine existence. Part of this new normal involves launching public awareness initiatives.
"The closest thing to royalty Milwaukee ever had has been beer barons, so everybody is used to looking up to breweries," says Russ. "Breweries are an obvious part of the community, and that's why it is important when we have social issues like this virus come up that we brewery owners do things that are good for the neighborhood." One of these good deeds involved giving away beer and steins to 3,000 healthcare workers during Milwaukee Day in April.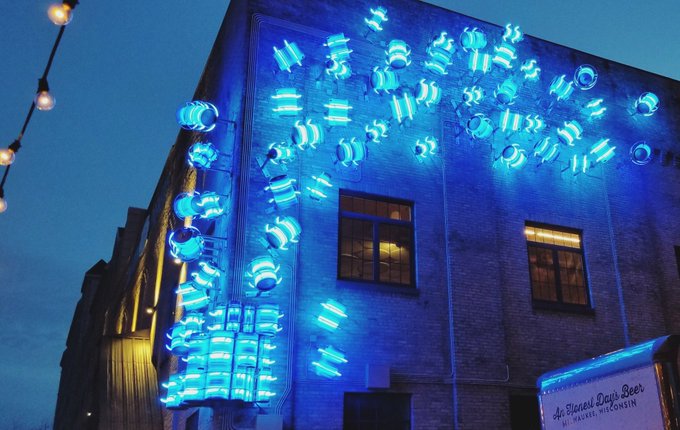 Russ is quick to admit that even after retooling the brewery, the situation is far from optimal. Then again, he reasons that having some pieces of the business functioning is better than a complete shutdown. "We're doing curbside delivery of beer, which was complicated to get started because our laws weren't set up for this kind of crisis," says Russ. "The restaurant is only for carryout right now, but the limited menu is really popular and has been selling out. We also talked about having a virtual tour with our guides, but it's like doing stand-up comedy without an audience. It's just not the same."
However, Lakefront has been producing another type of digital content during the pandemic: how-to videos. The first installment features executive chef Kristin Hueneke demonstrating techniques for baking Lakefront Lager Bread. "People are looking for things to do at home, right now," says Russ. "These videos give them some fun ideas, and it also reminds them that our product is still around."
Other challenges include dealing with perishability issues, supply chain setbacks, and maintaining equipment that does not hold up well when in states of disuse.
In terms of what the future holds, Russ continues to be optimistic. "I plan to still be here months from now and reopening is probably not going to be like the end of Prohibition, where all of a sudden things open up and everyone flocks to the bars," he says, "but when the time comes, we will be here in whatever way we can be."
Undoubtedly, the Three Stooges will be there, too, and maybe not wearing masks.
CraftBeer.com is fully dedicated to small and independent U.S. breweries. We are published by the Brewers Association, the not-for-profit trade group dedicated to promoting and protecting America's small and independent craft brewers. Stories and opinions shared on CraftBeer.com do not imply endorsement by or positions taken by the Brewers Association or its members.