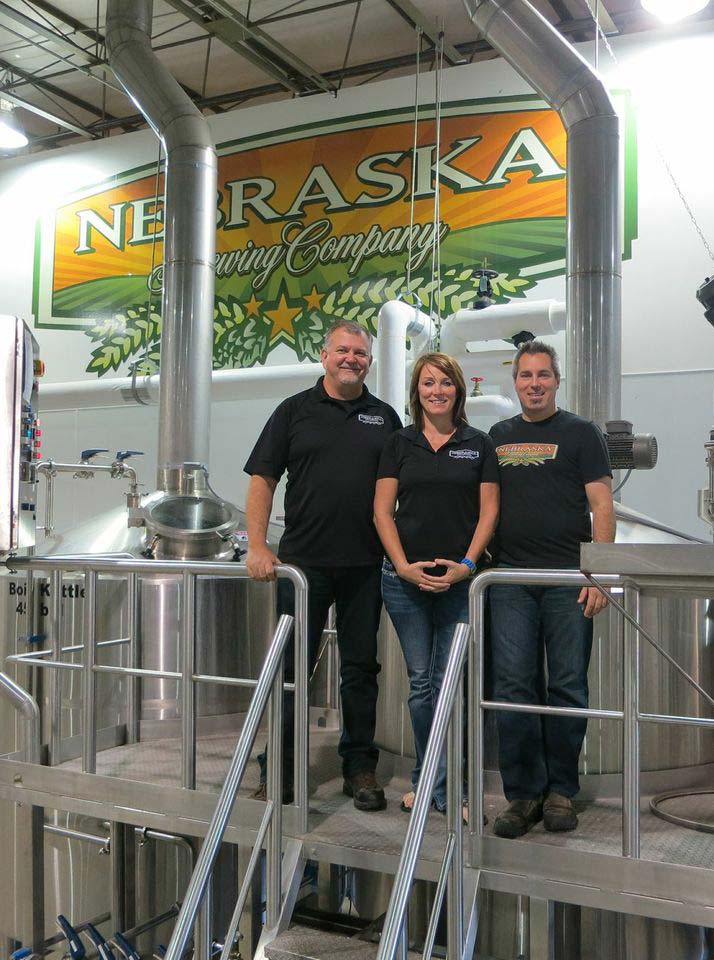 Nebraska Brewing Company
Nebraska Brewing Company's story doesn't differ much from that of many small and independent breweries these days. Owners Paul and Kim Kavulak  began their journey in 1992 when Paul picked up a little malt extract, yeast and a kettle. Over the years, Paul's obsession with brewing grew, and by 2005, their home-based operation grew into what amounted to a small nano brewery in the basement of their home.
Just one year later in 2006, Paul resigned from his day job, leaving him with a mound of bills to pay, little funds, no brewery and no location. What he and Kim did have, was a belief in a firm business plan and the passion to make it a reality. "The thought was that like that of the Vikings, if you burn the boats after you land on the shore, you're pretty committed," says Paul.
Their Papillion, Neb., brewpub opened its doors in 2007 in a new, high-end area of town in a boutique strip mall. Not long after opening, the Kavulak's experienced financial challenges stemming from the recession, requiring quite a few adjustments to keep their brewpub going during its first year.
In the early days, there were many compromises that had to be made, but they always knew that their passion was centered on making great beer.
"We weren't yet in a mature craft beer market that truly embraced what we considered to be elevated craft beer. We still had guests choking on the bitterness of our pale ale, and we actually had a window where we shut down production of our IPA altogether. So, we set our sights on getting our beer into markets where craft beer was a bit more accepted to keep our little revenue engine running—and get the bills paid."
It 2007, the Kavulak's met their future head brewer, Tyson Arp. Arp, like Paul, was an avid homebrewer and was between careers when he approached Nebraska about a brewing position.
Paul looks back on those times with fondness, "He was a very persistent individual, he sent resumes, phone calls, emails and if they'd had drones back then, I'd have seen that in use as well."
Not long after Kavulak was judging Best of Show at the Nebraska State Fair and heard the results announced—Arp had won–and was soon on board as the assistant brewer. Within 18 months he took over as head brewer.
"He became the Overlord of Brewing and covers both the brewpub and the brewery with his team of fantastic brewers," said Paul.
A little fortune with distributors and word of mouth, their brand developed to the point of reaching production capacity within 3 years of their existence. Even after adding a little to the brewpub's 10 barrel system and stacking barrels all over the place.
The solution was to make the move to adding a packaging facility. "We were moving from the little-brewery-who-looked-bigger-than-they-were into the space where economies of scale, bulk purchases, a larger building, and lower overhead would allow us to not only make more of what we choose to, but be cost competitive as well," said Paul.
What resulted was the recent opening of a 24,000 square-foot facility with a 50 barrel production capacity about five miles from the original brewpub. During this first year at the new facility, production has consisted of canning their EOS Hefeweizen, Cardinal Pale Ale, India Pale Ale, Brunette Nut Brown Ale and a few seasonals as well.
Today, the brewpub continues to work just as hard producing about 1,500 barrels each year. "If you have the opportunity to visit our brewpub you'll get the entertainment value of being nearly run over by hand-trucks, dodging beer kegs and being hit with overspray at the bar as we hose down. All while you're downing a Reuben or Insane BLT—topped with a fried egg of course."
"This is the heart of Nebraska Brewing Company—bustin our ass," said Paul. "It goes without saying (but I'm kinda saying it, aren't I?) that none of this would have been possible without the support of people who believe in us, enjoy what we're doing, and have allowed us to become their friends and a small part of the culture of craft beer. We're truly grateful."
---
Jeremy Banas (@ruinationpress) is a beer writer in San Antonio, Texas. His writes weekly as the San Antonio Craft Beer Examiner for Examiner.com, as well as his own website Ruination Press. He is active in the Texas craft beer scene, serving as a founding member of San Antonio Beer Week, and is San Antonio City Chair for the Texas based craft beer advocacy group Open The Taps.
CraftBeer.com is fully dedicated to small and independent U.S. breweries. We are published by the Brewers Association, the not-for-profit trade group dedicated to promoting and protecting America's small and independent craft brewers. Stories and opinions shared on CraftBeer.com do not imply endorsement by or positions taken by the Brewers Association or its members.