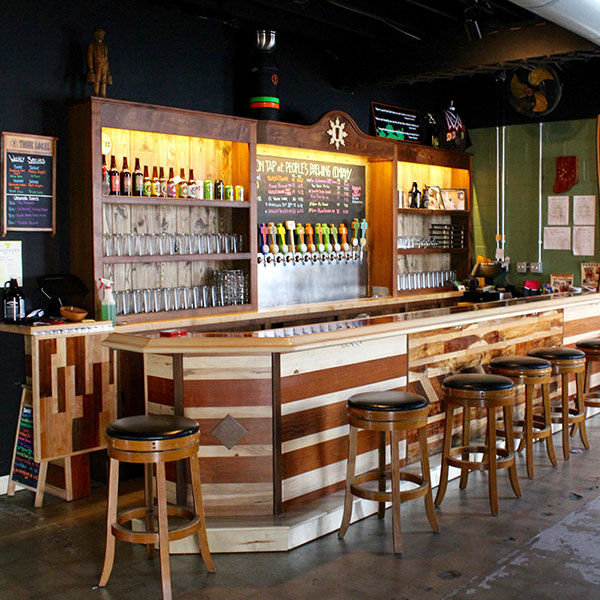 People's Brewing Company Is on a Mission in Indiana
Lafayette, Indiana, is a far cry from a beer destination. Nestled in between Indianapolis and Chicago, it's home to Purdue University, an amateur baseball team, the state's oldest frozen custard business and a handful of businesses.
It's a quiet town, especially when Purdue's out for the summer. But between local art festivals, an array of food choices and a diverse downtown, it has a distinct character that shines with community pride and Hoosier hospitality: humble, welcoming and sincere.
Few businesses radiate that vibe as much as People's Brewing Company, one of just two breweries in town.
(MORE: JDub's Brewing: "This is the Hardest Thing I've Ever Done")
Lafayette's First Production Brewery
Chris Johnson, co-owner of People's, came to Lafayette in 1997 after enrolling at Purdue. It was here that he started homebrewing, a hobby that led him to an entry-level job at Lafayette Brewing Company. In the years that followed, he eventually worked his way to head brewer, which, while satisfying, eventually instilled in him a creative desire to see Lafayette have its own production brewery. In 2009, he and partner Brett Vander Plaats opened People's.
People's opened with a simple mission: brew beer for the people. This is a part of everything they do. From their logo — a group of individuals surrounding a pint glass — to their taproom expansions and even their events, People's was created and continues to evolve to better suit its customers' needs.
The location was picked with production in mind. It's not downtown or near campus, but instead located on the city's north side, near Highway 52 and I-65, allowing People's easy access to deliver. While a taproom existed in the original design, it wasn't meant to be the success it has become. However, People's was created for the people of Lafayette, and it was here that they had a place to come together. In the years that followed, the taproom was expanded and reshaped to better meet the needs of Lafayette's craft beer lovers.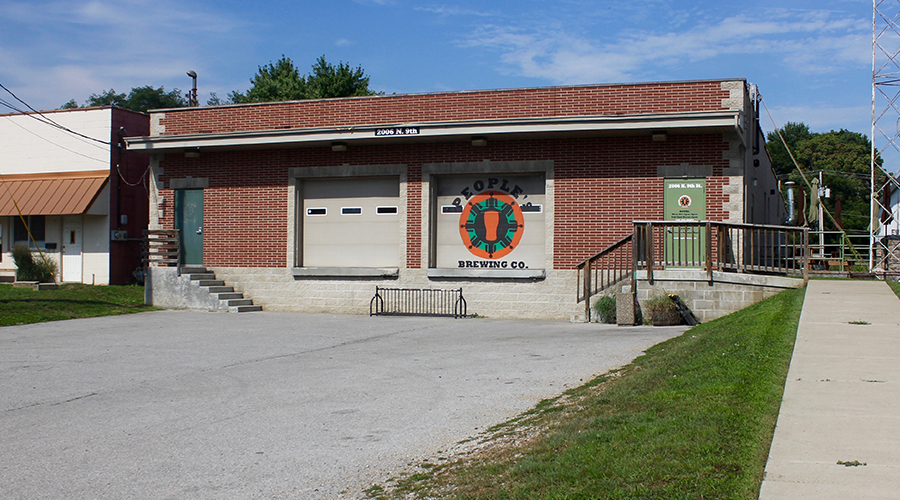 (MORE: Do You Know Who Brews Your Beer?)
Beer for the People
One of Johnson's favorite memories of the brewery is of a man in a suit and another in a tie-dye Grateful Dead shirt sitting together, talking and drinking beer.
"It's exactly what we wanted out of it," Johnson said. "For people to come for beer and leave the rest at the door."
This mentality has taken them far from being a just production brewery, allowing them instead to blossom into a community space that's good not only for business but also for the Greater Lafayette area.
This mission can be seen most prominently in the brewery's music events, which they host every Tuesday. The shows are free and bands are paid for their gigs. Unlike most shows, though, the performances at People's run from 6:00 p.m. to 8:00 p.m. Simply put, they start just in time for someone to swing by after work, and they last just long enough so that folks can get home or get to bed at a decent hour afterward. The benefit isn't just for patrons, though. Bands coming from Indianapolis or Chicago can stop by People's for a gig, play, and still make it to their destination. At the end of the night, People's has built these weekly music acts so that it's convenient for both beer lovers and musicians alike.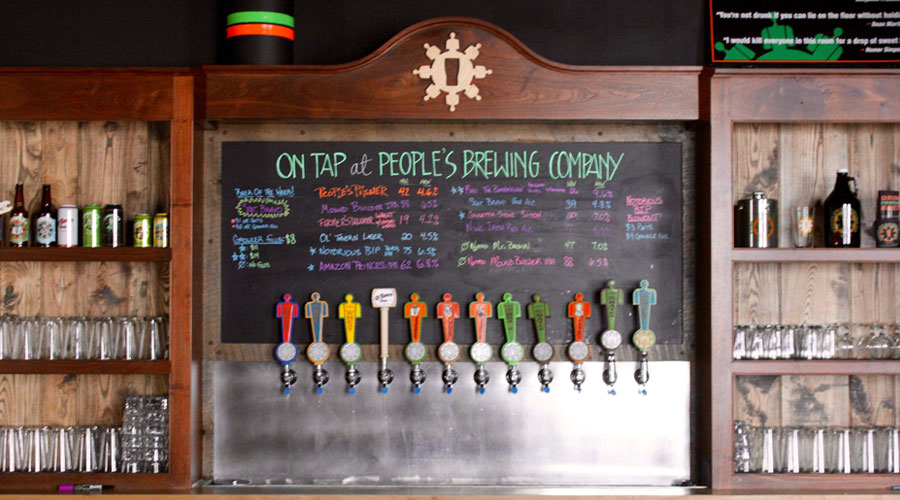 A Community Space
As a part of their mission to brew beer for the people, the crew at People's opens their taproom as a community space. They host game nights on Mondays, meetings for the local biking group, and even an annual Fall Bash to benefit local charities. They sponsor the local baseball team, a biking team and a recreational hockey team.
Their community aspect is no more apparent than it is in their bar, though. What at first glance looks like mismatched pieces of wood is actually the combined effort of a wood drive they held to build it. Wanting to give people in the community a chance to contribute to their growth, they opened wood donations to anyone who chose to chip in. Some pieces have stories, and others are random, but all are the individual contributions of folks who wanted to help define People's space. In this respect, as Johnson puts it, it really is "the people's bar."
What's Next?
While the focus will always be on community, People's plans on growing their footprint and expanding with a new taproom and experimental brewery near the northern Indianapolis area. Even though the location will be different, the goal will be the same: to brew local, high-quality beer for the people and provide the community with a space they can take pride in.
CraftBeer.com is fully dedicated to small and independent U.S. breweries. We are published by the Brewers Association, the not-for-profit trade group dedicated to promoting and protecting America's small and independent craft brewers. Stories and opinions shared on CraftBeer.com do not imply endorsement by or positions taken by the Brewers Association or its members.