While cruising is a relaxing and restful vacation, many beer enthusiasts worry about their supply of craft beer drying up on the first league out from land. Carnival Cruise Lines has a solution: RedFrog Pub & Brewery, an unassuming lighthearted cruise ship craft brewery right onboard.
While relatively small – brewing batches on a three-barrel brewing system and fermenting in double batched six-barrel fermenters – RedFrog's beer is enough to whet the appetites of thirsty vacationers and send them home with a few growlers.
Help Wanted: Cruise Ship Head Brewer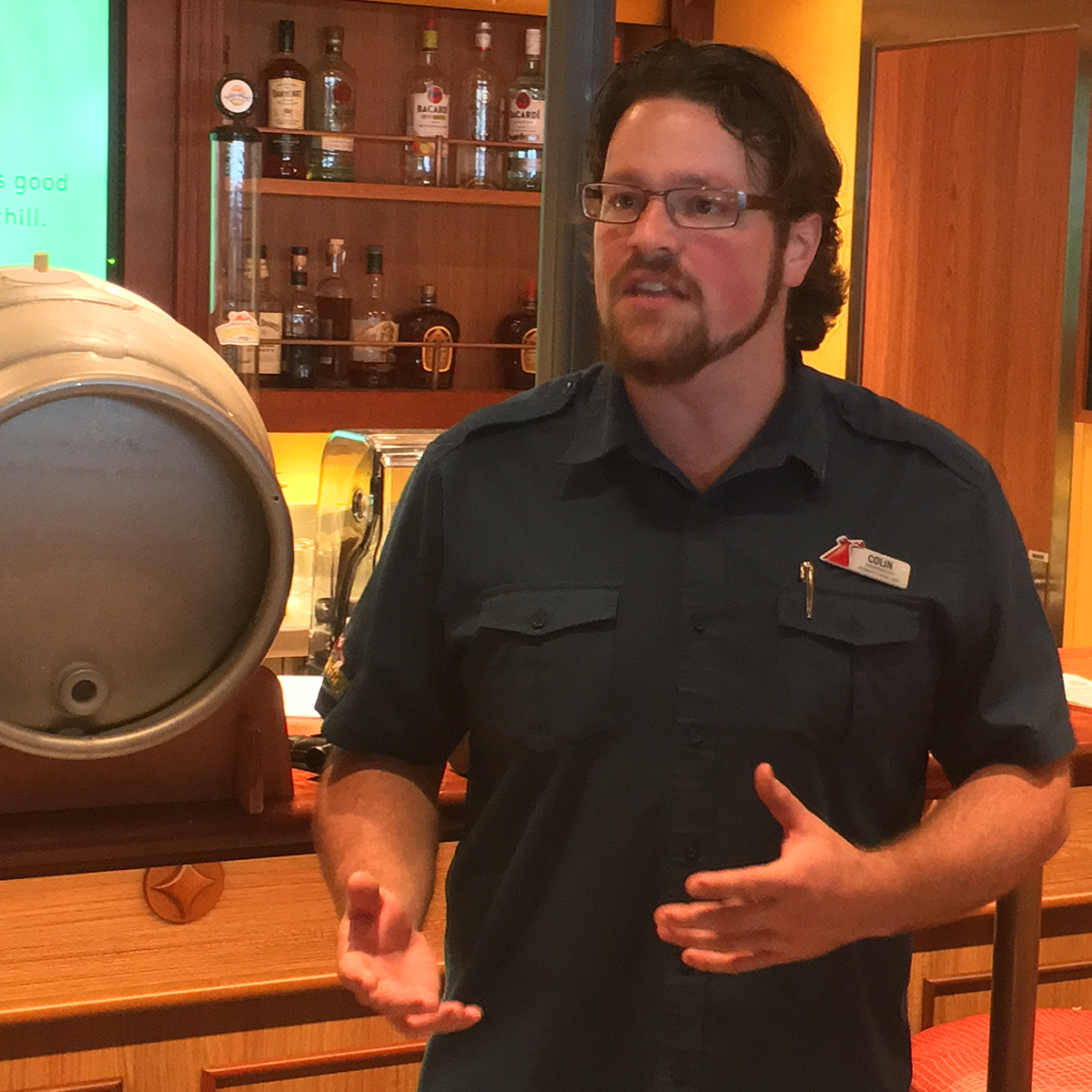 At the helm of RedFrog Brewery is head brewer Colin Presby. Colin has roots in Pennsylvania. His brewing resume includes stints at Weyerbacher Brewing and Stoudts Brewing.
How did a Pennsylvania brewer get the gig on a ship based in the Port of Miami and registered in Panama? He saw an ad online, and he took the plunge and applied. The competition was tough.
(MORE: What is a Craft Brewery?)
"This job was the most viewed on the site because it's a great gig," Colin recalls. After shipping a resume, Colin did a few rounds of interviews, and he got the job.
Colin lives on the ship 10 months out of the year – making sure the ship is afloat with beer at all times. As the program develops, he says that may change, but right now he and his assistant brewer represent the entire Carnival Cruise Lines beer-making staff.
How Do You Brew Beer with Ocean Water?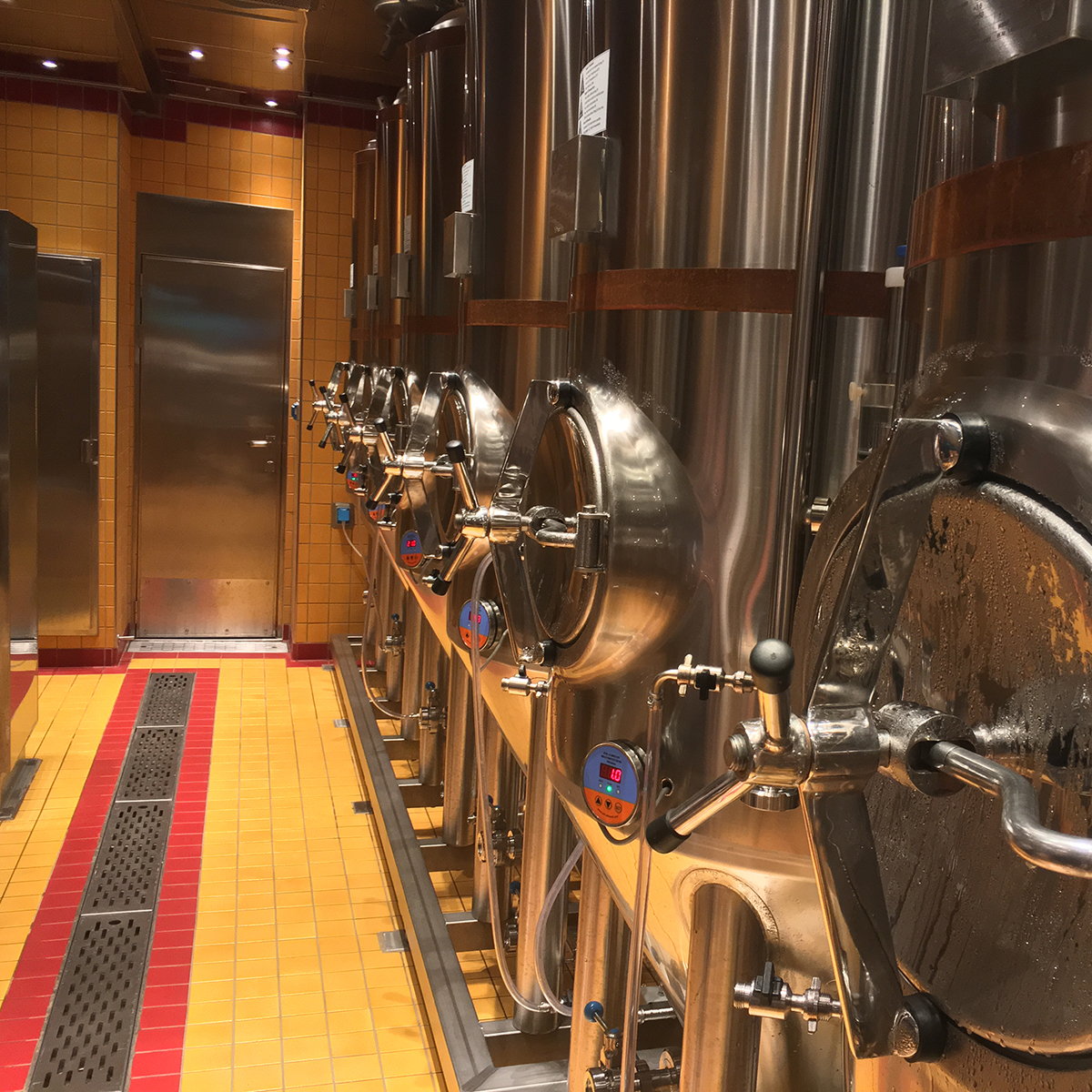 Colin's challenge is to keep the taps flowing, even while at sea. That is not a small task, but the shipboard water system makes it easier. Pulling water from the ocean, Carnival's Vista has its own desalinization and reverse osmosis water system.
"We're able to make and keep up with demand for all the shipboard potable water," Colin says. "On older ships, they bunker – fill up a tank from a hose while in port. That leads to less consistent water, different water in every port. You end up using more chlorine to make sure it's safe."
Always with an eye on the beer, Colin lauds the Vista's water system. He takes comfort in the knowledge that his zymurgical imagination will never be stifled by lack of optimal water.
"Since we're making our own water, we can pull out or put back what [water chemicals] we need. I'm adding more and changing the mineral profile for my water. I can't tell the engineers what to do with the ship [and water], but I can adjust the water and make it what I need it to be," he explains.
(READ: My Lucky Break: How I Got a Job in Craft Beer)
Colin gets excited about the system because while he is responsible for supplying the consistent RedFrog beers, he also gets to play on the system as well.
"My boss was very supportive of me experimenting in the brewhouse," Colin asserts. "I report to the Vice President of Beverages shoreside, and he has been very supportive since the beginning of doing seasonals and doing experimental stuff. He's a beer guy and he wants to try new beers as well."
Beer Styles on Board
While new beers are on Colin's mind, so is keeping a fresh stock of the beers to anchor RedFrog's lineup.
"The Port Hoppin' IPA, the Caribbean Wheat, and the Java Stout we keep on consistently. I have room for a fourth or maybe a fifth depending on how I work my tap space, but I can do some seasonals," he says. "We have an American Pale Ale that's my regular/ irregular beer. We have it probably 60 percent of the time. Then we'll rotate in a fun beer, like the Miami Guava Wheat."
Colin says that he has yet to make a gose from seawater, but he is open to the possibility.
Carnival Plans to Add More Cruise Ship Breweries
Carnival was excited to open an independent craft brewery on the ship.
"The debut of the RedFrog Pub on Carnival Magic in 2011 proved to be very successful. We looked at ways to take guests' experience to the next level," says Carnival Public Relations Officer Joyce Oliva.
"Adding a brewery was such a no-brainer." Joyce Oliva, Carnival Cruise Lines
Oliva also cites another aspect of the craft beer boom that led Carnival to build a brewery on board: no one else has tried it.
(LEARN: Beer 101 Online Course)
"With the growing interest in craft beers and microbreweries, adding a brewery was such a no-brainer – it was the only way to go. The shipboard brewery concept had not been added to any other U.S. based cruise ship before and the RedFrog Pub & Brewery has been such a success for us that we plan on continuing to add breweries to future ships."
While the success of RedFrog Pub & Brewery builds, Colin is happy to keep the ship supplied in beer. After all, he says, if you're on a ship and the beer is brewed within walking distance, that counts as a local beer. "If you're on board for a cruise, it's as local as it gets."
As the beer's popularity continues to grow, Carnival plans to build breweries on new ships. Colin is already brewing test batches for future ships, and he's eager to be part of what's on the horizon.
Save
Save
Save
CraftBeer.com is fully dedicated to small and independent U.S. breweries. We are published by the Brewers Association, the not-for-profit trade group dedicated to promoting and protecting America's small and independent craft brewers. Stories and opinions shared on CraftBeer.com do not imply endorsement by or positions taken by the Brewers Association or its members.