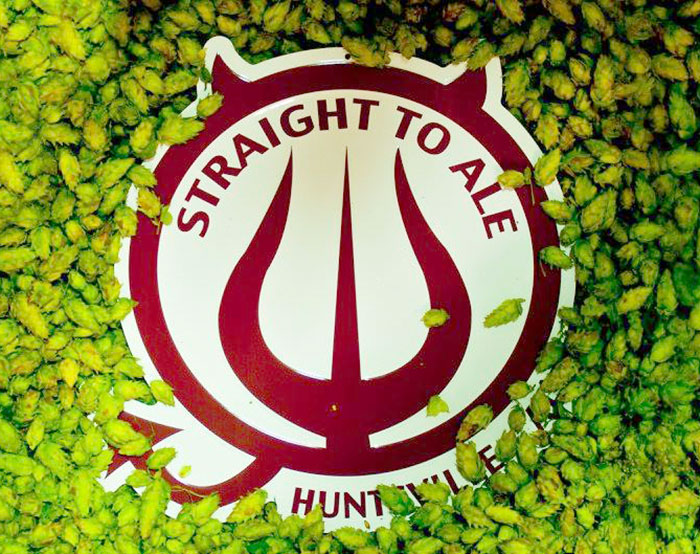 Straight to Ale
"You know you've made it as a brewery when someone trades your beer for Russian River's," said Matt Broadhurst, operations manager of Straight to Ale when he learned that a bottle of the Huntsville Alabama brewery's Unobtanium was traded for multiple bottles of Russian River's Pliny the Elder.
The beer itself is a bourbon barrel aged old ale. In previous years, the barrel aged liquid was blended with a non-barrel aged old ale. This year, the brewery decided to bottle the beer straight from the barrel, knowing they would decrease the supply of an already limited beer that local bottle hunters go nuts over. "It was too good not to," said Broadhurst.
Because Straight to Ale has stayed true to their product by not altering a beer to sell more bombers, their fan base has grown to the point that the brewery is now the second largest in the state and well on their way to what once felt like an unobtainable goal—to be a southeastern brewery.
"Our business plan was always to be a Southeast brewery. Did we ever think that was going to happen? No, we thought we were going to be an Alabama brewery. We did it for fun. We made good beer. That was good enough for us," said Broadhurst.
Humble Beginnings
Dan Perry, brewery founder, started brewing in a shed in his backyard. Throughout the years, he amassed hundreds of awards from homebrew competitions in Georgia, Tennessee and Mississippi.
Yet, against the pleading of his friends, he never had the desire to open a craft brewery because of Alabama's then limiting 6 percent ABV cap. He joked and told them that if the law changed, he'd gladly open a brewery.
In 2009, thanks to the grassroots efforts of Free the Hops, Alabama raised the cap to 13.9 percent. Perry was the second in line to file an application to open a brewery.
The same community involvement that helped re-write Alabama legislation is felt throughout Huntsville's growing craft beer scene. The city's eight breweries walk side-by-side supporting the overall industry efforts. Blue Pants Brewery contract brewed for Rocket Republic Brewing. Straight to Ale contract brewed for Salty Nut Brewery. Old Black Bear Brewing bought Below the Radar Brewhouse's old equipment.
"We're all friends, and help each other out," said Broadhurst.
The customers at Straight to Ale exude the same community vibe. It felt more like Cheers than any other tasting room I visited, which is impressive for a brewery the size of its size.
The first beer Straight to Ale commercially produced in 2009 was their Monkeynaut IPA. The next two beers were Lily Flag Milk Stout and Sand Island Lighthouse Kölsch. The intent was to brew beers that were easier on the palate since craft beer was so new to Huntsville.
The fourth beer the brewery introduced was Brother Joseph's Belgian Dubbel. It's a bold, flavorful ale weighing in at 8 percent ABV, and it solidified Straight to Ale's spot in the market as a brewery known for cranking out big beers. The very beer Perry would never have been able to brew under previous Alabama law.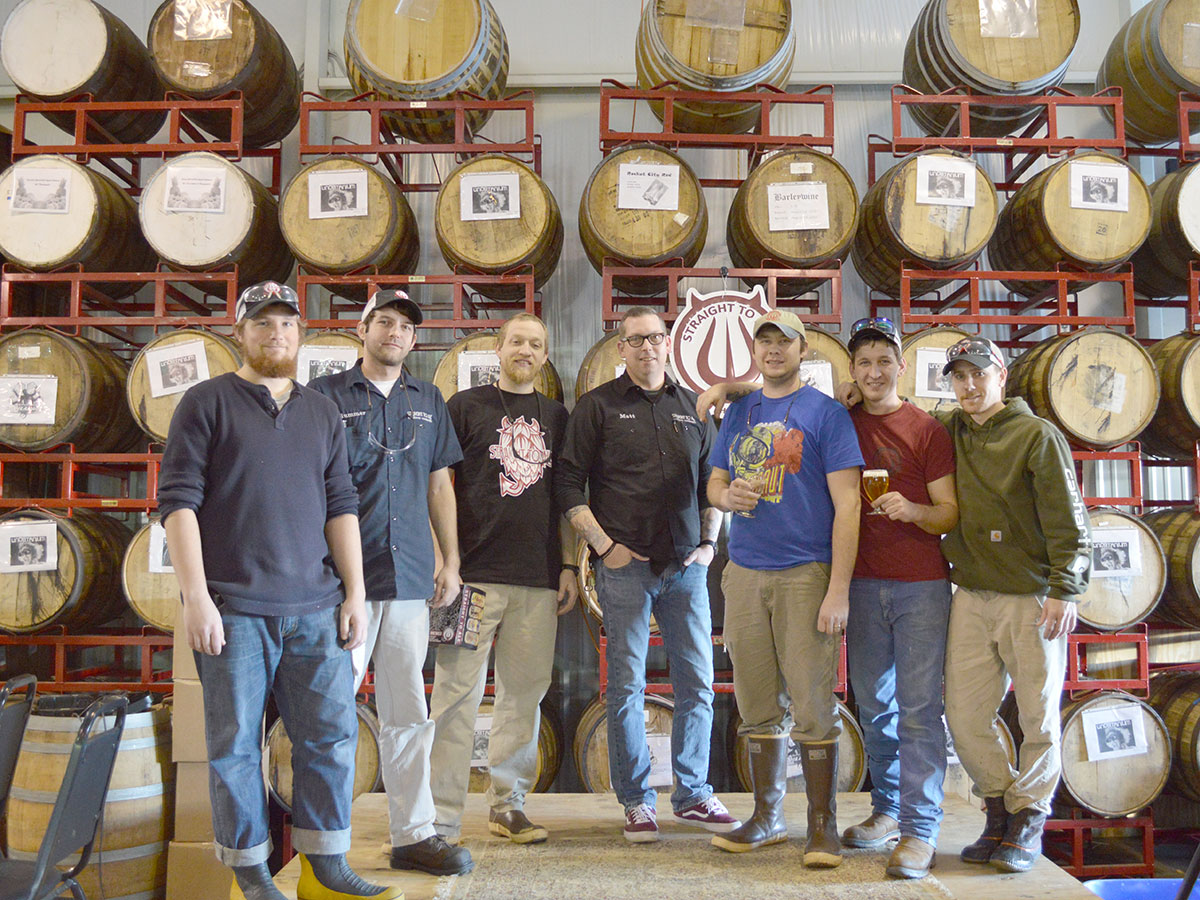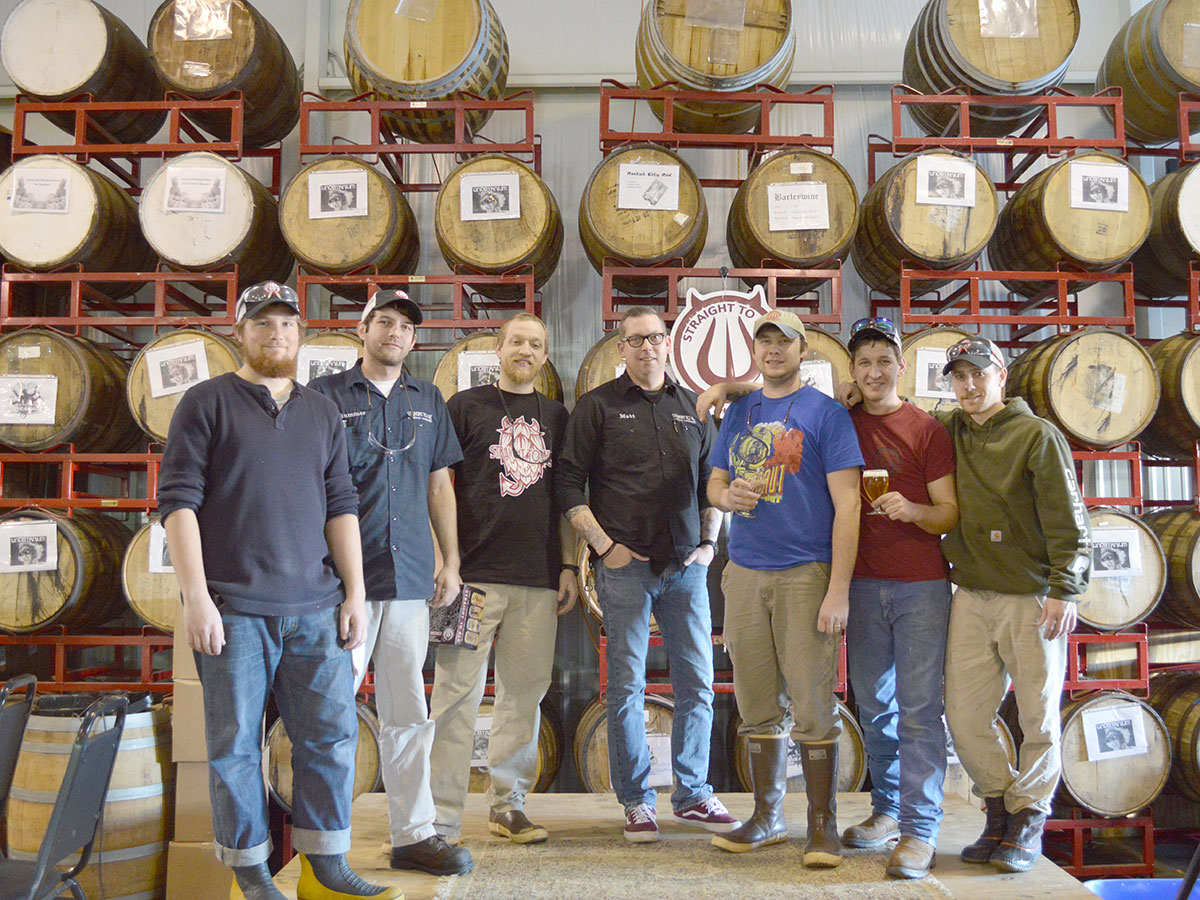 Future Growth
As the hits continued to pour from Straight to Ale with their widely acclaimed Laika Barrel Aged Russian Imperial Stout series and their ISS Barrel Aged Saison series, the brewery continued to grow and amass recognition. Celebrated awards include 2013 RateBeer Best Brewery in Alabama, 2015 RateBeer Best Beer in Alabama for Bourbon Barrel Aged Laika Russian Imperial Stout, and 2014 World Beer Championship Platinum for Bourbon Barrel Aged Laika Russian Imperial Stout.
Today, the brewery operates at capacity. Bottlenecks in production due to the size of their facility have Straight to Ale limited to 1,000 barrels a month, but relief is in sight. Ground has been broken on a new facility in Huntsville's latest entertainment district—Campus No. 805.
Straight to Ale will occupy the former middle school's gymnasium while a variety of other businesses like Dough's Nuts Bakery, Sweet Liberty BYO Homebrew Supplies, and Ronnie Raygun's Arcade will fill out the rest of the building. More important to craft beer fans though is the proximity to fellow Huntsville brewery Yellowhammer Brewing.
Yellowhammer, also located on Campus No. 805, is about a football field's length from Straight to Ale. Between the two breweries will be a 2,000-seat music amphitheater. The amphitheater hopes to attract both national acts and acts from Huntsville's vibrant arts scene.
Even more important to fans of Straight to Ale, the new facility will allow for both increased production of their flagship favorites and further experimentation of their popular barrel and sour programs in the old facility. The current system will remain in place in the old brewhouse and a 30 barrel and 3 barrel pilot batch system will be housed at the new facility. There's also talk of a distillery and meadery.
Striving to Maintain the Community Feel
The new taproom is estimated to be equally as large as the brew house. Early estimates expect it to be between 3,000 and 4,500 square feet. Perry and team are taking great caution to maintain the same community feel guests enjoy in the current taproom.
According to Broadhurst, "We worry about that going into the new facility. Is it too fancy? We've made conscious decisions in the design elements to keep the old feel, so our regulars feel comfortable."
The current brewery is located in old garage with original tire marks and oil spots on the floor. In the new facility, elements of the school will be included from the original hardwood floors to reclaimed lockers to help maintain a homey and authentic character.
Of course, the same great beer the Rocket City has come to love will be pouring from the taps.
CraftBeer.com is fully dedicated to small and independent U.S. breweries. We are published by the Brewers Association, the not-for-profit trade group dedicated to promoting and protecting America's small and independent craft brewers. Stories and opinions shared on CraftBeer.com do not imply endorsement by or positions taken by the Brewers Association or its members.