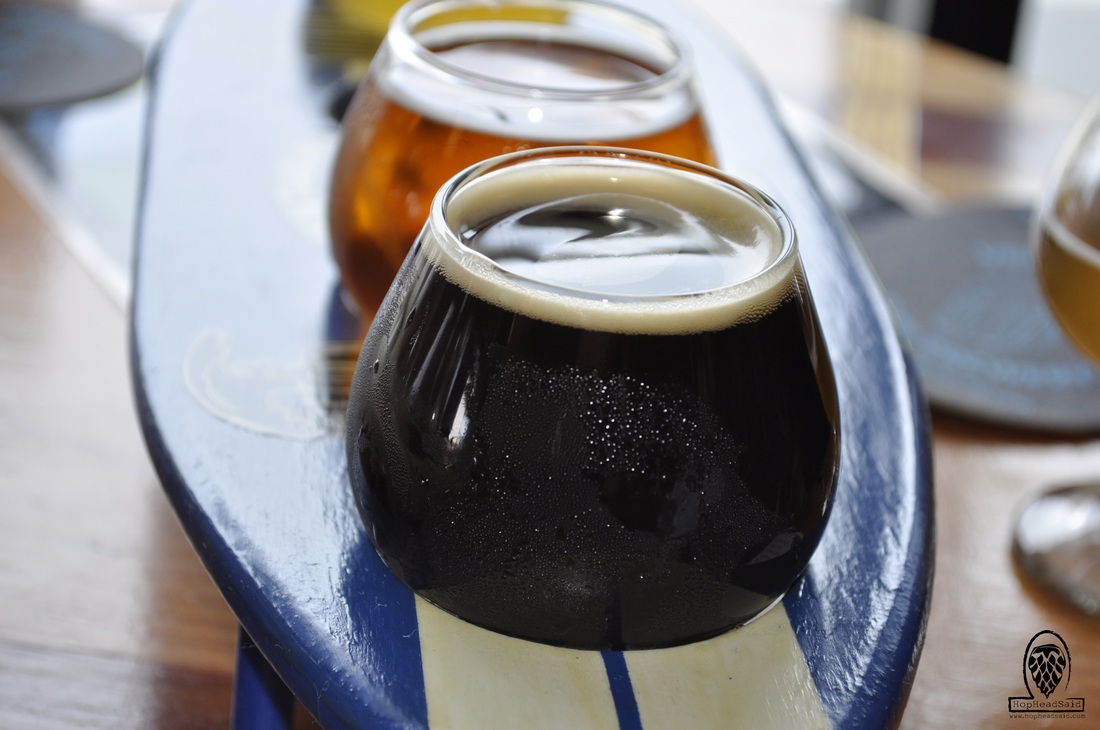 Surf Brewery
When I think of surfing, I conjure up images of white sand, blue waves, silhouetted riders on long boards, stainless steel and hops. Wait, stainless steel and hops? Well now I do, and soon you will too, all thanks to Surf Brewery in Ventura, California.
Surf Brewery began like many breweries do, as the dream of a homebrewer…actually, homebrewers. Surf Brewery was created by a group of friends who thought creating a craft brewery would be a fun side project. But after several months of serious discussions and untold pints, the group realized that it was going to be more than just a side project, and they appointed one of their own, Bill Riegler, as Surf Brewery general manager.
As it turned out, that decision was the easy part. Bill and I had a long conversation about why it took nearly three years for Surf Brewery to move from the drawing board to full production. The short story is that even in a depressed economy, landlords weren't all that thrilled about a brewery moving into their empty space, even if they were going to pay for all the capital improvements.
Eventually, they did find the perfect location, one that had enough room for a taproom and future expansions, and most importantly, a landlord who was excited about a brewery. 
The Taproom
You can find Surf's beer, bottled or on tap, throughout Southern California, but my favorite place to enjoy one of their beers is in their taproom. Their industrial chic taproom is equal parts surf museum (collector surfboards from local legends hang on the wall), homebrew shop (for all you aspiring brewmasters) and brewhouse.
If you like having a variety of beers to choose from, then Surf Brewery is for you. At any given time you will find at least 10 different beers on tap, with styles that range from cream ales and Belgian styles to imperial-hop-infused-IPAs and sour/wood aged beers. You are sure to find something you'll love in their eclectic lineup.
Not only do you have a variety of beers to choose from, you have a variety of ways to enjoy your beer when you are at the taproom. I'd highly recommend their surfboard sampler. Both the short board (4 x 5-oz samples) and the long board (8 x 5-oz samples) are served in custom-made surfboard trays. If a sample is too small, you can always get yourself a pint or a growler to go.
BYOF (Bring Your Own Food)
Surf Brewery is not a brewpub, but you are welcome to bring in your own food. However, if you visit their taproom on a Friday or Saturday night you can usually plan on a food truck to be conveniently parked right outside their door. Food truck updates are posted on their Facebook page.
If you are interested in pairing one of their beers at home, SurfBrewery.com contains descriptions of all their regular beers with basic food pairing suggestions. These suggestions are a great place to start, but if you are looking for something special, Surf's Brewmaster, Chas Cloud, has a delicious suggestion. Chas encourages you to pair their County Line Rye Pale Ale (my favorite Surf beer by the way) with pork belly sliders. He is especially fond of this pairing because the spicy character of the rye cuts through the savory pork flavors, while the beer's fruity esters and aromas complement the sweetness of the pork.
The Hop Rocket
Friday nights are special at the Surf Brewery taproom. Each week they pick a different beer to run through a Blichmann Engineering Hop Rocket® before it is served. The Hop Rocket is a stainless steel cylinder packed with whole-leaf hops which allows the beer being served to get a fresh infusion of hop flavor and aroma before it is dispensed. If you are looking to try something that is out of this world, then visit Surf Brewery on a Friday night.
Giving Back
Everyone at Surf Brewery understands the importance of giving back to their community, and to prove it they give a portion of their total sales to the Surfrider Foundation. The Surfrider Foundation helps coastal communities protect, restore and preserve their coastline for wildlife and future human enjoyment. It is a win-win situation.
---
Curtis Taylor, @HopHeadSaid, is a Certified Cicerone® and writes about food pairings and other beer-geekery at HopHeadSaid.com.
CraftBeer.com is fully dedicated to small and independent U.S. breweries. We are published by the Brewers Association, the not-for-profit trade group dedicated to promoting and protecting America's small and independent craft brewers. Stories and opinions shared on CraftBeer.com do not imply endorsement by or positions taken by the Brewers Association or its members.