At first glance, an X Games athlete and craft beer brewer has little in common with an American general and an 1800s pioneer. But if you look closer, Matt Lindenmuth and General William Larimer Jr. share a strikingly common path from Pennsylvania to Colorado and back, leaving traces of their lives along the way.
Meet The Larimer
Pennsylvania native Matt Lindenmuth's journey into craft beer began when he pushed West. But at the time, it wasn't for beer.
Lindenmuth, now commonly known as the Larimer, first traveled west from his hometown of Kutztown, Pennsylvania, to compete in the X Games. That's right. The adrenaline-seeking event that includes double backflips on rollerblades, a maneuver first attempted by Lindenmuth and now respectfully called the "Double Lindy."
After a day of competing against one another, the athletes found common ground over a glass of beer. That soon led to some homebrewing.
Now, standing in his own brewery and reflecting back on those days, Lindenmuth relates craft brewers to his fellow X-Gamers.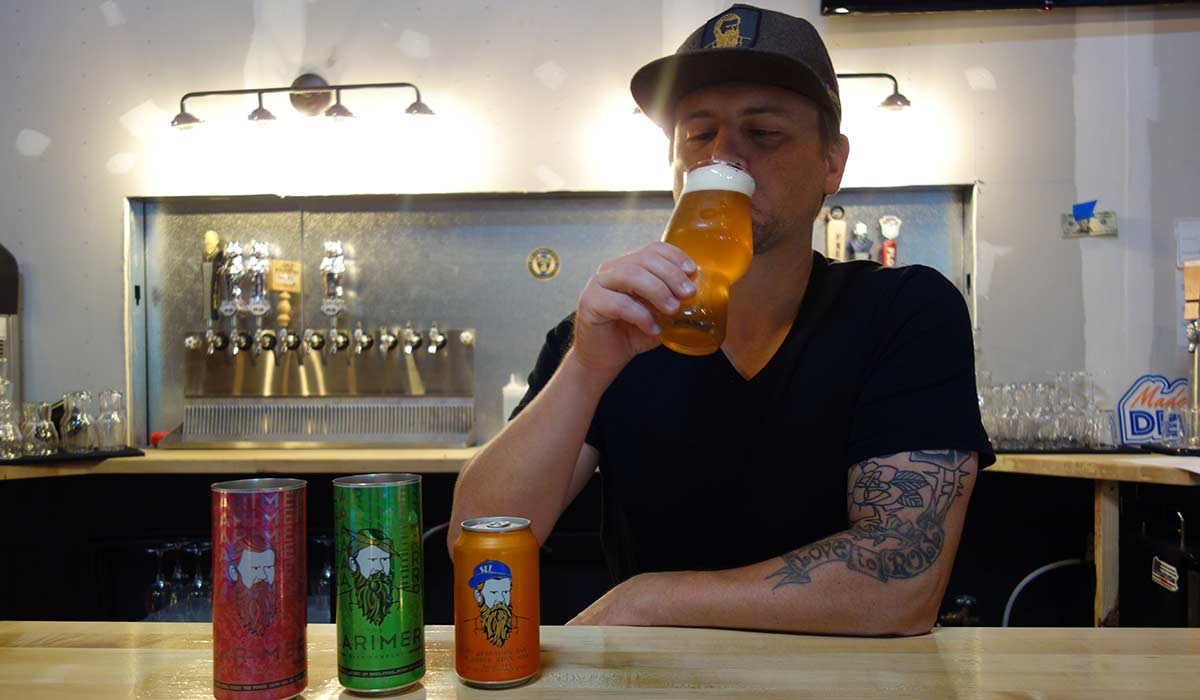 "There's a lot of similarities. The two worlds are very comparable — a sense of camaraderie," he says.
Lindenmuth takes a sip of his own brew and continues, "The craft beer world is a total community–welcoming with open arms. We are competitors but we are always helping each other. I immediately felt at home. It reminded me of my days in the X Games. Everybody cared about each other. Yes, we were always competing but at the end of the 30-minute show, we were checking on all our injuries and hanging out."
(READ: Before Mott the Lesser, There was the Legend of Kate the Great)
Life After the Games
When the days of the X Games came to a close for Lindenmuth, he spent a year not knowing what he was going to do with his life. "From 12 to 32, my life was the action sports world. I never believed it would come to an end."
Then he read "Brewing Up A Business" by Dogfish Head founder Sam Calagione and with the knowledge he learned in homebrewing, he started his first brewery, Saucony Creek, in Kutztown.
But the West called again. This time for the beer (and maybe a girl). Lindenmuth found himself in Denver where he fell in love with the craft beer scene. It was there he began contract gypsy brewing and The Larimer was born.
Who is The Larimer?
General William Larimer Jr. was an 1800s military general, state senator and entrepreneur. He dabbled in all sorts of jobs from acquiring stone for the Pennsylvania Turnpike, managing a Conestoga wagon line, organizing a coal company and even establishing a wholesale grocery. As he pioneered West, he founded the capital of Colorado. He was also an abolitionist, fighting to end slavery and fighting to increase women's rights.
Lindenmuth first heard of this renaissance man from a friend.
"He saw a lot of similarities between us. We both have a pioneer mindset; wanting to push the envelope and discover new things," he says.
Seeing that Lindenmuth was immediately drawn to the idea of "The Larimer," his friend offered to sketch up a logo.
The bearded general that adorns hats, shirts, cans and now a building in South Philadelphia was brought to life as a modern rendition of the 1800s General Larimer.
Holding true to the principles of the General himself, Lindenmuth continued the entrepreneurial task of gypsy brewing, making connections all across America.
Heading Home
Lindenmuth originally settled on finding a permanent brewing home in Denver. But Lindenmuth's heartstrings were pulled back to his home state. Leaving the adventures of the West behind, Lindenmuth shifted his sights on Philadelphia.
"I loved Denver and still visit frequently, but I needed to get back to here," he says.
You can now find Matt Lindenmuth serving up beer at his own brewery called The Larimer in the Chester neighborhood of South Philly.
"I brew in the morning and then stand behind the bar all day," Lindenmuth says as he offers up one of his most recent beers, Domestically Challenged Pilsner.
"There's a lot of change happening here in Chester. It's a rebuilding community. So it's incredible watching folks from two different ends of the spectrum share beers and conversations and realize similarities. It's very romantic watching the whole thing unwind in front of me," he says.
(COOK WITH BEER: Soft Pretzels with Pumpkin Ale)
A Certain Fan Base
The location choice for the Larimer? Essential. Just a few blocks from the Major League Soccer Philadelphia Union Stadium, the Larimer has become the official tailgate spot for the Sons of Ben fanatics.
"It is incredible to see this place transform on game day," Lindenmuth says.
The Larimer even has a sideline table for four in the stadium. Lindenmuth offers up these prime seats to fans for them to enjoy one of his craft beers while watching the game.
"The soccer crowd embraces that they are the fifth forgotten professional sport in America."
The Larimer is proud to be represented at the Union stadium. With connections in Denver, Lindenmuth hopes to one day expand into the Colorado Rapids stadium, continuing his pioneer efforts to bring craft beer into the world of soccer.
The Spirit of General Larimer
To pay true homage to the unsung hero of General Larimer, Lindenmuth and his girlfriend found the general's gravesite in the Allegheny Cemetery in Pittsburgh on plot No. 1.
"We took some beer and just stayed for a while," he says.
Since taking on the Larimer, Lindenmuth has done his best to embody the entrepreneurial spirit of General Larimer. He often says, "My dreams are bigger than my pockets."
Lindenmuth is taking those big dreams one step at a time.
"I am patient. It's not going to happen overnight," he says.
Who knows if he will have a list of accomplishments as long as the Larimer, but if he has learned anything from the general, it's certainly worth trying.
CraftBeer.com is fully dedicated to small and independent U.S. breweries. We are published by the Brewers Association, the not-for-profit trade group dedicated to promoting and protecting America's small and independent craft brewers. Stories and opinions shared on CraftBeer.com do not imply endorsement by or positions taken by the Brewers Association or its members.