Soaring behind the Zion Canyon Brew Pub, so dramatic that it looks as though it grew from the top of the building, sits a mountain peak in Zion National Park called The Watchman. It is perhaps the signature apex in a place surrounded by absolutely stunning rugged beauty, and the sight that greets visitors to the popular brew pub in southwestern Utah.
An alluring invite, for sure, but the business is as proud of its beers as it is of the dream-like location.
"Come for the brews, take in the views," says brew pub General Manager Troy Moyers.
The brewpub—located just steps away from the Zion park gates—no doubt is the face of Zion Canyon Brewing Co., which is located a couple of miles down the road. And with so many other dining options in the picturesque tourist town of Springdale, which borders the park, head brewer Jeremy Baxter is committed to keeping patrons inside once they arrive.
"Especially here at Zion, with all the world travelers we have, I want to give them something they're familiar with (in their homeland) and can enjoy and appreciate," Baxter says.
That's no easy task considering the requisite limitations placed on Utah brewers, whose draft products have a four percent alcohol by volume limit (3.2 percent by weight). Currently, Zion Canyon Brewing Co. is a draft-only production operation, though that may change in 2016. With the exception of a few accounts in nearby St. George, and the east side of Zion National Park, all of the beer that Baxter is making is produced for the brewpub.
With 3.5 million annual visitors to Zion—the most among southern Utah's Mighty Five national parks—that's a lot of eyes, and lips, on your beer.
Baxter has been at the helm for just over two years. His road to Zion began as an avid homebrewer, and he got his first industry job at Smuggler's Brew Pub in Telluride, Colo., working under the tutelage of award-winning brewer Chris Fish. Wanting to be close to his daughter, Baxter moved to Utah and began submitting his resume to Zion Canyon.
Persistence paid off. Following some turnover in the head brewer position at Zion during the next few years, Baxter, who came on as an assistant, finally took over.
"It really helped turn the business around," Moyers says of Baxter's arrival at the helm.
Utilizing a 15-barrel system, Baxter will have nearly doubled production this year versus 2014—cranking out about 640 barrels—to keep up with demand from increased visitation to the park and the resulting uptick in traffic at the brewpub. Baxter splits the use of his eight storage vessels equally, with four fermenters and four brite beer tanks.
Zion Canyon Brew Pub
Zion Canyon Brew Pub typically carries about ten beers, including classic staples such as IPA, pale ale, stout and a red ale. Seasonals this year have included a blueberry hefeweizen, a Jamaican lager and a peach saison made with 700 pounds of local peaches.
I ordered a flight during my early October visit that included the IPA, pale ale, stout and saison, and all were solid, especially considering the restricted ABV.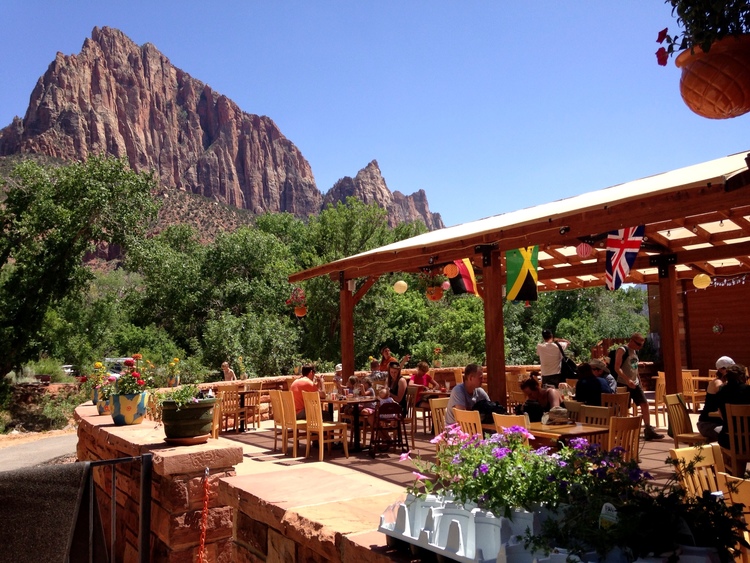 The brew pub is impressive, to say the least, with the spacious deck out back being the crown jewel. Views of Zion's towering sandstone cliffs and live music make the deck the place to be in nice weather, which Zion usually has.
Moyers also said that that the addition of chef Asiry Jamirillo "has really stepped it up" on the brew pub's food side of things, and an expansion of the restaurant is in the near future.
As for the beer, Baxter plans to enter ZCBC's beer into the Great American Beer Festival for the first time in 2016. He's cognizant that entering the correct categories is crucial, especially with him being limited to four percent alcohol beers per Utah law.
That could change in the future, though. Baxter said the brewpub receives many requests about bottles and cans, so more packaging options could be in the brewery's plans for 2016. And that would allow for higher alcohol contents, and, therefore, additional beer styles.
In the meantime, Baxter aims to nail the four percent beers he's currently producing, "bringing that craft-beer feel to the realm of Utah's 3.2 beers."
CraftBeer.com is fully dedicated to small and independent U.S. breweries. We are published by the Brewers Association, the not-for-profit trade group dedicated to promoting and protecting America's small and independent craft brewers. Stories and opinions shared on CraftBeer.com do not imply endorsement by or positions taken by the Brewers Association or its members.