Sixteen years ago, Teo Hunter went out for a celebratory beer with a friend. Hunter thought they'd toast with a ubiquitous commercial brand. Instead, his friend introduced him to Curieux, a Bourbon barrel-aged golden ale from Allagash Brewing Co. in Portland, Maine. Hunter loved it and wondered, "Why am I just now finding out about craft beer?" It was an introduction that would change his life.
Crowns & Hops Advances Racial Equity
Hunter introduced craft beer to friend Beny Ashburn, who immediately saw an opportunity. With successful careers in marketing and advertising, Ashburn and Hunter decided to launch a lifestyle brand that evolved into Crowns & Hops Brewing Co. in Inglewood, Calif. Ashburn is co-founder and CEO of Crowns & Hops, and Hunter is co-founder, chief operations officer, and head of brewery operations.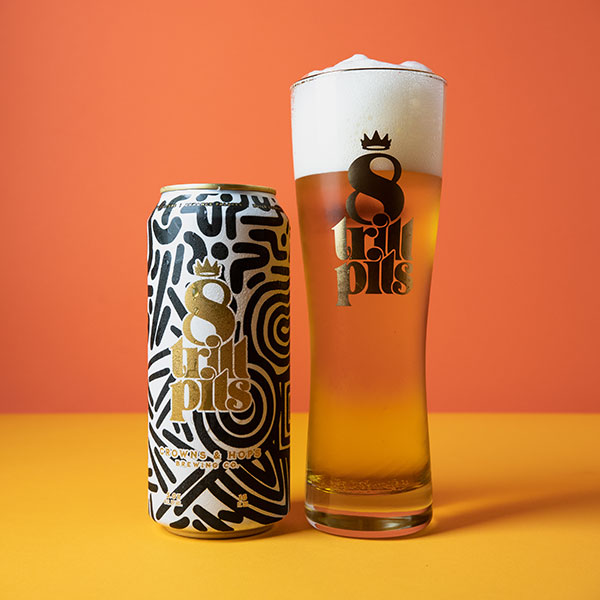 Community is integral to the brewery's vision and mission and at the core of everything they do. "We wanted to build not only a brand but also an experience where you felt welcome as part of a community and understood what premium quality products tasted like," says Ashburn. She says belonging and creating community are important because, for too long, that's not how beer has been presented to the Black community.
Crowns & Hops' beers celebrate and highlight different communities—from their local neighborhood to the Black community and beyond. We Invented the Fresh double hazy IPA is a collaboration with Hella Coastal, Brewing with Brothas, and HopBay to honor hip-hop culture and its creators. "Hip-hop came from Black and Brown people in the city," says Hunter. "Giving attribution is important."
Their flagship initiative is 8 Trill Pils, a Pilsner and a nonprofit of the same name, both dedicated to attaining racial equity within the craft beer industry. The initiative provides capital and resources for Black-owned businesses in and around the craft beer industry and, to date, has awarded $100,000 in grants to five breweries.
Today, Hunter's introduction to craft beer has come full circle. The owner of Allagash Brewing Co. reached out about the 8 Trill Pils Initiative and wanted to get involved. Crowns & Hops and Allagash are collaborating on Cur-8, a blend of Pilsner and Bourbon barrel-aged tripel. A portion of the proceeds from Cur-8 sales will support the 8 Trill Pils Initiative.
Crowns & Hops' next big community endeavor is Crowns Inglewood—a 14,000-square-foot pub that will be a full restaurant and brewhouse. Hunter emphasizes that "pub" stands for public house, and Crowns Inglewood will be a community hub—a safe and comfortable space that will belong to the community and be an extension of people's homes.
City-State Celebrates the Best of D.C.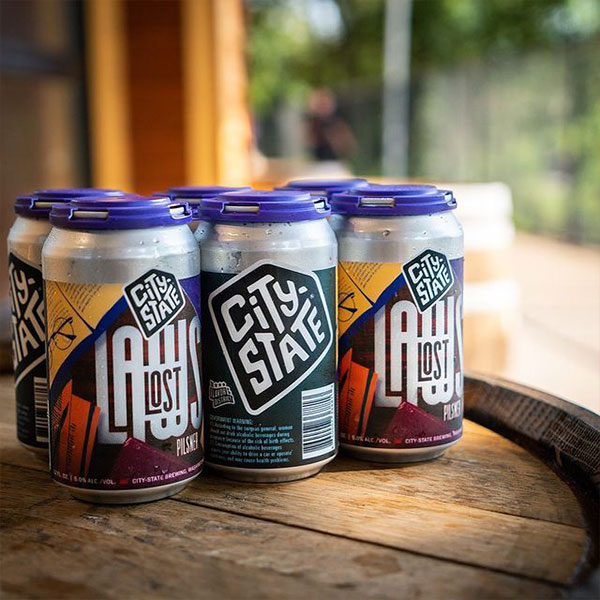 City-State Brewing Co. in Washington, D.C., also wants its taproom and brewery to be a place of belonging for the community and a focal point of hometown pride. Founder and CEO James Warner calls the brewery a love letter to D.C., celebrating the District's history and culture. "It inspires everything we do and how we do it," he says.
He wanted to build a brand to tell stories of the city, shine a light, and lift up D.C. culture beyond the monuments and tourist attractions. All the beers tie to D.C. stories.
"Everyone knows the stories that the USA tells itself," says Warner. "We know neighborhoods in Chicago, San Francisco, New York, and Boston, but nobody outside D.C. knows the neighborhoods in D.C.—the things that have been happened here, the local civil rights struggles."
Featherduster Hazy IPA honors the 1873 D.C. legislature protest. The U.S. Congress ended D.C.'s own government that year, and all the local legislators stripped everything from the chamber, down to the feather duster. Equal Marriage Blonde Wheat and Equal Marriage Dark Wheat showcase the District's marriage equality across race, gender, and religion. Lost Laws Pilsner salutes the civil rights heroes who beat Jim Crow in D.C. using laws from 80 years earlier.
City-State's Big G partnership highlights go-go music, which originated in the District. Big G's Flavor from the Pocket is a golden ale made in partnership with go-go musician, activist, and D.C. icon Anwan "Big G" Glover, who created the beer and its label.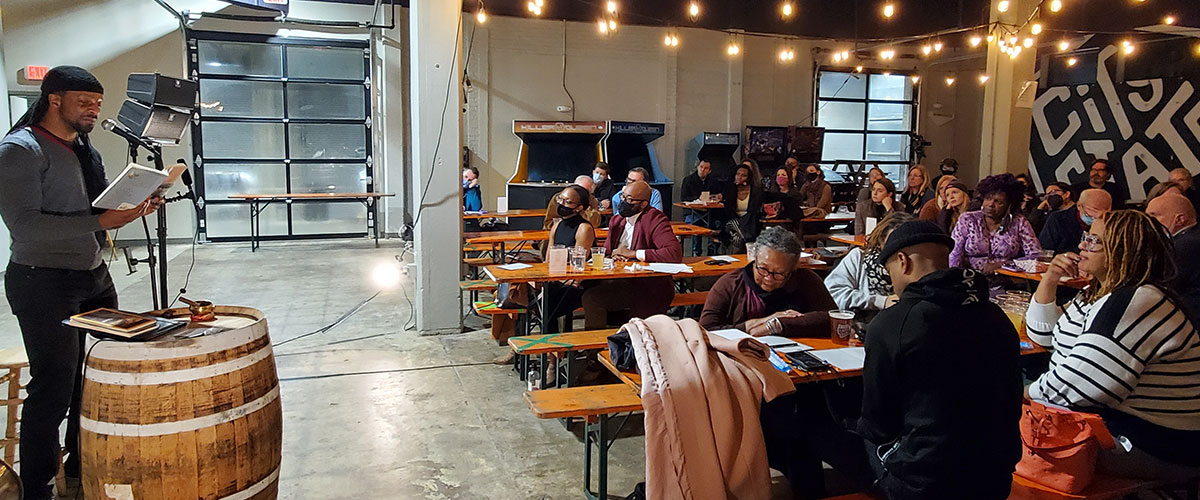 City-State is a family-friendly brewery that hosts a range of events, including story time for kids and dog rescue adoption parties. It also serves a venue and platform for artists and entrepreneurship, sponsoring such activities as pop-up stores with local partners like Pop of Culture, a community built for Black entrepreneurs and creatives.
Bow & Arrow Honors Native Communities
Bow & Arrow Brewing Co. founder, president, and CEO Shyla Sheppard first learned about craft beer during her undergraduate studies at Stanford. She was intrigued by the brewing process and its flavor elements. That fascination stuck with her.
After almost a decade in social impact investing, Sheppard left to establish Bow & Arrow in Albuquerque, N.M. She's a member of the Three Affiliated Tribes (Mandan, Hidatsa & Arikara Nation) and quickly incorporated indigenous ingredients in the brewing process. "We're giving value to what's around us," she says, "and where we can, we support other local businesses." One example is Denim Tux, a blue corn American Pilsner. The New Mexican blue corn is sourced from a tribally owned business that also has its own mill.
Bow & Arrow also supports many fundraisers. Recent recipients include a PRIDE Rainbow Scholarship on the Navajo Nation and a drone project to deliver medical supplies in Ukraine. The brewery partners with local Native nonprofits on agricultural programs and hosts pop-up markets
Bow & Arrow's signature community initiative is its Native Land campaign, which, with the help of other breweries, acknowledges and supports Native communities. Bow & Arrow develops a beer recipe, concept, and label. Other breweries are invited to brew the beer, use the label template, and commit to donating the sales proceeds to Native American nonprofits focused on ecological stewardship, access to ancestral lands, and revitalization of traditional agriculture and food ways.
"It creates awareness that Native Americans are not only an important part of this country's history, but also we are still here," says Sheppard. "And it generates resources for Native organizations dedicated to strengthening connections for Native people to their ancestral lands and rich agricultural histories."
The first Native Land initiative began in November 2021, during Native American Heritage Month, with 47 breweries across 23 states and two Canadian territories participating and raising nearly $90,000. Native Land 2.0 launched in November 2022 and runs through the end of October 2023. This year's recipe will be a Mexican-style lager with heritage corn.
Bow & Arrow recruits Native Land participants through word of mouth, social media, and its website. Participating breweries like The Alchemist in Stowe, Vt., also spread the word on their social media channels. "The Alchemist has a huge following and is very respected," says Sheppard, "and that helped expand our network."
Crowns & Hops, City-State, Bow & Arrow, and the breweries that partner with them represent what's best about the craft beer community. They not only focus on quality, but they create, anchor, and support communities locally and beyond. As Warner says, "Part of being a brewery is serving your community—however you define it."
CraftBeer.com is fully dedicated to small and independent U.S. breweries. We are published by the Brewers Association, the not-for-profit trade group dedicated to promoting and protecting America's small and independent craft brewers. Stories and opinions shared on CraftBeer.com do not imply endorsement by or positions taken by the Brewers Association or its members.