Hops Once Destined for Beer Have Found a New Role in Other Drinks
Since the 8th century, hops and beer have been as intertwined as grapes and wine. Benedictine monks at a Bavarian Abbey were first to form this happy union when they realized that hops presented a singular way to replace the bouquet of herbs and spices, as well as the bitterness they'd been seeking in their gruit ales.
In 1516, hops became a codified part of what defined beer, through the advent of the Reinheitsgebot, the German Beer Purity Law. And ever since, that's where they've remained, rarely used outside of the brewing world, until very recently. A more diverse drinks marketplace, and movement toward mindful consumption of alcohol hasn't led people to abandon hoppy flavor. Instead, it's furthered the threshold of green flavors. With a global oversupply, many brewers (and drinkers) are rethinking hops' rightful place in our liquid refreshments.
Hildegard of Bingen, a 12th century German Benedictine abbess, was one of the first to write about hops. She noted both their potency and potential as a preservative, foreshadowing the rise of present-day beers (Imperial IPAs, etc.) with International Bitterness Units (IBUs) that top 100, exceeding the bitterness level that a human palate can detect.
Mixing It Up
Hops started finding their way into cocktails a decade ago with tinctures (e.g. Bittermens Hopped Grapefruit Bitters), swapping out citrus, herbal, or earthy ingredients for similarly scented aromatics found in certain strains of hops. For those who don't drink alcohol, or are trying to limit their intake, a marked change to "hopping" has has bubbled up the sparkling waters space. Just as brewers have long been exploring the full flavor spectrum of hops, these new seltzers do the same, with Mosaic and Sabro varieties giving the juiciness of a spritzer and Cascades providing an earthy piney-ness. Lagunitas' Hoppy Refresher, a line of non-alcohol products, is a dry-hopped seltzer that uses a pinch of brewer's yeast to pull out the terpenes (aroma compounds). Hoplark Sparkling HopTea, which launched in 2018, first used citrusy Citra hops, now taps into 20-30 different hop varietals. These hops are used as more than a bittering agent; they intend to be the drink's primary flavors.
Research and Development
Dr. Alicia Muñoz is technical director at UK-based Barth Haas, one of the largest suppliers of hops in the world. At Drinktec 2022 in Munich, Muñoz was part of a team that used their own products to introduce four new hopped-innovations, including a hop sparkling water, a hop tonic water, a hoppy kombucha, and a non-alcoholic beverage called Energize Beer. These four drinks were the beginning of an ideation process that looked towards the over 200 varieties of hops that Barth Haas sells, as starting points for hop product placement, accentuating three distinct hops varieties: Citra and PHA Topnotes (a combination of Cascade and Willamette).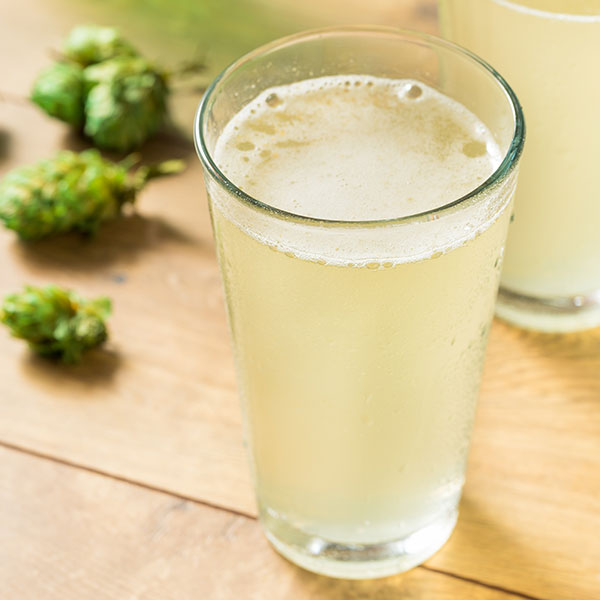 "Citra has notes of mango, blackberry, and grapefruit. Cascade is citrus fruit, sweet fruits, berries, limes and creme caramel. Willamette has a strong wood aromatics, cream, lemon, myrrh, and curry," Muñoz explains. "Hops not only add bitterness and flavor, [but they] also have antimicrobial properties, and affect stability." Munoz notes that they can also alter mouthfeel in the same way that hop varieties can differentiate beer styles.
"Tonic was my favorite to be honest, but we couldn't call it tonic water because it didn't have quinine," says Munoz. Instead, Baarth Haas swapped hops for the expected Cinchona tree bark. "It is easy to drink, and wasn't as sweet as tonic waters in the market, with only half of the sugar. And it wasn't as bitter (at 25 IBUs) — tonic is usually three times as bitter."
For this, Munoz used PHA Cascade to bring a zesty grapefruit aroma, and then RediHop, a modified hop product that imparts only bitter notes via isoalpha acids, to balance it out.
Marius Hartmann, a brewmaster at Barth Haas, did his master thesis on kombucha, and looked at how hops interact with scobys (bacteria and yeast starters). For a hopped-kombucha, he decided to use LupoMax, a concentrated lupulin pellet designed to deliver optimized hop flavor, with Callista, a newer hop variety released by the Hop Research Center in Hüll, Germany, which adds citrus (orange, ruby red grapefruit), stone fruits like peach, strawberry, and passionfruit flavors. Combining both approaches allowed these lighter, more nuanced hop flavors to carry through the brewing process, and permeate the kombucha, rather than dissipate over time.
For sparkling water, Munoz notes that "since you don't have fermentation, you don't have substances that mask aroma." Water carries little character, so it's really a study of how bubbles and bittering agents coalesce. When you add hops to a malt build, Munoz points out, "The matrix of a beer versus an NA-beer is more complex. Polyphenols, sugars, and alcohol change how you dose your hop products." Energize Beer, aside from having ginseng extract and taurine (to put it in the realm of Red Bull), uses a combination of various hop products, such as Lupomax Mosaic and Incognito as a whirlpool addition, Spectrum Citra & Mosaic in combination with Lupomax Ariana at the start of fermentation. Grapefruit and orange essences add to the overall impression.
The Market Responds
It's not all theoretical. The market for hoppy beverages is bounding to new heights. Chad Pieper, the general manager of Upslope Brewing's taprooms in Boulder, Colo., has seen a spike in sales for their Spiked Snowmelt series of craft hard seltzers.
"Hops were a natural fit for us, they brighten the tangerine flavor. We weren't doing boysenberry and hops — we were focusing on citrus to compliment the citrus hops, the Citra hops specifically," says Pieper, mentioning their pale ales and IPAs in the same breath.
Their Tangerine & Hops and Grapefruit & Hops flavored seltzers are top sellers, made with an undisclosed variety of hops, accentuated by fruit juice. Today the brewery makes a dozen seltzers, including non-hopped flavors like Peach Lemonade, Ginger Yuzu, and Cucumber & Basil. A seven-month long R&D project, spurred on by the incredible success and omnipresence of White Claw, has become a 20,000 barrels per year business within Upslope's production.
When Upslope first started going down the exploratory process, the assumption was that Snowmelt would serve a younger audience that wasn't all that into craft beer—the spritzer and craft cocktail crowd. But it's proved to have a much wider reach.
"We had guys pulling off Harleys and up to the bar and ordering Tangerine," says Pieper, surprised.
But no more surprised than Benedictine monks were in the first place when hops came around.
CraftBeer.com is fully dedicated to small and independent U.S. breweries. We are published by the Brewers Association, the not-for-profit trade group dedicated to promoting and protecting America's small and independent craft brewers. Stories and opinions shared on CraftBeer.com do not imply endorsement by or positions taken by the Brewers Association or its members.