You know the saying: "Give a man a fish, and you feed him for a day. Teach a man to fish, and you feed him for a lifetime." Well, beer's always been there for fish, but only recently have chefs around the country sufficiently established the pairings between seafood and suds to make them part of the local vernacular.
An Array of Flavors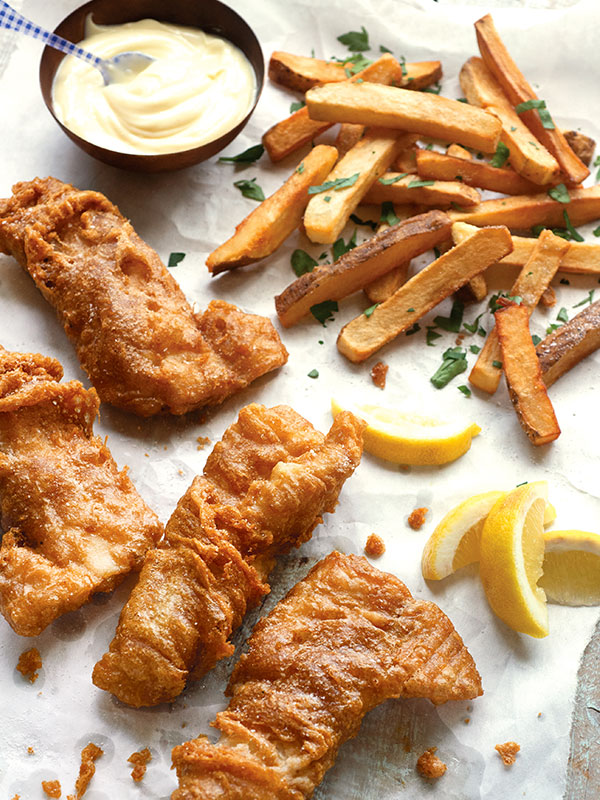 Just as the speech pattern that turns words like "beer" into "beah" is a dominant trait in New Englanders, so too is a true affinity for seafood. Jeremy Sewall, chef/owner of the nearly decade-old Row 34, a series of oyster bars in and around Boston, has a long history with fish, and beer, in Beantown. Located in South Boston's Fort Point neighborhood, the restaurant is home to the city's best lobster rolls and an area called the Cooler Room, a private dining room adjacent to the walk-in beer refrigerator boasting dozens of domestic kegs and hundreds of cans and bottles.
Sewall, an avid fisherman and IPA drinker, thinks of beer as revolving around a time and a place—a floral DIPA is a go-to for a happy hour with friends, but between casts on a boat, he's more likely to reach for a crisp Pilsner or a session pale ale for the same reason they are often found on restaurant menus: their fresh and clean quality allows you to easily eat a dozen plump, briny North Atlantic oysters and be ready for more.
Sewall takes this same perspective in the kitchen. "Seafood, in general, is a lighter style of cooking—from sushi to fish tacos, to grilled or roasted fish. Obviously, there are heavier propositions like chowders, but when [I'm working with] seafood, I think of how to introduce acid and not overwhelm your palate." He loves a mignonette with oysters and doesn't shy away from serving a lemon or lime wedge on the side of most fish dishes. Beer should serve a similar purpose of accompanying without stealing the show, he believes, adding that while he's not really a sour guy, that style's tangy vibrancy goes incredibly well with seafood (just like a squeeze of lemon), much more so than something dark or with a high ABV.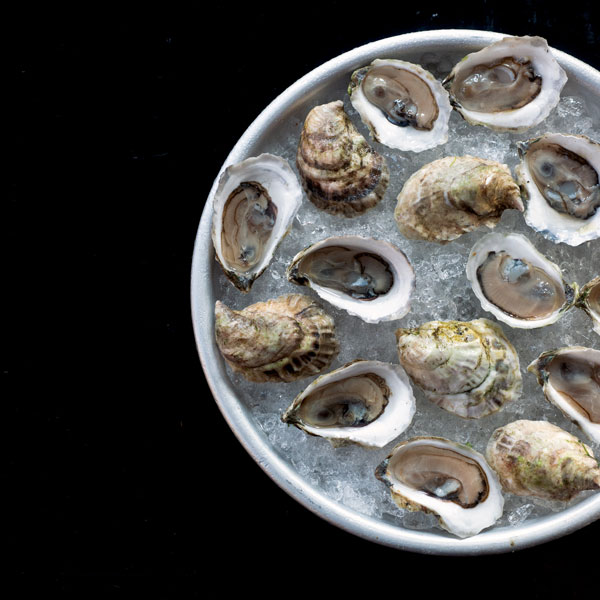 Suzanne Hays-Bailey, Row 34's global beer director and GM at the Boston location, spends a lot of time thinking through which beers will go best with which oysters; she's a pro at it. Sewall's most recent cookbook, "The Row 34 Cookbook: Stories and Recipes from a Neighborhood Oyster Bar," includes a hardworking beer and oyster pairing guide from Hays-Bailey. She suggests juicy New England IPAs with most eastern (Virginica) oysters, and sours with "super-briny Wellfleets—the beer's tart citrus will balance out the oyster's salinity," according to Hays-Bailey. She also likes having melon-forward West Coast Hama Hama and Kumamoto oysters with wild ales, such as those from Berkeley, Calif.'s The Rare Barrel and Portland, Maine's Allagash Brewing. And if you're going totally wild and trying to match the "copper-like intensity of a Belon," an effervescent and bready saison can stand up to strong flavors. Hays-Bailey suggests Garden Beer from Plan Bee Farm Brewery in Poughkeepsie, N.Y., made with coriander and Paradigm hops and aged in oak; or Extra Dry, a super dry, biscuity, sake-inspired beer from Stillwater, a nomadic beer project currently in Connecticut.
Sewall highlights other shellfish too, like local littlenecks steamed with Saison du Row, the restaurant's collaboration with Boston's Trillium Brewing. The beer offers a bright, hazy carbonation, lightly spiced notes of clove and lemon on the nose, and a delicate hop profile from woodsy Czech Saaz. The beer is soft, round, and freshening, attributes that carry through the cooking process to elevate the inherently sweet meat of clams and bring out their earthiness. "They do grow in mud after all," says Sewall. Bailey adds that Amory's Tomb Brewing Co. out of Maynard, Mass. offers a nice saison swap-in for the aforementioned steamed clams.
Though Hays-Bailey thinks there's a place for the robust roastiness of bock bier with seafood, often pouring Harmony Park—a collaboration between Schilling Beer Co. in Littleton, N.H., and Oxbow Brewing in Newcastle, Maine—she thinks it's often confined to fried oysters and clams, calling on the beechwood smoked malt and mesquite blossom honey to balance out the salt and fat of a good fry.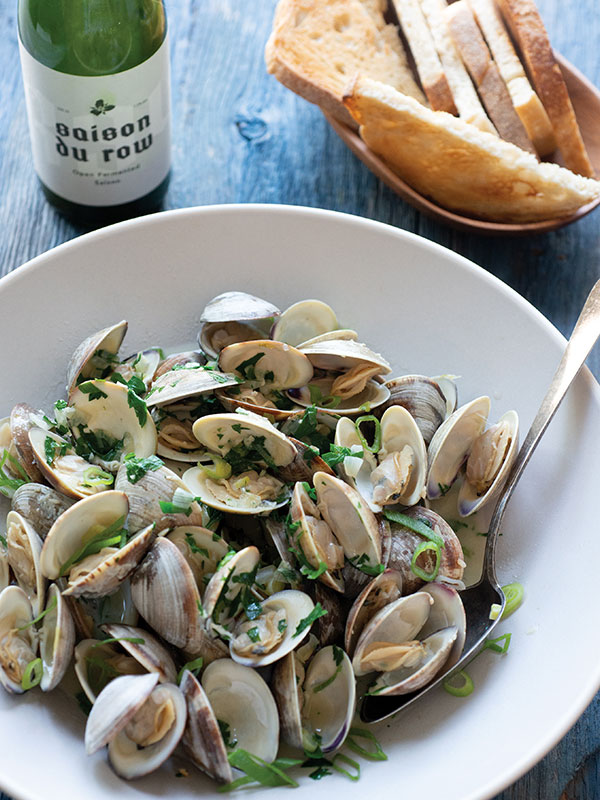 When it comes to beer battering, Sewall's go-to is Jack's Abby Post Shift Pilsner from Framingham, Mass.—a lower ABV beer with a light body and crisp, refreshing flavor, so the color won't get too dark when golden-fried. Sewall serves his fish with malt vinegar aioli to amp up the grain, and gravitates toward Lunch IPA from Freeport, Maine's Maine Beer Company, or Substance IPA from Portland, Maine's Bissell Brothers, to match the diverse and powerful flavors and textures of the dish (e.g., crispy fry, zingy vinegar, creamy fat), but also scrub the palate of any residual oil. They're also great with baked mollusks, like angels on horseback, or bacon-wrapped oysters. Alongside a small bowl of grain mustard aioli to contrast the salty, smoky pork, dipping sauce and beer have a similar effect. In contrast to Sewall's angels on horseback IPA choice, Hays-Bailey loves the Sap Haus smoked lager from Oxbow as well, which plays up sweet and smoky notes through the addition of maple syrup in the brewing process. "It's really food friendly and adds extra depth, plus it's a nice way to introduce smoked beers like Schlenkerla onto the menu," says Hays-Bailey.
Untraditional Pairings
In New York City, local sustainable fish may not seem as ubiquitous as it is in New England, but at Rosella, an American sushi bar in the East Village that opened in 2020, Chef Jeff Miller and managing partner TJ Provenzano consider the understated nature of fish when selecting a beer.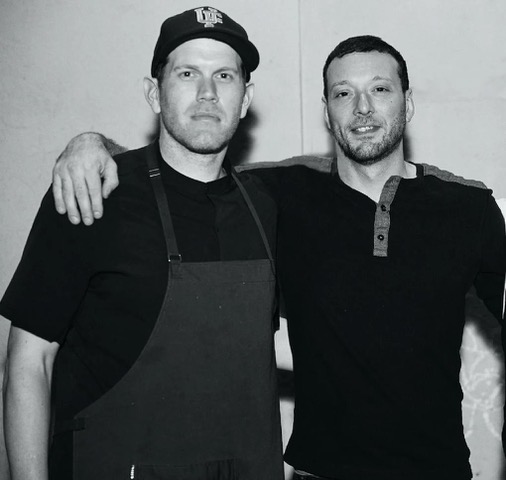 "We do love serving fatty cuts of sashimi with sours like those from Peekskill Brewery (in Peekskill, N.Y.). Those beers add fruit and acidity, and rely less on the nose," says Provenzano, who prefers not to go too heady or aromatic when it comes to pairing sushi and beer.
"I prefer pale ales, like Sierra Nevada Pale and SweetWater 420," says Miller. "They're versatile," he added, explaining that the raw flavor of fish, like fluke, is so subtle in sushi that "texture is probably more distinguishing feature," except for the iron-like qualities of bluefin tuna.  "We're trying not to overpower the fish," says Provenzano, who tends to avoid super hoppy and bitter beers, pointing toward Brooklyn's Coney Island Brewery's Mermaid Pilsner. "Whitefish, porgy, and tautog all have more minerality and are sweeter meat from their diet of shellfish," says Miller, who notes they're fattiest during the spring and summer and are best served raw then. "Flavor and texture combine with [elevated] fat content and end up lingering in your mouth longer," Miller notes. "Really fatty tuna can be hit with soy sauce (because it can stand up to strong flavors). Things like mackerel are oily, and are best cured with salt and vinegar, because in the sea of subtly flavored fish, mackerel really smacks you in the face otherwise."
Rosella's omakase menu starts light and bright: acidic and sweet at the beginning, then moving into smoky and spicy flavors, separated by comforting broths. Provenzano believes these crescendos allow room to be untraditional in his pairings. Rather than going from sparkling to white to rose to red, he can go with a gose for raw preparations, then add some carbonation, then something hoppier or even Belgian, which he likes to pair with their signature laksa, a brothy Malaysian-style curry made with chicken broth, shrimp paste, coconut, and lime that Miller learned during his time as an exchange student in Australia.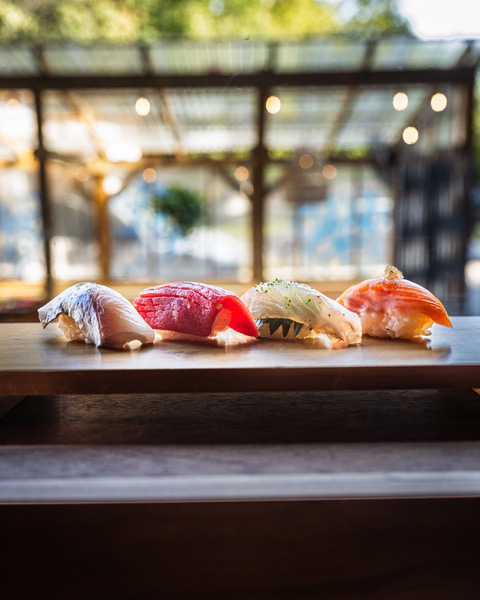 Then there's the quintessential list of sushi rolls. Arctic char and avocado riff on the omnipresent salmon roll. It utilizes their spicy homemade fermented Fresno chili paste as a piquant seasoning, and a single shiso leaf as an herbaceous cooling aid. A "Bagels-on-Hudson" roll is reminiscent of a Philadelphia roll, except with smoked steelhead trout, dill cream cheese, tamago (a sweet Japanese omelet), and cucumber. Provenzano pairs the latter with something super crisp to cut through the fatty creaminess, offering an Easy Blonde Ale from Alphabet City Brewing Company in New York City.
Provenzano touts Kings County Brewers Collective (Brooklyn, N.Y.) and its Polkageist Helles Lager, which he believes is multifaceted with sushi—it's a bit higher alcohol and can go across courses. Also in Brooklyn is Other Half and its Ivy City Lager, with a maltier flavor profile than most other selections, but Provenzano loves to pair it with their tempura soft shell crab roll. Provenzano also likes Mother's Milk from Keegan Ales in Kingston, N.Y. "It's a little more vegetal and savory—not at all coffee and chocolate—so it's more like having a nigori sake." 
All the Salt in the Sea 
Mike Lata's FIG restaurant in Charleston, S.C. has been serving southeastern Atlantic fish since 2003. Bistro classics like slow baked black bass and Lowcountry bourride (shrimp stew) paved the way for Lata to open The Ordinary, a Southern seafood brasserie that celebrates the "merroir" of the coast, in 2012. Local oysters like Sea Clouds, Caper Blades, and Steamboat Creeks are constants on the menu—their earthiness comes from South Carolina's characteristic pluff mud. "The salinity here sets us apart—it's near 2,900 parts," more than any other ocean, says Lata. The Ordinary shucks about 7,000 oysters a week, and they're often served alongside Westbrook Brewing's White Thai, a Belgian-style wheat beer with ginger and lemongrass brewed in Mt. Pleasant, S.C. The beer is a great accompaniment to FIG's fancy seafood tower in full, which also features similar Southeast Asian flavors in their Pickled Lil' Neck Clams: lemongrass, coconut, and lime.
Lata's seafood and beer approach is succinct and sustainable. "I don't see why I should spend one nickel out of our community," he preaches. Miss Paula and the Carolina Breeze come from the Wando Dock on Shem Creek, and their P&E (peel & eat) Tarvin shrimp are a stalwart. Instead of the classic "cocktail" preparation (poached, shocked, chilled), Lata gets these in fresh, pulls off the heads (which he uses for sauce), poaches them with the shells on, and then tosses them with a proprietary blend of spices. They're chilled and meant to be eaten with your fingers. "They taste like the ocean," says Lata, who says this dish screams for a nice cold beer.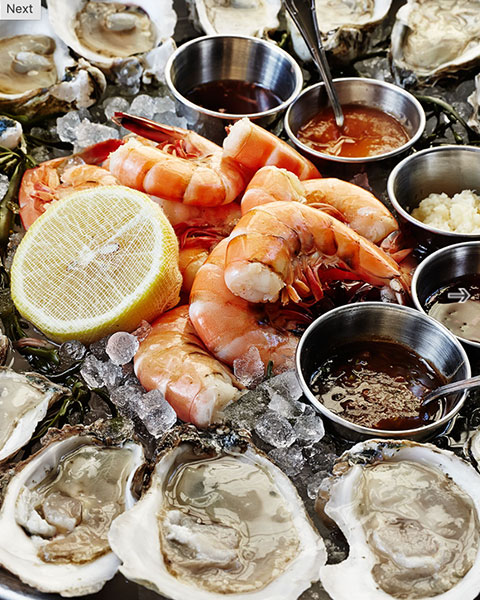 "With our seafood palate, and the way we cook, we try to focus on freshness," proclaims Lata. "Not a lot of cream and butter, but we do use it—it's impossible not to, as fish goes great with it."  For wine, Lata usually goes for high acid, so Edmund's Oast Sour Cranberry Lime from Charleston, S.C. is a superb companion.
Another local gem is crab. "There are only two places we can get crab in the country—North Carolina or Alabama—so we go local first, regional second, and no farther than domestic; we don't import any seafood," says Lata, echoing the mission statement that he built his reputation on. The crab's distinct and delicious, musty, super sweet, and firm meat, which Lata highlights in an okra gumbo and a lump crab rice with ginger sofrito, sunchokes, and a farm egg, goes great with the pronounced flavors of Coast Brewing Co.'s Hop Art IPA. Lata's best advice, though, is to "start with a dozen shucked oysters and a Pils, like one from Munkle Brewing Co., and go from there … so long as food and drink aren't really competing with each other."
The Ordinary's draught lines aren't specifically South Carolinian—sometimes a nostalgic beer like Genesee Cream Ale or Point Beer (Lata's business partner is from Wisconsin) are on the menu—but local beers complement Lata's concept and highlight the prolific microbrewery scene in town. Sometimes you'll even find Freehouse Brewery's oyster stout, More the Merroir, on the menu, providing hints of brine and enough richness to take on all the salt in the sea.
RECIPES
Angels on Horseback
By Jeremy Sewall, Row 34, Boston, MA
Makes 18 oysters
4-6 servings
9 slices bacon
18 medium to large oysters, shucked
¼ cup grain mustard aïoli, or your favorite mustard mixed with mayonnaise
Preheat the oven to 350°F.
Place the bacon slices flat on a baking sheet with about 1/2 inch between them. Bake until slightly crispy but still pliable enough to wrap around the oysters, 15 to 18 minutes. Remove the bacon from the oven and turn up the oven to 425°F.
Let the bacon cool slightly, then cut the slices in half crosswise. Wrap each shucked oyster with a bacon slice and secure by pushing a toothpick through the oyster. Place on a clean baking sheet.
Bake the wrapped oysters until bacon is crisp and oysters are warmed through, about 6 minutes. Serve with lemon wedges and aïoli on the side.
Saison-Steamed Littlenecks with Parsley Butter and Grilled Sourdough
By Jeremy Sewall, Row 34, Boston, MA 
Serves 4 as an appetizer
3 tablespoons canola oil
1 tablespoon minced shallot
1 teaspoon minced garlic
4 whole scallions, thinly sliced, white and green parts separated
40 littleneck clams, cleaned
1 cup Trillium Brewery's Saison Du Row, or your favorite saison
1 tablespoon freshly squeezed lemon juice
3 tablespoons parsley butter, or plain butter
Kosher salt and freshly ground black pepper
4 slices grilled or toasted sourdough bread
In a large pot with a tight-fitting lid, heat the canola oil over medium heat. Add the shallot, garlic, and white parts of the scallions and sauté until they begin to color lightly, 2 to 3 minutes. Add the clams and the beer, cover, and steam until the clams start to open, about 8 minutes.
As the clams open, use a slotted spoon to transfer them from the pot to a serving bowl. Repeat until all the clams are open and in the serving bowl, leaving most of the cooking liquid in the pot. Add the lemon juice and parsley butter to the liquid and whisk until the butter has melted. Taste the sauce—it should be salty. Season with salt and pepper as needed, then pour the sauce over the clams. Garnish with the scallion greens and serve sourdough on the side.
Beer-Battered Fish and Chips with Malt Vinegar Aïoli
By Jeremy Sewall, Row 34, Boston, MA
Serves 4 as an entrée
4 cups canola oil
2 cups Beer Batter (recipe below)
1 1/2 pounds pollock or other white fish, cut into 4 pieces
Kosher salt and freshly ground black pepper
1 lemon, cut into wedges
1 batch 242 Fries, or your favorite French fries
1 cup malt vinegar aïoli, or malt vinegar mixed in mayonnaise
Line a plate with paper towels. In a Dutch oven, heat the oil to 350°F.
Use a paper towel to thoroughly pat dry each piece of fish, then place the fish pieces in the batter, coating all sides well. Using tongs, carefully place a piece of fish in the frying oil by holding one corner of the piece until it's three-quarters submerged. Count to 10, then let the entire piece drop down into the oil. (This will prevent the fish from sticking to the bottom of the pan.) Repeat this process with each piece of fish. Fry for 2 minutes, then flip the fish over and fry for another 2 minutes. The fish should be golden brown on both sides; do this in batches if necessary.
Remove the fish from the frying oil and transfer to the prepared plate to drain. Season with salt and pepper. Serve with lemon wedges, fries, and aïoli for dipping.
For the beer batter:
Makes about 2 cups
3/4 cup unbleached all-purpose flour
1/4 cup rice flour
1 tablespoon kosher salt
1 teaspoon baking soda
1 teaspoon baking powder
6 ounces beer
3 ounces soda or sparkling water
In a large bowl, mix all of the dry ingredients. Whisk in the beer and soda water until smooth. Refrigerate until ready to use.
CraftBeer.com is fully dedicated to small and independent U.S. breweries. We are published by the Brewers Association, the not-for-profit trade group dedicated to promoting and protecting America's small and independent craft brewers. Stories and opinions shared on CraftBeer.com do not imply endorsement by or positions taken by the Brewers Association or its members.