Contrary to the beliefs of bacon, brisket, and gouda aficionados everywhere, there can be such a thing as too much smoke There's a temptation to up the ante with smoke—rauchbier with weisswurst (sausage), dense porter with baby back ribs—but many chefs are finding that the sweet spot for beer and smoked food is one of a reciprocal relationship, managing the level of smoke intake for a more pleasurable meal.
The truth is, not all smoke is the same. Chef Isaac Toups of Toups' Meatery in Mid-City, New Orleans, uses a large variety of woods for smoking various meats and the results demand different beers. Whether cooking in the ad hoc at-home smoker he built out of firebricks in his backyard—with grill grates and crawfish pot lids on top—or the restaurant's new custom-made smoker built by Riverside Meat Smokers from Linwood, Kansas, there's variety in intensity and intention when it comes to cooking with smoke.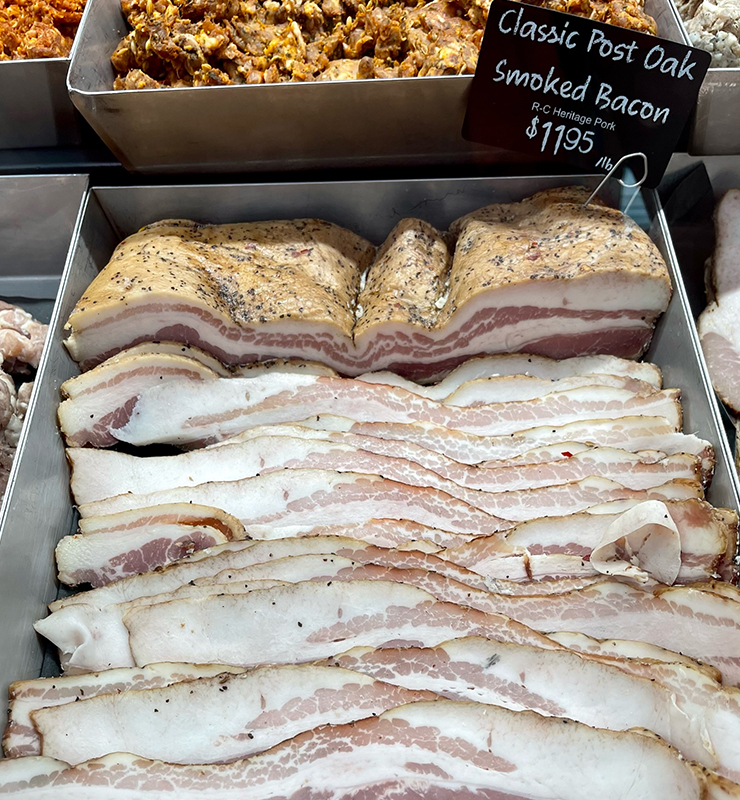 At Toups' Meatery, smoked elements are found throughout the menu. "I'm not a barbecue restaurant making brisket or pork butt," explains Toups, though all his house charcuterie is smoked: jalapeño cheddar sausage, capicola, and tasso (ham). His food is all about overtones— implying smoke without completely overwhelming the tastebuds, "like a bonfire you hang around, and your clothes allude to its aroma the next day: sweet, earthy, like an expensive cigar," conjures Toups.
Hot smoked duck is used in a fried rice bowl, topped with blistered shishitos, mushrooms, and pickled plum aioli. "Duck is more elegant and pairs well with Urban South's Rectify Coffee Porter," believes Toups, who also suggests Lazy Magnolia's Southern Pecan brown ale to contrast both fat and flavor, matching the sweetness of the meat, or Gnarly Barley's Imperial Korova Milk Porter, which Toups deems "delicious without being too perfumey."
Toups also practices cold smoking, a method that "gives food the flavor of smoke without cooking the ingredient, like we see in smoked salmon," which he utilizes for his cold-smoked quail perched atop corn maque choux. There are more subtleties when it comes to cold smoked fish, too. "Smoked trout goes great with a lighter refreshing Kölsch," Toups says. At the restaurant they'll pour Port Orleans Kennerbräu from the tap or Zony Mash's Among The Bugs hefeweizen. The combination works because of a lesser ratio of fat to smoke in fish versus poultry (see the Smoked Turkey Leg recipe), which Toups thinks needs something more.
While Toups loves the refinement of Old World beers, he has been into Gnarly Barley's Jucifer lately, a hazy IPA that uses Citra and Mosaic hops for big, juicy tropical notes, which he finds "so unique and delicious," but needs a smokier dish to stand up to, like tender beef back ribs served alongside cowboy red beans, root beer BBQ sauce, and slaw. On the more refreshing side, even Toups was surprised to find how well a lime cucumber gose from Urban South paired with his smoky bacon burger—its bright, slightly sour acidity can cut through all that smoke and fat.
Bringing the Smoke
Not all smoky food has to be fatty. In Michigan, an area of the country where micro-regional smoked sausages, jerky, and snack sticks can be found in most rest stops and supermarkets, Chef James Rigato of Mabel Gray Kitchen in Detroit's Hazel Park spent the summer smoking foods for a vegan menu, including tofu to make soft whipped spread and dark Michigan maple syrup as an accompaniment to cornbread.
Rigato jerry-rigged a method of bringing smoke into his dishes without actually having a smoker. He "sautés" soaking wet wood chips over his Southbend range until the water has evaporated and the pan is dry and "ripping hot," emitting a thick plume of smoke. He then transfers the pan to a rack in the oven, filling it with sweet, thick woodsmoke. He adds whatever food he's smoking to the oven, closes the door, and lets it absorb the full flavor of the wood.
Admittedly, his favorite thing to smoke is lamb neck. "We do a pastrami brine and spice, smoke it for 1.5 to two hours, sous vide it at 180° F for six to eight hours (to break down the thick, hard fat), and then hard sear it in a cast iron," explains Rigato. He serves this smoky set with sauerkraut, pickled mustard seeds, and spaetzle. He's also done a beer cheese sauce on the side, made with, and served alongside, a slightly sour saison. Be it tofu, maple, or lamb, much of what Rigato looks for in a pairing is mouthfeel.
Whether vegan or carnivore, the drink list relies heavily on clean, crisp lagers and saisons that Rigato equates to "sparkling water, great to have at any meal." It's a way of keeping the palate refreshed and wanting more, without too many competing flavors. He also gravitates toward sour beers from Jolly Pumpkin from Dexter, Mich. for the same reason. "They're like pét nat [wines], or Spanish-style ciders," using carbonation to soothe the smokiness. Rigato offers Calabaza Blanca as a great entry-level pairing for any dish on his menu.
The rest of the beer list professes Rigato's love for Urbanrest Brewing Company in nearby Ferndale, Mich. Next to Suarez Family Brewery in Hudson, N.Y., the lauded Hill Farmstead in Vermont, and Minneapolis, Minn.'s Fair State Brewing Cooperative's Scope Creep pale lager, "I think Urbanrest is making some of my favorite beers in the country, especially their Odle Pilsner and Kaiser Vienna-style lager," reveals Rigato, who tends to stay local but foremost cares about quality.
Where Barbecue is King
In Texas, where barbecue is king, beer runs a close second. Blake Robertson and Ryan Cade, co-founders of R-C Ranch in Houston, are looking to reimagine both markets in one fell swoop. "Our customers were used to drinking whatever light beer they had at the gas station," says Robertson.
The two have an Oyler commercial smoker in their butcher shop and pride themselves on their Wagyu cattle herd. While Cade is the rancher, Robertson's family started Karbach Brewery in the early 2010s (they sold it to Anheuser-Busch InBev in 2017). He knows firsthand that beer is synonymous with BBQ to Houstonians.
Roberston and Cade sell their Wagyu and smoked meats to many restaurants in Houston, including Georgia James Steak and Bludorn, but they also host beef and beer dinners at the ranch. The menu usually starts with a salad of sliced flank steak, progressing into street tacos with homemade tortillas made with Wagyu tallow, onto big meaty ribeyes with mushroom demi-glace. Each course builds with an intensity of richness through smoke and fat, while beer styles progress in expressiveness.
"We start with blondes and wheat, and move into hoppier styles," says Robertson, who extrapolates as to how clean malt profiles can be delicately hopped without sacrificing character, augmenting slight smokiness, while the bracing bitterness of an IPA may seem big, but serves a purpose in pairings: to prevent total smoke exhaustion.
---
SMOKED TURKEY LEGS
Chef Isaac Toups
Serves 4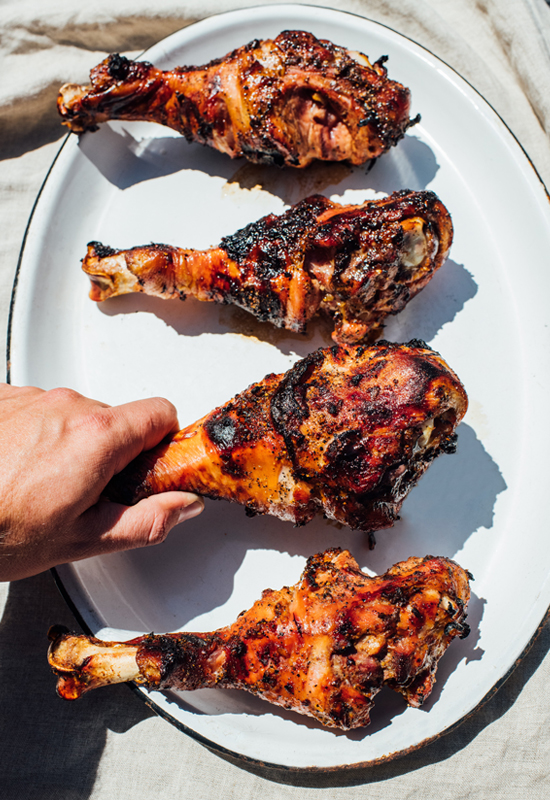 I don't love turkey, but I can get down with smoked turkey legs. They're the perfect outdoor barbecue food and practically beg to be brought to a tailgate. And there is no way to eat one without getting it all over your face and getting your hands dirty. Try it with a bunch of kids. It's fun to watch them try and take down something that's the size of their own legs.
INGREDIENTS
4 (1-pound) turkey legs (these
are the big boys)
25 cloves garlic, minced
6 tablespoons mustard powder
6 tablespoons smoked paprika
6 tablespoons ground black
pepper
3 tablespoons kosher salt
EQUIPMENT
DIRECTIONS
Preheat the smoker (or oven) to 250°F. You can make these in the oven if you need to, but the smoker is where it's at. Personally, if I didn't have a smoker, I wouldn't even bother.
Score the turkey legs: On the meatier side of each leg, make three slices into the flesh, about an inch apart, cutting all the way down to the bone. Cut two more slashes on the other side, staggering between the other slashes. (That is, do not cut a ring all the way around the bone.) This will expose more turkey meat to the spice rub.
In a small mixing bowl, combine the garlic, mustard, paprika, pepper, and salt. I like to mix it with my hand, really agitating it. Divide this mixture into 4 equal piles. Rub a pile into each turkey leg, making sure each leg is well covered and the spices get deep into the cuts and crevices.
Place the seasoned turkey legs in the smoker (or oven) and smoke (or bake) for 2 hours, or until the internal temperature is 155°F. Let cool for about 5 minutes. Eat like the barbarian you are.
CraftBeer.com is fully dedicated to small and independent U.S. breweries. We are published by the Brewers Association, the not-for-profit trade group dedicated to promoting and protecting America's small and independent craft brewers. Stories and opinions shared on CraftBeer.com do not imply endorsement by or positions taken by the Brewers Association or its members.