American Craft Beers Find Their Way into Japanese and Korean Restaurants
For so long American craft beers have been left out of Japanese and Korean restaurants—because they seemed to clash with, or overshadow the food's character (too hoppy, too sour, too spicy). But by sticking to dependable pairing ideologies—big flavored or high alcohol beers with salty, fatty foods and more balanced, lower ABV beers with high acid, spicy ones—and expanding on others, such as matching sour with sour, chefs and beverage managers are now finding smart ways that these cuisines and beer pairings can coexist (and maybe even improve one another).
Korean cooking is permeated with the unmistakable likes of kimchi (lacto-fermented vegetables) and gochujang (a fermented bean paste with red chile pepper) as culinary building blocks for tanginess and spiciness. In Japanese kitchens, rice vinegar is a backbone to many marinades, dipping sauces, but isn't as detectable an acid as one would expect. Spice doesn't play a big role in Japanese cuisine though there is chile: shichimi togarashi, a 7-spice chile flake seasoning, used more as an on-the-table condiment than prominence, not unsimilar to yuzu kosho, chiles fermented with salt, yuzu zest and juice. While impactful, they tread lightly in Japanese recipes—a more nuanced approach to Korean's palpable palate.
Rachel Yang, chef/owner of Joule, a Korean steakhouse in Seattle, WA. Admittedly, Yang didn't think too much about how drinks work with food until owning a restaurant. "Koreans have their own name for chicken and beer: chimac. Chi means chicken, and mac is the first few letters of beer in Korean; beer is called macju, which literally means barley drink." "It's a cultural phenomena, immensely popular amongst young people," says Yang, who had a restaurant in Portland called Revelry, which closed last year—it served spicy Korean fried chicken. The chicken and beer (usually a pale lager) combo was by far the most popular item on our menu.
When it comes to spice, one of the best-selling items at Joule is tteokbokki, Yang's take on a staple Korean dish of chewy cylindrical rice cakes that are tossed in gochujang as part of a stir fry. To this, she adds garlicky chorizo, and fermented mustard greens, describing it as "a 4 out of 5" on the heat scale, but with some acidity. " Beer would be better than wine with this one," Yang says, pointing to the effervescence as a means of sort of "mentally" washing away the heat. "Physically, high alcohol accentuates spice, that's why wine wouldn't help."
In Korea, lagers are #1—a clean crisp choice for all the big and bright flavors in Korean food. Yang was first approached by Fremont Brewing, a neighbor to the restaurant, to help them pair their hard-to-find dark beers and aged-reserve stock. She had to do a lot of tasting to figure out what kind of foods would go well with them. The answer: big flavors, like juicy pork dumpling (fat), kimchi (acid), szechuan peppers (heat).
At Joule, Yang has come to understand that no matter what her guests are ordering from the menu, they really just want to drink west coast IPAs, which aren't always the most food friendly. She advocates for beers where the hop character isn't overly assertive, as with hazy or session IPAs. "We're not a bar, so all our drinks have to be enjoyable to supplement our menu." Yang prefers the unfiltered mouthfeel of a hazy IPA and its smooth finish.
As a chef, the food's flavor profiles come first. "We talk a lot about acid here, bright citrusy vinegary flavors," says Yang. A cool cucumber salad, or even heirloom tomatoes will raise your taste buds, and a big, hoppy beer can make that unenjoyable, a battle between two opposing flavors. "Goses, saisons, sour beers are all extremely food friendly because acid works well with acid," she says.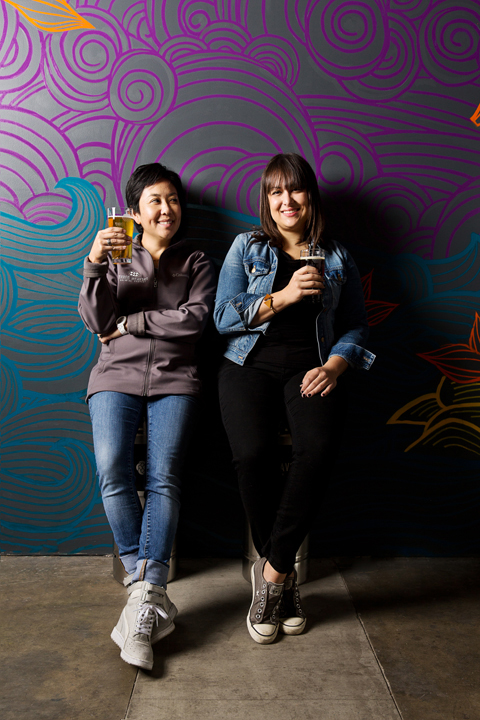 But often, in her cooking, dishes aren't just high acid or just spicy, but will be a combination of the two."Our kimchijeon (spicy and sour kimchi cheese pancake) is very spicy, but the lactic acid in the kimchi is sour. With two big flavors, you really need a bigger beer," says Yang, suggesting more malt or higher alcohol.
Alexandra Nowell, brewmaster and director of brewing operations of Three Weavers in Inglewood, CA. As a resident diner of Los Angeles County, home to the highest Korean population in the country and highest number of Japanese residents among cities outside of Japan, Nowell has eaten her fair share of both cuisines, plus her business partner (Lynne Weaver, who's family is from Fukuoka) is Japanese. Nowell believes their IPAs have a place at the table in both these cuisines—made for easy drinking, but also these kinds of cuisines in mind. "Our Expatriate IPA isn't overly bitter, it lends well to fermented food and fatty meats. Hopped with El Dorado and Mosaic, you'll get a hit of bright grapefruit, bag of weed, and Christmas trees, ending with a candied lemon tropical note from the Simcoe," states Nowell. They're very balanced for west coast IPAs, they don't finish with astringency or bitterness,
"We brewed a beer for the (now shuttered) Japanese restaurant MTN, an offshoot of Gjelina. We made a rice lager with a light hopping of Citra, which gave it a mango-like character. Super flavorful, but it was restrained enough in structure, that it also complimented everything else they had on the menu from sashimi to ramen to funky fermented pickled stuff."
Nowell says it's beer's low pH, that really works well with the subtleties of Japanese cuisine. ""Anything with a phenolic yeast bite, anything floral, mild citrus, works well with Japanese food," she says.Three Weavers makes an IPA with Japanese yuzu and Buddha's hand citrus, but Norwell thinks even that may be too citrus-forward.
In Brooklyn, where citrus isn't as local, husband-and-wife team Aaron Israel and Sawako Okochi of the Japanese-Jewish restaurant Shalom Japan, riff on many classics from Hiroshima, where Okochi grew up. That region is known for both its okonomiyaki, savory, cabbage-filled pancakes piled with many sweet and savory toppings, and ramen, like tsukemen, a dipping-style. There's also oysters, big ones, that are usually grilled, and served with local lemons—relying on layers of umami throughout the menu. Umami is made of glutamic acid, and needs a balanced beer that will fortify flavors rather than be a force of its own. Their mainstay beer: Rockaway ESB.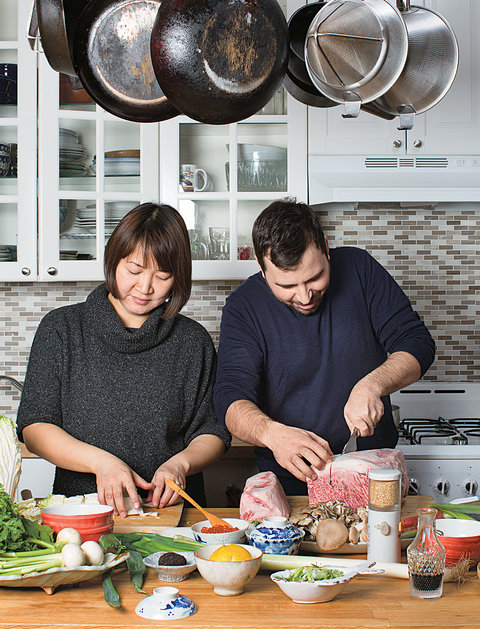 "I try not to drink that much beer when I eat ramen, I get so full," says Okochi, "but ramen has such fattiness, it needs another note". Randolph Beer in Brooklyn approached the couple about making a specialty beer for these flavor bombs. And thus, Ume-Gose-Shi was born. "It's a bit sour, and that acid through the fat well." Originally meant to pair with their house-smoked wagyu pastrami sando (served on shokupan, Japanese milk bread, with Gulden's mustard and dill pickle), it wasn't a super sour gose, a little more balanced and hoppy than a full sour. "With undernotes of plum, the ume isn't really acidic, it's more basic, but feels the same on your tongue," mentions Israel, but admittedly leaves the beverage pairings to Robert Sniffen, the beverage manager at Shalom Japan.
ESB, Extra Special Bitter, is an often-neglected style in the States, and funny enough, isn't usually as bitter as an IPA—most run at about 50 IBUs. Around 5% ABV, with some malt character, a little richness, and of course, slight bitterness, the beer doesn't take over the food. Sniffen likes pairing the Rockaway with their fall-off-the-bone Teriyaki Duck Wings, which have a bit of sweetness in the sauce; the ESB cuts through that nicely. "A little bit spicy from sriracha, the teriyaki sauce is basically a caramel, shocked with soy sauce and mirin, blended with garlic confit, and hot sauce for heat and acidity," mentions Israel. With a lot of gently-hopped pairing options in the New York State region, Sniffen is looking forward to welcoming Grimm Ales, Threes Brewing, Captain Lawrence, and more beers from the Hudson Valley.
They also serve a very beer-friendly roasted oyster appetizer, topped with miso butter that starts you off with salt, fat and umami in a single slurp. Follow that up with a few sips, and you'll see how you won't miss mignonette—the acid's already there (in the beer).
RECIPES
Kimchijeon (Spicy and Sour Kimchi Cheese Pancake)
By Rachel Yang, Joule, Seattle, WA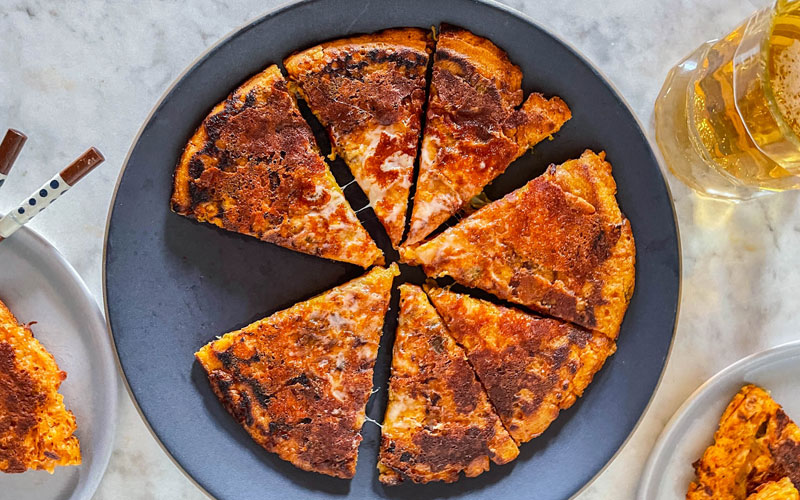 Tangy kimchi, spicy gochujang, melty cheese—a trifecta of tastes cohere into a spectacular singular savory pancake.
Makes two 9-inch pancakes
Active time 15 min
Total time 15 min
Ingredients
1 cup all-purpose flour
2 tablespoons cornstarch
1 tablespoon garlic powder
1 tablespoon onion powder
1 tablespoon cayenne powder
1 teaspoon salt
1 teaspoon baking powder
1 egg
¾ cup water
2 tablespoons gochujang (Korean chili paste)
1 cup kimchi, chopped
¼ cup mozzarella cheese
¼ cup cheddar cheese
2 tablespoons canola oil
Directions
In a large mixing bowl, whisk together flour, cornstarch, garlic powder, onion powder, cayenne powder, salt, and baking powder.
Add egg, water and gochujang to the dry mixture. Mix well with a whisk.
Add kimchi and mix well.
Heat 1 tablespoon of the canola oil in a 9-inch non stick pan over medium heat.
Pour half of the batter into the pan and spread well, turning the pan to coat the bottom.
Sprinkle half of the mozzarella and half of the cheddar cheese evenly over the batter.
Once the bottom has crisped up and browned (2 to 4 minutes), flip and cook the other side the same way.
Repeat with remaining batter.
Serve the pancakes hot, on their own, or with a soy-based dipping sauce.
Teriyaki Sauce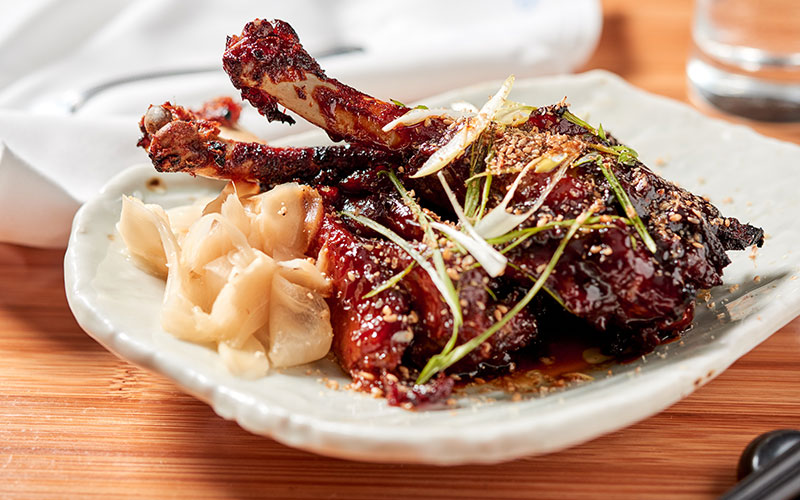 By Aaron Israel and Sawako Okochi of Shalom Japan, Brooklyn, NY
Teriyaki is a very stable sauce—a quart will last in the fridge for months.
Yields 1 pint
Ingredients
¾ cup peeled garlic cloves
Canola oil
½ cup mirin
¼ cup soy sauce
One 1-inch knob of ginger, cut into ¼ inch slices
1 cup and 2 tablespoons (250 grams) sugar
1 tablespoon and 2 teaspoons (25 grams) sriracha
Candy thermometer, optional
Heat proof or wooden spatula
Directions
To a small pot, add the garlic with enough canola oil to cover. Over low heat, bring to a very gentle simmer. Cook for 10-15 minutes, until the garlic cloves are soft enough that they can be easily smashed with a fork. Remove from heat and strain off the oil. (You won't need it any further in this recipe, but it's wonderful to have on hand for other uses, like for fish or tofu. Just let it cool, and store in an airtight container in the refrigerator for up to a month).
Put the garlic cloves in a blender and buzz on high speed until you have a smooth paste. Remove from the blender and set aside.
To a small pot, add the mirin, soy sauce and ginger, and bring to a boil over high heat. Once it boils, turn down to low, and simmer for 2-3 minutes. Turn off heat and let the ginger steep in the liquid for 10 minutes; then remove the ginger and discard.
To a medium sized pot (4 quarts would be ideal, but not smaller), add the sugar. Add a tablespoon of water and mix thoroughly until the sugar has the consistency of wet sand. If you have a candy thermometer, clip it to the rim of the pot and set in the sugar. Turn the heat to medium high—do not disturb the sugar. Once it starts to melt, and you see it starting to caramelize, about 3-5 minutes, give it a couple to few stirs using a heat proof spatula or wooden spoon. Let the sugar continue to caramelize, stirring infrequently, only once or twice every few minutes. If you stir it too much, you risk having it crystalize. Once the caramel reaches 350F, about 8-12 minutes—it should have a uniform, deep amber color, and just barely start to smoke, with a deep caramel aroma.
Turn off the heat, and immediately, and incredibly carefully, pour the mirin/soy liquid, very slowly into the caramel. This is the most dangerous thing you will do in a kitchen, with the molten caramel having the capacity to sputter and jump out of the pot. This is why you want an amply large pot. Do not take your eyes off the bubbling caramel and don't allow any pets or small kids near the stove during this procedure. The caramel and mirin soy will bubble violently when they meet each other, but should settle down within 15 to 30 seconds. Let the hot caramel cool for twenty to thirty minutes in the pot.
Once the caramel has cooled slightly, whisk in the garlic confit and sriracha. Transfer to a heat proof container and store in the refrigerator, for up to two months, until you are ready to use it.
Roasted Oysters with Miso Butter
By Aaron Israel and Sawako Okochi of Shalom Japan, Brooklyn, NY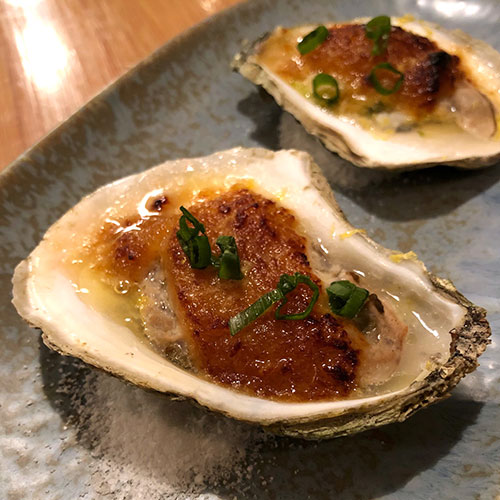 Panko breadcrumbs are added into this simple compound butter so when it melts on top of the oyster it doesn't melt all over the place—it's more like a crust. Use awase miso for middle of the road umami, and an oyster that's not too salty.
Serves 4
Ingredients
1 stick (¼ pound) butter, at room temperature
2½ tablespoons awase miso
1/3 cup panko breadcrumbs
Aluminum foil
Shucking knife
12 large oysters (preferably ones with a nice deep cup)
1 lemon
Directions
In a medium bowl, combine the butter and miso and mix thoroughly. You can use a stand mixer with a paddle attachment for this step. Once mixed, fold in the panko breadcrumbs. Put in a non-reactive container and set aside.
Preheat the oven to 475F.
Set some crumpled aluminum foil on a baking tray. Shuck the oysters, and set them on the foil, so they don't tip over. Spread about a teaspoon of butter in a nice even layer on top of the oysters. Bake in the oven for 6-8 minutes, until the miso butter is golden brown and the breadcrumbs are toasted. Alternatively, you can broil the oysters for 3-4 minutes, just take care not to burn the breadcrumbs.
Remove the oysters from the oven, and grate some lemon zest on top of each one. Cut the lemon in half and squeeze a little juice onto each one as well. Serve immediately.
CraftBeer.com is fully dedicated to small and independent U.S. breweries. We are published by the Brewers Association, the not-for-profit trade group dedicated to promoting and protecting America's small and independent craft brewers. Stories and opinions shared on CraftBeer.com do not imply endorsement by or positions taken by the Brewers Association or its members.