Jerry Franck, an Academy Award-nominated documentary filmmaker from Luxembourg, grew up near the country's border with Belgium, but only rarely visited. Decades later, Belgium became the backdrop for one of his most ambitious projects: investigating the evolution of the centuries-old lambic brewing tradition.
At the start of the 20th century, there were more than 70 brewers of lambic ale in the city of Brussels, but by the1960s, only five or six remained. Bottle Conditioned, which contemporaneously premiered at the Sonoma International Film Festival (SIFF) in California and DOCVILLE International Documentary Film Festival in Belgium in March, and played at the American Documentary Film Festival in April, is an aggregation of four years of footage, analogous to the brewing and blending culture of lambics.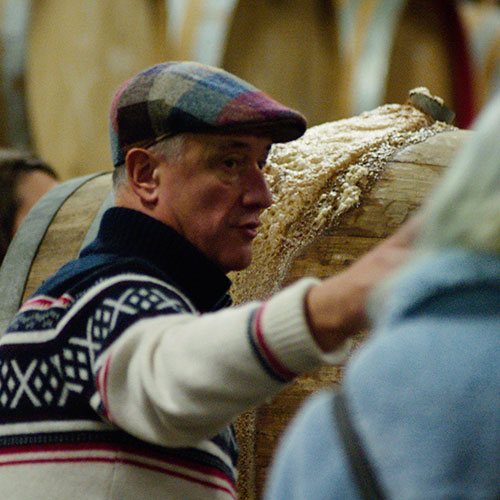 The process of making a lambic-style beer is time-consuming. First, the beer is spontaneously fermented with wild (as opposed to added) yeasts in an open-top fermenter. It's then barrel-aged, and after a year (or two or three), blended into several distinct styles of beers derived from the lambic base. For example, gueuze is a blend of one-year-old, aka young, and two- to three-year-old lambics, whereas kriek (sour cherry) and framboise (raspberry) are lambics with added fruit and/or juice. Lambic is only made during the coolest months of the year, and these base beers are transported to a coolship (a large, open-topped rectangular tank) that acts as the initial fermentation vessel. There, wild yeasts, time, temperature, and the laws of nature take over, creating a uniquely "sour" beer.
Franck and his crew followed a few notable lambic breweries (Cantillon, 3 Fonteinen, and Bokke) and their brewmasters in an effort to not only elevate the art, but to help sustain what many see as an anachronistic approach to beer making. When Franck first investigated this project, he frankly thought that most Belgians didn't really care about lambics anymore—it was the foreigners, or beer tourists, who rediscovered it. In fact, Franck first learned about the lore of lambic while drinking craft beer in the U.S. after moving there in his 20s.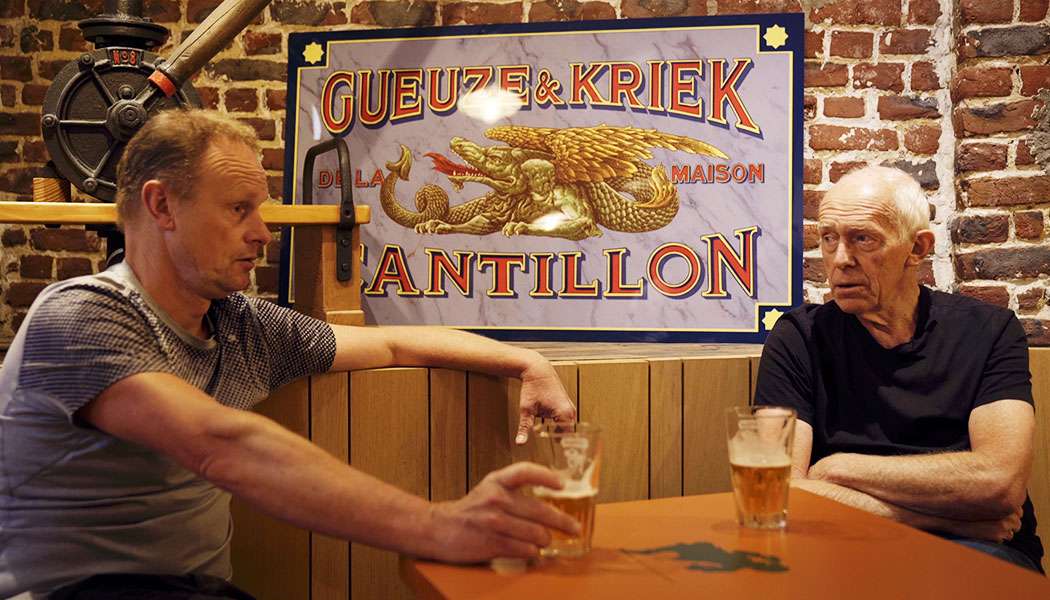 Franck confesses that the film was "such a hard medium to carve a story—from inception to finish it took roughly four years to make." Unlike narrative-driven features, where you write a script and shoot exactly what you need, Franck relied on the editing process to dictate the flow of the film. Or as Jean-Pierre Van Roy from the iconic Cantillon Brewery says in the film, "It's the lambic that tells the brewer what to do—all other breweries lead the beer."
Van Roy, the fourth-generation brewer at Cantillon, describes lambic production as a victim of industrialization. After World War II, everything changed—Coca Cola came to Europe and there were new "standardizations of taste," says Franck. In response, many lambic brewers added saccharin or artificial sweeteners as customers complained that the beers were too sour. Van Roy quips in the film that "different generations wrestle with tradition and the increased demand for their rare beers," but we're now starting to see lambic-style experiments farther afield. Raf Souvereyns, brewmaster at the bohemian Bokke, boasts an outlandish barrel-aging program using a multitude of different woods, but even with his oversized character and the renegade additions of non-native Brazilian passion fruit, his beers stay true to the core of what Belgian lambic really is.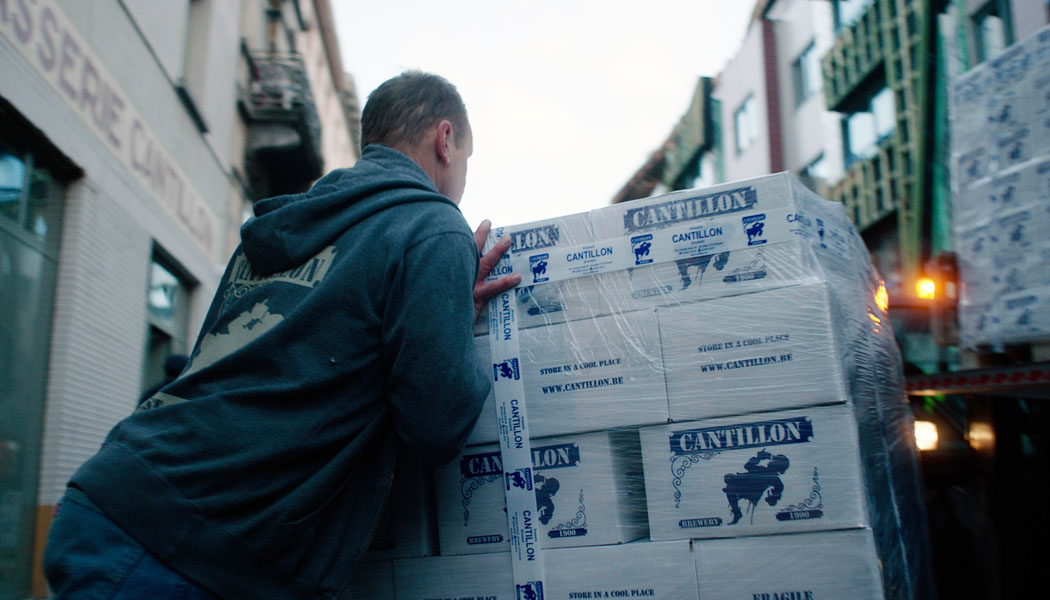 The film reveals scores of large format glass bottles in vignettes: champagne corks being popped and aged gueuze ceremoniously poured out of wicker caddies to avoid any sediment in the glass. There's a scene with Souvereyns at Ebenezer's Pub in Lovell, Maine, in which he delivers a soliloquy about the importance of drinking the past to inform the future. Franck was struck by the moment, one that "merges the world of beer and wine visually." Once the Shelton Brothers began importing lambics to the States, people started caring about authenticity and provenance, parallel to that of the wine world. An online market emerged for vintage lambic beers—bottles that were two, three, or five euros at the brewery when "fresh" were now going for hundreds of dollars on the open market.
As the demand for Belgian lambics increased among beer aficionados, a few breweries in the United States began paying homage to this style, including Russian River, The Lost Abbey, de Garde Brewing, Side Project Brewing, and Casey Brewing. Allagash Brewing in Portland, Maine was an early adopter of using indigenous yeast for its Belgian-style beers. "Rob Todd founded this brewery with Allagash White as the flagship," says Jason Perkins, brewmaster & VP of brewing operations who has worked at the brewery since 1999. "Second came the Dubbel, third was the Tripel. We have a wide range now, but to some degree, all inspiration is from Belgian brewing traditions."
In 2007, Perkins says the brewers at Allagash asked themselves, "Can we mimic the process, with similar ingredients, in a very different part of the world, with (our own) natural microflora, to make lambic?" Despite the geographic gap, Perkins argues that there are more similarities than differences when it comes to Belgian and domestic lambics. It's more about respect to process than it is location.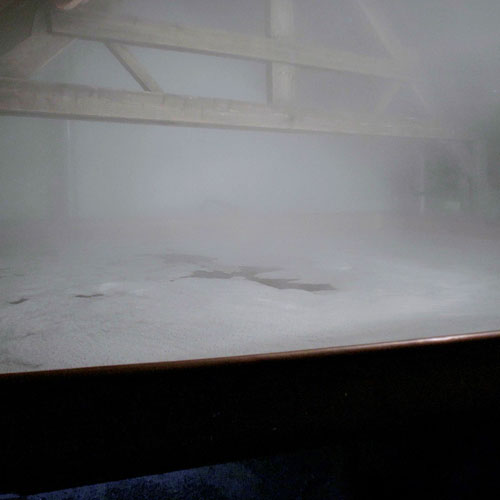 Resurgam, Allagash's only year-round Coolship beer (the rest are seasonal), is built on Pilsner malt, raw wheat, and hops. Aged in French oak, it's a blend of one-, two- and three-year-old spontaneously fermented beer, bottled and corked in a 375ml champagne split. With aromas of apricot, lemon zest, and candied fruit, its tropical notes and finessed funk lead to a clean, tart, and dry finish. Allagash's Cerise is similar to a kriek, and its Red resembles a framboise. These domestic lambics fetch a pretty high dollar, predominantly sold at specialty beer stores. Says Perkins, "If you think about the average beer taking 14 days to three weeks [to make], it's an astronomical difference of time, storage, and effort," not to mention expense. Volume-wise, these beers make up less than 1 percent of Allagash's overall production—more of a curiosity than a focus. But the brewery is satisfied with slow and steady sales; these beers are meant as an opportunity to educate, as well as a nod to tradition.
Lambics make up an equally miniscule portion of the production at Firestone Walker in central California, but for brewmaster Matt Brynildson, it's a passion project. Whereas the brewery's Barrelworks series doesn't fully fit its reputation as a West Coast-style IPA magnate, it aligns with Brynildson's personal interests. When the Belgian beer company Duvel bought majority share ownership of Firestone Walker in 2015, Brynildson took this as a sign that he should be spending more time in Belgium. And in 2019, after taking a sabbatical there, he bought a place in Antwerp so that he'd be able to split his time between the States and the Belgian brewing scene.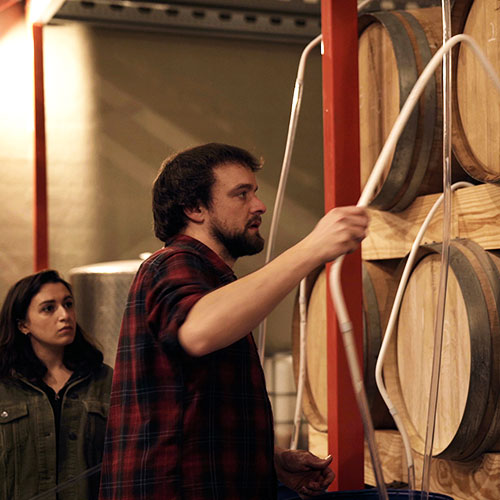 Firestone's lambic production begins in a barn nestled in one of its 40-acre vineyards. Receiving only 10 barrels of wort per brew, the project plays off the romantic notion that lambic is made in nature, when in truth, Brynildson reminds us that, "Cantillon's right in the middle of Brussels, and it still works." Over time, Brynildson developed a Barrelworks house culture that became its signature flavor profile. "We were trying to carve out our own little niche; we wanted there to be some indigenous wild yeasts that would integrate into this program." He purposefully uses local wine barrels and grapes for fruited sours, honoring lambic's regionality.
In keeping with tradition, Brynildson leaves fermentation to the whims of indigenous yeast, but he pushes the funk even further, inoculating wort—the initial liquid extracted from the mashing process—with bacteria such as pediococcus and/or lactobacillus. Firestone's Ferus, their first gueuze-like blend, won a few awards against Belgian beers in Belgium, giving them some confidence in blending. But on a microbiological level, Brynildson thinks American wild beer producers are focusing too heavily on lacto as a driver for acid production. Brett and pedio are much lower in acid, and evolve less heavily, which Brynildson associates with his German beer instructors who brewed under the rules of the Reinheitsgebot; they were only allowed to adjust pH through naturally occurring acids. Brynildson focuses on a balance point that relies on these beers' acidity not being too aggressive, "like an IPA with 100 IBUs." There's also a school of thought about pre-acidifying the wort before it enters the coolship, which Brynildson suggests "wards off certain histamine-producing bacteria," but also tames the wild beast, or yeast as it were. Whether foreign or national, there's something special about the spontaneity of these beers.
CraftBeer.com is fully dedicated to small and independent U.S. breweries. We are published by the Brewers Association, the not-for-profit trade group dedicated to promoting and protecting America's small and independent craft brewers. Stories and opinions shared on CraftBeer.com do not imply endorsement by or positions taken by the Brewers Association or its members.