Tis' the season for some craft-beer delight and gathering 'round a table full of holiday cheer as celebrations begin with family and friends from far and near.
Ooof. OK. Let's pause here for a minute on the Hallmark movies, whole nut displays no one ever eats, and fruit cake. Let's talk beer. And let's make your holiday season — wait for it — legendary.
Now, we are not talking getting lost in staring at the label to avoid conversations, lecturing your uncle and cousins on IPA (they don't care), or adding six different beers to your cranberry sauce recipe (don't) type things. We are talking flavor, stories, experiences, memories, and some damn good pairings you may never have thought of.
So, grab your stein all frothed at the top, settle into your chair while sugar-plum sours and gingerbread ales dance through the air and spruce tip beers crackle by the fire. Suit up (put on a sweater) and read on for winter-warmer cheer.
Let's be honest with each other. Very few of us deviate from the damn good (or not) holiday recipes, friends, and family traditions we already have. Yes, there is a small percentage of folks who try new recipes and move it around year to year. Good on ya and add some of these to your rotation. For the rest of us out there, let's find some new flavors by switching up what we drink with what we eat.
The below styles, some familiar, some maybe not as much, can be used in so many ways with so many winter and holiday recipes to bring out new flavors, aromas, tastes, and "aha" moments.
American IPA
Berliner weisse
Porter
Barrel-aged stout
Tripel
Dubbel/brown
Wild or sour ale
Smoked beer (rauchbier)
Bière de garde
American IPA

OK. Here we go. Let's get this out of the way now: Do not give this to your friend, aunt, or second cousin who is new to beer. Read on for the styles for that. This is for those who want to bring some life to your palate in a new way. Stay clear here. Hazy IPA can work but it is heavier on the palate and you have some heavy food. So, what does the IPA do? Use the hops to add some herbal and citrus notes to anything you roast. Want to brighten those green vegetables? Take a sip after a bite and you'll ask why they changed the recipe. They didn't, you just added some citrus to it. Got some heavy gravy mouth going on? Use the carbonation to scrub the palate and push the hops into a burst of aroma that refreshes you and lets you keep going.
Pairing short list: Any green vegetable cooked any way; gravy or heavy sauces; roasted meats.
Go out there: Try an IPA at holiday brunch dates with your favorite brunch item, from biscuits and gravy to French toast.
Berliner weisse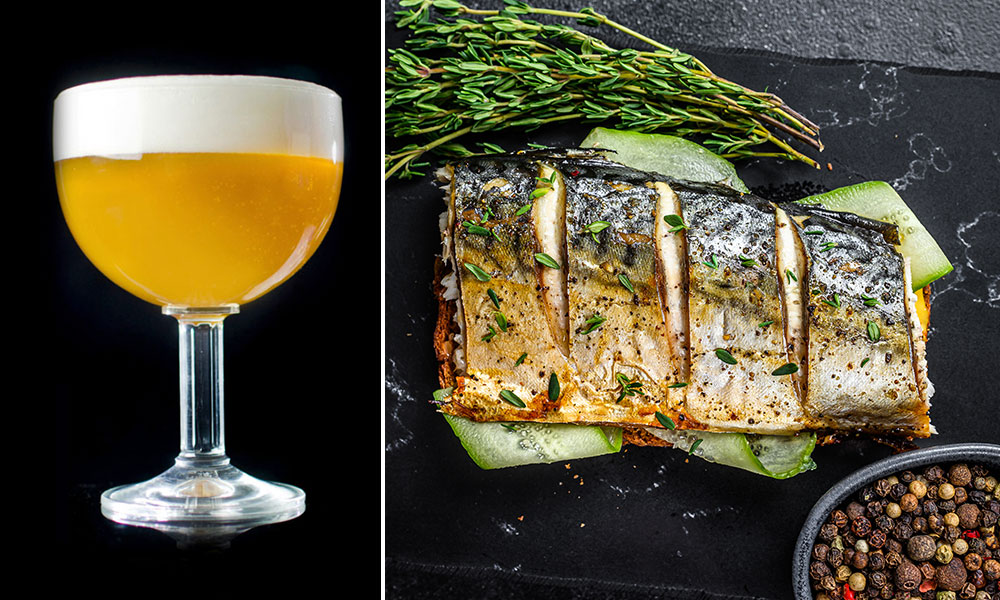 Someone says Champagne. You bring Berliner weisse. It's light and bright, and it'll wake you up and cleanse the palate. Someone says fruit salad. While you want to say no, bring a Berliner weisse. Use the low alcohol here to ease your way into dinner, cleanse the palate, and prepare to overeat.
During dinner, use the gentle tart notes to keep you going, to add some brightness to fruit or fruit sauce or cake, and believe it or not, to moisten up any over-cooked turkey, chicken, pork, or fish (yeah, you're great at cooking but it happens).
This beer will bring anyone to the table and keep them there. Use it to start off and go or if you hit the slow middle think of this style as your digestif. A little bubbly, a little tart, refreshing, and palate cleansing and you are back in the game.
Pairing short list: Grilled fish, any winter fruit, and angel food cake.
Go out there: Ordering Chinese food at some point? Crack one open here and let the texture cool the heat of the Sichuan peppercorns.
Porter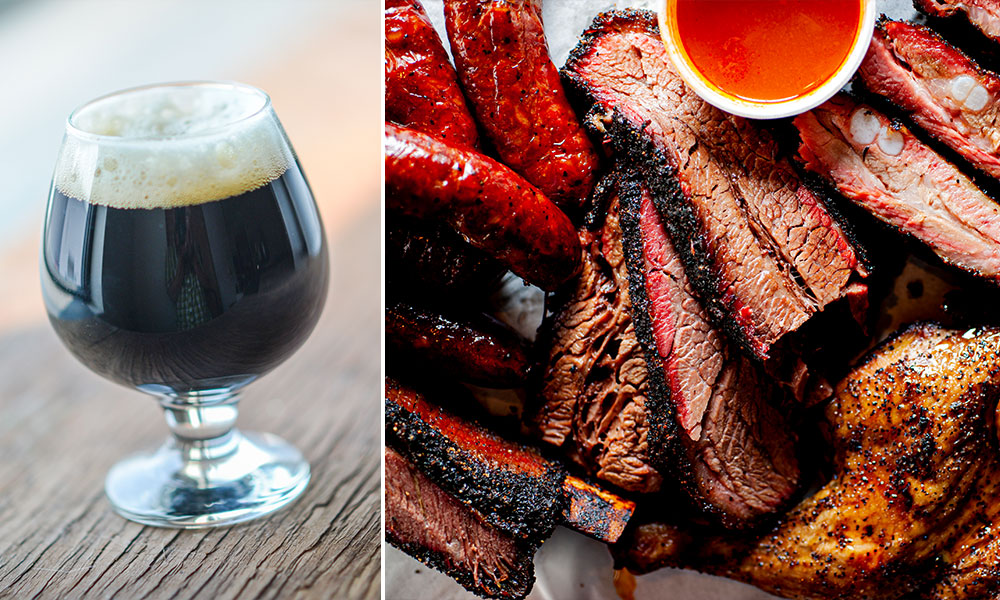 Let's change this up this year. For the traditionalists out there, this is your go to for sweet potato, pecan pie, pumpkin pie, and those crispy onions on top of a green vegetable (you know who you are). So let's play off the fact that these are usually lower alcohol (think 5-7% ABV max), have some great roasty and toasty notes and a good amount of carbonation to do some serious palate cleansing.
So, this year try the porter with the lighter dishes and see how it brings out a touch of earthiness. Try it with the turkey (especially the skin) — the roasted malt will add a new level of richness. If you're one of those people who grill your turkey (first off: high five) second, oh yes, to the porter here. A little smoke flavor on the turkey and a porter and all your red-wine-loving friends and family will come over the dark side (and by dark we mean porter).
Pairing short list: Roasted meats, grilled vegetables, root vegetables, beets, and salads.
Go out there: Anyone else love peanut butter blossoms? Give the gift of porter with your holiday cookie share this year.
Barrel-aged stout
Big bottles, holidays … It. Is. On.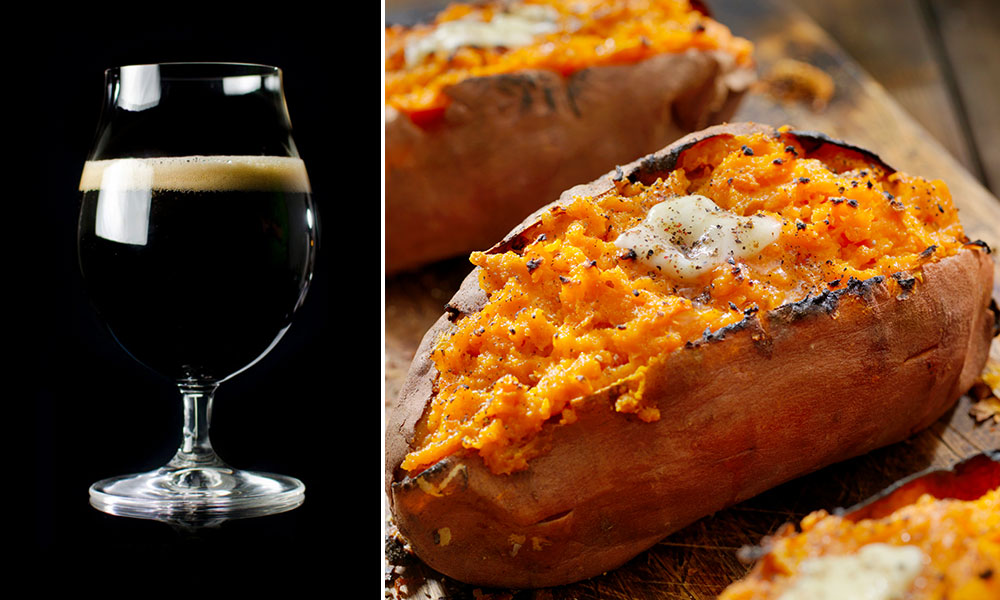 OK, what to do here: Most times, this easily floats to the end. Loosen the pants, serve the dessert, pour the snifter. Here's the thing, though: these are usually big. Now, yeah, we get it. Fireplace, big beers, barrel aged, fall-asleep-type things. So, let's bring this forward a bit and put it at the table. Barrel-aged beer and raw or cooked root vegetables? Oh yeah. Let those rich flavors combine with the earthiness and slight sweetness of the vegetables. Roast rack of lamb, standing rib rack (baller), grilled pork, smoked salmon, say you? Barrel-aged stout, say us.
Any big cabernet fans out there? Try this with that and let that barrel-aged flavor run right in there with the meat and you'll think you cooked your dinner in a barrel (don't actually do that; bad idea). In all seriousness, bring your big beers out early, warm them up to room temperature, and serve with the main event. Treat it like a big red wine and you are sure to discover some new notes in the beer and the food. One of the best things about pairing a big beer like this style early on is that you'll discover so much more than barrel-aged flavors and dark malt.
Pairing short list: Rack of lamb, parsnips, celery root, sweet potatoes.
Go out there: Having steak tartare this year? Do it. It's a cool pairing reaction.
Tripel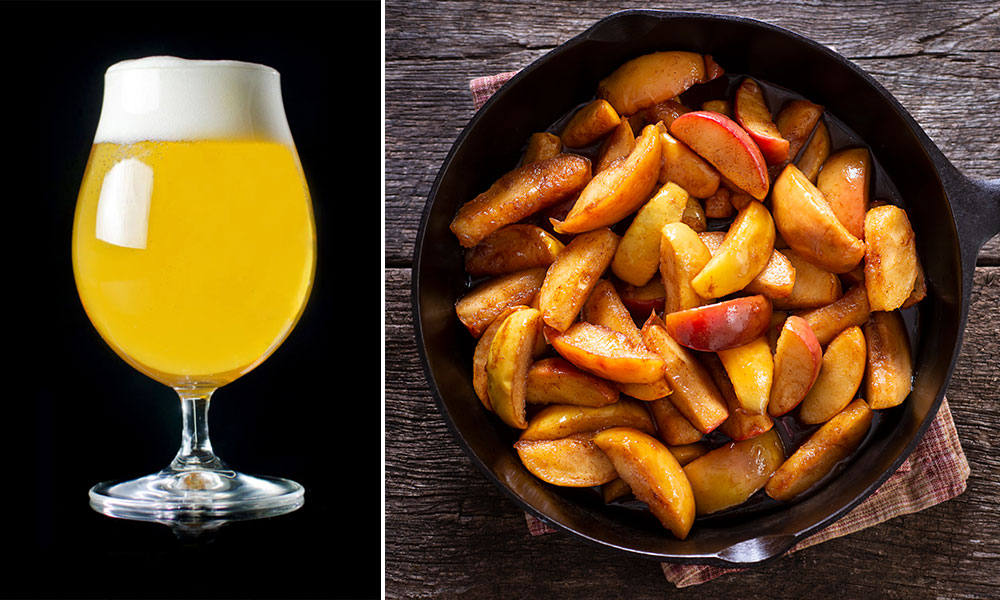 This is a little harder to find but so, so worth it. The carbonation, the Belgian candy sugar, the gentle malt notes. This is a game-changer for holiday get-togethers. From start to finish, if you have to have one beer, this is it. Be a little careful here, as this is usually a higher ABV player. But oh the flavors!
What to do: Roast turkey, duck, pork — tripel adds sweetness and cleanses the palate. Those green vegetables, particularly Brussels sprouts — tripel lifts them up off the palate and can make even the most overcooked green vegetable taste bright and fresh. Need a little zip to your fruit cake? Take a sip here. Got a lot of butter on your palate from potatoes or just because you like butter? Take a sip and scrub that palate and while you're at it, get some amazing notes of herbal delight from the beer. Dessert: apples and tripel. There is a balance there that just says, "I'll take a second slice."
Pairing short list: Apple anything, duck, Brussels sprouts.
Go out there: Make this your midnight-toast beer on New Year's Eve.
Dubbel/brown ale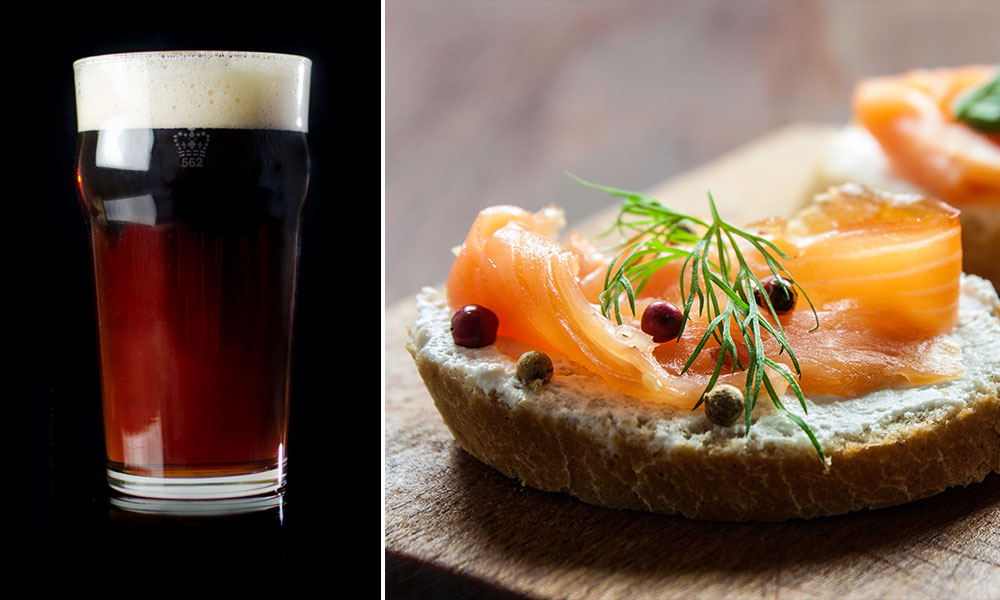 If you like pinot noir, this is your jam. Both of these styles work in almost the same way: the dubbel is little sweeter, with a little more alcohol, but they both do the same thing. Make everyone happy. This is a main-event beer. Salmon, blackberries, roast pork, steak, brisket, do it. What you are going to get here is some amazing tie-ins for those of you who take that mixed bite as well (come on, we all do it).
So, bring a dubbel or brown ale in and watch this magic happen on your palate. It adds to the roast in the proteins, breaks up the fat off the palate, elevates caramelization to toasted bread amazingness notes, and deepens the fruit notes of anything fruity. Want a lighter finish to dessert? Bring this out with pie and all of a sudden you just won dessert. And with a lower ABV, you just refreshed some palates too. Congratulate yourself here.
Pairing short list: Salmon, duck, goose, blackberries, anything on toast.
Go out there: Take on making porchetta and drink one while you make it and serve one with it.
Wild/sour ale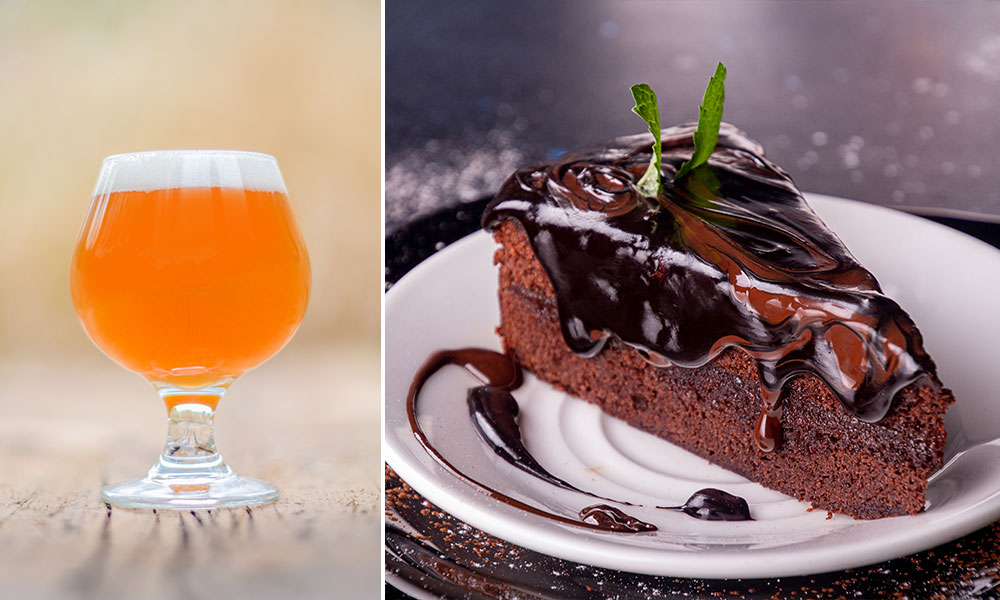 Wildly popular (no pun intended) and someone will bring one, so here's what to do: first things first is to identify if it is a fruited sour or a wild ale. Got fruit? Then look to this to zip up your palate, liven up your vegetables, and add some zip to your desserts with nuts. No fruit? Just some wild? Look to your roasted or grilled meats to bring out some incredible notes of funk and add some richness to the bite. This can be fun with crispy things on top of those green vegetables and will easily cleanse away any sausage fat on Italian night (try baked ziti). Bring this into dessert to wake up the palate a little here. Apple pie is the natural choice for some lively palate cleansing fruit notes that almost rival the shot of vinegar at the end of dinner for a digestif. Go richer like a torte or pecan pie and find yourself cleansing the palate a bit with the carbonation and bringing forward the holiday spice flavors.
Pairing short list: Anything game bird, tortes and cakes.
Go out there: Chicken liver pate with berry compote. Oh. Yeah.
Smoked beer (rauchbier)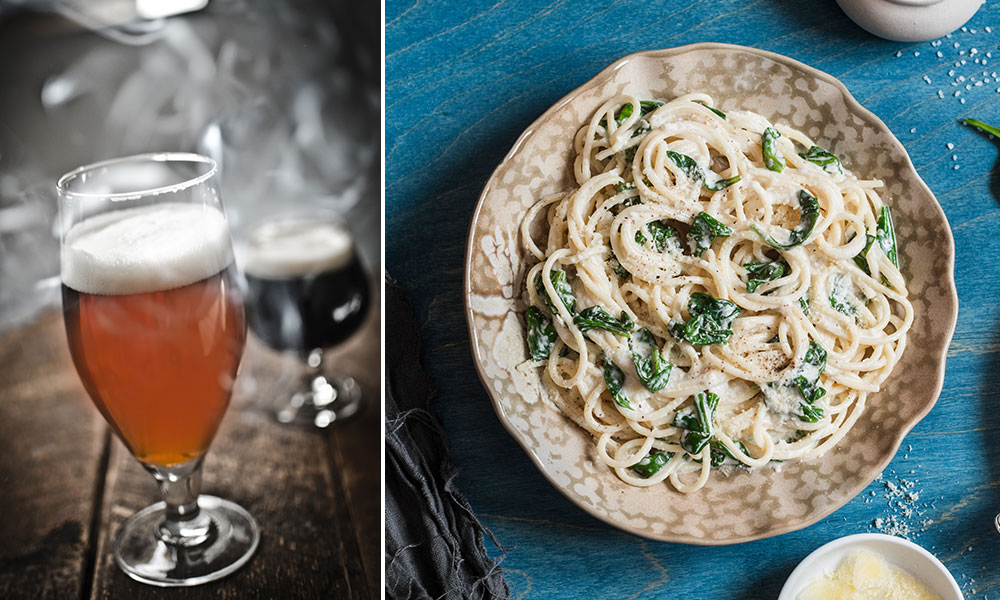 The smoked beer category encompasses a wide range of styles, from wheat ales to robust porters. Most commonly found are moderate strength darker lagers. Quite a few have said drinking one of these is like liquid bacon with a kick. So, just like our good friend barrel-aged stout, let's move away from like-from-like here with one notable exception. If you haven't burgered and smoked beer'd yet, go try it. So, on to new things here: going Italian, specifically pizza or pasta night. Yup, break this out and let the smoke notes go right to the noodle or the dough. I'd recommend a cream sauce or white pie to start and then move into that red sauce joint feeling. Staying on the Italian theme: cannoli. Holy cannoli and smoked beer. The whipped ricotta just works wonders here. Move that whipped ricotta up to an appetizer with some lettuces and dried fruits for a unique salad and bring the beer with you.
Pairing short list: Cream sauce pasta, cannoli, ricotta.
Go out there: Cheesecake. I know, not out there. But. Damn.
Bière de garde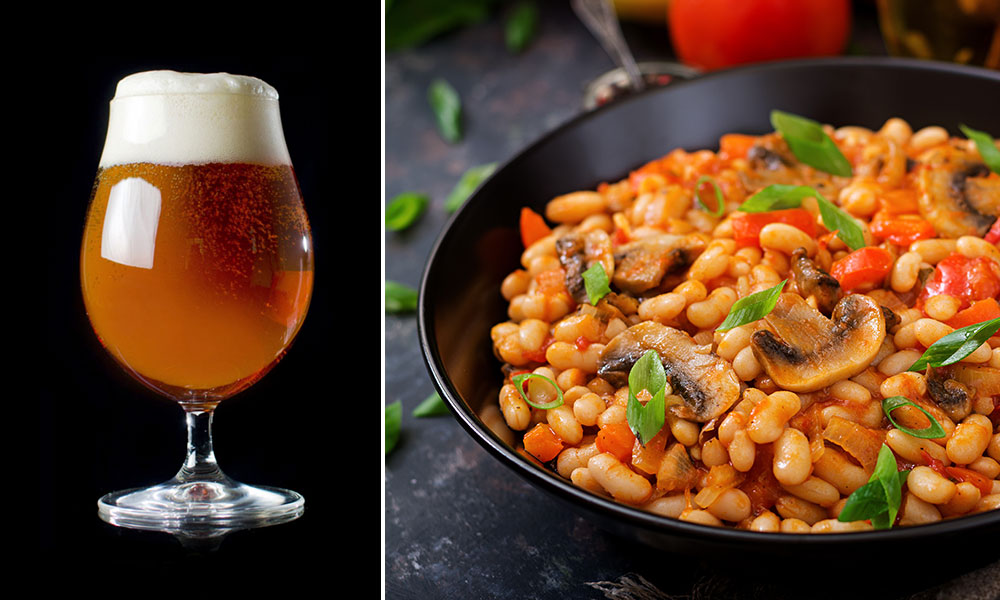 Ah, oui oui. Cassoulet, lamb, sautéed chicken, or pork with mushrooms and garlic. Bière de garde loves herbs. Fresh herb sales go off the charts during the holiday season. But seriously, when was the last time someone said to you, "Oh, I taste that fresh thyme in there"? I know, right? Get on it here with bière de garde and highlight those fresh herbs you not only patiently cleaned and picked but splurged on. Anything mushroom on the table? This is your beer. Leftovers? Roast-meat sandwiches? Pop one of these and brighten that sandwich palate up.
Pairing short list: Beans, shellfish, mushrooms.
Go out there: Lobster or king crab.
So, that's what we've got to close the curtain on 2021. Go out and try new things, both food and beer. Pay attention to what you taste and enjoy the experience of beer. And, if you found any of this a bit odd or not up your alley, just drink whatever you feel like drinking. Ultimately, it's about the experience, the story, and the memories that craft brewers put in every keg, can, and bottle they brew for all to discover and enjoy.
Cheers!
CraftBeer.com is fully dedicated to small and independent U.S. breweries. We are published by the Brewers Association, the not-for-profit trade group dedicated to promoting and protecting America's small and independent craft brewers. Stories and opinions shared on CraftBeer.com do not imply endorsement by or positions taken by the Brewers Association or its members.