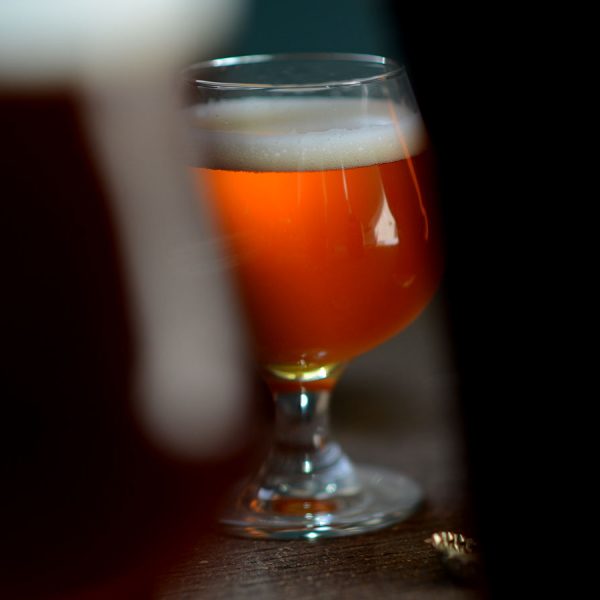 Behind the CraftBeer.com Redesign: A Letter from the Editor
Labor Day weekend, I stood in the busy taproom at Twin Leaf Brewery in Asheville, North Carolina. Twin Leaf is one of half a dozen breweries located on the easily walkable Asheville South Slope. It's about 2 and a half years old, and it's a brewery I've visited a dozen times. But I've never seen it as crowded as it was this Labor Day weekend — even on other Labor Day and 4th of July weekends — and that's when the idea swept over me: craft beer isn't a counter culture anymore — craft beer has arrived.
Since I took over as CraftBeer.com editor-in-chief in spring 2016, my mission has been to bring you stories that focus on the people behind America's small and independent craft breweries. I want you to walk away from our articles knowing the owners of Florida's Marker 48 were high school sweethearts and that Shannon Fink, head brewer at Ohio's Black Cloister, keeps a fake beard in the brewery, a way to answer to the people who keep asking her, "Is your brewer in today?" because they expect to see a man there. There's something about making a connection with people and places that make the end product — beer in this case — even more endearing.
Now, as CraftBeer.com launches our redesign, we want you to know more about who we are, and why we do what we do. CraftBeer.com is a great website name when it comes to SEO, but let's be honest: it's generic. We could be anybody talking about craft beer. But we're not.
CraftBeer.com was founded by the Brewers Association in 2009. The Brewers Association is a not-for-profit trade association of brewers, for brewers and by brewers whose main mission is to promote and protect small and independent craft brewers. The BA created CraftBeer.com in 2009 to "communicate the passion, authenticity, excitement, creativity, camaraderie and joy of the craft beer community" to beer lovers.
When the site launched there were roughly 1,600 breweries that fit the BA definition of craft. By mid-July 2016, there were 4,656. The industry is growing up, and so is the circle, and the expectations, of beer lovers.
As we thought about the redesign editorially, Content Strategist Meghan Storey and I both felt strongly that the new site needed a stronger identity — one that drew closer ties to the mission of our parent organization to protect and promote indie brewers. We wanted to reinforce the strong expertise on CraftBeer.com, from our more than 50 contributors to our in-house experts, Publisher Julia Herz (@herzmuses), superstar brewery diplomat and writer Andy Sparhawk (@AndySparhawk) and BA Executive Chef Adam Dulye — not to mention a direct line to America's 4,656 small and independent craft breweries.
Beyond strengthening our brand and our mission, the redesign is also flat out a lot prettier to look at and easier to use. The decision to put the redesign in motion pre-dates my tenure. When I asked BA Web Director Cindy Jones what motivated the redesign originally, she told me the brown wrap on the old site "had to go."
So first things first: the old, stodgy brown backgrounds are gone. Digital designer Sarah Baldwin and Senior Art Director Luke Trautwein created clean, crisp visual pages that will make our mouthwatering images of food and beer — also often taken by the same team — pop on the page. The redesigned site also brings four of the things we care deeply about front and center: beer, breweries, food and news.
Senior Web Developer Nate Zander, fresh off launching the Brew Guru app from the American Homebrewers Association (which you should download), was the maestro responsible for beefing up our Brewery Finder, which now provides you more than an address and a website link. You'll also find hours of operation, social handles and stories that feature those breweries. The next time you find exactly what you're looking for in the Brewery Finder, send a toast to Nate.
Our invaluable, unbeatable educational tools are now easier to find. You won't have to dig to discover the interactive Beer Style Guide, our Beer 101 Course or the CraftBeer.com Beer & Food Course. They'll be easily accessible from the homepage.
As you see the new CraftBeer.com, read the stories and learn from our courses, we want you to know you've come to the place where we celebrate craft beer, the people in the industry supporting it, and beer lovers like you. Those are the reasons we hit publish. We can't wait to share a beer with you.
Cheers from the CraftBeer.com staff.
CraftBeer.com is fully dedicated to small and independent U.S. breweries. We are published by the Brewers Association, the not-for-profit trade group dedicated to promoting and protecting America's small and independent craft brewers. Stories and opinions shared on CraftBeer.com do not imply endorsement by or positions taken by the Brewers Association or its members.